( Click a heading to expand/collapse an entry. Click the banner above to toggle list of articles. Click here for the > ARCHIVES)
August 2021 Archive
28.08.21 > European Culture award for Katie!
Katie attended the Europäischer Kulturpreis Gala at Bonn Opera in Germany yesterday.
She was awarded the European Culture award for Charitable Commitment. It is so lovely to see Katie's charitable work recognised. She gives a lot of time and support to several charities and this work often goes under the radar. Of course, this isn't something Katie is shouting about herself but that doesn't mean the rest of us can't shout about it! So... YAY!!!
Naturally, it would have been a sin to drag Katie along to such a venue without getting her to sing for her supper, and she gave a stunning performance of What A Wonderful World.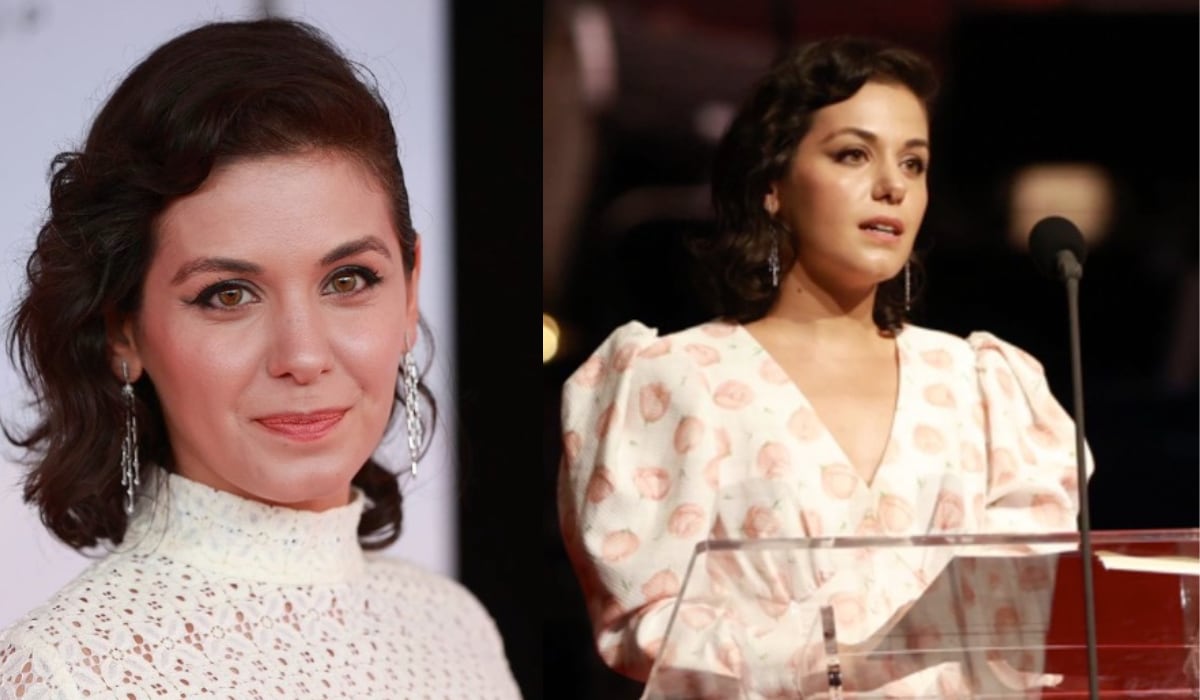 27.08.21 > Katiewatch: Frankfurt
Katie is in Germany for an acoustic gig with her brother, Zurab, on Friday 3rd September. They'll be performing at the Alte Oper in Frankfurt. As venues go it ain't too shabby, as befits a performer of Katie's quality.
Here's the aerial shot of where she'll be performing, just in case you feel like gazing at it intently in the hope of transferring some positive energy to her. (She'll be amazing whether or not you do that but you never know, your psycho energy transfer may help her sustain a note for an extra hundredth of a second. It all adds up.)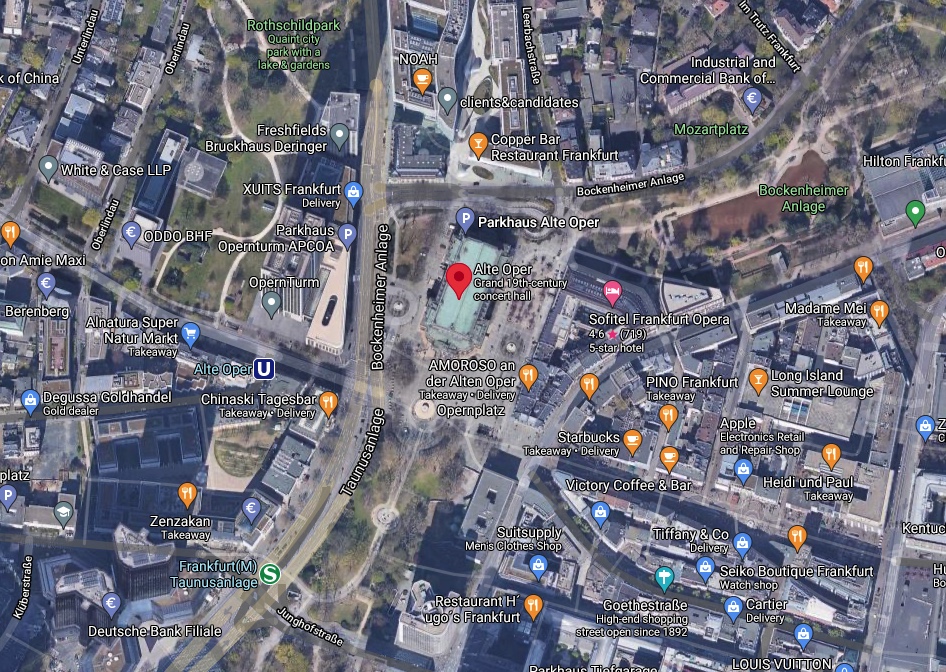 19.08.21 > Ultimate Collection Special Limited Edition Vinyl
Okay, you should already have this album but if you don't then here's a wonderful opportunity–A special edition is being released on silver vinyl. Get out! No, come back, please. You heard right, silver vinyl! (Not solid silver, I hasten to add.) The release is in celebration of women in music for National Album Day. What a thing to celebrate. And just imagine how cool these discs will look on your turntable. Click the pic to pre-order.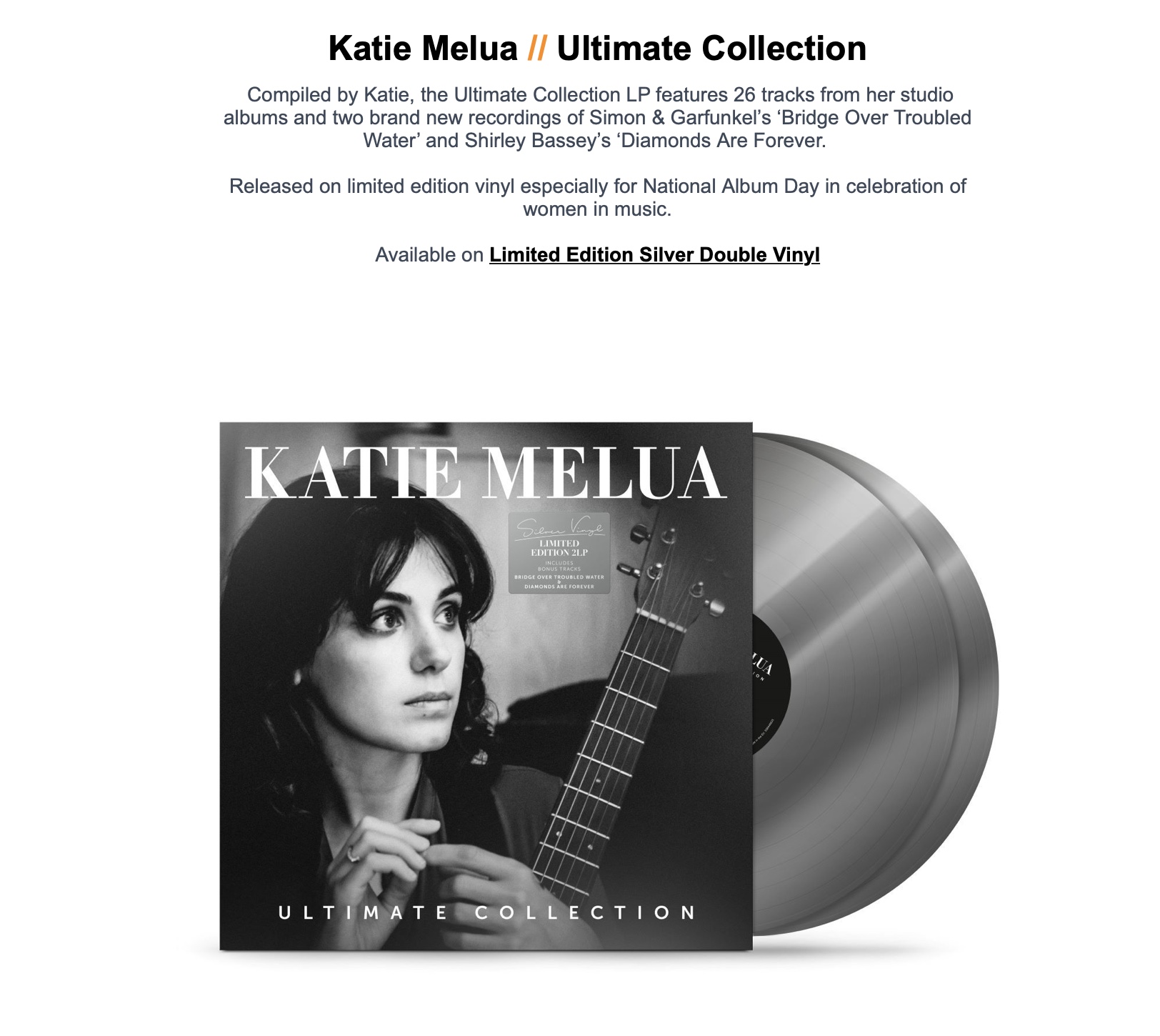 16.08.21 > Album No.8 Maturing Like Fine Georgian Wine
It's hard to believe we're approaching the first birthday of Album No. 8, but it is just a few weeks away, and we've already had more than half of the songs in our heads for more than a year. Never before have I been so blown away by an entire album on first listening so I thought it might muse about my feelings for it now that the honeymoon period has long passed. Has the love gone stale?
Katie doesn't do weak tracks. Her love of and dedication to music means that every album she makes is carefully crafted down to the last note. Padding them out with sub-standard filler tracks is never an option. Of course, you can't please all of the people all of the time and every album has its hits and misses–and these will be different for every listener. Her core fans simply love her voice and trust her music whatever direction it takes but more casual followers are often divided, with some hooked on the Batty pop tunes, others cherishing the blues and Great American Songbook standards, and some into her more recent collaborations with the Gori Women's Choir and Georgian Philharmonic Orchestra. For me, what makes Album No. 8 her best to date is that it combines every facet of her musical experience to present ten songs of such quality it is difficult to pick either a favourite or a least favourite. Furthermore, whatever flavour of Katie you prefer, there is something on Album No. 8 that will appeal to you. It covers every base, ticks every box and spoils you with choice like an assortment of luxury chocolates. Quite simply, it is a masterpiece.
This isn't a review–I did that last year. I'm not even going to mention individual songs. As I see it, this is a concept album, and the concept is love. It might sound like a simple concept, and maybe one that has been done to death, but it isn't and it hasn't. Love is often confused with the far more specific state of being 'in love', but there are so many more aspects to it, which makes it such a good subject for songwriters. In Album No.8, Katie gives us ten love stories, each with a different perspective or interpretation of the meaning of love. What makes them so special is that they are not Hollywood tales but rather realistic experiences, both happy and sad, that any one of us can relate to. Love can intoxicate, love can hurt, and love can be invisible, almost taken for granted–it can fade into the background of everyday life to the point where it no longer gets thought about or appreciated, it is just there. And that is often the source of trouble in relationships. Some people are comfortable when love takes a back seat, knowing it has become an underlying rock on which their life is built, but others struggle, believing that love has faded or even abandoned them. That is when doubts, fears and insecurities begin to open cracks in a relationship and drive wedges into them. Love is complex, and it is this complexity that Album No. 8 explores from all angles. Katie has done a masterful job of revealing some of the shades of it and drawing us in to her collection of tales. Album No. 8 is only getting better with time, like a good wine, as each and every song takes you on its own special journey. I cannot imagine life without these songs now and I know they will be my friends forever. I honestly don't know how she could ever top this work and I just hope she doesn't feel like she has to. I'm confident that whatever music she gives us in future will be wonderful but as far as I'm concerned it won't need to compete with this album. Album No. 8 is done and dusted, it is out there forever, and it is a triumph, but Katie now has a clean slate to do whatever she wants with her music. She no longer has anything to prove to anyone.
13.08.21 > Past Peek: Katie at Cheltenham Jazz Festival, 2019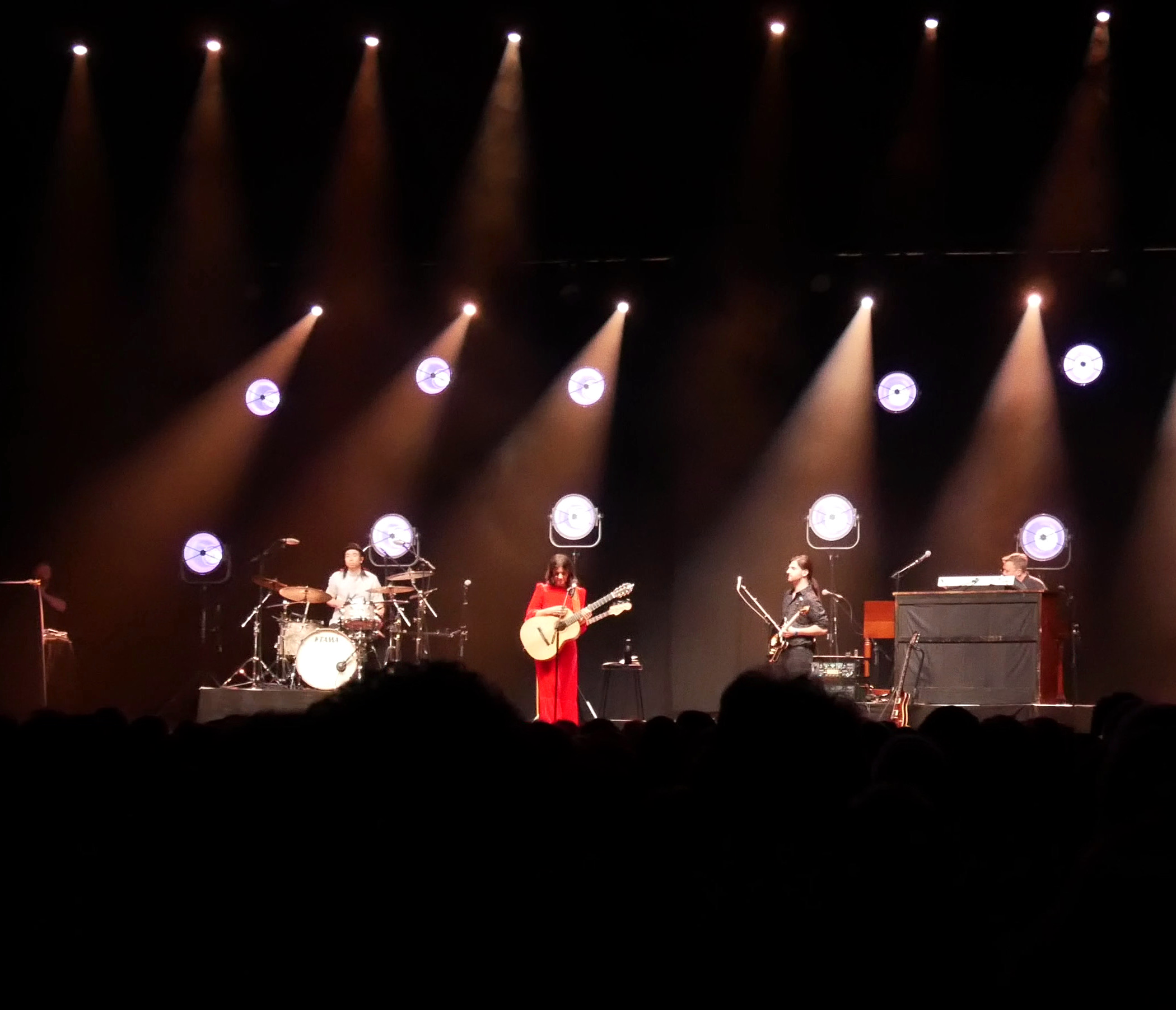 03.08.21 > This Made Me Smile!
Here she goes melting us all again. This is too beautiful. Admittedly, Katie does frown a bit whilst telling us all to smile but that's because she's concentrating on the music, and she makes up for it at the end with a classic trademark beam. The song itself was composed by Charlie Chaplin. Yes, you read that right. The lyrics were added a couple of decades later though and Nat King Cole recorded the first vocal version of it. Other notable versions are by Sammy Davis Jr. and Judy Garland. This is as good as any of them. We all love Katie's own songs but let's never forget how blindingly awesome she is at interpreting covers.
01.08.21 > Katie Bite: English Manner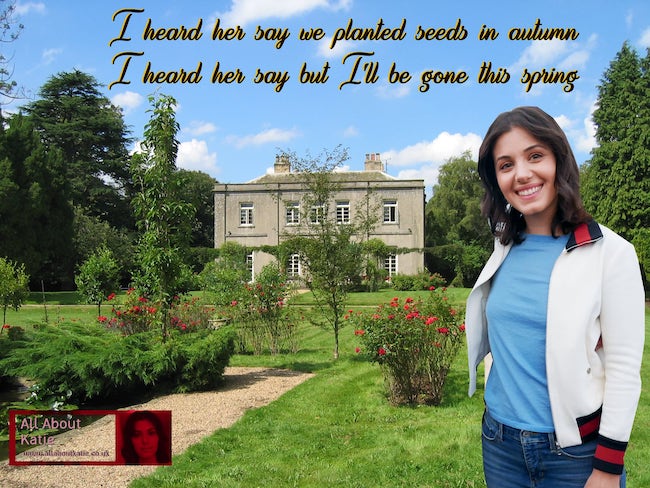 2021
2020
2019
2018
2017