( Click a heading to expand/collapse an entry. Click the banner above to toggle list of articles. Click here for the > ARCHIVES)
February 2020 Archive
29.02.20 > Track Notes 84: Downstairs To The Sun
Downstairs To The Sun

Album:

Writer(s)

Katie Melua

Length:

3:34

Notes:

Right. We have done with the official studio albums (for the time being) so now we need to poke around the various collections and live albums to see what other tracks we can find. We'll start off with an album that is only available to download or stream, "B-Sides: The Tracks That Got Away". Quite frankly, IMHO, this album was a mistake on the part of Dramatico. Why? Because this material could easily have produced a fully-promoted album in 2011 or 2012, deferring "Secret Symphony" to 2013 and "Ketevan" to 2014. By pitching it as B-sides and tracks that never made it onto other albums it kind of prepared you for songs that perhaps were of lesser quality. Nothing could be further from the truth. This is an outstanding album and contains some of my favourite KM tracks such as "Stardust" and "Market Day In Guernica". Now, of course, Katie was being managed by people that knew far more about the record industry than I ever will and opinions are subjective so you have to accept the decisions that were made. If it had been down to me, "Stardust" would have been on "Call Off The Search". But no doubt I'll bang on about that when I get to TN 90. The thing is, from start to finish this collection is a joy to listen to and there's not a single weak track on there. I've said it before—if this is the standard of material lying around on the cutting room floor in 2012 I for one would like to have a poke around there now and see what has been discarded in the 8 years since.
Anyway, what of "Downstairs To The Sun"? One of Katie's own, and left off "Call Off The Search". It appeared as a "B-side" to "Closest Thing To Crazy", although of course, CD-singles didn't actually have a B-side. Also on that first CD single was "Thank You, Stars" which made it on to "Piece By Piece", unlike this track. What's it about? Possibly a relationship that ended badly. Who knows. You could be forgiven for thinking it was about her breakdown except that it was written almost a decade before that. Anyhow, it's another great song from an under-appreciated songwriter.

YouTube:

Live performances of this are a rarity but here's one from 2004 in Croydon, sadly before the days of HD Downstairs To The Sun (live).

Lyrics:
28.02.20 > Lyric Card: All Night Vigil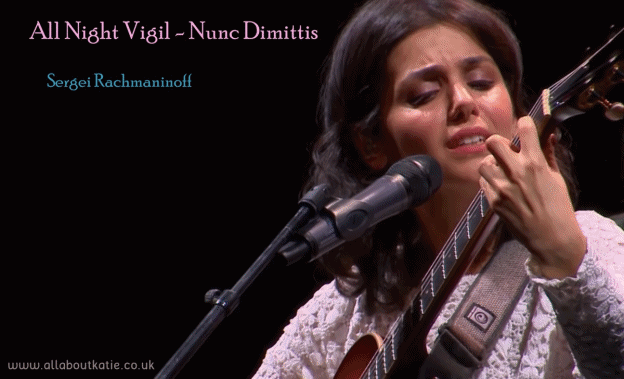 27.02.20 > Don McLean
I recently said I would have a word about Don McLean. I can put if off no longer. Now, I've never heard Katie mention this legend. Perhaps he just doesn't float her boat or simply hasn't wandered across her radar (though that is unlikely—who hasn't heard of "American Pie"?). Anyhow, I see a likeness between them—they are both intelligent, thoughtful, unassuming song-writers that are driven by a love of music rather than a craving for fame. Don is still performing to this day (he's just secured a new record deal at 74!) but his heyday was the 70s. He's best known for the song "American Pie", which was a hit on both sides of the pond despite peeving radio stations by being over eight minutes long. (The single had to be split in half, with one half on each side of the disc. Can you imagine that!) AP made number 2 in the UK singles chart (and Madonna went one better when she covered it in 2000), and though later in the decade he had a number 1 with a cover of Roy Orbison's "Crying", his biggest hit was arguably "Vincent", which hit number 1 in 1972.
Now I'm not sure I see Katie doing 8-minute songs (Madonna's version was cut down), but I absolutely can see her doing "Vincent". Quite simply, it is one of the most beautiful songs ever written, about the painter Van Gogh, and has been criminally under-covered. Ellie Goulding had a crack at a stripped-down version of it a couple of years back (not that it was stripped-up in the first place) but frankly it was tailor-made for Katie's considered and delicate interpretation and though my wish-list of songs I want to hear Katie sing is longer than both my arms and a significant portion of my left leg, "Vincent" is probably right at the top of that list, and I would gladly give aforementioned limbs to hear her sing it. She could also deliver gorgeous versions of "Winterwood" and "And I Love You So". "Chain Lightning" is another one on that wish list. I doubt any of it will come to pass, but hey, wishing is free.
I'd just like to end with a shout out to the album "American Pie" which, of course, spawned the single of the same name as well as "Vincent" and "Winterwood". It was released in 1971, made number 1 around the world, and is, quite simply, one of the classic albums that everyone should own. The track "Everybody Loves Me, Baby" sounds like it could have been written by Dylan (but wasn't—all tracks were by McLean apart from the traditional arranged version of "Babylon"). And the moving song "Empty Chairs" inspired Lori Lieberman to write the lyrics for "Killing Me Softly With His Song", which gave Roberta Flack a huge hit. The album is dedicated to the legend that was Buddy Holly (inspiration, of course, for "American Pie") who died at the unconscionable age of 22. It is a fitting tribute.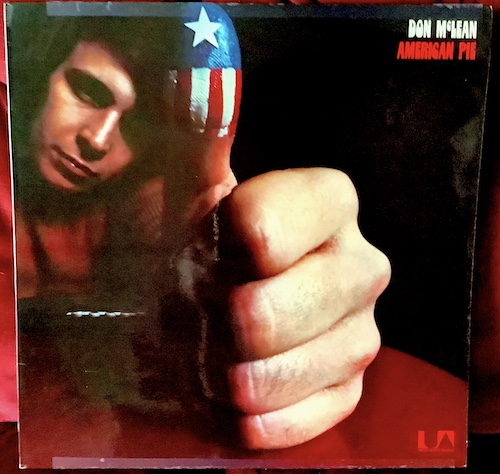 26.02.20 > Katie Bite: It's All In My Head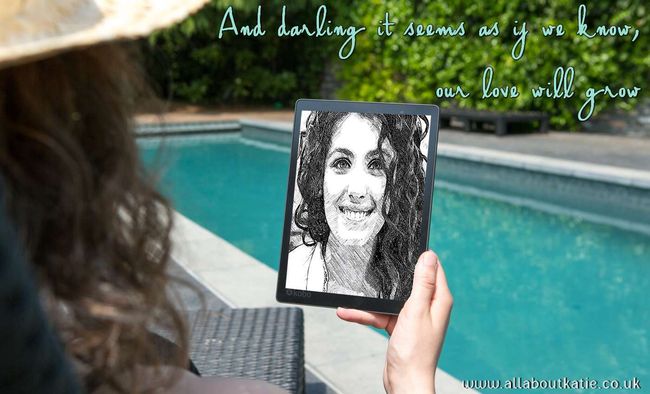 25.02.20 > Katie's Feelin' Groovy!

Three weeks ago I mentioned that Katie would be performing with other artists at the London Palladium for the BBC Radio 2 Bridge Over Troubled Water 50th Anniversary Concert on the 20th February. Well, get your calendars and red pen out! The concert will be broadcast on Radio 2 on Friday 6th March at 8.00pm.

Katie performs "The 59th Street Bridge Song" with her usual sorcery—making you think you hadn't realised just what a good song it was until she sang it. Ketefans might have expected her to sing "Bridge Over Troubled Water" but that honour went to former Pop Idol Will Young for some reason. I have no idea how these things are decided. I imagine the artist suggests songs they would like to cover but I don't know what happens if three or four of them pick the same song. It could be Katie wanted to try a different song, and let's face it, Simon & Garfunkel had a hatful of gems. I can imagine Katie singing "Scarborough Fair", "The Sound Of Silence", "America", "Homeward Bound". Gosh, am I the only one who's mouth is watering? I want "Katie Sings Simon" and I want it now.
24.02.20 > Song Club
Have you written a song? How would you like to stand up and sing it in front of Katie? No, I can't imagine anything more terrifying either. But if you think it would be worth putting yourself through that in order to receive constructive criticism advice from one of the best songwriters in the business then why not see if you can grab one of the limited places available. It is part of the Spitalfields Festival 2020 and takes place at Hanbury Hall on 28th June, from 2.00 pm - 4.00pm. Price £15.
Katie is no Simon Cowell. I'm sure she'll be extremely supportive and helpful to everyone, no matter how rubbish they are, so don't worry about being good enough. You never know, if your song is really good she may even offer to buy it from you (if she offers you a tenner, play hard and hold out for twenty). Click below to visit the festival site for more details.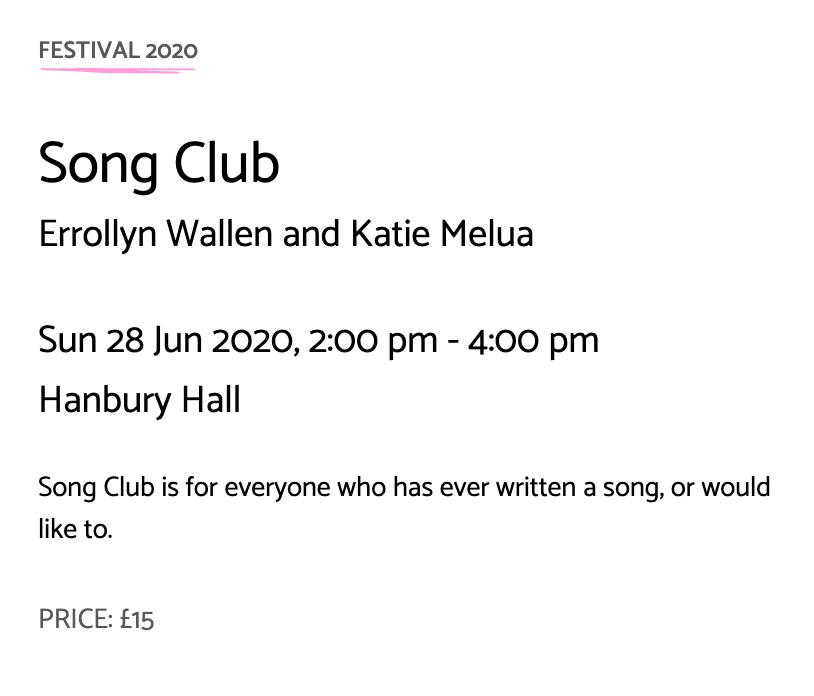 23.02.20 > Track Notes 83: O Holy Night
O Holy Night

Album:

Writer(s)

Adolphe Adam

Length:

4:23

Notes:

I'm going to need a bigger thesaurus. How else can I keep describing Katie's brilliance without sounding like a broken mp3? The thing is though, this version of the classic carol is just about as close as you'll get to distilling Christmas into a pure essential oil. Not since Enya's Oíche Chiúin (Silent Night) has the spirit been so beautifully captured. (Though if your idea of Christmas spirit centres around Roy Wood and Slade then you're probably in the wrong place right now.)
The song itself is based on an old French poem, "Minuit, chrétiens", written by poet and wine merchant (good combination) Placide Cappeau. It was premiered in 1847 by opera singer Emily Laurey, and perfected in 2016 by Katie Melua (;-)

YouTube:

Official video. Sumptuous. Katie must really get in the zone not to be put off by having a ruddy camera in her face throughout. It also contains the most impressive 15-second "ooh" in the history of music at 3:37 O Holy Night. But, can she perform it live without the Gori Women's Choir? Course she can. If anything, this is even better! O Holy Night (for German TV)

Sheet Music:

If you fancy having a go at this yourself next Christmas then take a look at Oxford University Press where you can buy the sheet music for this and other "In Winter" songs.

Lyrics:
22.02.20 > Lyric Card: Cradle Song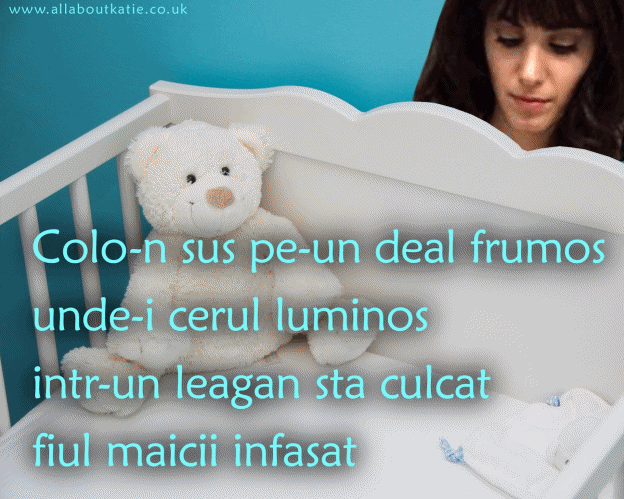 21.02.20 > Soundalikes
I've been thinking about songs that remind you of other songs. I thought I'd mentioned this not long ago but it turns out it was over a year ago, wow, tempus fugit and all that.
Now I'm not about to tiptoe through the murky minefield of plagiarism in music—that's for legal boffins to lock horns with. I'm more interested in how you hear something in one song that brings another to mind. I actually believe there are very few songwriters that steal from others; there are always bad apples and I'm sure one or two have been guilty of it but most of the time it isn't about money it's about music and people want to create their own. But there is one explanation why soundalikes happen—subconscious subliminal suggestion. Imagine you are on a plane, eyes closed, dozing off. The person next to you is listening to music through earphones. The sound isn't enough to stop you drifting off but as you do so a repetitive little riff drifts in to your subconscious and nestles in. A week later, you are sat at a piano tinkering with the keys and trying to come up with a new idea. All of a sudden, your brain says "oh, hang on a minute, how about this little thing I stored away while you were sleeping". The little subliminal riff finds its way through to your fingers and you think "ooh, now, this is interesting". Obviously, this only works with songs you've never heard before but there are an awful lot of songs out there and you'd be surprised how many of them you haven't heard, or at least taken notice of. There are many times when you might have heard a song without realising, usually in the background on radio or television when you are talking to someone and not paying attention. But your brain is often paying more attention than you realise. SSS can lead to a situation where you come up with a song that you genuinely consider to be your own work, and it can come as quite a shock when someone points out a similarity to another song.
The example I gave last year was Katie's "If The Lights Go Out", which reminded me of "Brilliant Disguise" by Bruce Springsteen. Now, Springsteen wrote his song in the late 80s, when Katie was a mere sprog, (albeit an exceptionally cute one, no doubt), but, "If The Lights Go Out" was written by Mike Batt for The Hollies, who released it in 1983. Which means that "Brilliant Disguise" sounding similar was either a complete fluke or a case of SSS for Bruce. (The songs are quite different but that chord sequence G D C Em in Batt's song does remind you of the chords in Bruce's, even though they are different.)
You can probably think of your own examples, but here are a few more of mine. Remember "The Greatest Love Of All" by Whitney Houston? There are lines in it like "I decided long ago, never to walk in anyone's shadows". It always makes me think of "I don't know where we went wrong, but the feeling's gone and I just can't get it back" in Gordon Lightfoot's "If You Could Read My Mind". Again, not identical but one puts me in mind of the other.
Springsteen is involved with two more of my examples. Pink Floyd's "Lost For Words" features some acoustic guitar strumming that reminds me of the melody in Springsteen's "Independence Day". Just saying.
Finally, let me end with one where the mystery has been solved! Springsteen's "Jungleland" from his classic album "Born To Run" has a rather catchy little piano riff near the start performed by The Professor—a.k.a. E. Street Band member Roy Bittan. But listen to Mark Knopfler's guitar at the opening of "Romeo And Juliet" on Dire Straits' "Makin' Movies". Slower, but very similar. Mmmm. Guess what? Turns out Roy Bittan played as a session musician for Dire Straits on "Makin' Movies". Knopfler had been taken with Bittan's playing on Springsteen's "Because The Night". When he was looking for an intro into "Romeo And Juliet", Bittan saw nothing wrong with re-purposing his own little riff from "Jungleland". Knopfler loved it and adapted it for guitar. Boom. Tangled webs, eh?
20.02.20 > Sketch Effect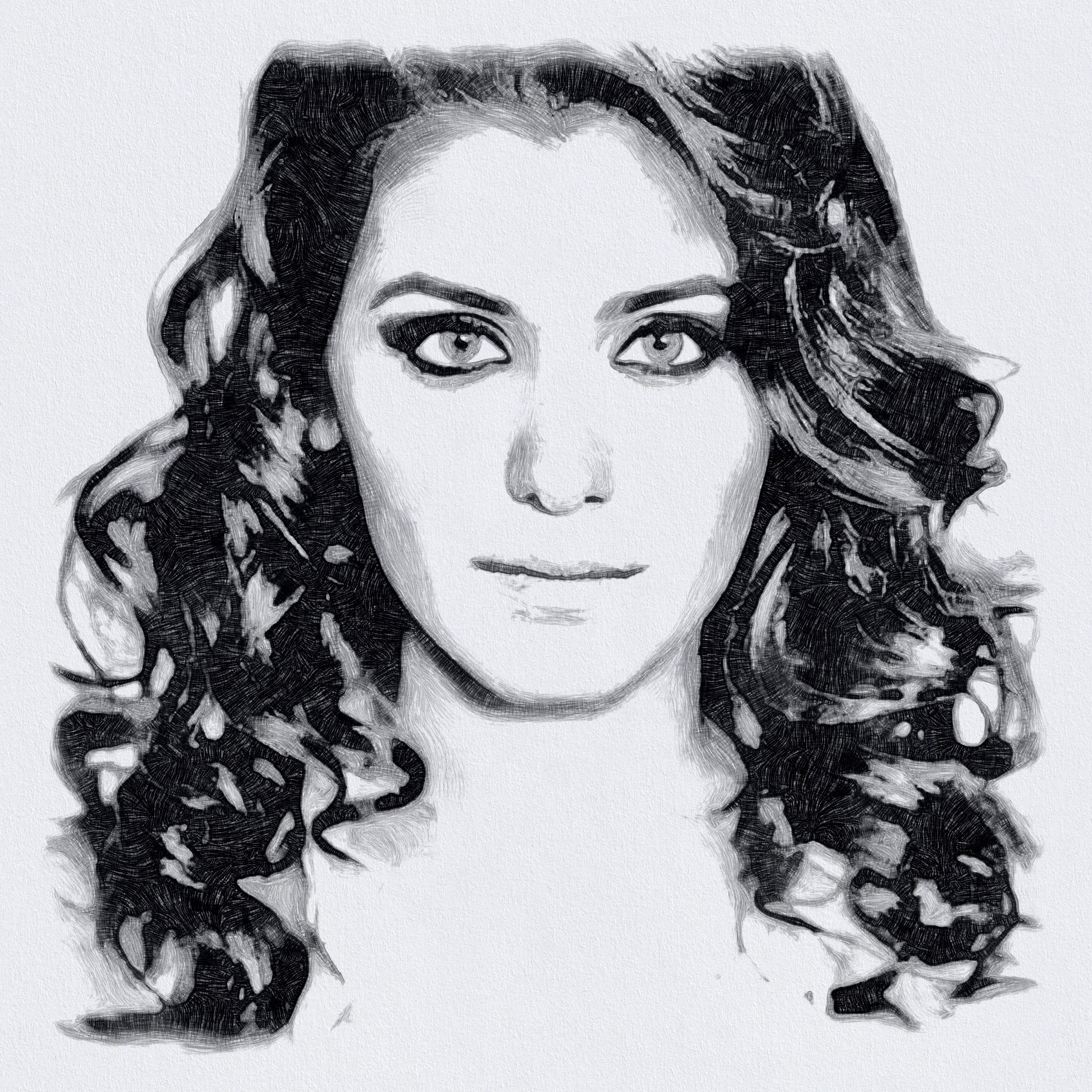 19.02.20 > A Word on Lyrics Sites
I want to have a quick word about the plethora of web sites devoted to song lyrics. Pants. That's the quick word. I do, however, feel I need to back up such a mighty assertion with some kind of explanation. If you've poked around AllAboutKatie you'll have noticed that the lyrics to all her recorded songs can be found on this site. No need to Google them and go trawling through the lyrics sites yourself. In fact, I urge you not to do that because they are largely awful. I'll tell you why. Most of them use lyrics submitted by fans rather than going to the trouble of obtaining them from an official source. And most of the people contributing clearly do not have English as a first language. Some are untidy, some inaccurate and there are even some that are clearly not even the same song. If you doubt this, try Googling "kviteli potlebi lyrics" — instead of finding Georgian lyrics about yellow leaves you'll find this

	You surely are a truly gifted kid
	But you're only good as
	The last great thing you did
	And where've you been since then
	Did the schedule get you down
	I hear you've got a new girlfriend
	How's the wife taking it?

If you're not thinking, like me, WTAF? then fire up Live At The O2 Arena and give track 3 a careful listen. In fact, it doesn't even have to be careful. It should be immediately obvious that the song is not about gifted kids. "But wait", I hear you protest. "Isn't she singing in Georgian? Maybe those lyrics are just a translation." No. They're not. The song talks about yellow leaves. The clue is in the title.
And it gets worse. Many of these sites (and you won't believe just how many lyrics sites there are) don't do any work or research for themselves, they just nab the lyrics from other sites. So you can visit a dozen of them looking for Kviteli potlebi and all you'll get served up is this stuff about a gifted kid. Go figure. Lyrics sites are fake news spreaders.
Unfortunately, what should be the definitive source of Katie's lyrics—in other words (excuse the pun), her own web site—is run by people that simply don't care and there are songs riddled with errors and some are missing altogether. (My favourite example is "from death til birth", which should, of course, be "til death from birth".)
Don't despair though—AAK is here for you. I don't like blowing my own trumpet because it makes a god-awful noise but on this site I try to ensure the song lyrics are as accurate as I can get them. There are over a hundred but I go through them one by one to check there are no mistakes. It is a time-consuming task but I feel it is important there is a trusted place to go to for these lyrics and I care enough to try to get it right. If you have tried looking for these songs on other lyrics sites you may already have noticed that Katie's versions of songs sometimes differ. Sometimes she changes words slightly, other times whole verses are omitted. My goal is to give you the lyrics as Katie sings them so that you can confidently sing along without feeling a complete idiot when she deviates. I patiently await an OBE for this noble work...
I'm currently ferreting about a lot in the lyrics pages so if you hear banging in the loft it's just me going through the files and trying to weed out gremlins. I'm also performing cosmetic and stylistic adjustments to make all the lyrics pages look consistent and until this work is complete you may spot discrepancies here and there. Apologies for that but it should all be hunky dory in a few days. I don't know why I'm telling you this because no one is ever going to notice anyway. 😉
18.02.20 > Satrpialo (კახური სატრფიალო)
Satrpialo is a folk song from Kakheti (კახეთი), the eastern-most region of Georgia and a notable wine-making region. It is an achingly beautiful love song performed by Katie and the Gori Women's Choir but unless you have the Special Edition of In Winter you may not be aware of it since it only appears on the "Live In Berlin" bonus CD. Never fear, have a look here.

The lyrics took a bit of detective work. Confusingly, there are two Georgian folk songs called Satrpialo. The other is a Mingrelian love song. Even more confusingly, one of Katie's other Georgian recordings, If You Are So Beautiful, can sometimes be found under the title of, you guessed it, Satrpialo. But they are different songs, and both beautiful. So, you can find the lyrics here, along with a translation in English (not sure I'd be particularly flattered being likened to a pheasant's voice but Georgians have an utterly unique way of looking at things and it is certainly more original than comparing someone to a rose or a summer's day).
17.02.20 > Katie Bite: Halfway Up The Hindu Kush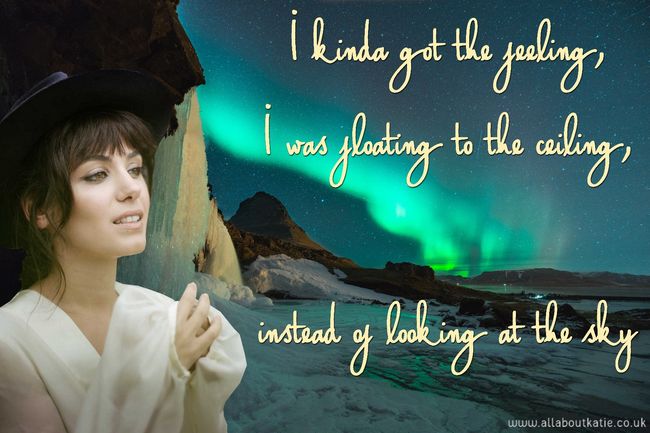 16.02.20 > Track Notes 82: All Night Vigil - Nunc Dimittis
All Night Vigil - Nunc Dimittis

Album:

Writer(s)

Sergei Rachmaninoff

Length:

4:15

Notes:

The fifth of fifteen movements from Rachmaninoff's All Night Vigil, considered by many to be his finest work. Nunc Dimittis was chosen by Rachmaninoff to be sung at his funeral. Apparently, the song ends with a low b-flat, the third below middle C, which is notoriously difficult even for men, so I'm not quite sure how the GWC negotiated it. As you would expect, Katie's version is just achingly beautiful and moving and would have had Sergei himself mopping up the odd tear.

YouTube:

Here you go. See if you can watch this without melting into a pool of bliss down the back of the sofa All Night Vigil - Nunc Dimittis, Live in Berlin. And here's the recording of it for Songs Of Praise All Night Vigil - Nunc Dimittis, BBC Songs Of Praise

Lyrics:
15.02.20 > Using Synonyms and Rhymes in Lyrics
Many people find writing poems and lyrics difficult. So here's my tip—
keyword brainstorming.

Say you wanted to write a song about being dumped via a text message. Identify the keywords—in this case "text" and "dumped". Then for each one make a synonym and rhymes list. First, write down any synonyms or similar words you can think of for your keyword. Then make a list of all the rhymes you can think of for your keyword and synonyms. For "text" it might look something like: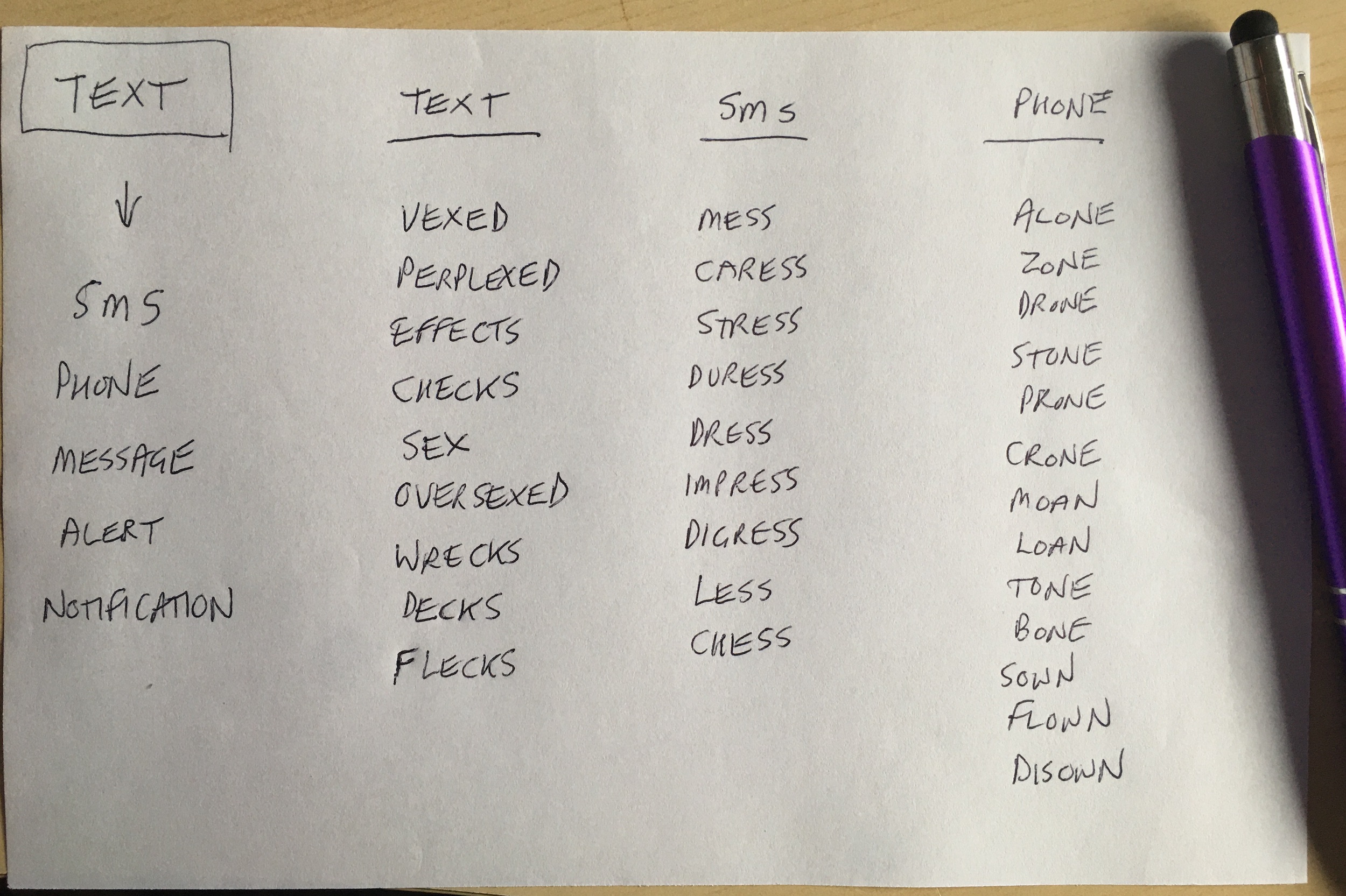 Having a word bank laid out in front of you can help you to form sentences in your mind. From the above example you might come up with:

	How could you send a text
	to tell me I'm your ex?
	It's left me really vexed

	I'm overcome with stress
	since your thoughtless SMS
	has left me in a mess

	A message on my phone
	and now I'm all alone
	my heart has turned to stone
Okay, perhaps needs polishing, but you get the idea. You might do another list for "dumped" and begin to intertwine the lines. My little example uses triplets of rhyming lines to highlight the rhyming but it would be more usual to rhyme on alternate lines, like:

	A message on my phone
	has torn my world apart
	and now I'm all alone
	with the silence in my heart
This technique is basically something I've been doing in my head since God was in the cubs but if you find poems or lyrics a struggle you may well find writing out word charts helpful. And bear in mind they can be re-used—you could write bunches of them on index cards then pick out a few for the keywords in your song, pin them up on the wall and just see what words jump out at you. It won't work for everyone but it may work for you. Failing that, another good technique is to find yourself a lyricist and let them worry about it all.
14.02.20 > Playlist: Valentine Vocals
It's Valentine's Day again. Shame it couldn't be on the 29th. Anyway, I know some of you actually buy in to this kind of thing and might be harbouring thoughts of a cosy night in by the fire, dipping strawberries in chocolate and sipping blush prosecco, amongst other less mentionable things. And you'll probably want a suitable soundtrack for your amorous antics. Katie to the rescue again. Ostensibly, it's not hard to find a hatful of love songs in Katie's back catalogue but you need to be a little careful—she has a habit of throwing in the odd booby trap where things aren't quite what they seem. I've tried to weed them out for you so hopefully this list is weed-free. And yes, "If You Were A Sailboat" is a weed. Deal with it.
I suggest you play this list on repeat, though frankly if it does get to the end and stop I imagine you'll be too preoccupied by then to notice.
Valentine Vocals
Call Off The Search
Nine Million Bicycles
The Closest Thing To Crazy
My Aphrodisiac Is You
No Fear Of Heights
Better Than A Dream
All Over The World
When You Taught Me How To Dance
Chase Me
If The Lights Go Out
What It Says On The Tin
The Walls Of The World
Secret Symphony
Thank You, Stars
Deep Purple
Anniversary Song
This Year's Love
13.02.20 > Katie Bite: Heartstrings
Tomorrow is February 14th. Means nothing to me, but if it is something that gets you all twinkly then perhaps this will get you in the mood...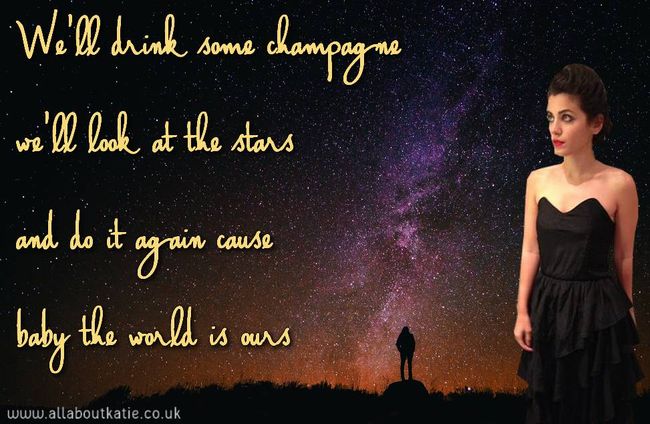 12.02.20 > Brenda, The Doll Lady
A while ago, I posted a piece about my Dad, Dennis. The link with Katie was musical—he was a drummer in jazz and swing bands. Today I want to talk about the other half of my DNA and my inventor, my mum, Brenda. She was a poet, an artist and incessant creative, and absolutely where I get my creativity from (I didn't inherit Dad's penchant for making noise). Another of her passions (obsessions?) was dolls (there's a link to Katie!). She used to make sophisticated period costumes for them. She even sent one to The Queen and received a thank-you letter from Buckingham Palace. That got her a newspaper mention and a spot on local TV news—I well remember coming home from school to find the front room full of camera crew and cringing as Mum added a "you know" to every sentence. Like me, she wasn't cut out for limelight. Her bedroom was crammed with dolls—in chairs, lined up along the top of the wardrobe, everywhere. In the night it looked like a creepy scene from a horror movie. There was even a doll with a lazy eye in a rocking chair, real nightmare stuff. But since these days we are encouraged to show rather than tell, you can see examples of her painting and doll dressing below. She contributed many articles and stories to village magazines and she wrote hundreds of poems. I've put around sixty of them on a website for her at Brenda S. Warhurst. She was ill for most of her final years and died too young at 74, still with so much more to create. I have it on good authority she now dresses up angels. Our time on Earth is so fleeting, we should all endeavour to leave our mark. My Mum did.
| | |
| --- | --- |
| Little dog by Brenda | Dolls in costumes |
| Manchester, circa 1935 | In the mid 60s, with yours truly! |
| Evidence of her deep red hair | One of the last photos, 2005 |
11.02.20 > Lyric Card: Dreams On Fire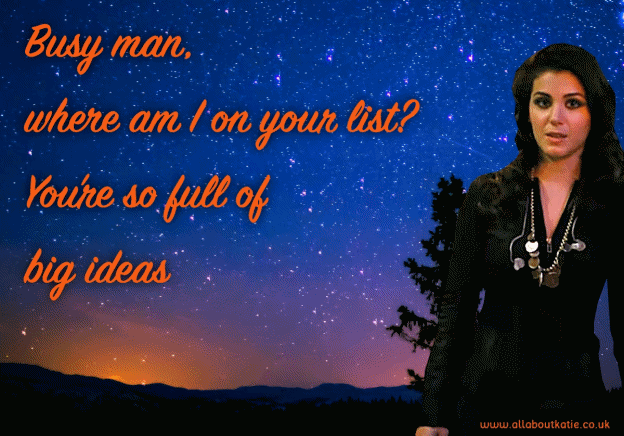 10.02.20 > Playlist: Animal Crackers
When it comes to playlists, these days I'm having to scrape the barrel get more creative. Today's collection are songs that all mention some kind of animal, bird or insect. Your mission, should you choose to accept it, (and you won't), is to identify them all. Some songs may have more than one! I'm not one for giving away too many clues but I have a feeling in some instances the song title is going to help you.
Animal Crackers
Belfast (Penguins and Cats)
Halfway Up The Hindu Kush
Mockingbird Song
Moonshine
My Aphrodisiac Is You
Nobody Knows You When You're Down And Out
River
Shiver And Shake
Spider's Web
Stardust
The Cry Of The Lone Wolf
The Little Swallow
The One I Love Is Gone
Two Bare Feet
Wonderful Life
09.02.20 > Mitchell Parish
Today I would like to bring to your attention the life of an American man who was born in the year 1900. I hope you're thinking "great" but more likely it is "Why? Who he?". Well I'll tell you who he. The why is simple enough—there's a Katie connection. Mitchell Parish was a legendary lyricist, and Katie has recorded two of his songs: Stardust and Deep Purple. Stardust is one of my favourite songs ever, and Deep Purple is up there, so clearly Mr Parish has a spot reserved in my heart. Naturally, he has a ton of other credits to his name such as Moonlight Serenade, but the two I've mentioned are extra special because of Katie's sublime renditions. Katie has something else in common with Parish—they were both born in former Russian states and found themselves being dragged off to the West as children. Parish was born Michael Pashelinsky in Lithuania and his parents moved to America when he was just a baby in 1901 (in which respect he's closer to Katie's younger brother Zurab—Katie was an almost world-weary 8 when she left Georgia!)
Parish died in New York in 1993, aged 92. Like Katie, he grew up in a land not of his birth but recognized the opportunities it opened up for him and seized them with both hands. It's all about being the best you can be whatever your circumstances. Mitchell Parish was a legend. Katie is well on her way to emulating that status and attaining the fairly unique accomplishment of being regarded as a national treasure in two different countries.
08.02.20 > Katie Bite: Tiny Alien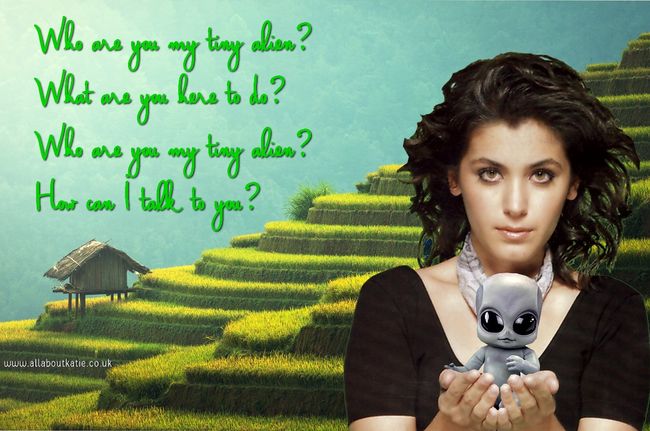 07.02.20 > Track Notes 81: Dreams On Fire
Dreams On Fire

Album:

Writer(s)

Katie Melua & Don Black

Length:

4:05

Notes:

Another stunner drops off the production line. A song so beautiful that you don't notice it has nothing to do with winter and hence is something of a gatecrasher to the In Winter party. (You haven't read that last sentence.)

You may ask yourself why Katie doesn't write more lyrics herself when the evidence shows she's more than capable. Well, if you could enlist the services of a legendary lyricist like Don Black, why wouldn't you? Black wrote no less than 3 James Bond themes with the godfather of movie music, John Barry. I won't tell you which ones, though you may have guessed one since Katie has recorded it. He also collaborated with Andrew Lloyd-Webber. This should give you an idea of the kind of lofty circles Katie could mingle in, if mingling was her thingling.
So, how did this happy collaboration come about? Well, you'd have to ask them for the gory details but chew on this—in 2013 there was a special concert at The Royal Festival Hall to celebrate Black's work (it was recorded and shown on BBC Four). Black sat on stage and discussed his career with Michael Grade. They paused periodically to watch various respected artists perform his songs. Amongst said artists was our Katie singing "Diamonds Are Forever" in a way that had never been heard before. My guess is that Black had decided he wanted to write for her before she even put her guitar down.

YouTube:

The official video featuring Katie performing with the Gori Women's Choir is exquisitely filmed with some stunning close-ups of Katie and Teona as they weave their magic. Delightful and flawless. Dreams On Fire ft. Gori Women's Choir.

Lyrics:
06.02.20 > Diamonds
Perhaps Katie has a bit of a thing for diamonds. Not in a physical sense—she's certainly no bling bunny. Ize talkin bout songs, innit. (No, I don't know what that was either.) Here's the thing—she's sung about diamonds being forever and how Lucy, whoever she may be, is in the sky with them. She's even written about diamond raindrops humming when you're crazy with love. Now, you probably think you can see where I'm going with this but no, I am not about to suggest she goes all Marilyn and sings about a girl's best friend. I mean, she could do that—after doing Bassey all bets are off—but no, I don't think so. Now, this is where you didn't see me coming—she could sing Neil Diamond. I don't mean literally, you understand. I'm not suggesting she writes a song about the guy. That would be a tad odd. I just think he writes amazing songs and many of them are ripe for a little Katiefication (I love the idea of something being Katiefied.) But which one? So many to choose from. Not the Reverend Blue Jeans, no. I'm thinking maybe Play Me. You know the one? "You are the sun, I am the moon, you are the words, I am the tune, play me." Beautiful song, just made for Katie's lower register and artful picking. She might want to change the "she" to "he" here and there but that's hardly a controversial tactic when a girl covers a boy's song. It would work. I have the happy ability to hear Katie sing any song in my head (I imagined her singing Fields Of Gold and Bridge Over Troubled Water long before she actually did), and this one was a keeper. It can be both a gift and a curse of course—Islands In The Stream was an ear worm that took a while to coax out. As for gifts, well, another time I'll discuss Don McLean but this entry was just about the diamond connection. Time will tell if Katie polishes any more.
05.02.20 > Katie at the London Palladium
As part of the BBC Radio 2 at the Palladium concerts, Katie will perform at the Bridge Over Troubled Water 50th Anniversary Concert on Thursday, 20th February. Other performers include The Shires and Will Young. They will be re-creating the entire track list of the iconic album. I think we have an inkling of which track Katie will sing. If you fancy attending the details are at BBC Radio 2 at the Palladium, where you'll find a link to the ticket booking system.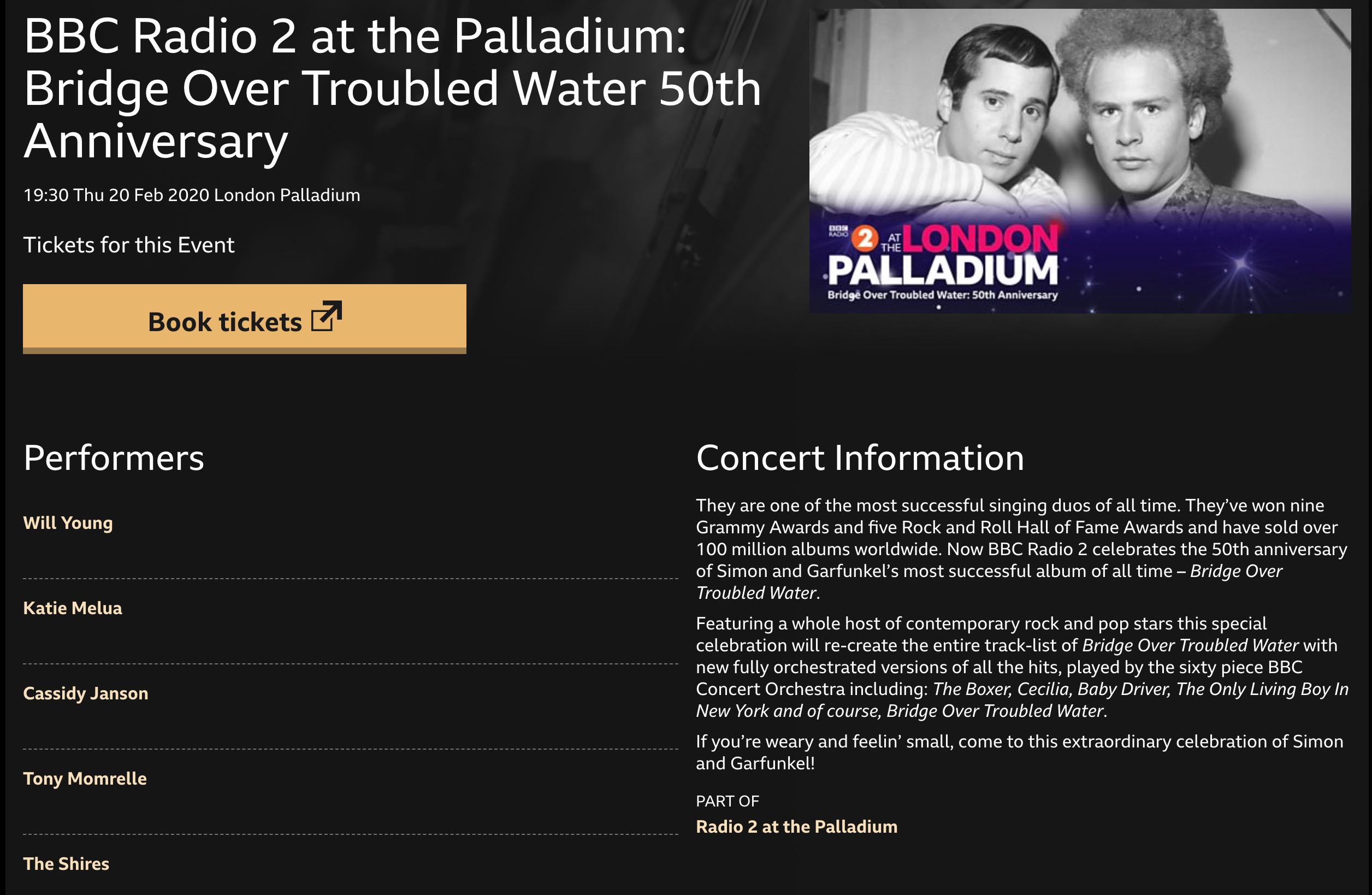 04.02.20 > Katie Bite: Blame It On The Moon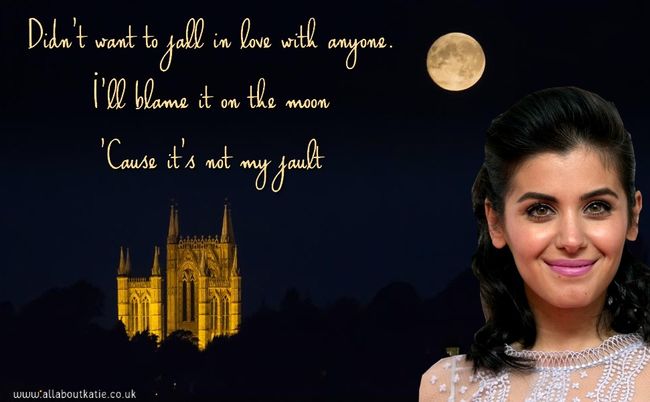 03.02.20 > Quick Fact
My phone ring tone is "Faraway Voice". See what I did there? Oh, okay. Some people are hard to please.
How about the fact that yesterday's date was a universal numeric palindrome? 02/02/2020 is the same date backwards in both UK and US formats. That hasn't happened since the year 1111 so it is pretty rare, though it will happen again (for the UK only) in a couple of years on 22/02/2022. America will have to wait another 200 years for 02/22/2220.
02.02.20 > Updates
Don't you just hate it when apps constantly pester you that an "update is available"? If you can be bothered to click on the "learn more" link it usually just says "bug fixes and performance improvements". That's a classic coder's clause. "Bug fixes" is the true reason for the update—they screwed something up and didn't notice it before the app was released so they've had to fix it and hence the update. "Performance improvements" is bull. The developers know full well that users are going to be seriously piqued at having to mess about installing an update which is for no other reason than to address some programmer's incompetence so they dangle this carrot of leading you to believe the app will suddenly run a lot faster than it did. It won't. The only sense in which it can be considered a performance improvement is that it should crash less often than before thanks to the bug fix. (In reality, this isn't always true either—what generally happens with software is that when you fix one bug it allows two others to come into play. Which is why most apps need updating about once a week.)
At this point you're probably wondering what on earth all this has to do with Katie (either that or you're fast asleep). The answer, of course, is nothing. There are no bugs in Katie (though that may not necessarily be true—after all she did have a spider living in her ear a few years back. I have no idea if other orifices were investigated for invertebrate inhabitation following that incident). But you'll be relieved to know that my point has finally lumbered over the horizon and it is this: I've been updating a lot of the pages of All About Katie over the past few days. This is for bug fixes and performance enhancements…
I hasten to add that this is a web site, not an app, and hence my performance enhancements are real—for example, I've replaced animated gifs with static thumbnail images of the lyric cards in the song index page. This difference is hardly noticeable yet dramatically improves page loading time. It's not as though you could read the lyrics at that size anyway. I've also made some cosmetic enhancements here and there. I'm not going to bore you with specifics. Maybe you'll spot some of the changes, maybe you won't. If you do I'll send you a free peanut (please specify whether you'd prefer unsalted, salted or dry roasted).
01.02.20 > Lyric Card: If You Are So Beautiful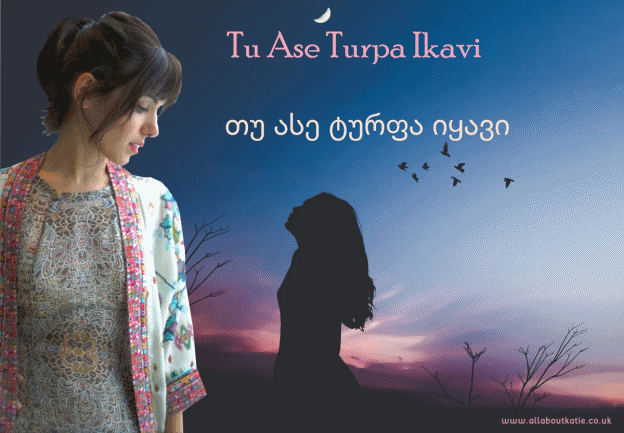 2020
2019
2018
2017