( Click a heading to expand/collapse an entry. Click the banner above to toggle list of articles. Click here for the > ARCHIVES)
April 2019 Archive
30.04.19 > Katie Bite: What I Miss About You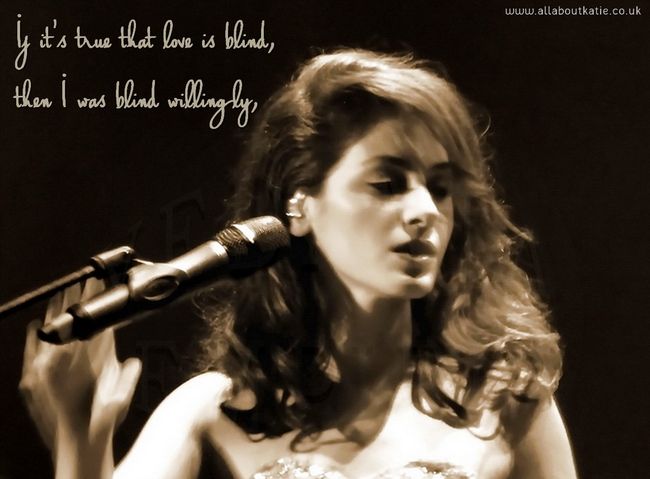 29.04.19 > Sketch effect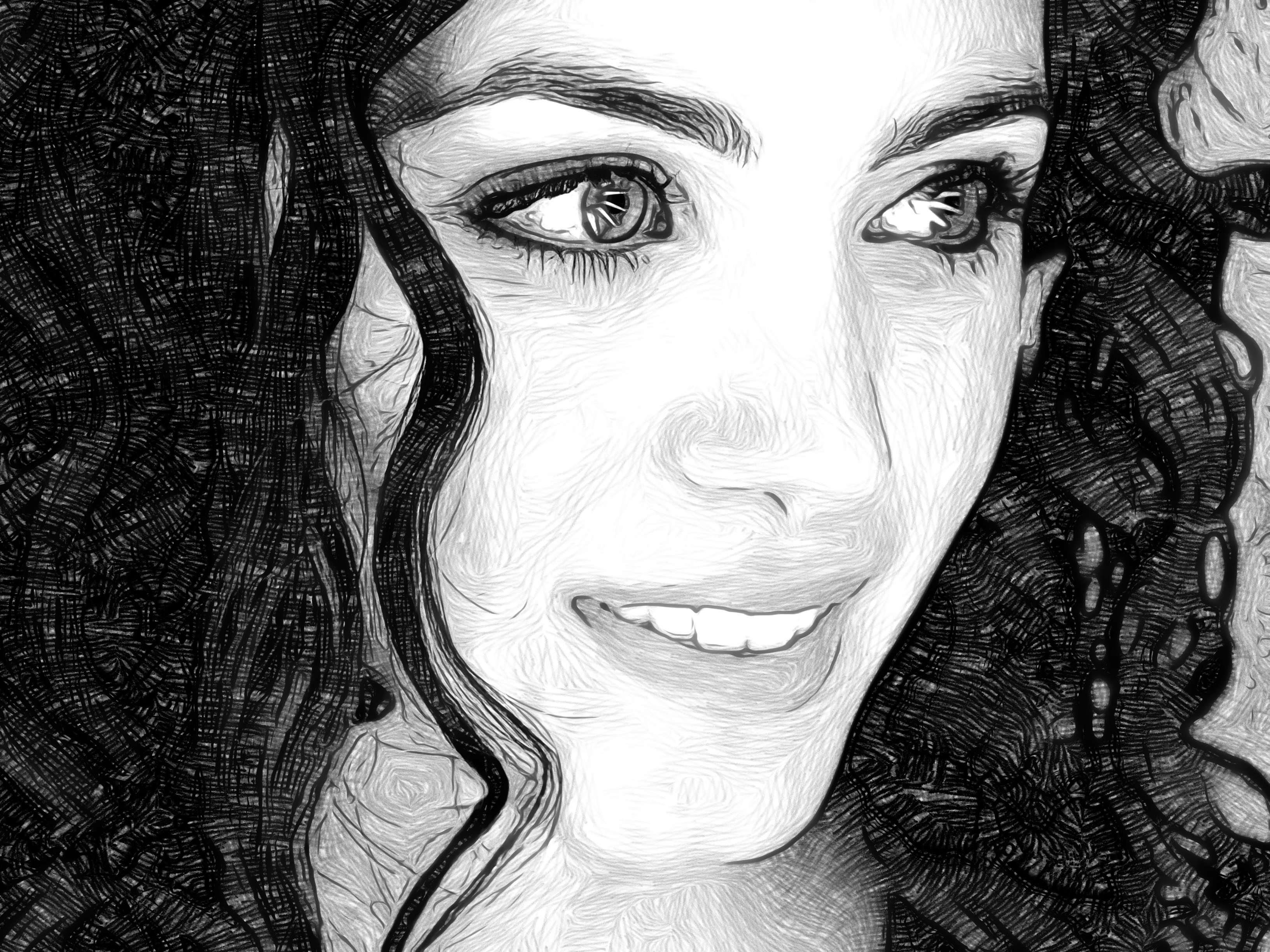 28.04.19 > From Katie's Instagram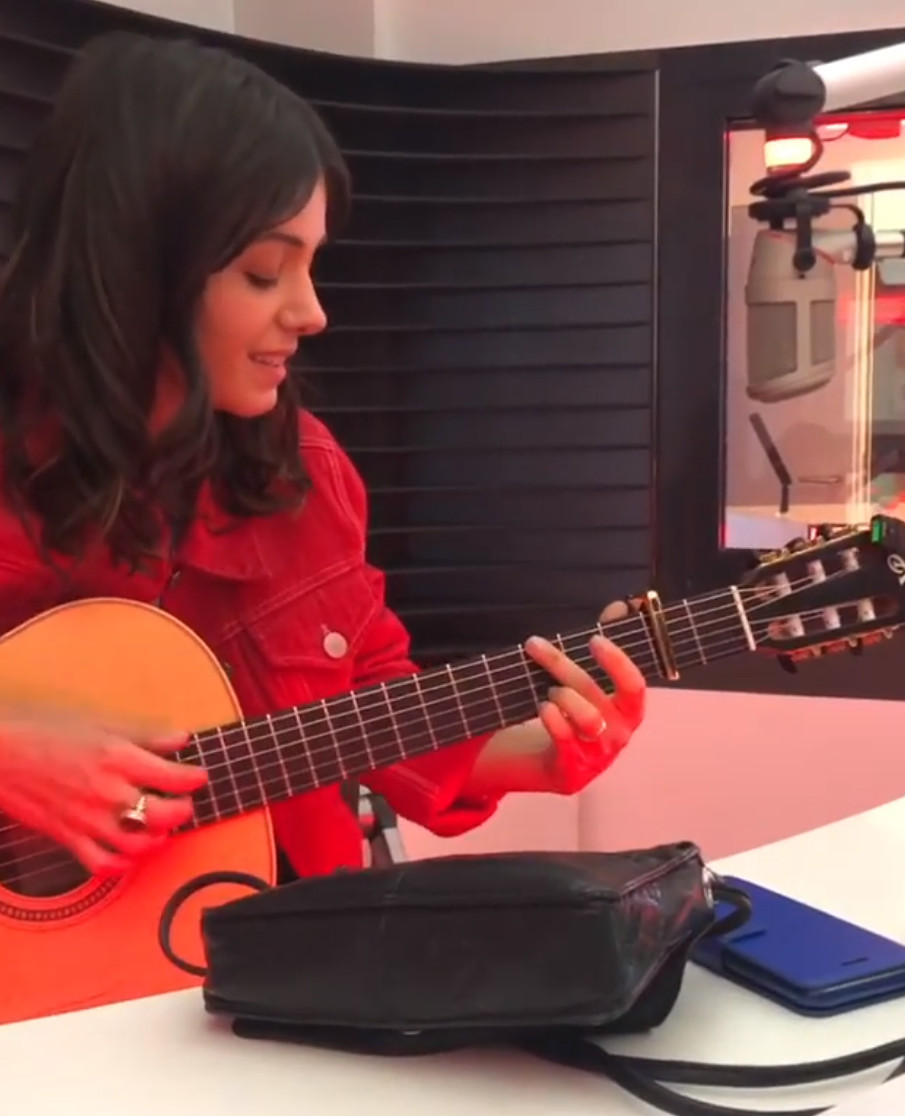 There are few finer sights in life than a wonderful person doing something wonderful that makes other people feel wonderful too. Three kinds of wonderful.
27.04.19 > Katie notebooks
I just want to give mention to the A5 notebooks available on Katie's online store. They are simply gorgeous, with that In Winter art design on the cover and back. The card for the cover itself isn't the greatest quality — I cover mine with sticky-backed plastic (remember that?) — but the blank pages are thick and bright white making them excellent for sketching and drawing. Sadly, for me, I couldn't draw the curtains. And my handwriting resembles that of a particularly nervous spider. So I don't actually use them as notebooks at all. I just like to have them lying around looking all magnificent.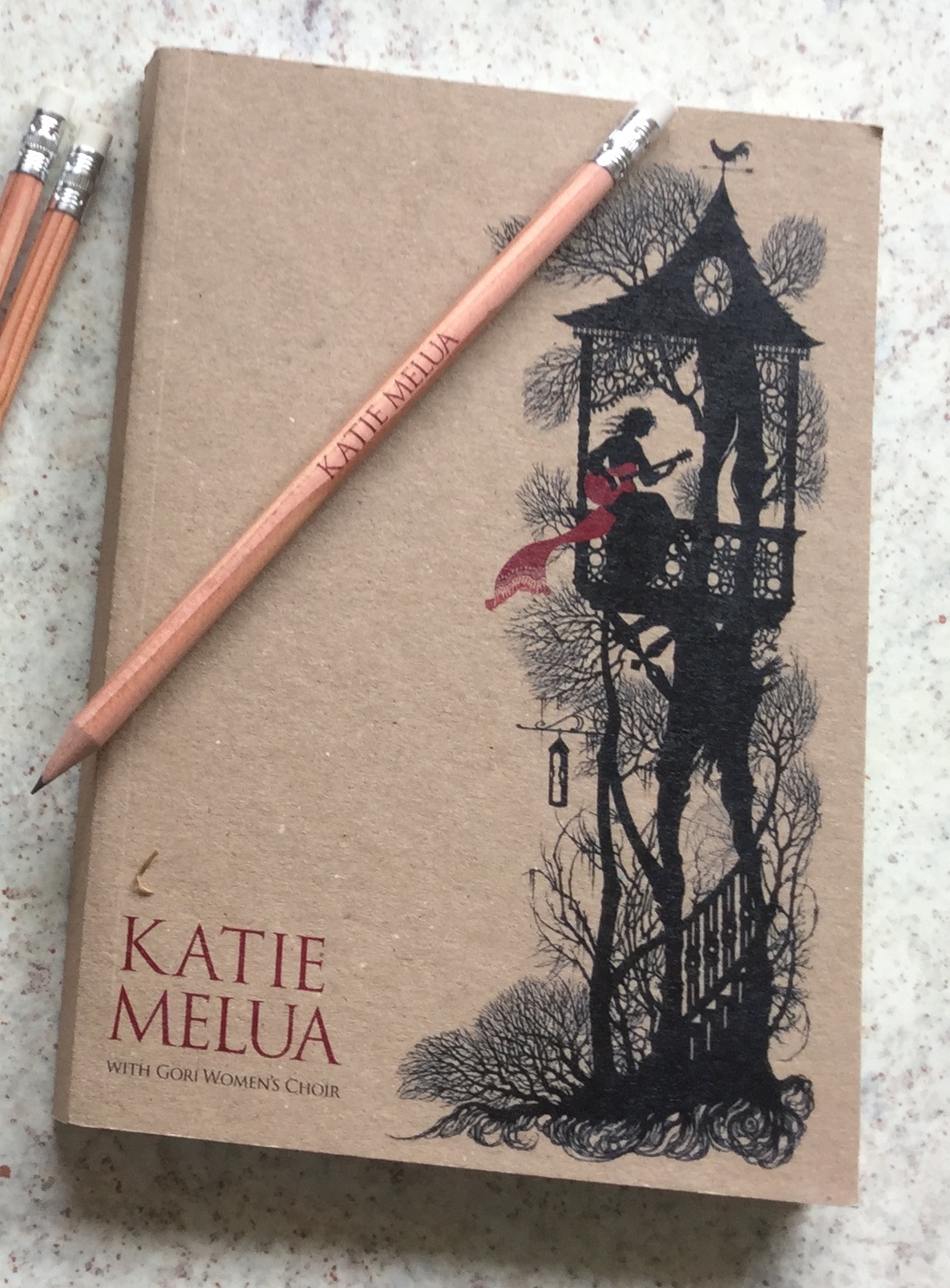 26.04.19 > Lyric card: Plague Of Love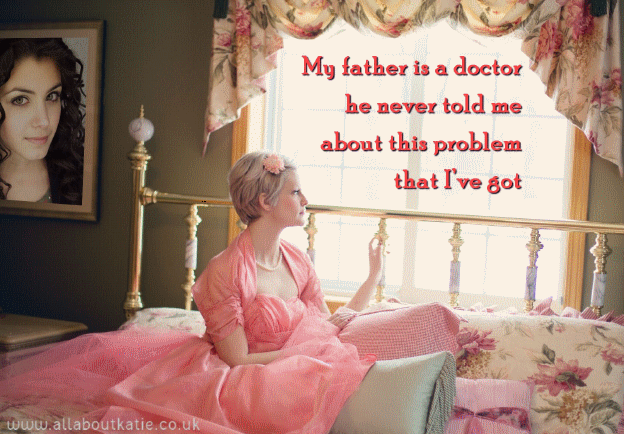 25.04.19 > Playlist: Lamenting Lost Love
Katie's versatility means she has songs for all kinds of moods. But that's not necessarily a good thing if you're in a particular frame of mind and wish to remain that way. So I have come up with some playlists which I'll throw at you now and then. You can pick the one you need and listen away without fear of having your bubble broken. I'm kicking things off with "Lamenting Lost Love" and it comes with a warning: I don't recommend listening to this unless you have wine and tissues.
Lamenting Lost Love
Never Felt Less Like Dancing
Red Balloons
Junk Mail
Learnin' The Blues
All Over The World
The One I Love Is Gone
Lilac Wine
Turn To Tell
Blue Shoes
Piece By Piece
The Bit That I Don't Get
River
24.04.19 > Katie Bite: Just Like Heaven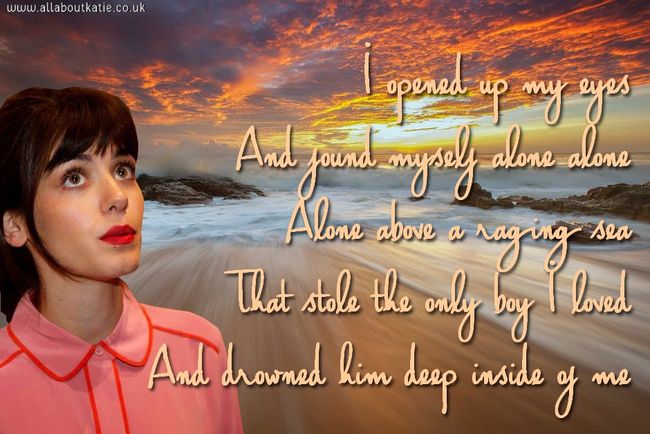 24.04.19 > ** Brief Outage **
The site was down for a while this morning due to a fault with the service provider. I have rapped their knuckles with a ruler. I apologize if it caused anyone distress (other than me).
23.04.19 > Track Notes 49: God On The Drums, Devil On The Bass
God On The Drums, Devil On The Bass

Album:

Writer(s)

Katie Melua, Mike Batt

Length:

3:48

Trivia:

Musical Merlin Mike Batt may have stepped away from the mixing desk for The House but he isn't totally M.I.A. on the album, having co-written this funky little number with Katie. But you could probably have guessed that just by listening to it. It is quite Batty.

Lyrics:
22.04.19 > Gori Women's Choir
Anyone fortunate enough to have caught a show on one of Katie's In Winter tours will know how amazing the Gori Women's Choir are. People sitting around me at the York gig last December had never heard of them and were simply blown away. And rightly so. The control they have over the human voice is simply breathtaking. In a heartbeat they can transition from being barely more audible than a spider breathing to washing over you like Niagara Falls in full flow. It is positively goosebump-inducing to experience.
Naturally, their association with Katie on In Winter has increased their worldwide exposure considerably but although the ladies of the choir generally range from 15 to 35, the choir itself has been around since before Katie was born. Indeed, the GWC will turn 50 next year, and I certainly hope Katie is planning to buy them a rather lovely cake! They were founded at the Gori School of Music and their repertoire generally celebrates contemporary Georgian composers such as Yosif Ketchakhmadze and Otar Taktakishvili, though they also perform traditional music and Georgian folk songs. I definitely recommend you seek out their two stunning albums on iTunes or Amazon, Archaica and Voices From The Caucasus.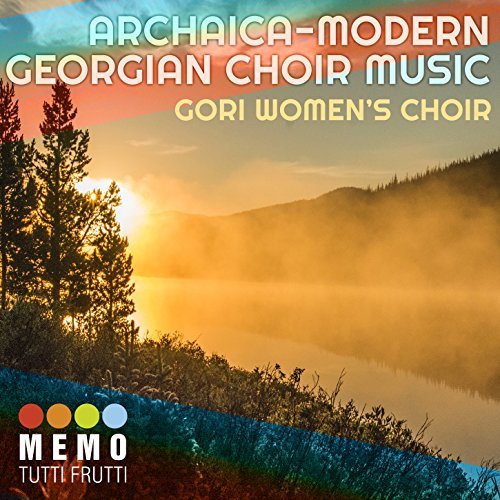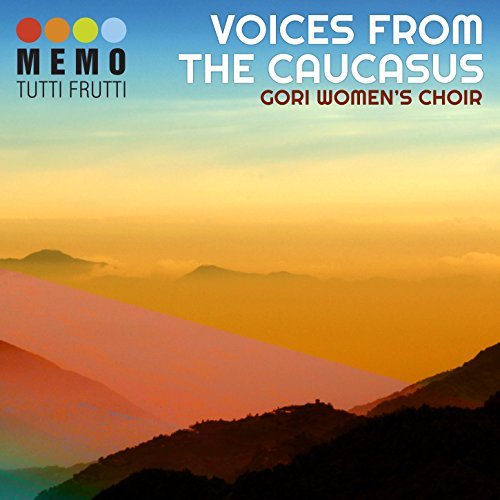 21.04.19 > Katie haiku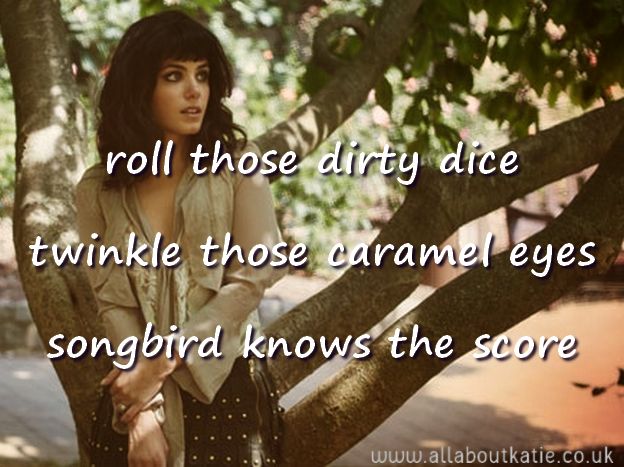 20.04.19 > Lyric card: The One I Love Is Gone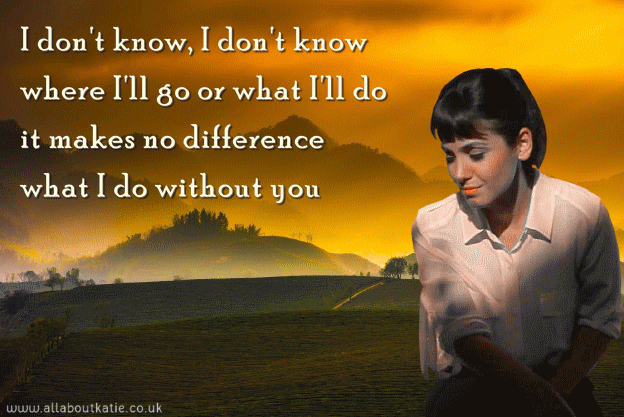 19.04.19 > Katie Bite: All Over The World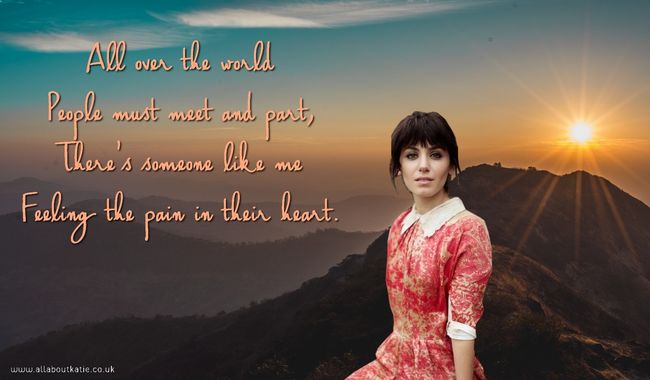 18.04.19 > So what of a new album?
There hasn't been much news of a new album yet this year. We are talking front cover of Tumbleweed Times here. But we know Katie has songs. We also know that she has quite a busy touring schedule around Europe this summer. If she can get into the studio in May/June then perhaps we could see an autumn launch. Failing that, she may get into the studio around September/October for a release either pre-Christmas or in the spring, with a summer 2020 promo tour. Who knows. She's keeping us guessing. But you can't rush a good artist and one thing we can be sure of is that it will be well worth the wait.
17.04.19 > Track Notes 48: Plague Of Love
Plague Of Love

Album:

Writer(s)

Katie Melua, Rick Nowels

Length:

3:26

Trivia:

Co-writer Rick Nowels is an American songwriter so prolific it is probably easier to list the people he hasn't written songs for. But some he has include Madonna, Stevie Nicks, Rod Stewart, Melanie C, Lana Del Rey etc. He also wrote the majority of Belinds Carlisle's greatest hits, including most of her stunning album "Heaven On Earth".

Lyrics:
16.04.19 > Cheltenham Jazz Festival
I'm so excited this is almost upon us. Katie will be playing the Henry Westons Big Top on Monday 6th May at 8.30pm. Tickets are sold out but if you're already going maybe I'll see you there! I'll be warming up earlier in the day with Lydian Collective & Rue in the Jazz Arena.
15.04.19 > Katie Bite: When You Taught Me How To Dance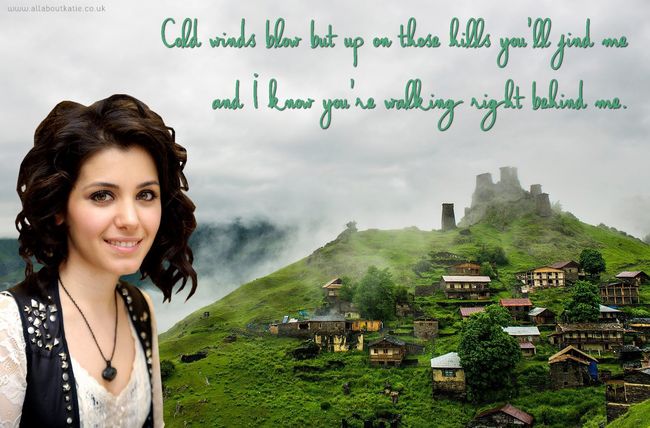 14.04.19 > Sketch effect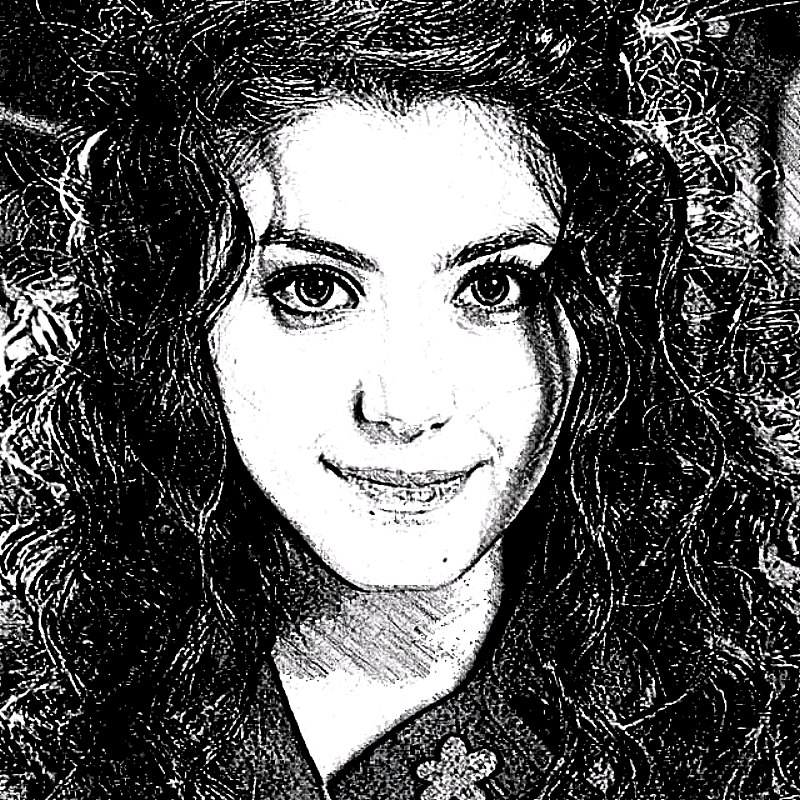 13.04.19 > Lyric card: No Fear Of Heights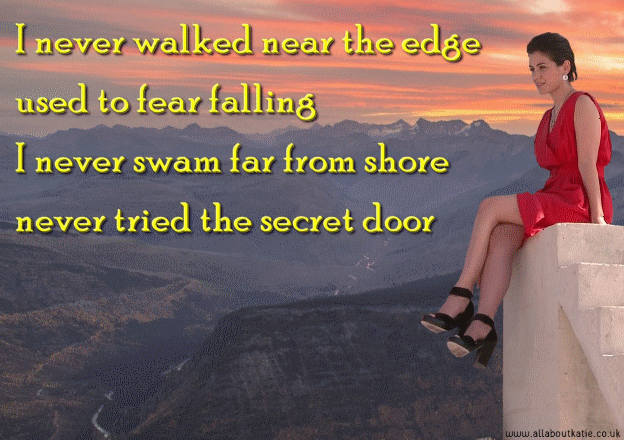 12.04.19 > Gig Alert! Starlite 2019 Festival, Marbella
Katie will be playing at the unique Starlite Festival in Marbella, Spain, on August 5th.
Starlite Festival is held in a quarry (La Cantera de Nagüeles) outdoors surrounded by nature, which is located in the upper part of the Sierra Blanca Urbanization. It is 3.5km from the center of Marbella (8 minutes by car) and 15 minutes from Puerto Banús.
For tickets and more info visit Starlite 2019
11.04.19 > Bands v Solo
I regularly blather on about how much I prefer hearing Katie sing with just her guitar. That doesn't mean I don't like her singing with a band. There's a lot to be said for working with a small team of professionals and creating something special together and I'm sure Katie enjoys having a group of talented musicians around her. But for me her strength lies in her subtle and delicate delivery of a song. And that can be undermined when she's in the mix with drums, bass, guitars and keyboards. For example, the drum track on Mad, Mad Men , for me, is too prominent. It's a great track, but I'd love to hear Katie interpret it on her own. When she has to sing loud to compete with the backing music it begins to impact on that delicious nuance she has when singing softly. Let's get one thing straight — I've never heard her sing anything badly. But my favourite songs are the ones she strokes and caresses, and no one else does it quite like her.
10.04.19 > Track Notes 47: The One I Love Is Gone 💔
The One I Love Is Gone

Album:

Writer

Bill Monroe

Length:

3:38

Trivia:

This song was written by William Smith Monroe, often referred to as the father of Bluegrass music. Indeed, the genre takes its name from his band, The Blue Grass Boys.

YouTube:

A video of the song set to some rather lovely art.
The One I Love Is Gone

Lyrics:
09.04.19 > Katie Bite: Anniversary Song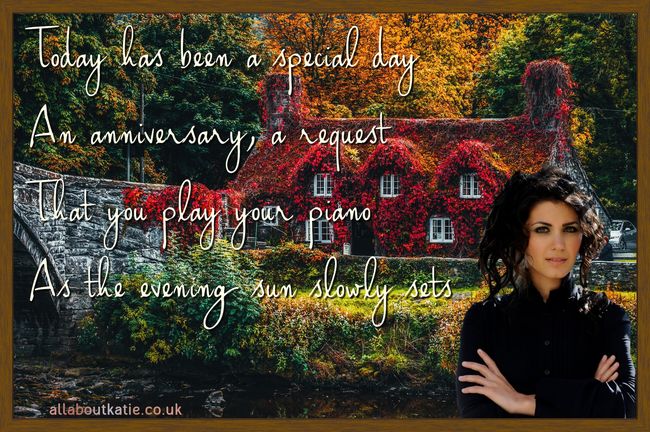 08.04.19 > Wish list: Ketevan unplugged
I'm still rather spitting feathers about the sound quality on Ketevan. The songs are great and Katie's performance is flawless as ever. But the sound engineers let her down. I first mentioned this back in 2017 and you can find out more in this little PDF. At the end of the day we are stuck with it as it is. Perhaps one day some of Katie's albums will get the "remaster" treatment; this is often just a money-making ploy to get people to buy the album again but there are cases where it is worthwhile and does offer significant enhancement of the original, and Ketevan could be such a case. But it could be 15-20 years before anyone thinks of remastering it.
Another option though, which could be done at any time, would be for Katie to record an "unplugged" version of the album with stripped back versions of the songs. Some would be just Katie and her guitar; others could have some piano backing (Hey, Lang Lang, you busy at the moment?) This can be a wonderful opportunity for an artist to reimagine a song. Bruce Springsteen, without changing the lyrics, practically turned "Born To Run" into a new song; the youthful, energetic rock anthem of his youth became a poignant, world-weary reflection of his younger self. He did it so well that I actually prefer the stripped back version, though I am a soppy old sod so that's probably not surprising. It would be too soon for Katie to do this now but I think when Ketevan reaches its tenth birthday in 2023 an acoustic version could be a great way to celebrate.
07.04.19 > Blink Twice
I don't know why this tickles my funny bone so much, but it does.
Notice camera. Shut up. Blink twice.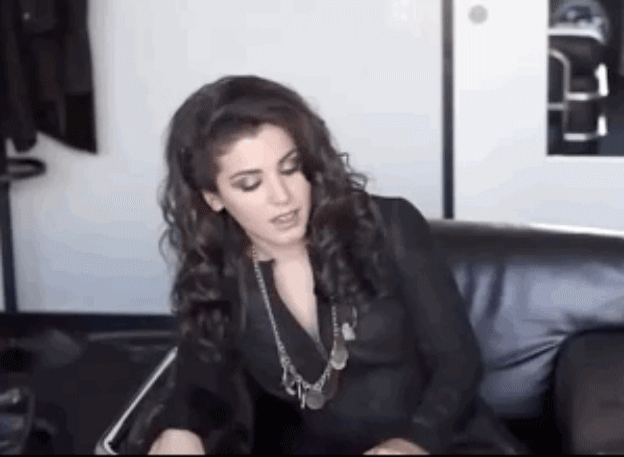 06.04.19 > Katie Bite: Anniversary Song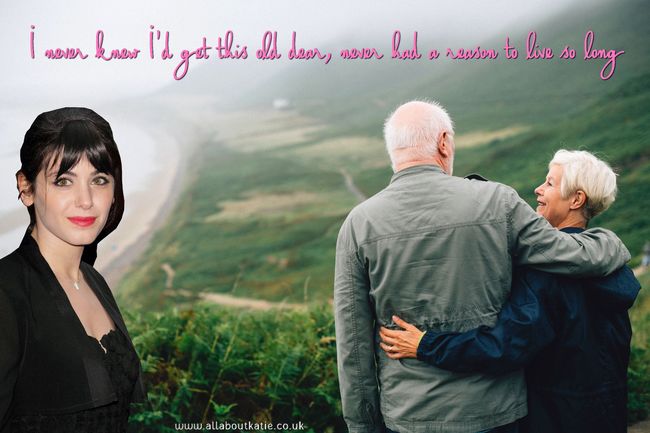 05.04.19 > Lyric card: Tiny Alien 👽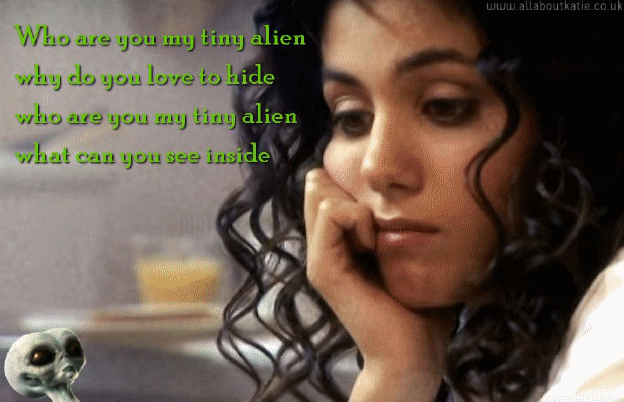 04.04.19 > Track Notes 46: No Fear Of Heights
No Fear Of Heights

Album:

Writer

Katie Melua

Length:

2:53

Trivia:

Love makes you brave. Another one of Katie's little gems that seem to slip under the radar and dodge the recognition they deserve. Katie writes beautiful songs, which is why I have a playlist just for the songs she's written on her own. There are no duffers on that list.

The song appears on the soundtrack of the 2010 film The Tourist, starring Angeline Jolie and Johnny Depp. So you see, Katie has a link to Johnny Depp. Who knew?

YouTube:

A video of the song set to art. Bit random, but it works quite well.
No Fear Of Heights

Lyrics:
03.04.19 > Hidden treasure, lost tracks
B-Sides, The Tracks That Got Away was released in 2012. So there is now another six or seven years of unused material lying around somewhere in Katie's music closet. Along with stuff that never made it onto B-Sides (C-sides?) Okay, I'm being a bit greedy wanting another portion of extras right now — 2022 would seem more appropriate, to mark a decade since the first collection. Of course, there is also the thorny issue of copyright. If recordings have been made and they are being held by Dramatico then things could get a bit political, though Ultimate Collection suggests cordial terms with her ex. And post-Dramatico we still only have In Winter. But if Katie puts out a new album this year and another in 2021 then she'd have three albums of indie output leftovers along with any other odds'n'sods such as songs recorded live, so a 2022 collection could certainly be viable. Plus, there may be a way round the issue of older stuff from the Dramatico years — I remember a few years ago when The Shadows were blocked from releasing a compilation of their old songs they went into the studio and re-recorded them. It was the recordings that the former record company owned, not the songs themselves. I think Katie owns most of her own songs (she's a sassy lassy), so there's no reason why she couldn't go into the studio and record them again if she wanted to.

The trouble with all of this is the thorny nugget of quality control: the yawning chasm between what an artist feels to be good enough to release and the insatiable appetite of the fans for *anything*. I once read that Springsteen used to write a song every day. He must have a thousand stashed away, never to see the light of day. He has grudgingly made a few available on albums like Tracks but it is a drop in the ocean to what his fans perceive to be an Aladdin's Cave of treasures. I'm not sure Katie is quite so prolific as the Boss but even so she has been writing songs for two decades now and I suspect there is material there that she will believe is not up to scratch; but fans would beg to differ. I'm not asking her to throw aside her integrity and release stuff just for the sake of it. Just to throw the odd bone to reward her loyal fans now and then. The risk of anything sub-standard leaking out is minimal — she puts her heart and soul into every song she sings. Katie just doesn't do sub-standard. B-Sides is clear proof of concept: there is not a weak track on there and it remains one of my favourite albums. So I continue to live in hope of a similar album being released one day. I guess if she had to re-record some of the songs she could call the album Re: # 😁
02.04.19 > Katie Bite: When You Taught Me How To Dance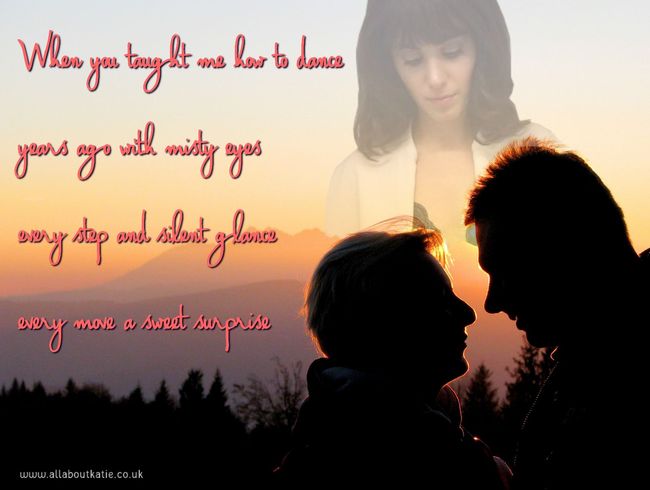 01.04.19 > Whatever you do...
be happy doing it!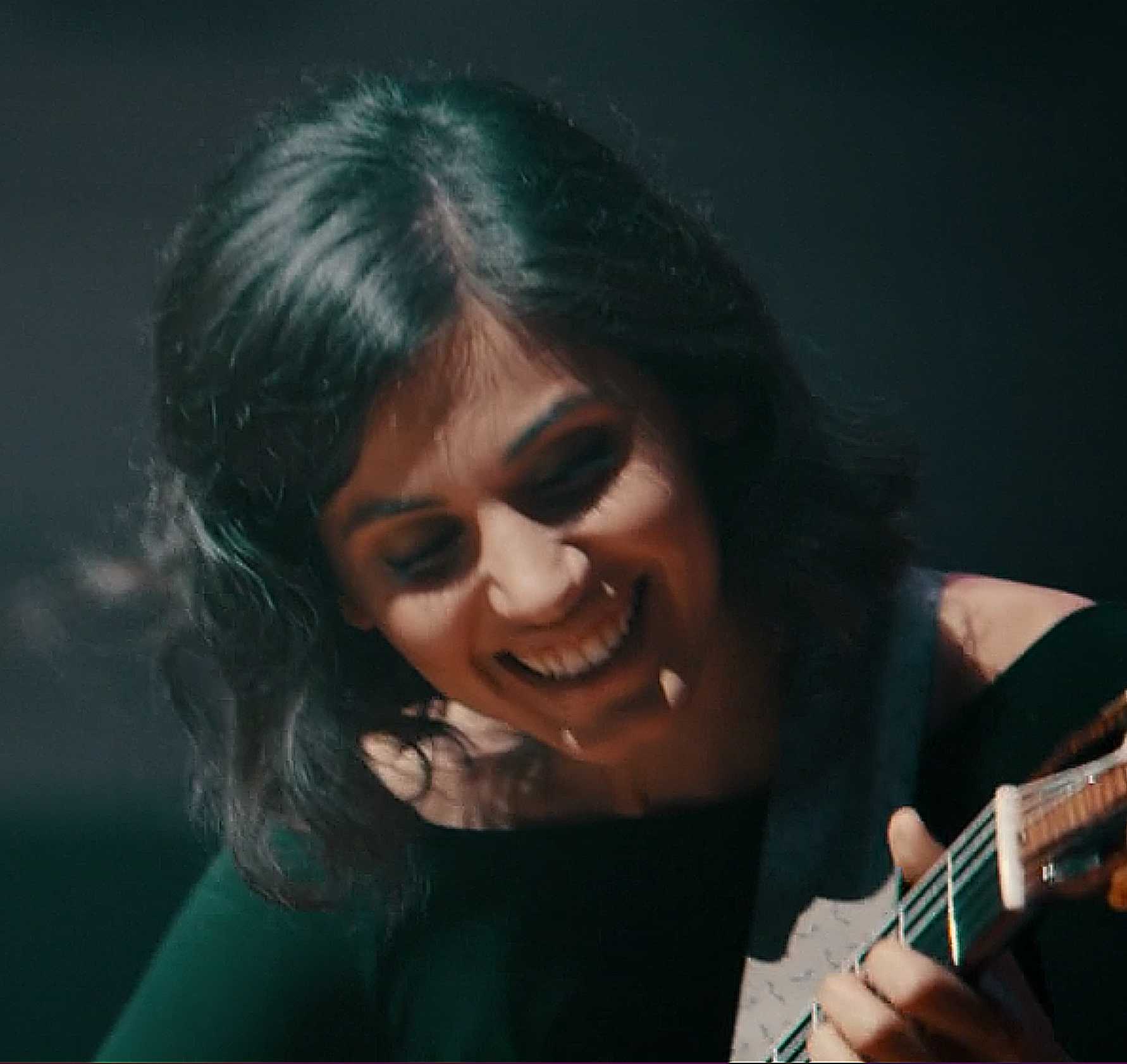 2019
2018
2017