( Click a heading to expand/collapse an entry. Click the banner above to toggle list of articles. Click here for the > ARCHIVES)
May 2018 Archive
31.05.18 > 100th Anniversary of Georgian Independence
On May 26th, Georgia celebrated its 100th anniversary of Independence. The Scottish malt whisky makers, Glenfiddich, honoured this occasion by presenting 20 bottles of 26-year-old whisky bearing the Georgian flag to 20 Georgians who have helped popularize and develop the country. Needless to say, but I will anyway, Katie was numbered among them. Obvs. Cheers, Katie! I've fallen in love with Georgia and that is absolutely down to her.
30.05.18 > Track Notes 15: Piece By Piece
Track Notes: Piece By Piece

Album:

Writer

Katie Melua

Length:

3:24

Trivia:

Katie wrote the title track of her album after breaking up with then boyfriend Luke Pritchard.

Lyrics:

Sheet music:
29.05.18 > Katie Bite: The Flood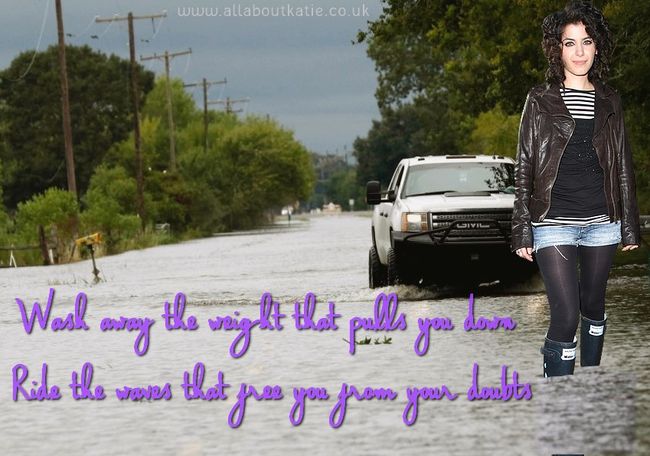 28.05.18 > Lyric card: Nine Million Bicycles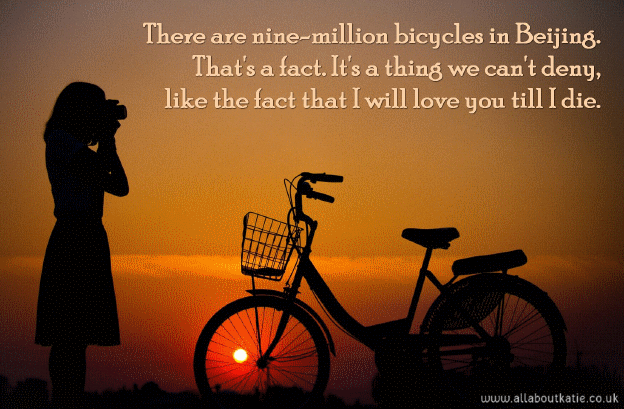 27.05.18 > Katie Bite: Fields Of Gold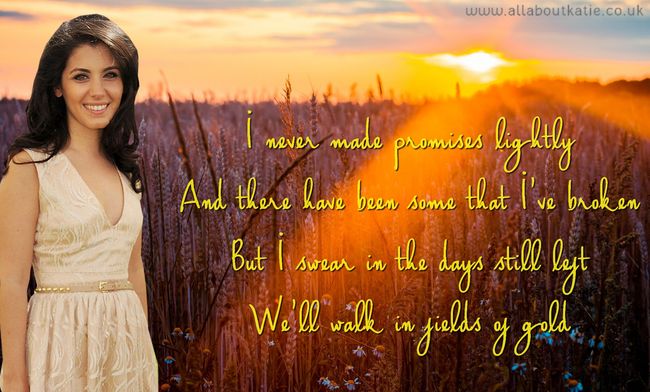 26.05.18 > Track Notes 14: Nine Million Bicycles
Track Notes: Nine Million Bicycles

Album:

Writer

Mike Batt

Length:

3:15

Released:

19th September 2005

CD tracks

1. Nine Million Bicycles
2. Market Day In Guernica
3. Stardust

Trivia:

The 1st single from Piece By Piece. Reached number 5 in the UK singles chart, Katie's first top 5 hit.

Hank Marvin recorded an instrumental version for his album Guitar Man.

Katie has received criticism in 2005 for the accuracy of the lyrics "12 billion light years from the edge" (at the time considered to be 13,7) and again more recently with regular tweets about how the number of bicycles in Beijing is declining. All of the critics ignore the fact that Mike Batt wrote the song, not Katie.

Lyrics:

Sheet music:
25.05.18 > Lyric card: Shy Boy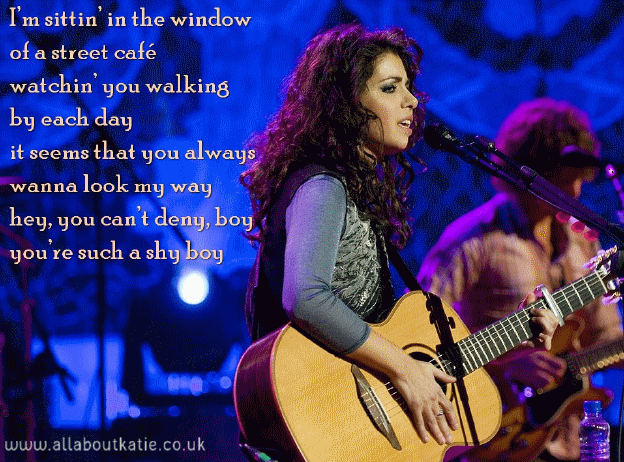 24.05.18 > Katie Bite: A Happy Place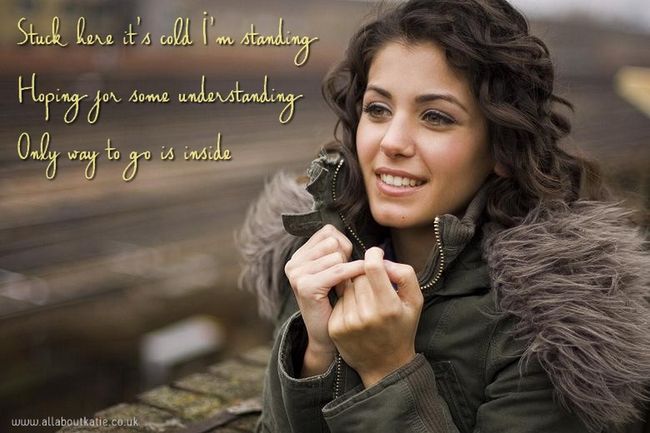 23.05.18 > No News Is Good News!
Katie has gone very quiet lately. Her Facebook fans are getting restless, wondering what she is up to. She hasn't Tweeted at all in 2018, and it is almost a couple of weeks since her last Instagram post. I choose to see this as a good sign. I think it means she is seriously stuck into making new music and is avoiding the distractions of social media. We can't have our cake and eat it. Personally, I'm fine with it if she goes off grid for a while if it means a new album is on the way. I'd rather hear Katie singing new songs than see another picture of her looking vaguely uncomfortable at some social event. The sound of new Katie songs will more than make up for the current silence. Have faith, people!
22.05.18 > Katie Bite: Better Than A Dream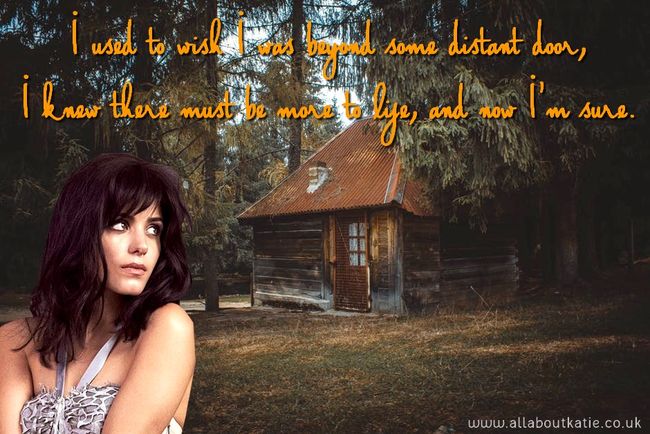 21.05.18 > Track Notes 13: Shy Boy
Track Notes: Shy Boy

Album:

Writer

Mike Batt

Length:

3:28

Released:

20th November 2006

CD tracks

1. Shy Boy

2. Fancy (Live)

3. Have Yourself A Merry Little Christmas

Trivia:

Released as a download only in the UK, it was Katie's fifth single from Piece By Piece. It was her second number 1 single in Poland.

Lyrics:
20.05.18 > Lyric card: Lilac Wine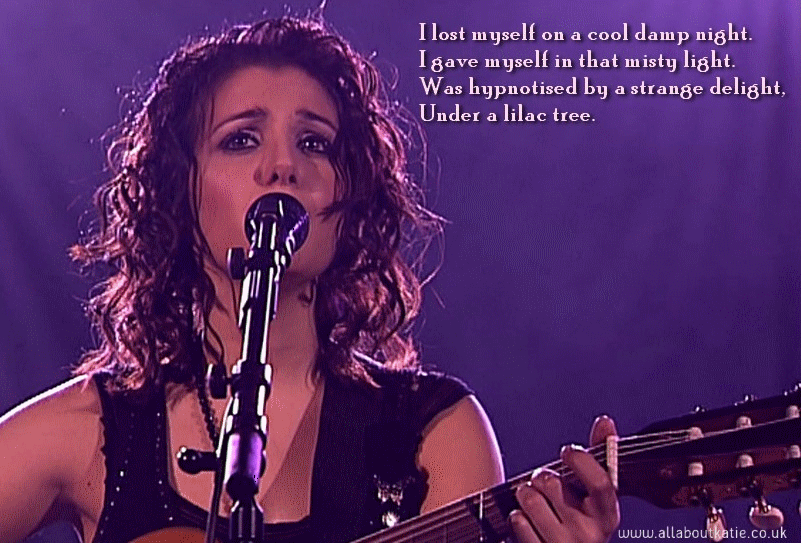 19.05.18 > Katie Bite: Perfect Circle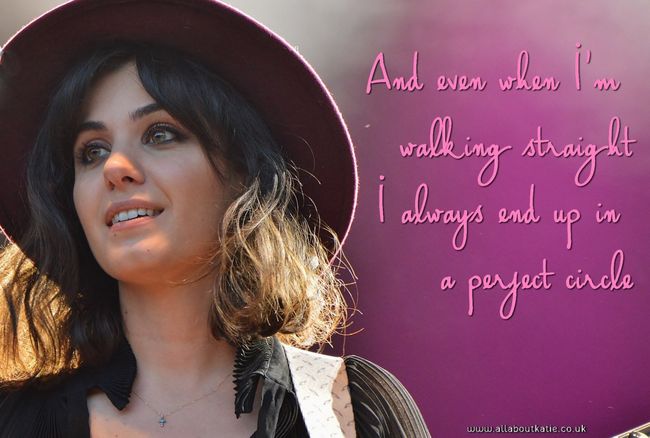 18.05.18 > Sketch effect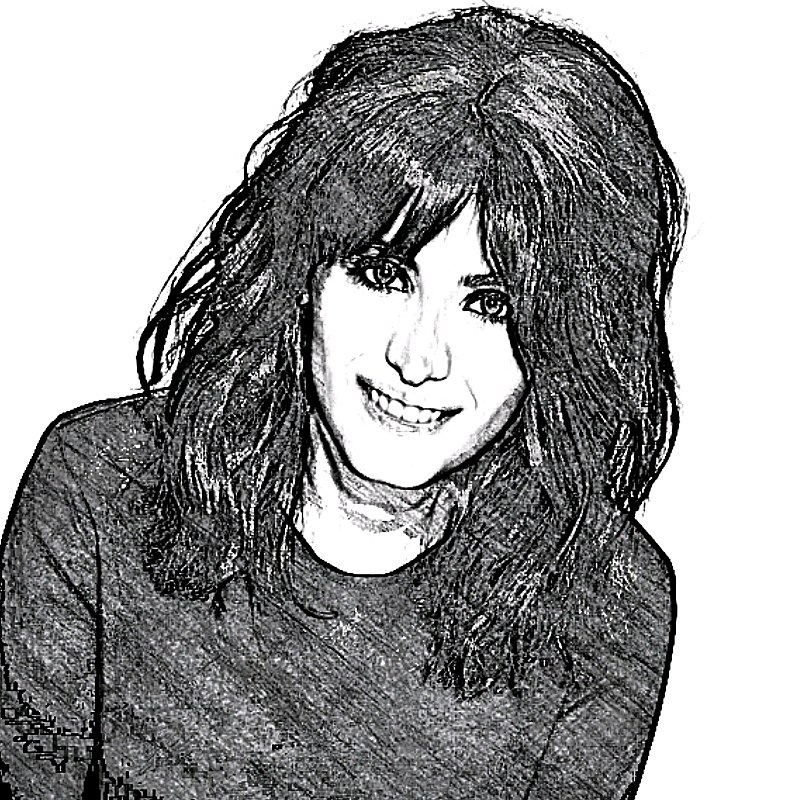 17.05.18 > Katie Bite: Call Off The Search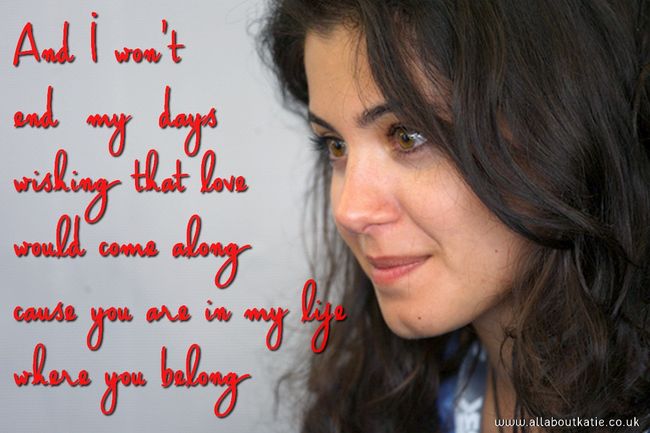 16.05.18 > What IS she doing?
Scratching an itch? Exercising? (Taken from a promo shoot for Ketevan.)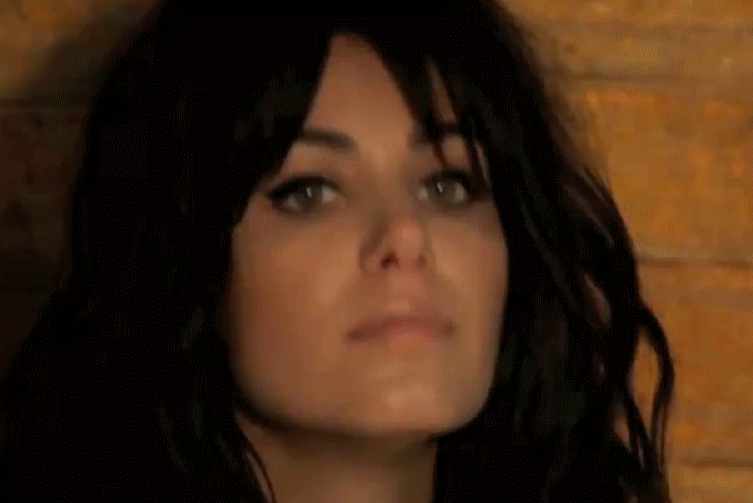 15.05.18 > Katie Bite: Better Than A Dream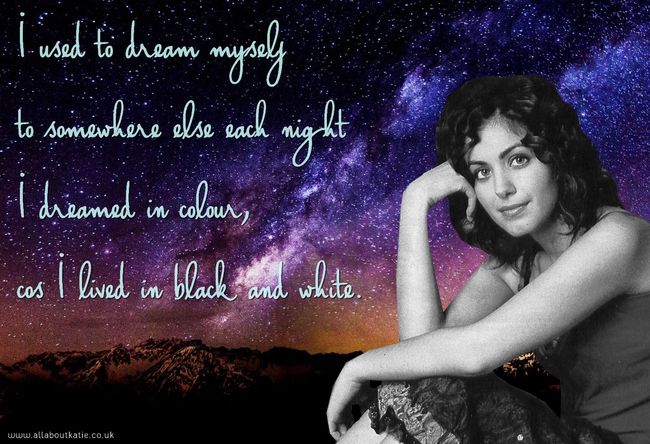 14.05.18 > Track Notes 12: Lilac Wine
Track Notes: Lilac Wine

Album:

Writer

James Shelton

Length:

4:11

Trivia:

Written by James Shelton in 1950 and covered by artists such as Nina Simone, Elkie Brooks and John Legend. It is about soothing the pain of lost love with alcohol, and is based on a line from a 1925 novel 'Sorrow In Sunlight'.

Lyrics:
13.05.18 > Lyric card: Faraway Voice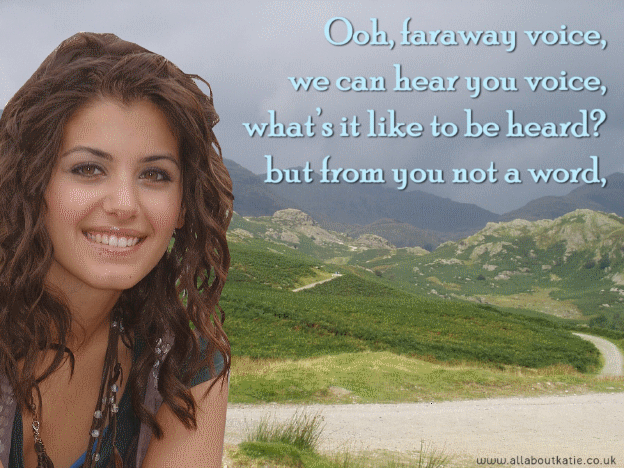 12.05.18 > Katie Bite: Anniversary Song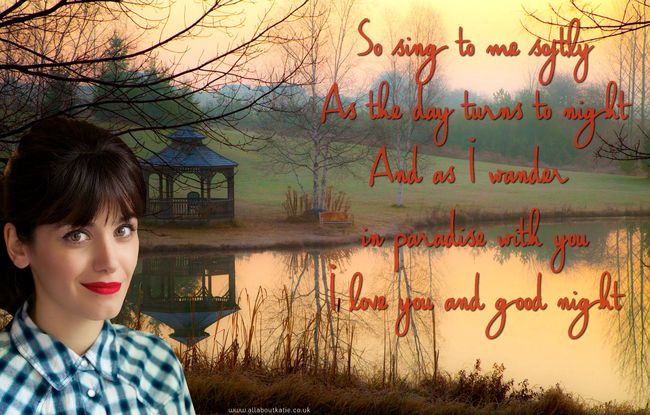 11.05.18 > Guess who?
I spy with my little eye... something beginning with K... and J...
No, don't worry, I haven't resorted to stalking Katie. This photo was posted by Emoniava on Instagram.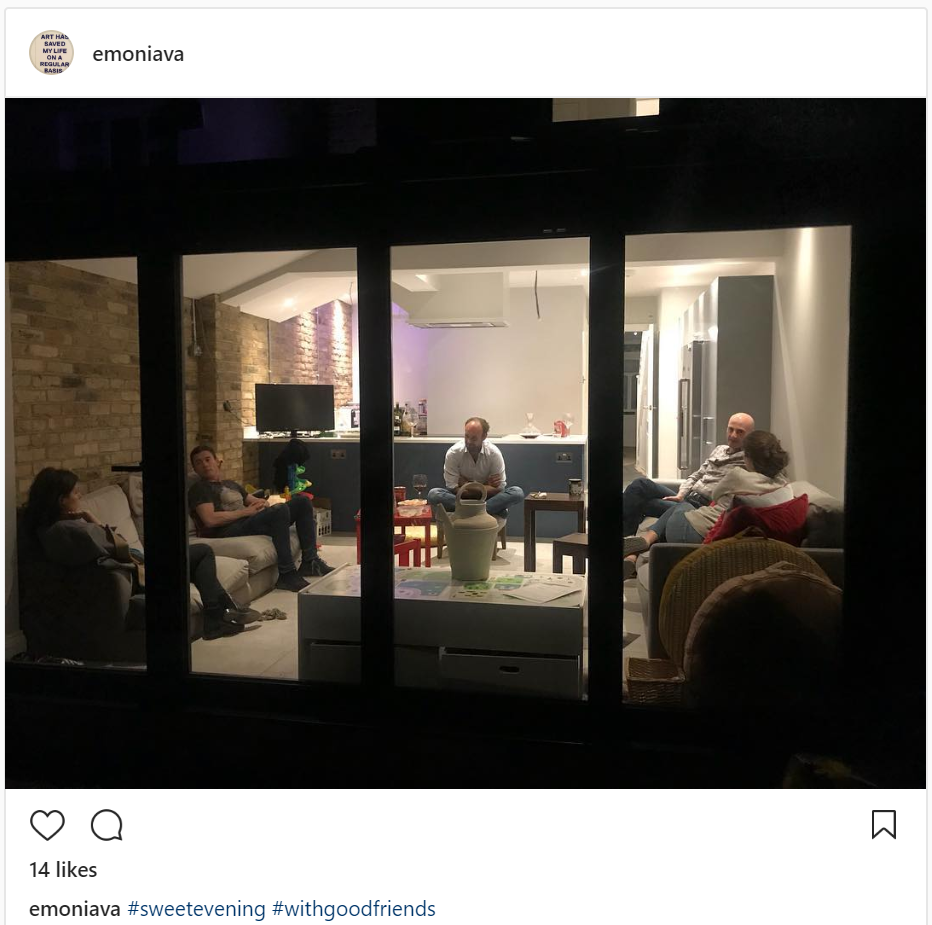 10.05.18 > Katie Bite: All Over The World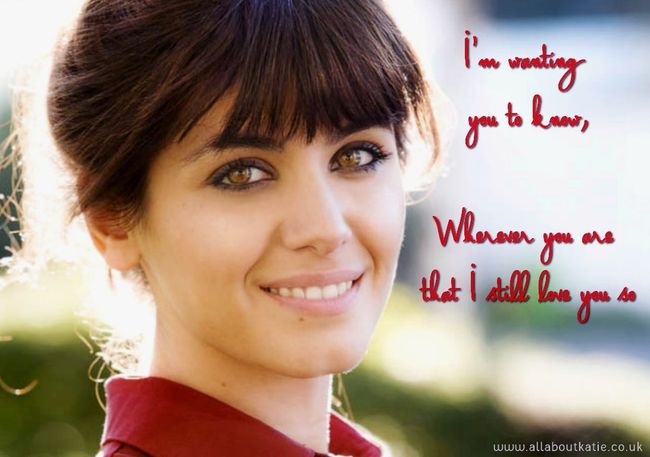 09.05.18 > Track Notes 11: Faraway Voice
Track Notes: Faraway Voice

Album:

Writer

Katie Melua

Length:

3:13

Trivia:

This song was written by Katie as a teenager. Having discovered and been blown away by Eva Cassidy, Katie was devastated to learn that Eva had died at the age of 33. On hearing the news, Katie wrote 'Faraway Voice' in an afternoon as a tribute to her idol.

Lyrics:
08.05.18 > Katie on Instagram
I love how James is stood watching while Katie does the work!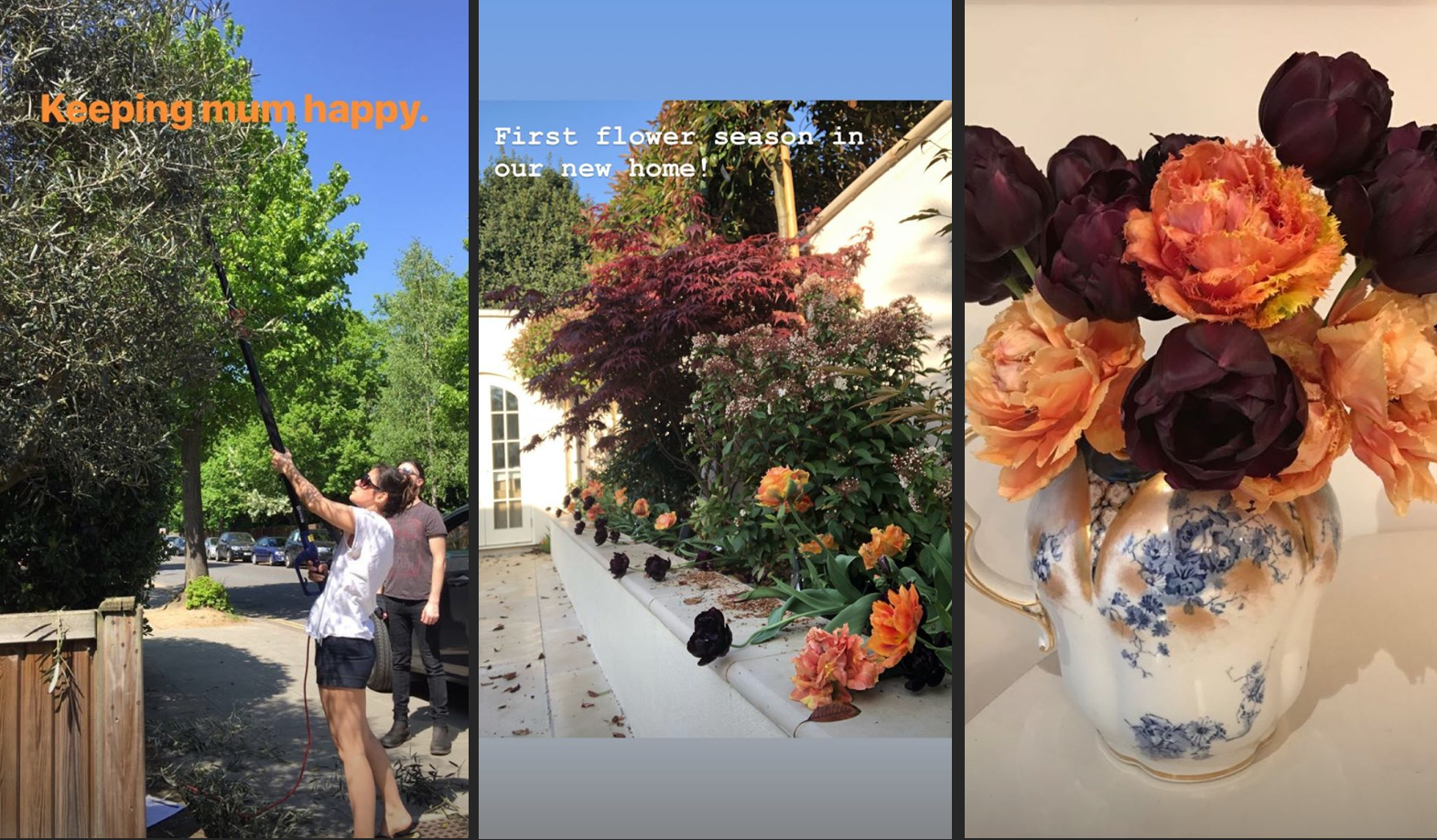 07.05.18 > Fidgeting during interview...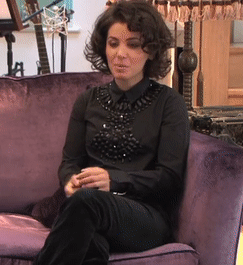 06.05.18 > Lyric card: Tiger In The Night
05.05.18 > Katie Bite: A Happy Place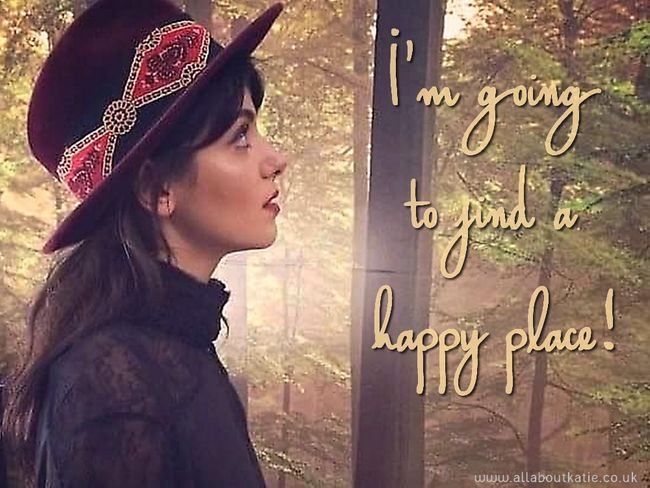 04.05.18 > London Georgian Film Festival
The 5th London Georgian Film Festival is underway at the moment. Katie attended yesterday with her brother Zurab.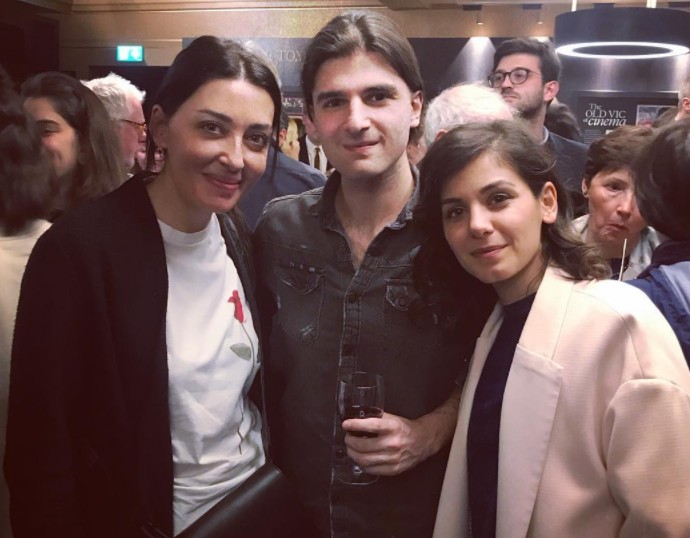 03.05.18 > Katie Bite: If The Lights Go Out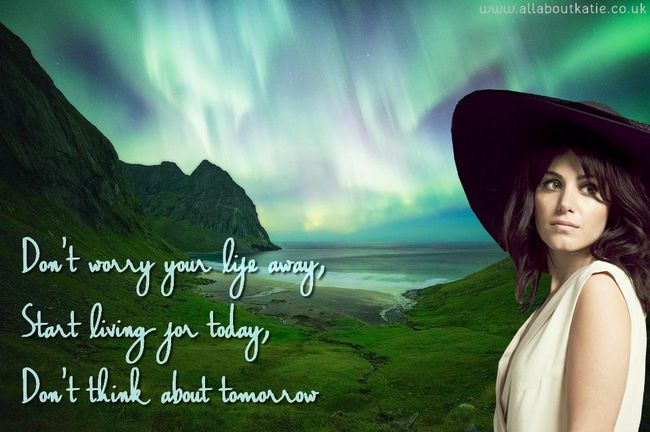 02.05.18 > Thoughts on What I Miss About You
I love this song so much, it is probably my favourite of all Katie Melua songs. Katie co-wrote it with Andrea McEwen and since Katie tends to lean more towards the music than the lyrics in collaborations it is likely Andrea wrote the lyrics, though Katie may well have had some input.
The first half of the song sets the scene for a standard love story which, though skilfully painted with observations we can all relate to, hardly sets the world on fire. Sweetly performed, as ever, by Katie, it could have been just another nice little love song and nothing more. Instead, halfway through it turns dark. Suddenly, the relationship has ended, and not well. In some of the most brutally painful lyrics I have ever heard we get to witness an all-too-real glimpse of love gone sour and I am unable to get to the end of the song without holding back a tear every time. It is three lines in the last verse that get me:

The way I only doubted myself when I was with you,
Like I was wrong for expecting something from life too.
Your skill of putting me down in front of everyone we knew...

Those lines could have been spoken by countless women. They make me feel ashamed to be a man. And Katie performs them so flawlessly you believe she is singing from personal experience (which I sincerely hope she isn't).
Interestingly, if you search for the lyrics of this song the line near the end is always given as "Like I was a fool for expecting something..." - yet I have never heard Katie sing that. She always sings "Like I was wrong for expecting...". In my opinion, the latter is better, and I wonder if that is something Katie came up with in the recording studio that got left in. Even on Katie's website it says "fool". Curious.
01.05.18 > Katie Bite: Toy Collection