( Click a heading to expand/collapse an entry. Click the banner above to toggle list of articles. Click here for the > ARCHIVES)
October 2019 Archive
31.10.19 > Katie Bite: Spellbound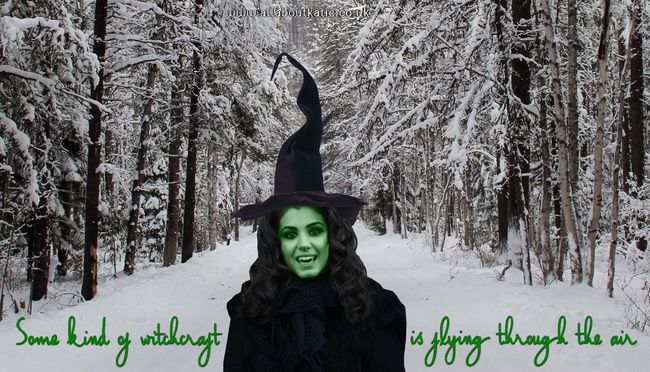 I don't like to repeat myself but that's veggie bacon for you, anyway just wanted to remind you of the excellent Halloween Katie playlist which goes perfectly with carved pumpkins and cinder toffee. Scroll back down to last Friday's entry if you missed it.
30.10.19 > Track Notes 70: Mad, Mad Men
Mad, Mad Men

Album:

Writer

Mike Batt

Length:

3:21

Notes:

Another catchy Batt confection. How does he do it? (Don't answer that, I'm not listening. It was rhetorical.) Who even thinks of writing about Oscar Wilde and Joan of Arc in the same song? (Don't... ) Looking at the title, I'm wondering if it was autobiographical as well.




YouTube:

Not a lot of this one to choose from other than the obligatory slideshow type job, but as they go this one is quite nice. Mad, Mad Men.

Lyrics:
29.10.19 > In Winter etiquette
At this time of year many people's thoughts start to turn to winter. Mine start to turn to In Winter. The burning question for Ketefans is "when can I start playing In Winter again?".
The simple answer, of course, is whenever the hell you like. It's music, not EU law. But as glorious as Katie's voice is, there are songs on In Winter that will get your brain's hackles rising if heard during the summer. (What exactly is a hackle anyway?) It's a bit like seeing the tubs of Roses and Quality Street appear in the supermarket in mid-September. Christmas is only special if we confine it to a small window of our year. The further out we start thinking about it the more watered down it gets until we reach the point where we're fed up of it before it even arrives. Thankfully, In Winter is less critical because it is about winter and not just Christmas. So we can get into it sooner and cling on to it longer. That said, there is still a degree of etiquette required concerning when we should pull it down from the shelf and dust if off. (Yes, I know that isn't strictly necessary if you have a digital copy in iTunes but some people actually do still use CDs. Or better still, vinyl.)
To date, my rule of In Winter has been to follow the Met Office definition of winter, i.e. December 1st through to February 28th (or 29th, just to keep the pedants quiet). The problem is, that's just an arbitrary three-month window so they can split the year into four equal seasons. The reality is the seasons are anything but equal. Often, the best (or worst, depending on your point of view) month for snow is March. And November can feel pretty wintry. The seasons are not as clear cut as they used to be (I'm not going to bang on about climate change but basically it's because of climate change). These days, spring seems to last longer, making summer later, whilst winters seem to be getting longer as well. It is autumn that appears to be paying the price, getting squeezed from both sides. October can start with warm sunny days and end with cold frosty ones, rushing the leaves into turning pretty colours and dropping off almost before we know it. Because of all this, I am changing my rule for In Winter listening. I've decided it is legal to listen to it from the first frost (post midsummer's day) until the first tulip opens in spring. I should hastily add that I'm not entirely happy with the latter parameter. Tulips could hold off until May. But in recent years they have been poking around in early April, and as I mentioned earlier you really can't count winter out before the end of March. In days gone by, daffodils would have been a better choice but as plants go they are exceptionally thick and I've even seen them flowering in January before the snowdrops are out. (Snowdrops are brilliant time keepers and know exactly when to show up but they usually get their business done while winter is still in full flow so I can't consider them as an end marker.) If tulips suck at the job I may well give it to lawnmowers and declare winter to be over when I hear the first lawnmower in spring.
| | |
| --- | --- |
| | So there you have it. Feel free to make your own rules. But if you're happy with mine then the good news is there was a proper frost yesterday morning (a proper frost being one that needs at least a fingernail to scrape off a windscreen rather than just a fingertip) and so I am officially declaring In Winter season open. Yay. |
28.10.19 > Lyric Card: Idiot School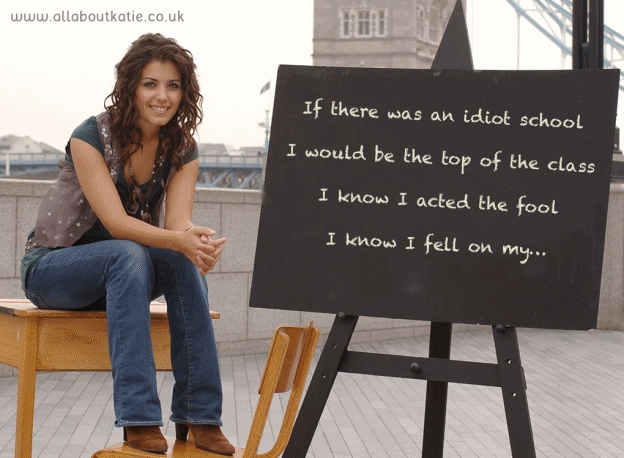 27.10.19 > K.I.S.S.
Keep it simple, stupid.
Seems like good advice, but it is increasingly being forgotten in this complex world we live in. It is most apparent in movies and television shows where the trend seems to be a million things going on at once with blink-and-you'll-miss-it cuts. You don't have time to listen to the dialogue and think about what you're seeing—instead you are bombarded with eye-candy visuals and relentless sound effects. A good example is the latest Star Trek series, Discovery. It looks *incredible* but the writing is awful. Television and movies need to get back to basics—telling stories well. If they started from that base they'd find they wouldn't need to spend millions plastering on the make-up of special effects.
It is the same with music. A lot of songs have the kitchen sink thrown at them, but is it really necessary? Enya gets her famous choral sound by recording backing vocals herself hundreds of times so she effectively becomes her own choir. But I can't think of a single one of her songs that wouldn't sound just as good if she simply sang it with just the piano as accompaniment. When James Horner was writing a theme for Titanic he sent a demo tape to James Cameron which was simply an instrumental version of himself playing the music on the piano. It was only intended to give Cameron a taste of the basic melody before letting an orchestra (and Celine Dion) loose on it, but Cameron loved it so much he used it in the film (for the portrait scene, where Leo sketches Kate). Indeed, you can find it on the soundtrack as "The Portrait". It is as simple as music gets—just a piano and nothing else—but it is a stunningly emotive piece and a perfect example of less is more.
As for Katie, I've always said I prefer her playing alone with a guitar. The version of "Fields Of Gold" she recorded for BBC Children In Need was a perfect example of how breathtaking that simple combination can be. The orchestration on Secret Symphony was all very lovely but I personally think it would have been a better album without it. It's not that I didn't like it, just that I didn't feel it was *necessary*. Katie's interpretation and delivery of a song is so good that it shouldn't have to be competing with backing music. I'm not suggesting for a second that she ditches the band or the Gori Women's Choir, but I would like to see two or three tracks on every album that were just Katie and her guitar. But hey, what do I know. If she released an album accompanied by Harry Hill on the bongos I'd still love it.
26.10.19 > Sketch effect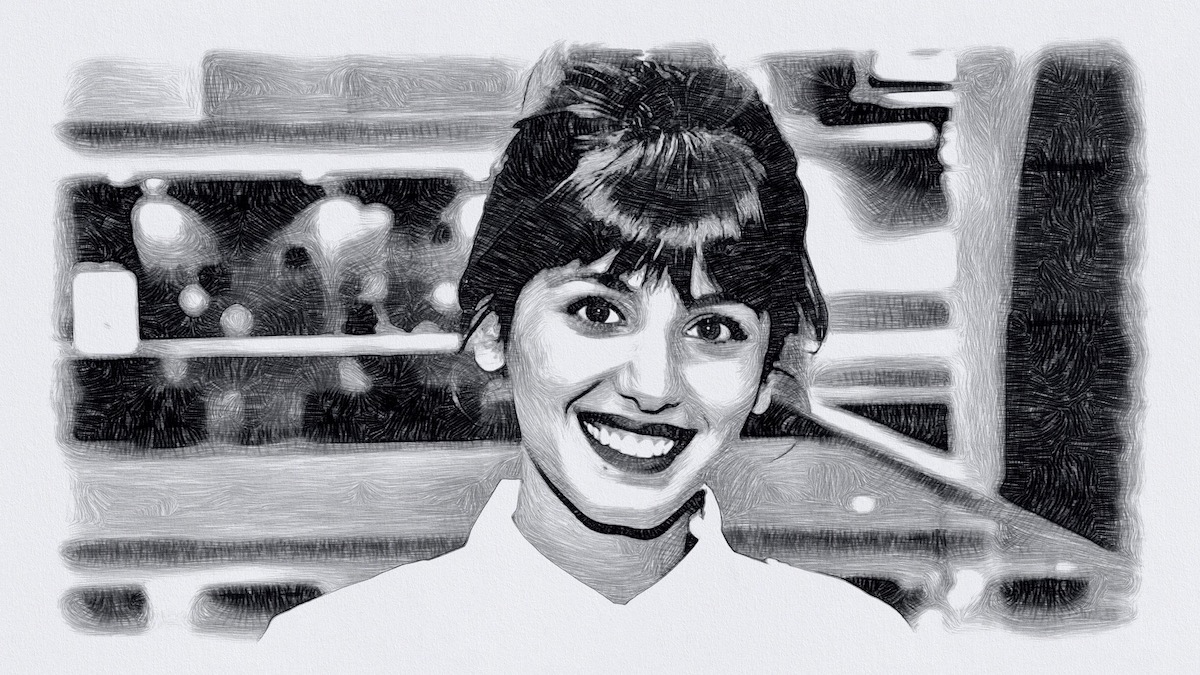 25.10.19 > Playlist: Halloween
This is a cracking playlist so I'm getting it in early this year so you can program your player and play it for a whole week. I think we can deduce two things from this image—(1) Katie has a penchant for spooky songs and (2) she's still gorgeous even as a witch.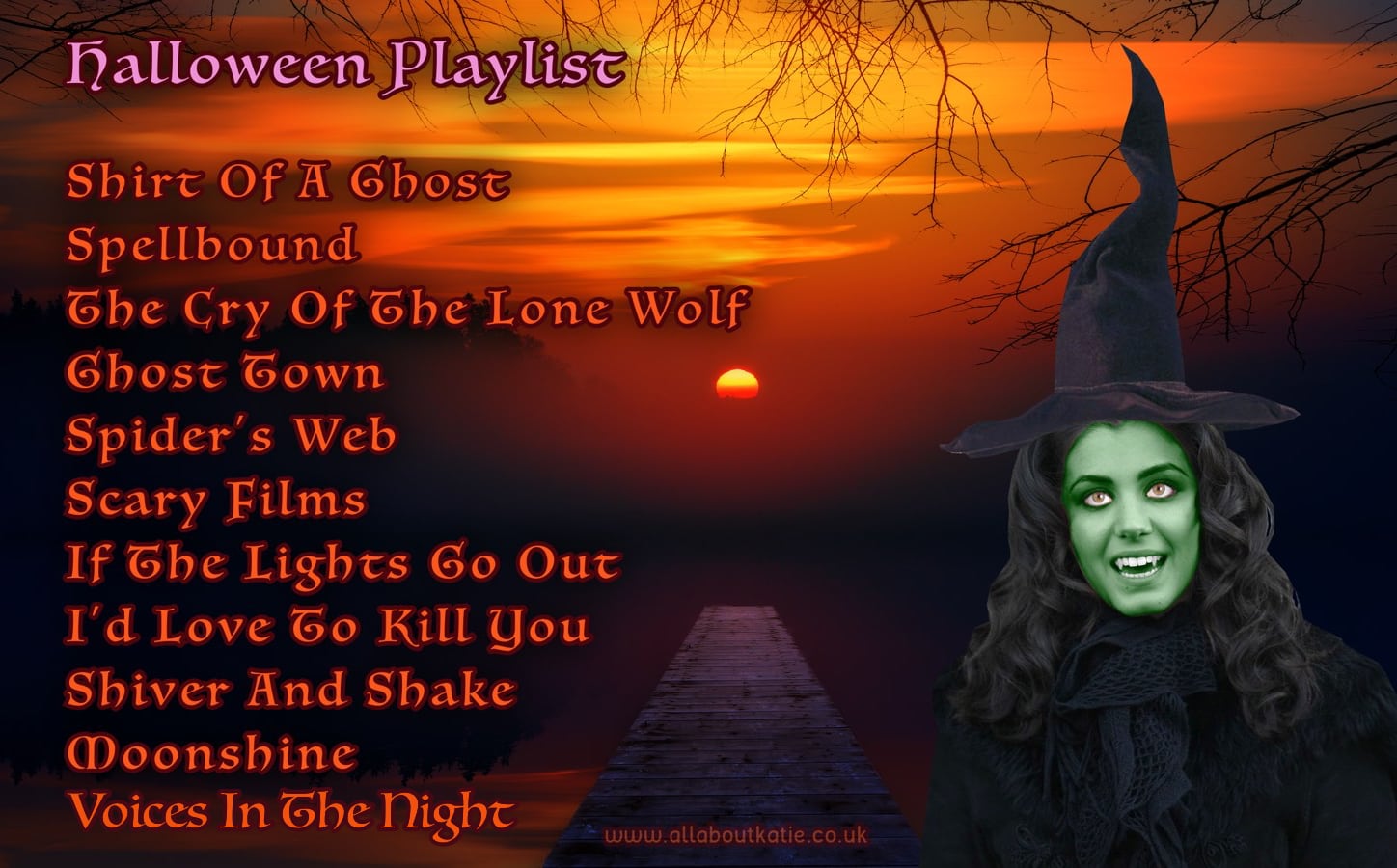 24.10.19 > Track Notes 69: Idiot School
Idiot School

Album:

Writer

Mike Batt

Length:

3:35

Notes:

Now this is an oddity. Katie does comedy. Actually, it is a sweet little song about lost love but the combination of the jaunty 1920s ukulele sound and Katie's *sublime* delivery of a couple of clever lines make it highly amusing. Pronunciation and timing needed to be spot on for the gags to work and Katie nailed it. Although Mike wrote it for Katie it wouldn't have been out of place as a Two Ronnies showpiece. He must have been channelling their spirit anyway.

Couldn't let this opportunity pass to remind you of the ringtone I made from this song.


This browser does not support this audio :-(

Idiot School ring tone (click the 3 dots to download)

YouTube:

A few fan videos of this knocking about. Here is a good one from a live show in Lyon in 2013. (Nice touch to add a bit of accordion for the French audience, along with Katie doing a little Piaf "la-la-la-ing") Idiot School live.

Lyrics:
23.10.19 > Katie Bite: Bridge Over Troubled Water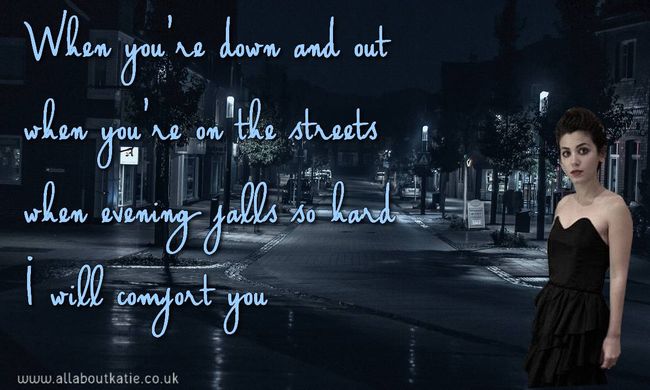 22.10.19 > Song Title Generator update
There are now more than a quarter of a million possibilities that can be generated! I strongly suggest if you see one you like you write it down since the odds of you getting the same suggestion twice are low! You can find the STG at the top of the Miscellany page and also in the panel on the right.
22.10.19 > Sock Music
Here's a first—Katie being compared to socks. Well, not Katie herself but rather her songs. Presumably the song in question is Two Bare Feet. Ahem.

Anyway, if you've ever wished you could wear Nine Million Bicycles I suggest you grab a pair of these naughty boys right now. They are far better than the Rick Astley socks, which are wearing thin and rather cheesy.

(In fairness, this ad is absolutely accurate. I have several items of bamboo clothing myself and I can confirm that as a material it is indeed the badgers' nads. Bamboo fibre clothing is soft and warm but above all is highly sustainable. Find out more at BAM Clothing.
Better still, get 15% off with this link ;-) 15% Off at BAM!)




(In case you were wondering, this was found in Country Walking magazine.)
21.10.19 > Lyric Card: Where Does The Ocean Go?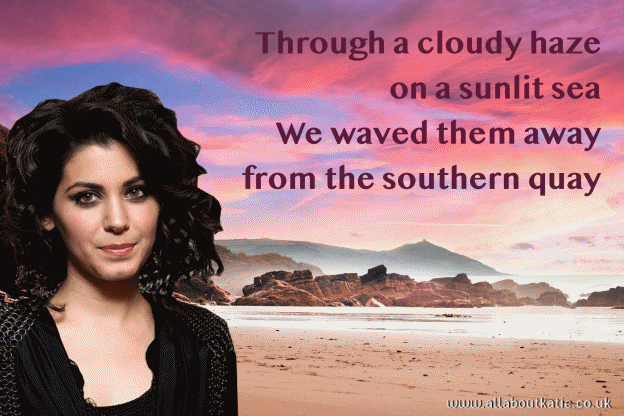 20.10.19 > Song Title Generator
Want to write a song? Stuck for inspiration? I'm here to help. Sometimes having a title can get your creative juices flowing. But what if you can't even think of a title? Well, it's your lucky day. Behold my shiny new Song Title Generator. A mere click of a lilac button will deliver you a random suggestion to get you up and running. You're welcome. There are currently more than 200,000 possible suggestions (and rising as I feed the generator). You can keep on clicking until something grabs you. Some are silly, some are weird, some are slightly amusing, some are just odd; but some are actually really good. So the STG is both a fun little amusement *and* a genuinely useful tool. Use it how you will. (Note: If you're a writer these suggestions could equally well be titles for a novel. *mic drop*)
Although you can play with STG right here it will of course drop further down the blog each day and eventually be trapped in an archive page. But don't despair, you can always find it right at the top of the Miscellany page (bottom option of the menu on the left) or use the little widget in the panel on the right.
P.S. You can't have "His Scent Endangered The World" — I've baggsed that one for myself.
19.10.19 > Katie Bite: Just Like Heaven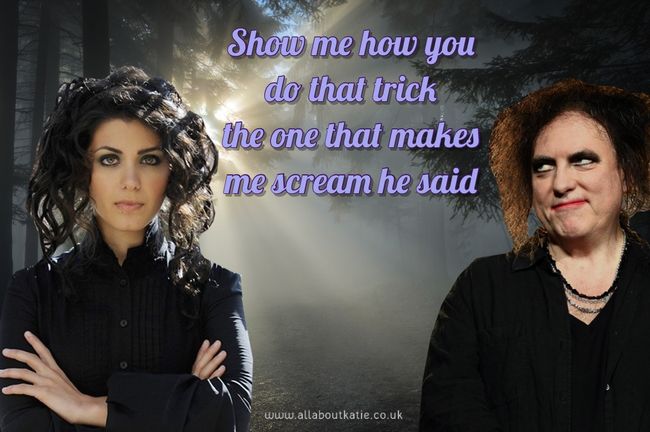 18.10.19 > Gallery upgrade
I've been doing some housekeeping in the Gallery section. Three sections have been revamped: Favourites, Katie Bites and Lyric Cards. Because there are so many of each the pages were unwieldy and slow. I've changed them to show one at a time with buttons that let you navigate through them or show one at random. The Bites and Cards also let you choose a specific song. I was so chuffed with the improvements I treated myself to half a Snickers bar. I don't expect you to be quite so enthused by the changes but I hope you like the new system anyway.
Here are links to the pages just in case you are too idle to click on the "Gallery" option in the menu on the left.



17.10.19 > The Wisdom Of Bob
As I was idly flipping through my 600-page book of Dylan lyrics it struck me that there was simply too much wisdom in those pages to be languishing on a coffee table. I needed to spread the word of Bob. So I made a little widget called The Wisdom Of Bob to do just that. Scroll down a little and you'll find it in the panel on the right. Click the "Seek guidance" button and Bob will give you his enlightened response to whatever pressing need you might have. How you interpret his response is up to you. Do enjoy.

Warning: you may find it ever so slightly addictive.
16.10.19 > Track Notes 68: Where Does The Ocean Go?
Where Does The Ocean Go?

Album:

Writer(s)

Katie Melua, Mike Batt, Luke Batt

Length:

3:37

Notes:

Katie was the filling in a Batt sandwich writing this one with Pops and Junior. And what a tasty concoction they came up with. Another gorgeous song from the mightily impressive Ketevan.
There is something of a French theme going on with this album. "Where Does The Ocean Go?" contains some French words,"Shiver And Shake" contains the word "French", "Sailing Ships From Heaven" bangs on about Paris and some bloke called Jean-Michel (Jarre maybe?), and "Mad, Mad Men" mentions Joan of Arc. I suspect it is all accidental rather than calculated but hey, just thought I'd point it out.

YouTube:

Here's a video of Katie performing the song live mixed with footage of a bloke painting a massive picture. Not just any old massive picture mind, it was one that Katie stood in front of for Ketevan promo shots.Where Does The Ocean Go?.

Lyrics:
15.10.19 > Acting Katie
Hands up who knew Katie was also an actress? Okay, that may be stretching it a bit but she has appeared in a movie and here is a still shot to prove it. This is from Grindhouse, if you must know. Katie has always been ridiculously photogenic and effortlessly camera-friendly, though clearly in this scene she found the camera more terrifying than the supposed *evil thing* the other actors are looking at. (I think the *evil thing* in question may have been Mike Batt, whose trousers had just fallen down revealing he'd decided to go commando that day.)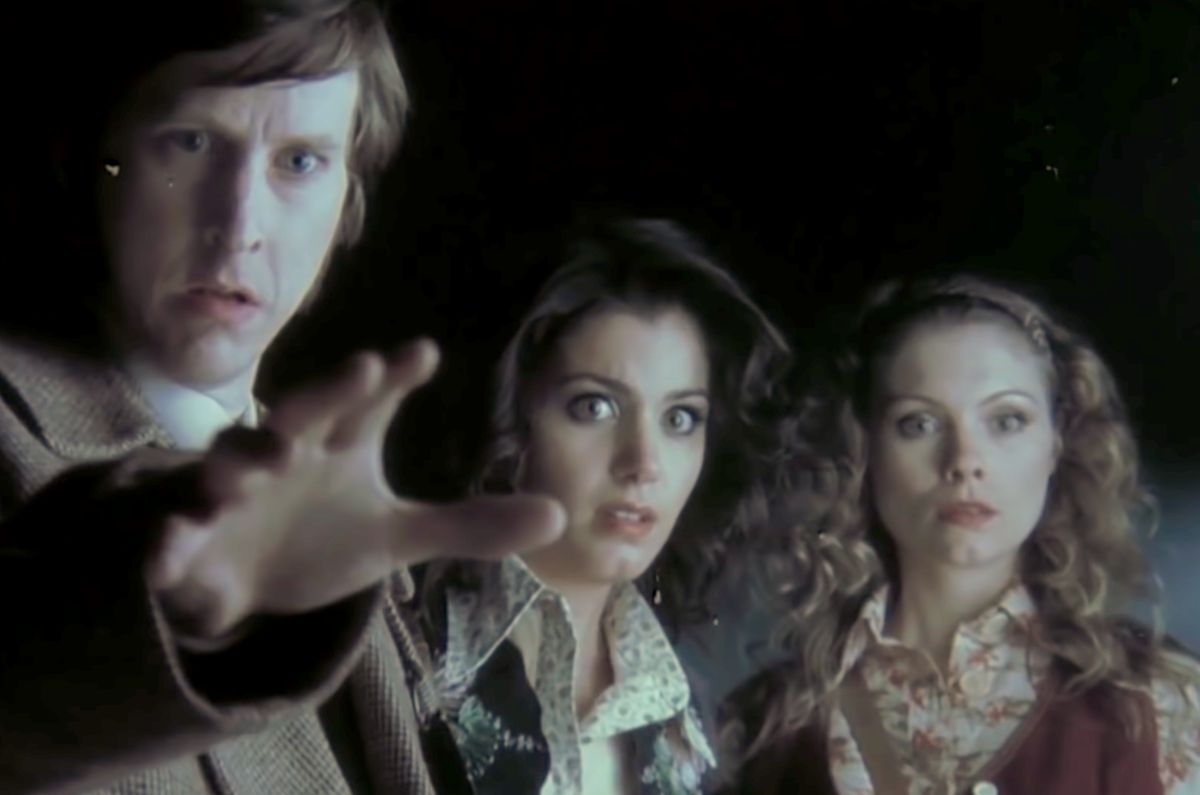 14.10.19 > Katie Bite: Heartstrings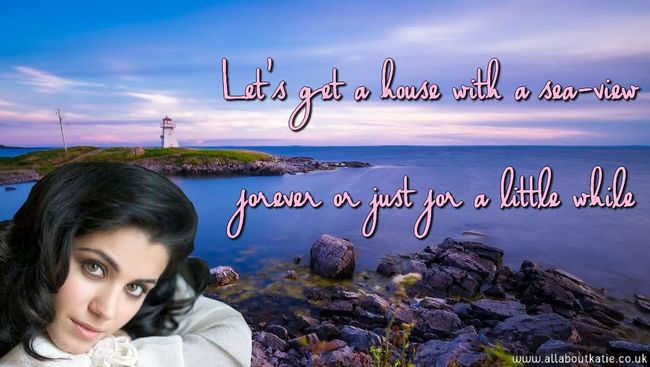 13.10.19 > Ignore Governments
An Englishman, a Georgian and a Russian walked into a bar.... They ended up good friends. I know you don't get it. That's because it wasn't a joke. But there is a moral. Treat people as you find them. And you will find that wherever in the world you go people are lovely. So take no notice of what governments and the media tell you about foreigners. Meet them with an open mind and get to know them. You will find they have much more in common with you than you might think and it is wonderful to know you have friends in faraway countries. If we all made these connections instead of blindly believing what we're told the world would be so much better.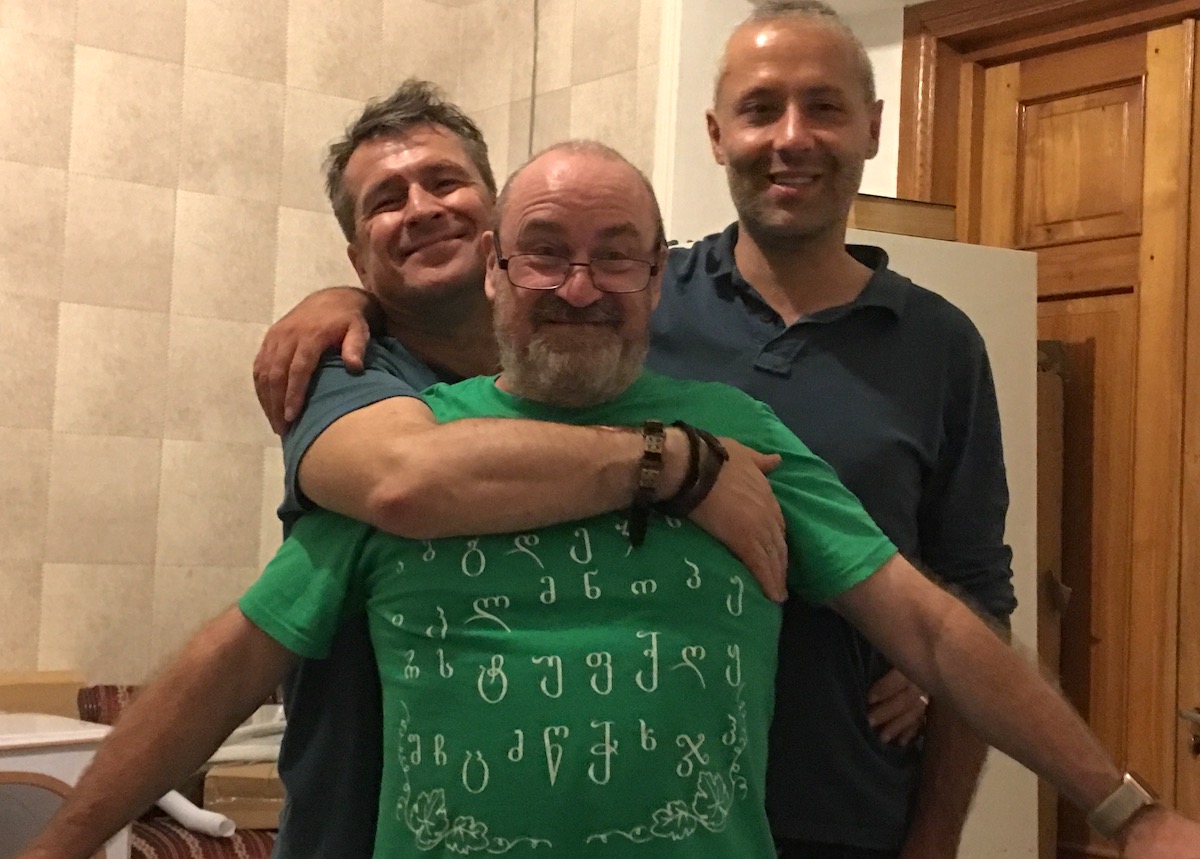 12.10.19 > National Album Day
It is National Album Day. Yay. Quite honestly, I've no idea who decided that should be a thing. Or why. But apparently it is, and there's no way I'm letting it pass without giving a shout out to our girl.
My choice of album was not difficult. I'm going back to the beginning to the album that stopped me in my tracks and nudged my life down a different path. Call Off The Search was an instant masterpiece. When I first heard "The Closest Thing To Crazy" on Terry Wogan's radio show it was a <stands still and stares at the radio in disbelief> moment. (Terry had a habit of doing this—he also got me with Dire Straits' "Private Investigations" and Kate Rusby's "Underneath The Stars").
It was love at first note. There's something about Katie's voice that penetrated my shields, went straight through my heart and proceeded to hug my soul. I had no idea what she looked like but she sounded, well, older and chubbier but sultry, perhaps like Angelina Jolie if she'd let herself go a bit. I certainly wasn't expecting a gorgeous curly-haired kid. For a debut album by a teenager, Call Off The Search is astonishing. The maturity in Katie's voice and the subtlety of her interpretation is breathtaking. The theme of National Album Day (look, I'm not making this up - nationalalbumday.co.uk) is #DontSkip and I think that is a good choice. No skipping, no shuffling. Sit down and listen to Call Off The Search from beginning to end, the way an album is meant to be listened to, and just savour the brilliance of a new born star.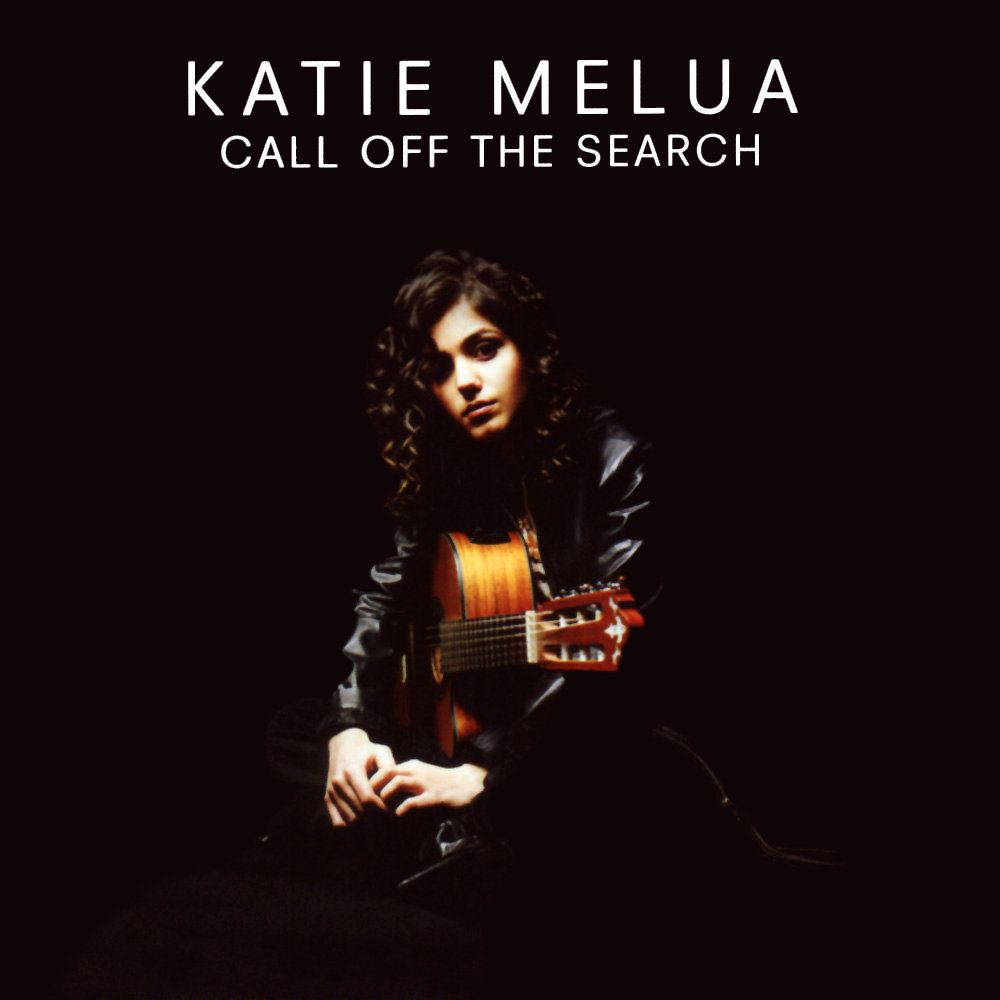 11.10.19 > Support the Indies!
Don't worry, this isn't about cricket. I'm talking about independent artists. Which is what Katie is since parting with Dramatico. But I'm not too concerned about Katie struggling to make ends meet—her ends met a long time ago and fused together nicely. I'm more worried about the many indie artists that make a living from music but remain unable to penetrate that elusive and fickle bubble called 'The Big Time'; or indeed those that have managed to get inside it for a while but have been ruthlessly dumped out of it again with not so much as a 'thank you'.
The struggle to survive is not confined to young artists just starting out and trying to catch a break. A good example is Nils Lofgren. One of the world's greatest guitarists, Nils is a member of the E. Street Band, Bruce Springsteen's legendary wing men, but he has also been in bands with Neil Young and Ringo Starr, and he has played alongside the likes of Bob Dylan. He co-wrote songs with Lou Reed. He has also been releasing albums of his own since the early seventies. In fact, his career ran parallel to Springsteen's in the early years—they crossed paths a couple of times and had similar levels of success. But one day Bruce got yanked into the bubble and the rest is history. Nils never did. He still has a large enough fan base to keep touring and making records to this day, but he has to do it all as an indie—the record companies are not interested despite his astonishing c.v.
Indie artists are the real deal in music. They make honest, meaningful music, not the manufactured synthetic rubbish that hogs the lion's share of the airwaves. But if there are indie artists you love you should help them. They have to eat and pay their bills too. You should go see them live whenever you can. That's important. As for their music and merchandise—go to their web site and buy it directly from them. Please don't just stream them on Spotify or whatever. Artists get nothing from that—no, seriously, they don't. Lofgren gets annual royalty cheques often for a couple of dollars and sometimes just a few cents. Streaming picks the pockets of musicians. By all means, listen to the major stars that way, but not indies. As for merch, it is always tempting to buy a tour T-shirt or something at the concert but again, this is bad for the artist. The venue always takes a big chunk of merch takings, which is grossly unfair but that is how it is. Wait till you get home and then order the item from the artist themselves. Nils' wife Amy handles all his merch. She takes the orders, packs them and posts them herself. She even designs most of the T-shirts. The two of them are a self-contained music business. The wonderful Kate Rusby has her own little cottage industry at home, where her parents help her packing and sending off orders. Judie Tzuke has her daughters helping out (as well as being backing singers). Indie artists are often part of a little family business, but like all small businesses they are in a daily fight to survive in a world where the giants like Apple, Amazon, Google and Spotify descend on the public like locusts, barely leaving crumbs for the rest to forage. So, if you care about an indie then support them. Better still, champion them. Blog, tweet, whatever—spread the word and get others supporting them. Support the Indies.
10.10.19 > Playlist: Love Is In The Air
There are plenty of songs in Katie's catalogue about love that is breaking, is broken or is lost. More than plenty for a good playlist to listen to alone with a bottle of Rioja and a box of tissues. But that's for another time. Today's playlist is for lovers. When you still have the dizziness in your head, fluttering in your heart and lack of appetite in your stomach. God help you. So, curl up on the sofa with the poor creature that is responsible and let Katie do the rest…
Note that this list is in alphabetical order. If, like me, you can't stand playing lists of songs ordered thus then all I can say to you is "shuffle button".
Love Is In The Air
Anniversary Song
Better Than A Dream
Call Off The Search
Chase Me
Heartstrings
If The Lights Go Out
My Aphrodisiac Is You
Nine Million Bicycles
No Fear Of Heights
Scary Films
Shiver And Shake
The Closest Thing To Crazy
The Love I'm Frightened Of
The Walls Of The World
What It Says On The Tin
09.10.19 > Lyric Card: The Love I'm Frightened Of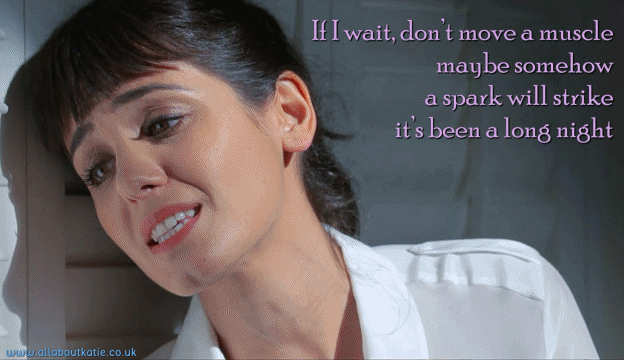 09.10.19 > Oops! Brief shutdown
Imagine if you had to change the engine in your car. Obviously, between taking out the old one and putting in the new one the car wouldn't run at all. Well, yesterday I had to do a web site equivalent of that which meant that for a few hours the site was down. I doubt if anyone actually noticed but if you did and were left mildly traumatized by seeing some nasty error message instead of Katie's caramel eyes then I do apologize. I misplaced a vital bolt and it took longer than expected to replace the engine. But it is done now and the new engine is purring like a kitten. The site should be running faster and smoother than ever and your eyes can once again be caramelised...
08.10.19 > Age Demographics
The other day I mentioned Katie's transition to album artist from singles artist. I realised that was a very simplistic observation. If you look more closely at her career and poke around in the stats you could argue that she has always been an album artist. After all, she hasn't had a Top 40 hit since "The Flood" in 2010 (not counting "Fields Of Gold", which was guaranteed success as the official Children In Need single in 2017). Her albums paint a different picture. Call Off The Search and Piece By Piece both made number one, Pictures number two. Indeed, when Ketevan charted at number six, Katie became a member of a very exclusive club of female artists to have six consecutive top ten studio albums in the UK, joining the likes of Kate Bush and Madonna. When In Winter made the top ten, she nudged her score up to seven. (At the moment, Kate Bush has ten and Madge fourteen but lets not forget they are both in their sixties now; Katie has 25 years of catching up to do!)
Having got all that straight, it is worth looking at how Katie has been so successful despite only modest success in the singles chart. Well, it is all down to age demographics. Yeah, baby. Let's get statistical… Put simply, Katie's fans are old. If you go to one of her concerts you can observe this for yourself. You'll see the odd brave fresh face but predominantly the audience will be over fifty. Her average fan will be much older than Katie herself, which is rather unusual. Taking The Beatles as the obvious benchmark, although they were basically toddlers themselves when they started out their fan base was even younger—millions of screaming adolescent girls. How awful. Of course, later on everyone loved The Beatles and many a 63-year-old went around humming "When I'm 64". But their initial demographic was fairly normal. Most artists will have fans predominantly of their own age or younger. So, why is Katie exceptional?
It's all down to TOGs. No, I'm not talking about duvet thickness. Terry's Old Geezers (or Gits, depending on your POV). It was basically Terry Wogan that launched Katie into the stratosphere by pushing "The Closest Thing To Crazy" so hard he almost got a hernia. And Terry's massive army of fans—TOGs—were predominantly, shall we say, of a certain age. When he fell in love with Katie so did the TOGs. So Katie's fan base from day one has been far older than Katie herself. Actually, she is beginning to catch up considering the average age of a Ketefan is probably somewhere in the 50s and always has been whereas she began at eighteen and has crept up into her thirties. But it is still something of an anomaly that she is so much younger than her fans. And there is a down side to it. The fact that Katie has been in the business for nearly twenty years means her initial fan base is nearly twenty years older too. We have sadly lost Terry himself but also many of those TOGs have followed him. Katie's fans are falling off a cliff. Her albums are still commercially successful but you can see a steady decline in sales over the past decade or so as time takes its toll on her ageing followers. It isn't all doom and gloom—she is attracting new fans all the time, though not yet at a rate that can achieve equilibrium. I'm struggling to think of another artist that is in this odd age-gap position. Twenty years from now Katie will have finally caught up with her fans and be playing to audiences of her own age. Hopefully I'll cling on to the cliff edge long enough to see it.
07.10.19 > Katie Bite: Ghost Town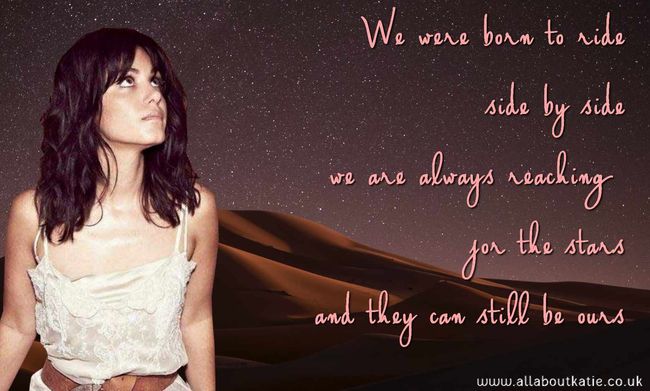 06.10.19 > Track Notes 67: The Love I'm Frightened Of
The Love I'm Frightened Of

Album:

Writer

Luke Batt

Length:

3:35

Notes:

Well, hello Luke Batt! Block chip indeed. Pops must have been proud of this one, though it begs the question what else does he have up his sleeve? We may never know now that Dramatico has dissolved and Katie has gone her own way. The engineering on Ketevan may have been awful but in terms of songwriting and performance it was a triumph. I hope one day it will get the proper remastering it deserves.
This was the last single Katie released (not counting the Children in Need charity single, "Fields of Gold"). It was released on 17th October 2013, along with a version of "Alfie" (that's right, the Bacharach song made famous by Blind Date queen Cilla Black). The world failed to catch fire, underlining the suspicion that Katie had ascended to the ranks of album artist. In other words, she has a large enough fan base for her albums to be successful without the boost of hit singles. To remain successful in the music industry without hit singles is a sign you've properly made it.

YouTube:

The official video is simple and effective, showing Katie could have been a fine actress had she been so inclined. The Love I'm Frightened Of.

Lyrics:
05.10.19 > Vocal Trends in Music
I'll be honest—most popular young singers these days have voices that grate on my ears. The modern trend seems to be a blend of shouty whine mixed with ridiculously elaborate embellishment and guttural Cherokee chant. Young people love it, probably because old people like me hate it. But that's the way it has been ever since records began.
In the 1920s and 1930s songs were clean and clear, sung with a kind of vocal received pronunciation—think "One More Kiss Dear" from the Blade Runner soundtrack, sung by Peter Skellern. In the 40s and 50s the laid back crooners took over, as the likes of Frank Sinatra and Nat King Cole became the superstars of their day. The next generation favoured Elvis and The Beatles as rock and roll came to the fore with its high volume high energy squawking that mesmerised young people and horrified their elders. In the late 60s and 70s there was a split as different styles proved popular at the same time; there was sullen and moody prog rock, anthemic shouty glam rock, loud screeching heavy metal, catchy disco pop and sultry soul. And, of course, anarchic angry punk. That was a mad era of anything goes when even comedy songs could top the charts. In the 80s and 90s electronic music introduced monotone melancholy as a vocal style, then came boy bands and rap. It seems as though every new style of music was embraced by young people purely because their parents hated it. The weird thing is that as you grow older you always love the music that shaped your teenage years but you also begin to discover the music that your parents and grandparents loved. Your tastes expand backwards into time. But not so much forward. It is far less common for people to get into the music of their children and grandchildren. Part of the reason for this is that if they tried the young people would be compelled to find something new and more outrageous in order to maintain the distance between the generations. Young people need to find their own identity; older people need to find a connection with their ancestors.
Singer-songwriters like Katie have transcended most of these eras, often out of the limelight but always popular. From time to time they hold their own and grab the attention, like Dylan in the 60s and the likes of Donovan and Cat Stevens in the 70s. In the noughties, Katie regularly had chart hits, as did artists like David Gray and Daniel Bedingfield. Nowadays, singer-songwriters are still popular but in a less chart-troubling way. There is still the odd phenomenon like Ed Sheeran but most of the time the charts are stuffed with songs that have "ft." linking two artists to a song. But whatever fashions come and go in music, singer-songwriters will always have a voice and they will always have loyal fans that want to listen to it. They may not trouble talent shows but their music will always find an audience, and the right one at that.
04.10.19 > Lyric Card: Shiver And Shake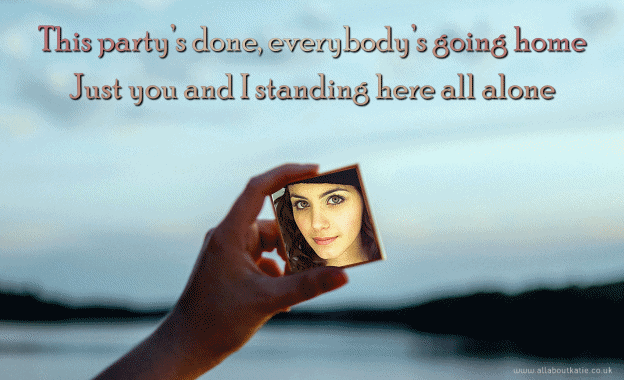 03.10.19 > Giya Kancheli გია ყანჩელი (10.8.35 - 2.10.19)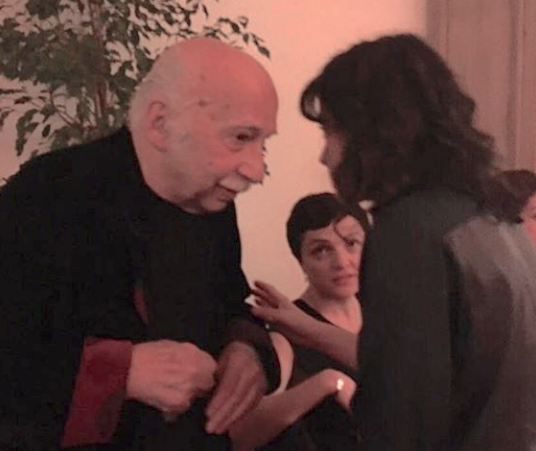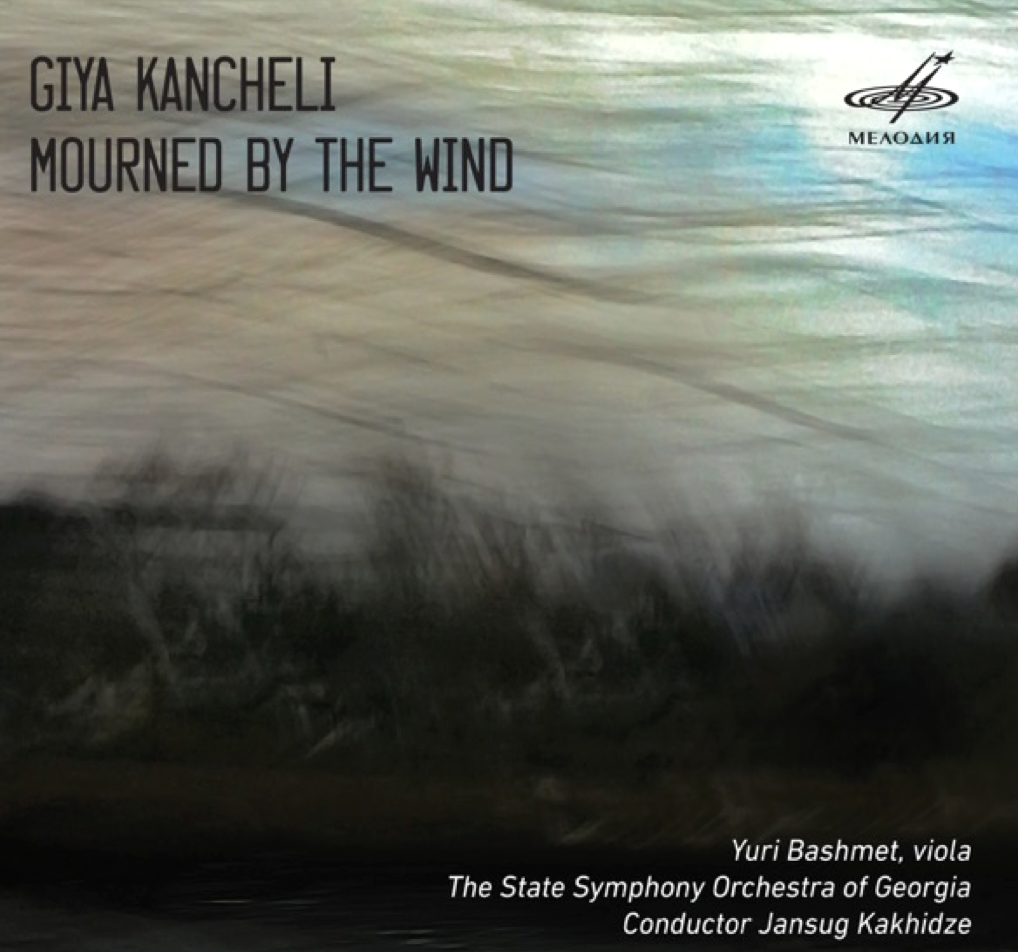 Yesterday, Georgia lost a legend. Internationally acclaimed composer Giya Kancheli died in hospital in his home city, Tbilisi. He was 84.

Although he said he'd lived a happy life his music, which included around 40 orchestral pieces as well as many cinematic scores, often had a tragic, melancholic feel. He said the reason for this was that "everything that is happening around me - in my motherland, in the world –never gave me the right to write the music of another kind."

If you have Katie's album Live at the O2 Arena, you can hear her sing a Kancheli song, "Yellow Leaves". It is not an overstatement to say that every Georgian knows this song, it has become written in their DNA. As I write this, I'm listening to Mourned By The Wind, which seems appropriate as today a wind of mourning blows across the whole of Georgia.
02.10.19 > Notes on Georgia
Katie is off the radar right now, possibly trying to remember where she lives, so I thought I might while away the odd no-news day with an occasional observation on the quirky, quaint, borderline bonkers country of her birth, Georgia 🇬🇪, inspired by some of the 2500 pictures I took during my September visit.
Every other car in Tbilisi is a taxi, i.e. either a hybrid Prius or a vintage Mercedes. Since there are so many taxis, passengers are highly sought after. This means that most taxi drivers don't spend much time driving but instead just loiter around on the pavement muttering "tagsee" to any non-Georgian (i.e. anyone that is actually looking around and appreciating their surroundings).
There is no equivalent of "the Knowledge" in Tbilisi. If you ask to go 50 metres down the road they'll have to program it into their satnav app on their phone (whilst driving, naturally). You won't get any English smalltalk from your driver but at least the journey won't be in awkward silence since you'll have the dulcet tones of a Russian dominatrix barking out instructions every few seconds—something that is so curiously compelling that I may well download it for my own satnav. I won't have a clue where I'm supposed to be going but I won't really care.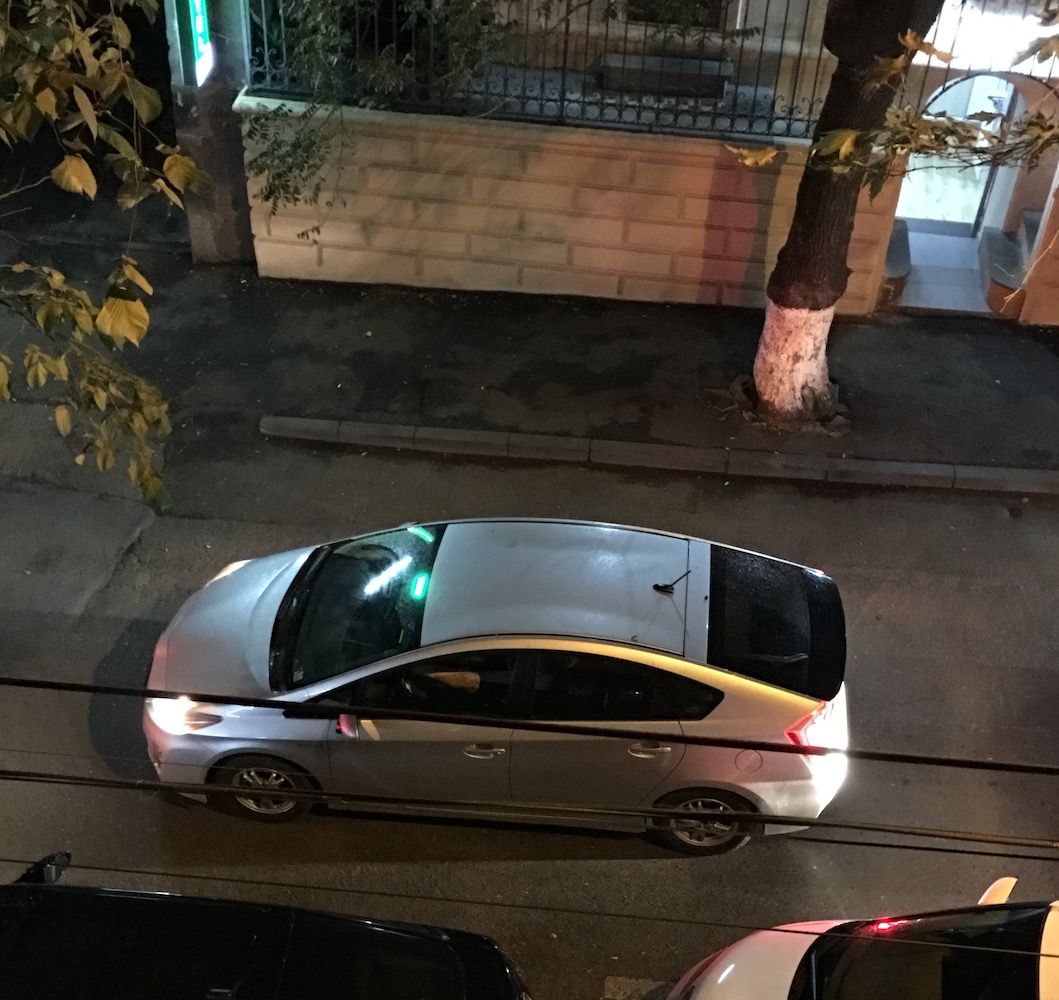 01.10.19 > Katie Bite: Deep Purple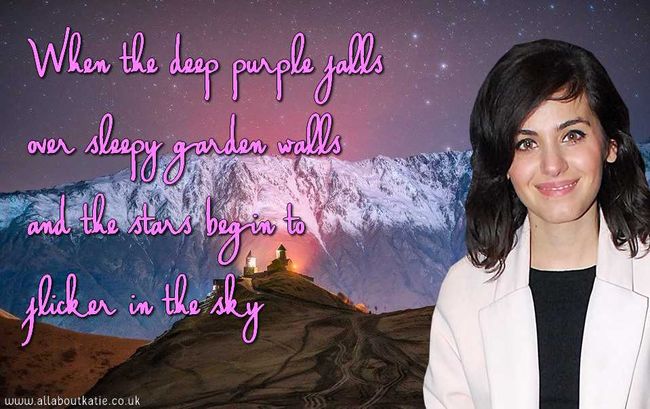 2019
2018
2017