( Click a heading to expand/collapse an entry. Click the banner above to toggle list of articles. Click here for the > ARCHIVES)
August 2019 Archive
31.08.19 > Katiewatch: Aachen
And so the summer tour comes to an end in Aachen, Germany. I'm sure it's a very lovely place even if it does sound like a German sneeze.
Ah, Google Translate is doing what it does best again. Apparently, Katie will be performing "the Biggest Hits in the Luggage", though I'm not sure this means she'll be taking her vinyl collection and DJ-ing. Then there's "an essence-reduced version of the James Bond classic Diamonds Are Forever". How can I forget seeing old Jimbo crooning that in a seedy Moroccan bar after one dry martini too many. Shirley Bassey was there that night—I saw her on the phone to her agent.
This aerial shot was harder to get. In the end I had to use a homing pigeon wearing a dash cam. That's why the dropped pin isn't 100% accurate—I'm pretty sure Katie won't be performing on the clay tennis court. But the Eurogress Conference & Cultural Events Center is next to it so if you see a queue in that vicinity just tag on the end and you'll be fine.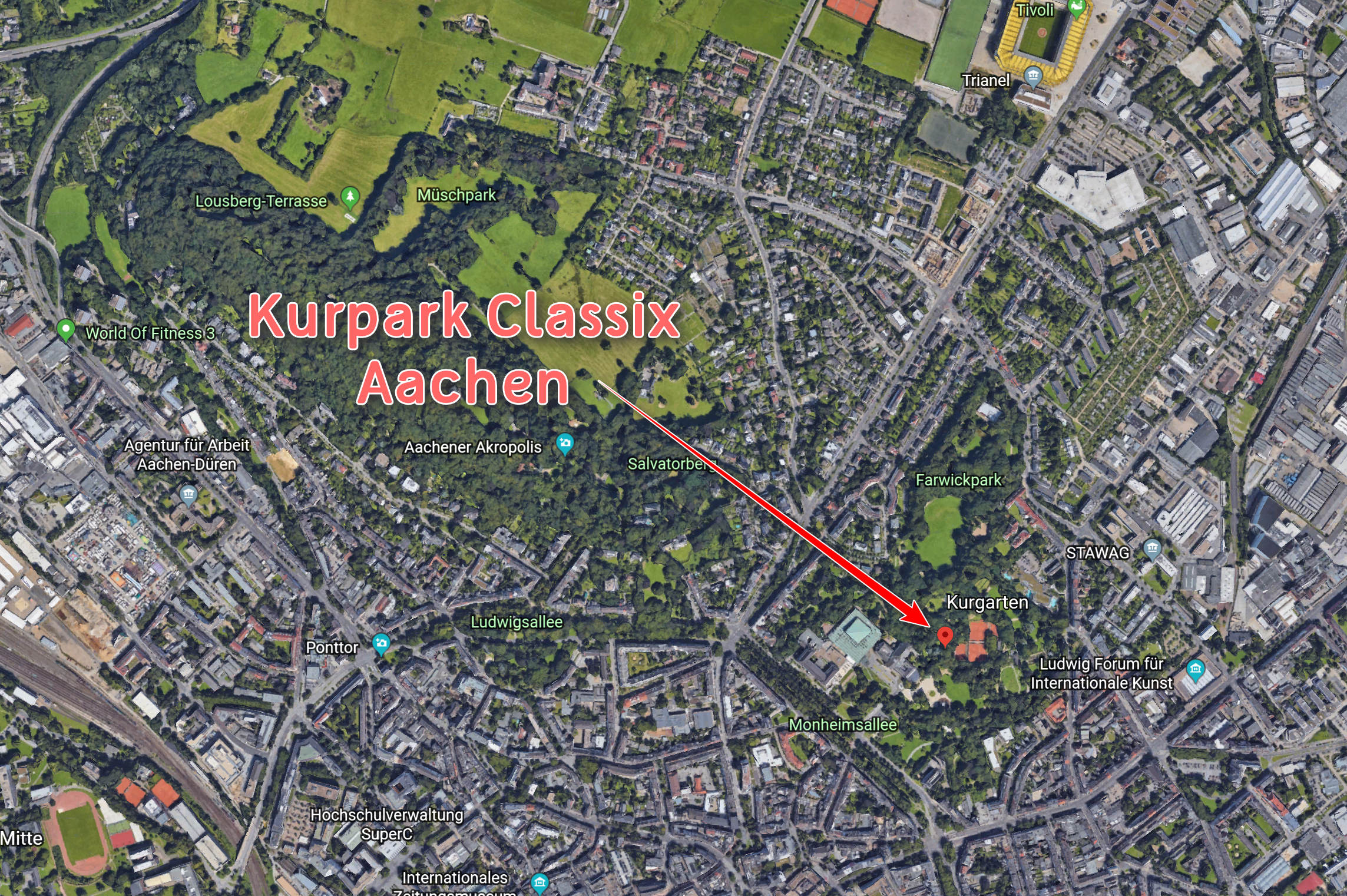 30.08.19 > Katiewatch: Bochum
Penultimate day of the summer tour at the Heveney Leisure Complex, Bochum, Germany. On the shore of the Kemnadersee, it's yet another passable location. Check out the photo below, which I obtained by hacking into MI6 and taking control of a spy satellite that was tracking Angela Merkel on her way to pilates class.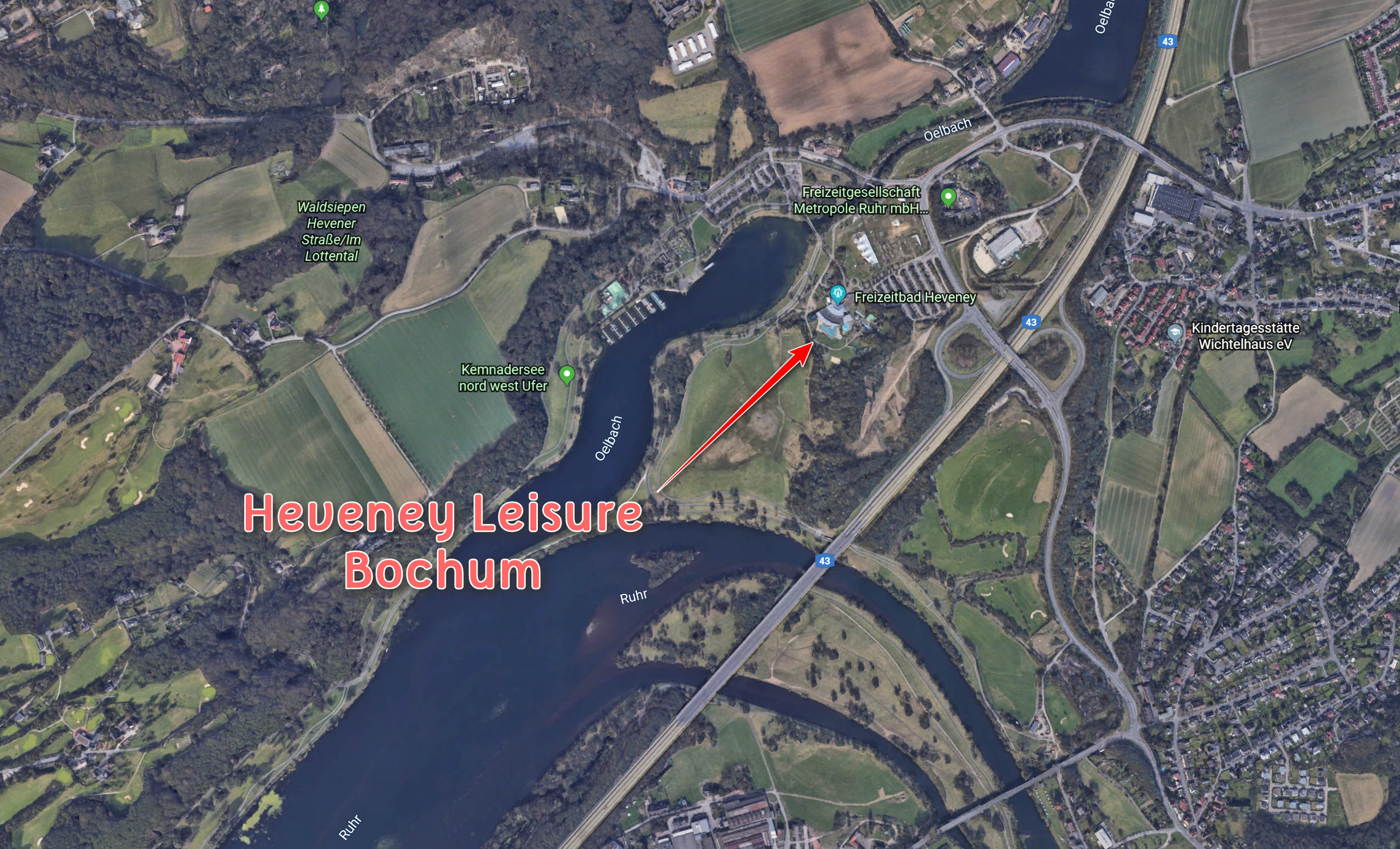 29.08.19 > Katiewatch: Schwerin
Katie is back in Germany to wrap up the summer tour with a three-night flourish starting tonight at Freilichtbühne, Schwerin. An open-air theatre in a park surrounded by lakes. Yep, another dump ;-) How does this come about? Well, I imagine the conversation goes something like this...
Katie: Find me some places to perform around Europe.
Manager: (opens dog-eared copy of Collin's Guide to the Performing Venues Of Europe) Er... how about this place?
Katie: Is the surrounding area so pretty it makes your eyes bleed?
Manager: Well, I wouldn't go so far as....
Katie: Nope. Next.
I can't see her playing Peterborough Cresset any time soon. Mind you, Belinda Carlisle once did so you never know. Anyway, I persuaded James Bond to obtain this aerial photo for me (though I suspect he just uses Google Earth).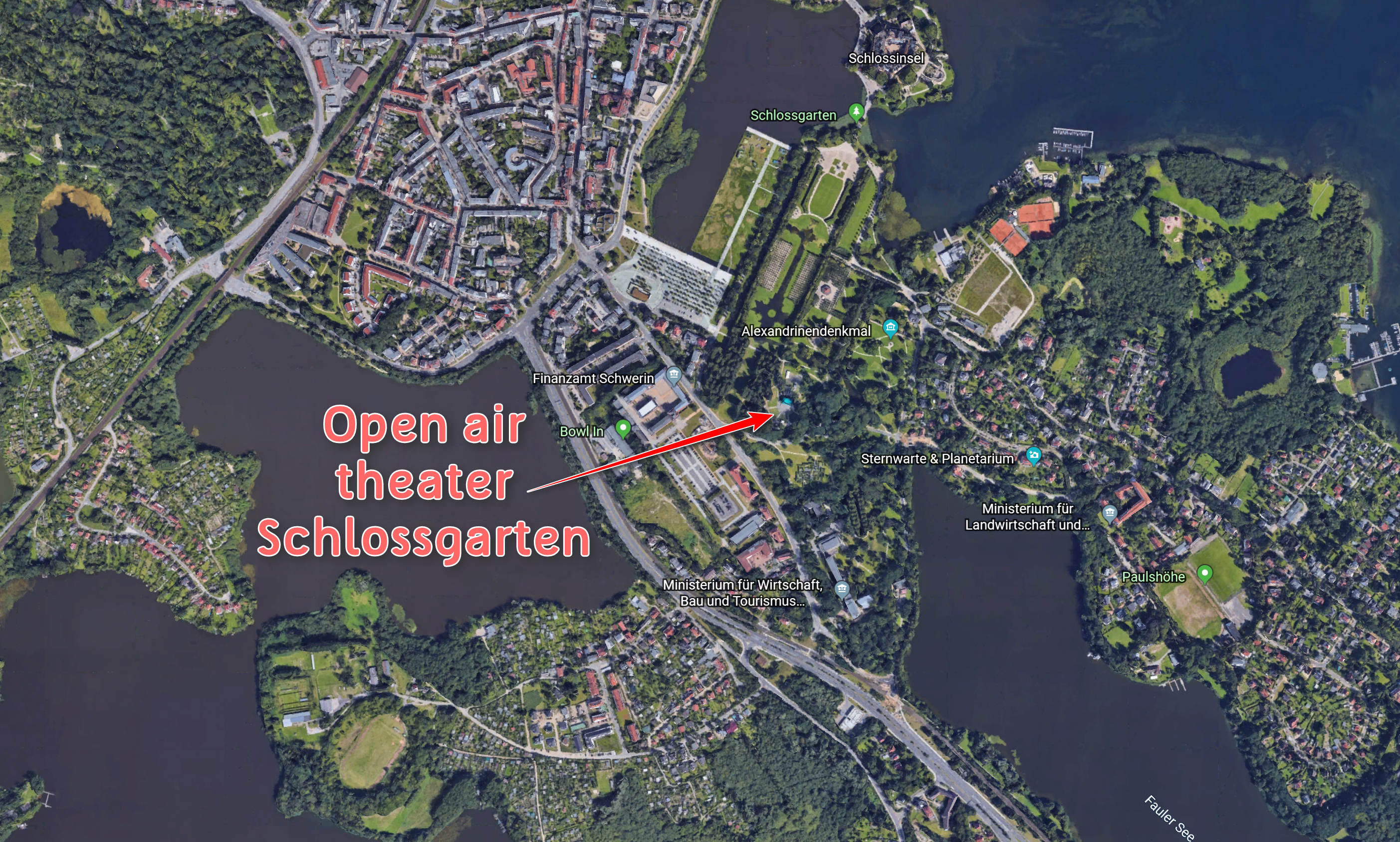 28.08.19 > Katie Bite: Red Balloons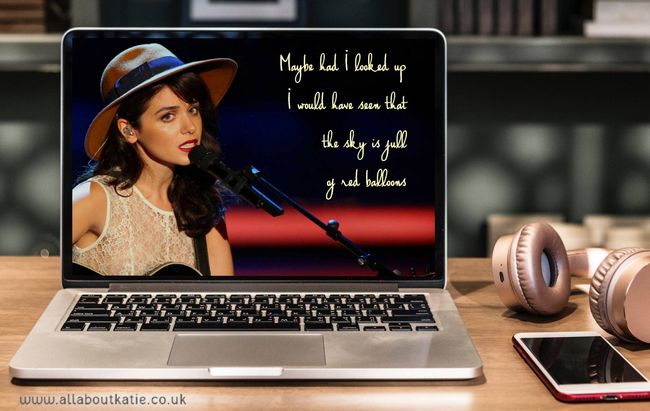 27.08.19 > Lyric Card: Never Felt Less Like Dancing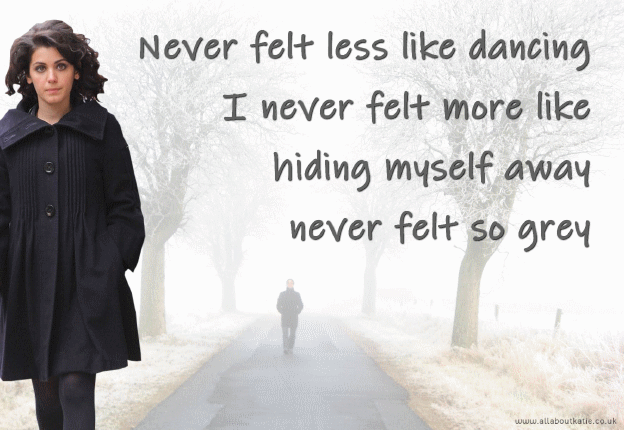 26.08.19 > Mind Your Language
I love languages even though I'm a bit rubbish at learning them. They are so difficult to learn from a book. Nowadays, apps help a lot but there's no doubt the best way to learn is to immerse yourself amongst native speakers, though that is not always easy to do, especially if you want to learn Latin. Over the years I've tried to learn Gaelic, Japanese, Gujarati, Italian, Elvish (don't ask) and now Georgian. Which is easiest? There's only one way to find out… (cue Harry Hill).
Actually, I doubt there is such a thing as an easy language to learn. Usually, those that use the roman alphabet appear to have an advantage but in truth every language has some aspect that will mangle your mind—perhaps the vocabulary is easy but the verb formations appear to defy all logic. But a roman alphabet is no promise of easy pronunciation. Take Irish, for example. One of the best-known Irish names is "Siobhan", which a fair number of people now know is pronounced "shuh-vawn" rather than "see-ub-hun". The surname "Sullivan" in Irish is "Suilleabhain". Why use three vowels when you can have six? Clearly, the best way to approximate Irish is to let your cat walk across the keyboard.
The Chinese don't have an alphabet but use little pictographs instead, a form of hieroglyphics I guess. It is reckoned the average young adult needs to know around 1200 of them. How on earth they send texts on a smartphone is beyond me. The Japanese borrowed some of the Chinese pictographs and call them Kanji but they also have an alphabet (kana) that is straightforward in being phonetic-based. If Japanese were just kana it might be a good language to learn but they like to mix up their kanji and kana and hence it is an utter pig to learn.
Georgian has a beautiful cursive alphabet that looks unlike any other but again it is phonetic. If you learn how to pronounce the 33 characters then you can read Georgian even if you don't understand it. Some of the letters are difficult for English speakers to pronounce though, and some sound similar to English ears, such as ტ and თ which both sound like "tuh" until you understand how they are formed with subtly different tongue positions and you can tune in to that difference. So spelling is very logical in Georgian. Like with most languages though, it is the wretched verb formations that kill you. Katie, of course, speaks Georgian, as well as English and Russian. She has also sung in German, though as fas as I know she doesn't speak the language. (That is a common trick with singers—Russell Watson may well have had a few Italian songs on his album Amore Musica but you don't really think he speaks Italian, do you? Matt Monro tried it with "On Days Like These"—he sings about half a line of Italian before forgetting it and ending the sentence with "la la la"'s before giving up and reverting to English.)
But of all the languages I've encountered, the one I'm glad I don't have to learn is English. It must be so confusing to learn as a second language because of our baffling spelling and pronunciation. Think about "a" in cat, car or day. Think about "their", "there" and "they're". It must seem like we make it up as we go along. And you have to be cautious speaking English to someone for whom it is a second language. For example, "I'd like a nice bath" is likely to be heard as "I'd like an ice bath". You may not get quite what you were expecting…
25.08.19 > Track Notes 64: Sailing Ships From Heaven
Sailing Ships From Heaven

Album:

Writer

Mike Batt

Length:

5:01

Notes:

This is another lovely song from the bubbling brain of Batt. It appeared on Mike's 1998 album Songs Of Love & War. As ever, Katie takes it to a new level entirely. Unfortunately though, her version is let down in the engineering process. On anything other than top quality audio equipment it can sound distorted due to the clipping—the recording levels are too high. Dramatico steadfastly refused to acknowledge this despite several complaints on forums in the months following release of the album Ketevan. But you only have to look at the waveform analysis when the song ramps up at 2:27 to see the problem. It is such a shame for Katie, whose vocals are sumptuous as always.


YouTube:

Here's a clever fan video put together with some pretty stills using the Burns Effect to bring them to life.
Sailing Ships From Heaven

Lyrics:
24.08.19 > Any type-readers out there?
23.08.19 > Sparks of genius
Sparks are a phenomenon. Formed in 1972 by brothers Ron and Russell Mael, they have just announced they are working on another new album as their 50th anniversary approaches. Their style has been described as "glam rock", "art rock" and "baroque pop" amongst other things but in truth they defy description. Their songs can be quirky, funny, clever, poignant and often ear-worm catchy.
Both brothers are something of an enigma but the elder Ron in particular has always been a mystery figure, often appearing to be a kind of animatronic Charlie Chaplin during performances which split the audience on whether he was hilarious or disturbing. But as the writer of most of Sparks' songs, music and lyrics, there can be no doubt that beneath that weird exterior lies a musical genius.
In 2010, Katie released "A Happy Place" as a single—a song she co-wrote with Guy Chambers. It sounds like a Sparks song and it was not really surprising that they should contribute one of the remixes of the song. "A Happy Place" would not have sounded out of place on a mid-seventies Sparks album such as Propaganda.
Talking of Propaganda, this gem from 1974 is a fabulous album that contains one of the funniest song fades ever on "Achoo" and also a gorgeous song that was years ahead of its time in warning of impending climate change—"Never Turn Your Back On Mother Earth". How I would love to hear Katie cover that one. It would make a poignant charity single, that's for sure. She may be better off leaving "Achoo" alone though.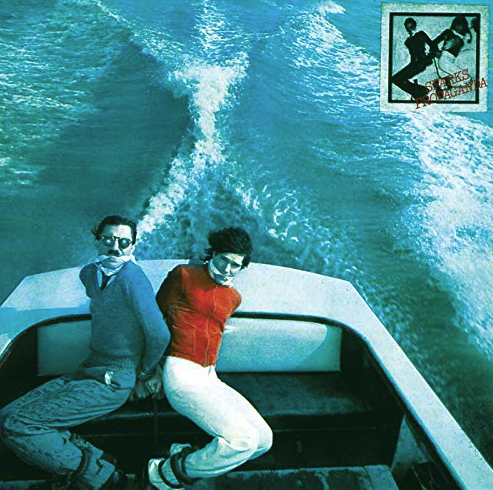 22.08.19 > Katie Bite: Never Felt Less Like Dancing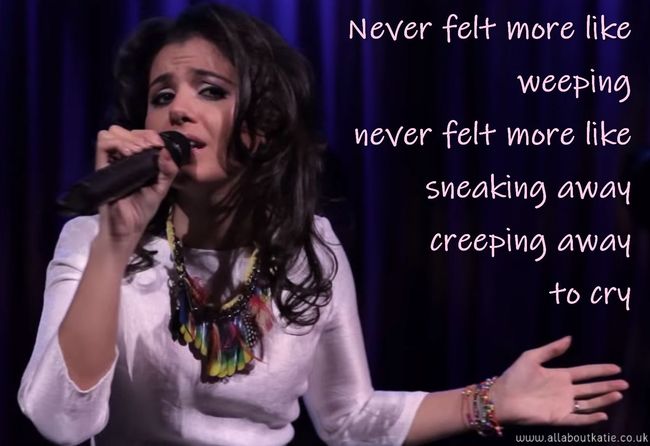 21.08.19 > Track Notes 63: Never Felt Less Like Dancing
Never Felt Less Like Dancing

Album:

Writer

Mike Batt

Length:

4:12

Notes:

Many artists when getting to the final album of a multi-album contract feel jaded with their record company and they can't wait to be free and have a change, which usually results in a sub-standard offering of songs they found down the back of the sofa or cobbled together from the cutting-room floor. Not so with Katie. Ketevan is a triumph—arguably her best album for Dramatico. Whilst it is let down a bit by engineering quality (at times it can sound muffled and distorted on anything but the best audio equipment) the songs themselves are of the highest quality and Katie does them nothing but real justice.
The opening track, "Never Felt Less Like Dancing", is one of the finest songs Mike Batt has ever written, which is saying something. It should be a pleasant listen to just about anyone in possession of a functional blood-pumping organ but if you identify with the lyrics at all then this track will likely become one of your go-to songs for the rest of your life. If you likened an album to a cricket team (which, okay, you wouldn't) then this track would be like your opening batsman scoring a century—the songs that follow are able to relax and enjoy themselves on the back of a solid foundation. Sublime.

YouTube:

Here's an amateur video (hence the forced adjustments as some muppet keeps shoving his head in the way) of a lovely rare live performance of the song at London's Roundhouse in 2013.
Never Felt Less Like Dancing

If you're one of those aliens amongst us that is blessed with the ability to read music (mere humans could not possibly do that) then here is a great vid for ivory-tinklers which displays the sheet music in time with the track being played.
Never Felt Less Like Dancing

Lyrics:
20.08.19 > Lyric Card: Secret Symphony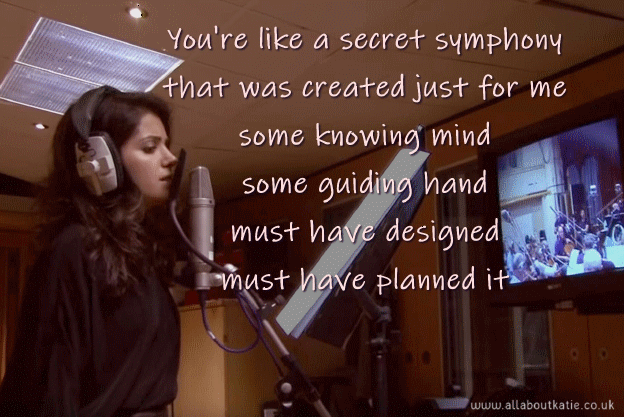 19.08.19 > Birdfair 2019
I had a great time at Birdfair 2019, Rutland Water. The 3-day event is known as the Birdwatcher's Glastonbury (it was easy to see why on Friday when an inch of rain turned the place into a mud bath). I was beyond chuffed to find some Georgians who had made the trip just to have a stand at the event—they were from The Georgian Center for Conservation of Wildlife. Not only did they show me some great places to see birds in Georgia (feathered variety, obvs) but, more importantly, they gave me my first ever taste of Georgian Sulguni cheese. It was a cold cube, like a saltier version of mozzarella. Next time I taste it, in Kutaisi in a couple of weeks, it'll be hot and oozing out of a khachapuri. I'm putting on weight just thinking about it.
I also had a serendipitous meeting with Dr Rob Sheldon of OSME, The Ornithological Society of the Middle East, the Caucasus and Central Asia. It turns out that Rob is heading to Georgia himself in early September for the Batumi Birdwatching Festival. I didn't know the BBF was even a thing so it is rather fortuitous that I'll happen to be in Batumi for most of the week it is on. The Batumi Raptor Count is a nature conservation NGO that keeps tabs on the million+ birds of prey that migrate every autumn through the so-called "Batumi Bottleneck". Katie's parents are from the area so they are probably familiar with the spectacle. That said, birdwatching isn't much of a thing amongst Georgians even though it is one of the best countries in the world for diversity of species, though the large amount of tourist twitchers are beginning to inspire more locals to discover the joys of it. A million migrating raptors has got to be a sight worth seeing, especially if your picnic contains Kindzmarauli and khachapuri. You may well have to put up with pictures in the coming weeks (of the raptors, not the Kindzmarauli and khachapuri—what am I talking about, of course there'll be pictures of khachapuri.) Anyway, I feel a song coming on...
There are nigh-on a million raptors in Batumi
That's a fact; it's a thing you can't deny
Like the fact that hawks and buzzards can't half fly...

(Yes, I know that contradicts my rant last week about changing lyrics but I have absolutely zero intention of recording and releasing a bird themed version of Nine Million Bicycles. Katie is more than welcome to do so...)
18.08.19 > Because She's Worth It?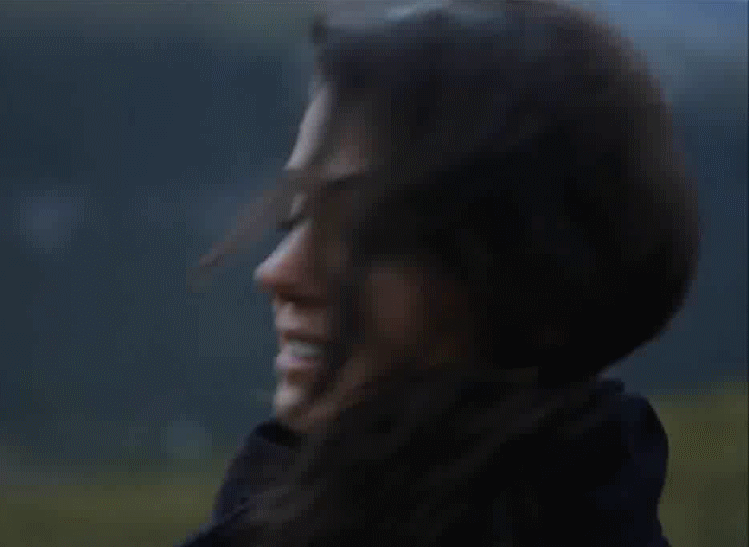 17.08.19 > Playlist: Songs From The Batt Cave
If you are a big fan of Mike Batt then this is the playlist for you. Here's a bunch of his songs shown in the best possible light by you know who. This list only has songs that are credited solely to Mike, and even then it isn't definitive but there are enough to get you to the shops and back with a stop-off for a latte and croissant in between. Note that this list is in alphabetical order. Some people cannot stand playing lists of songs ordered thus (i.e. me) so all I will say is hallelujah to the shuffle button.
Songs From The Batt Cave
Better Than A Dream
Blame It On The Moon
Blue Shoes
Call Off The Search
I Will Be There
Idiot School
If The Lights Go Out
If You Were A Sailboat
Mad, Mad Men
Market Day In Guernica
Mary Pickford
Mockingbird Song
My Aphrodisiac Is You
Never Felt Less Like Dancing
Nine Million Bicycles
Sailing Ships From Heaven
Scary Films
Secret Symphony
Shy Boy
Straight To DVD
Thank You, Stars
The Bit That I Don't Get
The Closest Thing To Crazy
The Walls Of The World
Tiger In The Night
What It Says On The Tin
16.08.19 > Beatles Songs
You could say that Katie's Beatles song covers are like buses—you wait for ages and then two come along at once… Actually, those who bought the bonus edition of Piece By Piece were rewarded with an acoustic version of "Lucy In The Sky With Diamonds" which I consider to be the best version of the song I've heard. But it was on the digital-only (god knows why) album B-Sides: The Tracks That Got Away where we were treated to "Cry Baby Cry" from the Beatles White Album and followed the very next track by a live version of "Lucy In The Sky".
Now, there's little to add to the phenomenon that were The Beatles that you don't already know. Pioneers, innovators, inspirers, etc. Yes, they were a boy band, but one that contained three of the greatest singer-songwriters you could Imagine (see what I did there :-) Lennon and McCartney were hailed as the dream team but when you step back and look at their careers it is clear that George Harrison was their equal. It was an incredible talent pool. I think also it is worth noting that Lennon and McCartney primarily wrote songs alone and it is only back in the studio where they would tweak and polish each other's efforts. That is why I don't consider them the best songwriting duo ever—for me, that would be Benny and Bjorn of Abba, who always shut themselves in a room together to write. However, unlike the two B's, the three Beatles musketeers were able to effortlessly carry their talents into solo careers. Between them they have created a rich vein of songs that other artists will continue to mine for years to come.
As for Katie, well it's been a while since she's dabbled with the Fab Four. I for one would like to hear her sing "Norwegian Wood", which I think is made for her voice and picking style. Everyone has covered "Yesterday", even my window cleaner I reckon, but I'm convinced Katie could freshen it up with a new take. As a nod to George, perhaps she could tackle "Something" or how about "While My Guitar Gently Weeps" where she could let her brother Zurab off the leash with his electric guitar? I'm in less of a hurry to hear her sing "I Am The Walrus".
15.08.19 > Katie Bite: Anniversary Song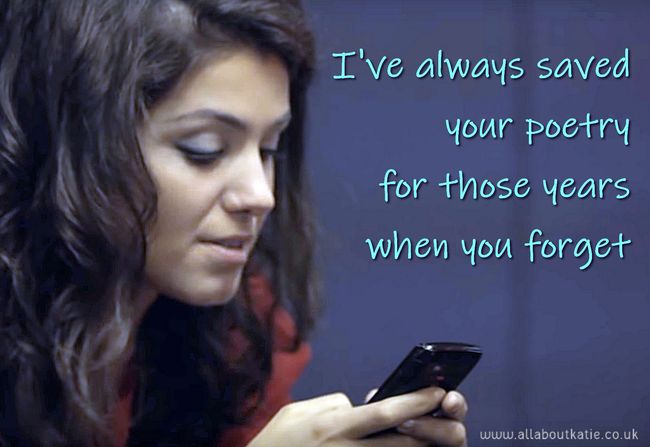 14.08.19 > What is written stays written
Is it ever okay to change the lyrics of an established song? Well, you cannot undo what has been done but if you are the copyright owner then you can write modified or even new lyrics if you want to. Remember Elton John changing Candle In The Wind to make it about Princess Diana instead of Marilyn Monroe? It was his song, so it was his prerogative to do that—but the new version had to live alongside the original, it could not replace it. Many artists tweak lyrics during live performances—sometimes for the sake of the audience, such as replacing the name of a city with the one they are currently in, or sometimes just because they don't quite remember the lyrics correctly. It's all fine, really. The issues come when you start changing lyrics that aren't your own.
Last Christmas there was a sudden furore over the song "Baby, It's Cold Outside" after a radio station banned it. If you want to know more about it then Google it, but the thing is we are talking about a song written 75 years ago. Those were more innocent times and you can't apply 21st century values to it. There are a million things that people have done in the past that we find shocking today but they cannot be undone. What irked me was that someone wrote new lyrics for "Baby, It's Cold Outside" and recorded it. To me, that's just a breach of copyright. If the song offends you then don't listen to it. Some artists such as Lady Gaga and Zooey Deschanel have turned the song on its head by singing the male lines whilst their partner takes the female ones. But really, just watch Katie's gorgeous version with Nick Schilder (it's on YouTube, link on the YouTube page of this site) and you'll wonder what all the fuss was about.
A similar fuss was made about "I Saw Mommy Kissing Santa Claus" when anyone with half a brain understands that song is referring to Daddy in a Santa costume. As for Katie, she gets regular tweets pointing out that the facts in "Nine Million Bicycles" are wrong. When challenged about "12 million light years from the edge" she famously knocked it back by delivering a more accurate but lyrically ludicrous version. At the time the song was written there were 6 billion people in the world and 9 million bicycles in Beijing. And Mike Batt wrote the song anyway, not Katie. A song, like any piece of art, is a snapshot from a moment in time. If you want to do a new version then that will become something different, created at a different point in time, but the original will always be locked down into history like a bug in amber. I wonder how long it will be before the crooner's classic "Music To Watch Girls By" comes under attack as being creepy and stalky. If I was managing a boy band I'd have them release a cover of it but I'd quietly slip an extra "u" into the title—"Music To Watch Girls Buy".
If someone painted a nose ring and a tattoo on the Mona Lisa it would be declared vandalism and I feel the same way about modifying someone else's lyrics. What is written stays written.
13.08.19 > Track Notes 62: Secret Symphony
Secret Symphony

Album:

Writer

Mike Batt

Length:

3:51

Trivia:

Another typically Batty offering, effortlessly beautiful, to close out this short album (a little over 37 minutes, though the bonus version has four extra tracks.)

YouTube:

There isn't a really good video for this track on YouTube so here is a mini documentary about the making of the album. It was made to help promote the album so it is a bit on the promotey side but still interesting and worth a watch. Katie is just ridiculously photogenic, bordering on mesmeric, but my favourite scene shows her browsing through old albums in a record store and at one point thumbing Bob Dylan (careful). I noticed though that she didn't bloody buy anything...
Secret Symphony - Sneak Preview

Lyrics:
12.08.19 > Jabs for Georgia
Sounds like a charity concert but don't get excited, it's just me announcing that I've had my requisite jabs for my upcoming visit to Georgia. I needed three. I'm hoping one of them was an anti-hangover for surviving a supra—a never-ending toast-driven feast (toast as in "raise your glass", not crispy bread), should I be lucky enough to be invited to a supra. Since merely looking at a Georgian is generally enough to be dragged into a supra, my hopes are reasonably high.
I hope to continue with regular updates whilst I'm there but I'm expecting shenanigans and large moments in the midst of such wonderful people so who knows how things will pan out. If there are no updates to the blog for a few days in September then just talk amongst yourselves, defrost the freezer, clean the oven, make flapjacks, tickle the cat, whatever—normal service will not be far away. If you're lucky I'll post some pics from Georgia. If you're less lucky they may be selfies.
11.08.19 > Lyric Card: The Walls Of The World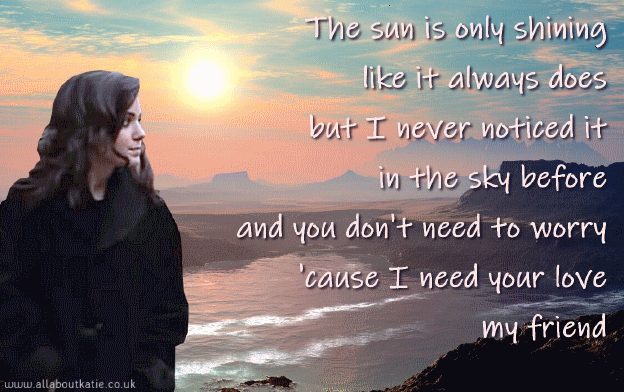 10.08.19 > Fact Of The Day
To date I can only find one song that both Katie and Bob Dylan have recorded: "Stardust". But Katie has performed Bob's "Blowin' In The Wind", and she has recorded "Nobody Knows You When You're Down And Out" — Bob hasn't, but he did once sing it during an audition!
09.08.19 > Katie Bite: Sailing Ships From Heaven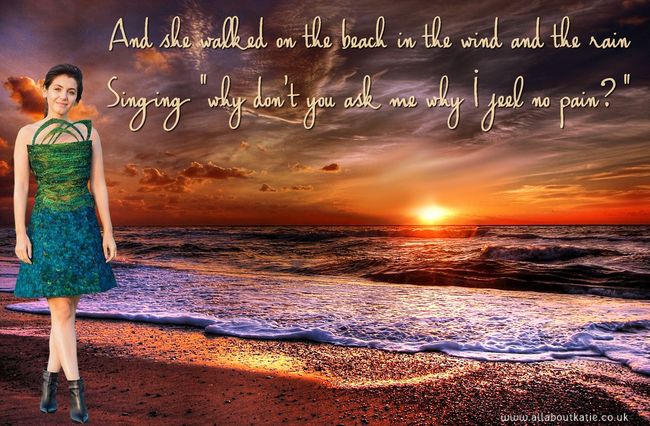 08.08.19 > Nebraska
In 1982 Bruce Springsteen bought a 4-track tape recorder and laid it down on his bed. Then he sat down, picked up his guitar and began to record some songs that would eventually become Nebraska. That makes it sound like he was intending to record a stripped-back lo-fi album but that wasn't in his mind. The Tascam Portastudio was no kids toy—it was state of the art technology at the time—but was generally used for creating demo tapes. However, when Bruce took his demo tapes into the studio and set about recording them professionally with the E. Street Band he found the songs had lost all their power. Polished, sanitised and with backing musicians, the songs he'd sung in his bedroom had somehow been neutered. In the end Bruce took the bold decision to release an album from his 4-track cassette recordings. And it is widely regarded as one of his finest. If you listen to Born To Run, with its Spector-esque production, and then listen to Nebraska the contrast is staggering. Whilst Born To Run is a high-octane, energetic rock and roll extravaganza, Nebraska is the mother of all reality checks. It is the real world exposed—grim, dark, depressing and racked with pain. Nebraska is not an album to play at birthday parties. It is to be listened to alone. If you are feeling a bit down, so much the better. That way it feels like you are sitting down on the bed next to Bruce watching him play these songs and realising that you are not alone. If an American superstar can share these feelings with you then countless people around the world must do too. They are songs about ordinary people who have made mistakes and paid for them or who have simply never caught a break and just struggled to survive any way they can. There are so many lines on this album that I can identify with but I'll just give you one example, from "Used Cars"—
"Now my ma she fingers her wedding band
and watches the salesman stare at my old man's hands
He's tellin' us all 'bout the break he'd give us if he could but he just can't"
I could write an entire book based on the information given in those three lines. It paints a picture of three distinct characters by telling you virtually nothing about any of them. I can see the scene in my mind, the expressions on their faces, what they are thinking and feeling and even how they have come to be the people they are—all from those three simple lines. If you were born with a silver spoon in your mouth then you'll have no idea what I am, or indeed Bruce is, talking about. But if you grew up knowing the excitement of a "brand new used car" then I suspect there is much of Nebraska that you will get. That said, if you can't generally handle a melancholic forty minutes or so then this is probably not the album for you. (Nebraska is the only album Springsteen did not promote with a tour. His concerts have always been about giving people a good time and there was never any way that was going to happen with these songs, though there would probably have been a bunch of Goths at the front wallowing in the misery and having a great time.)
My hope is that one day Katie will pick up her guitar and make an album like Nebraska, perhaps drawing on her early childhood in Georgia. If she does I'm calling it now—it'll be her masterpiece.
07.08.19 > Lyric Card: Heartstrings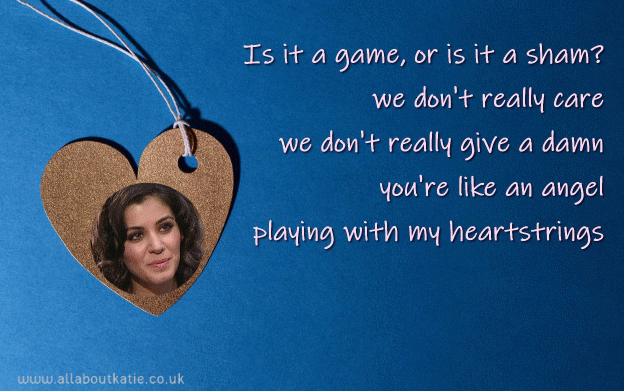 06.08.19 > Summer Tour recess
The first part of Katie's Summer Tour has wrapped. There are now just three gigs left in Germany at the end of August. As of 30 seconds ago there were still tickets remaining at all three venues—Schwerin, Bochum and Aachen (sounds like a firm of German solicitors). You'll find links for tickets on the On Tour page so if you want tickets for when Katie's on I suggest you'd better get your skaties on.
So, what might be in the pipeline now? Well, after manically flitting around Europe like a hyperactive butterfly for the past few weeks, perhaps Katie will want to sip tea and dead-head the flowers in her garden for a day or two. But with only four publicly announced events in the pipeline over the next two or three months I suggest we all keep our fingers (and anything else crossable) crossed that she might creep into a studio and cut some wax, or whatever the digital equivalent of that might be (burn some bytes?).
05.08.19 > Katiewatch: Starlite Festival
On to Marbella for tonight's gig at the Starlite Festival, another ridiculous location. Katie will then get a three-week break, and she'll need it after slumming it around some of Europe's ghastliest dumps ( 😉 ). Actually, big congrats to Starlite for the following blurb about Katie. No awkward translations here, just the truth.

What? Oh, you want to know where it is, don't you. In a quarry. Maybe Katie will play some rock music. Look, stop groaning, I'm trying okay. Very trying at times.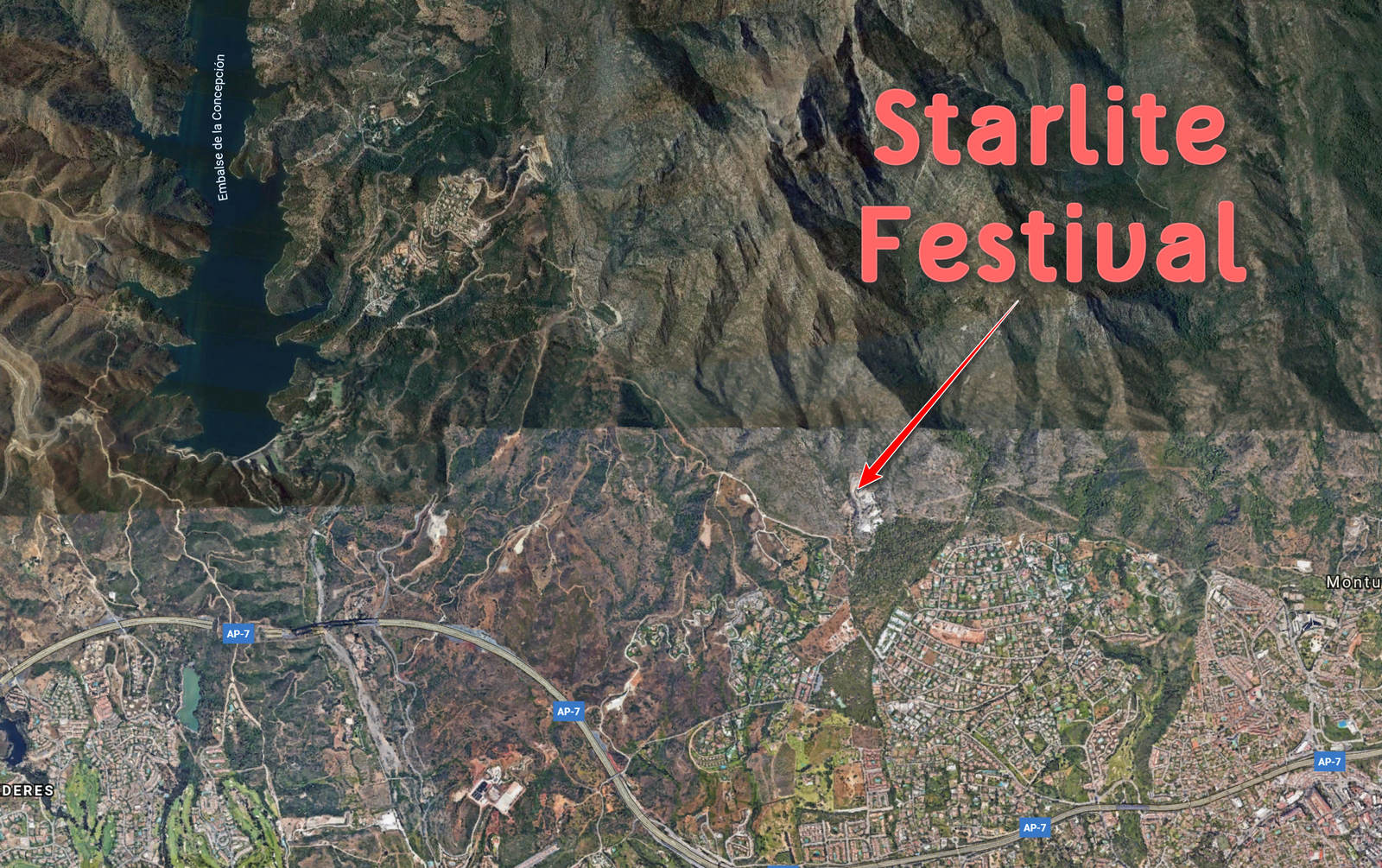 04.08.19 > Katie Bite: The Walls Of The World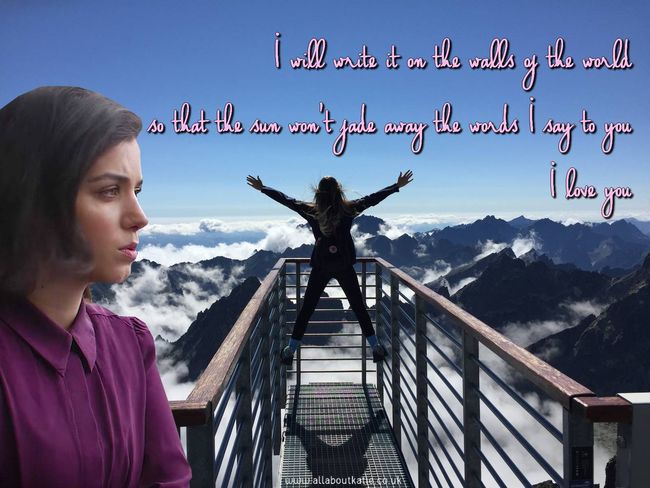 03.08.19 > Katiewatch: Cap Roig Festival
Spain's turn to get spoilt. Tonight, Katie performs at the Cap Roig Festival in Girona. The ticket site describes it as "The thrilling elegance and sensitivity of a whole career's greatest hits". Mmm...well, for 'whole career' you should add 'so far.' I'm not sure what thrilling elegance is either but it sounds good so I'll go with it. It's another stunning location—seems Katie doesn't play dives.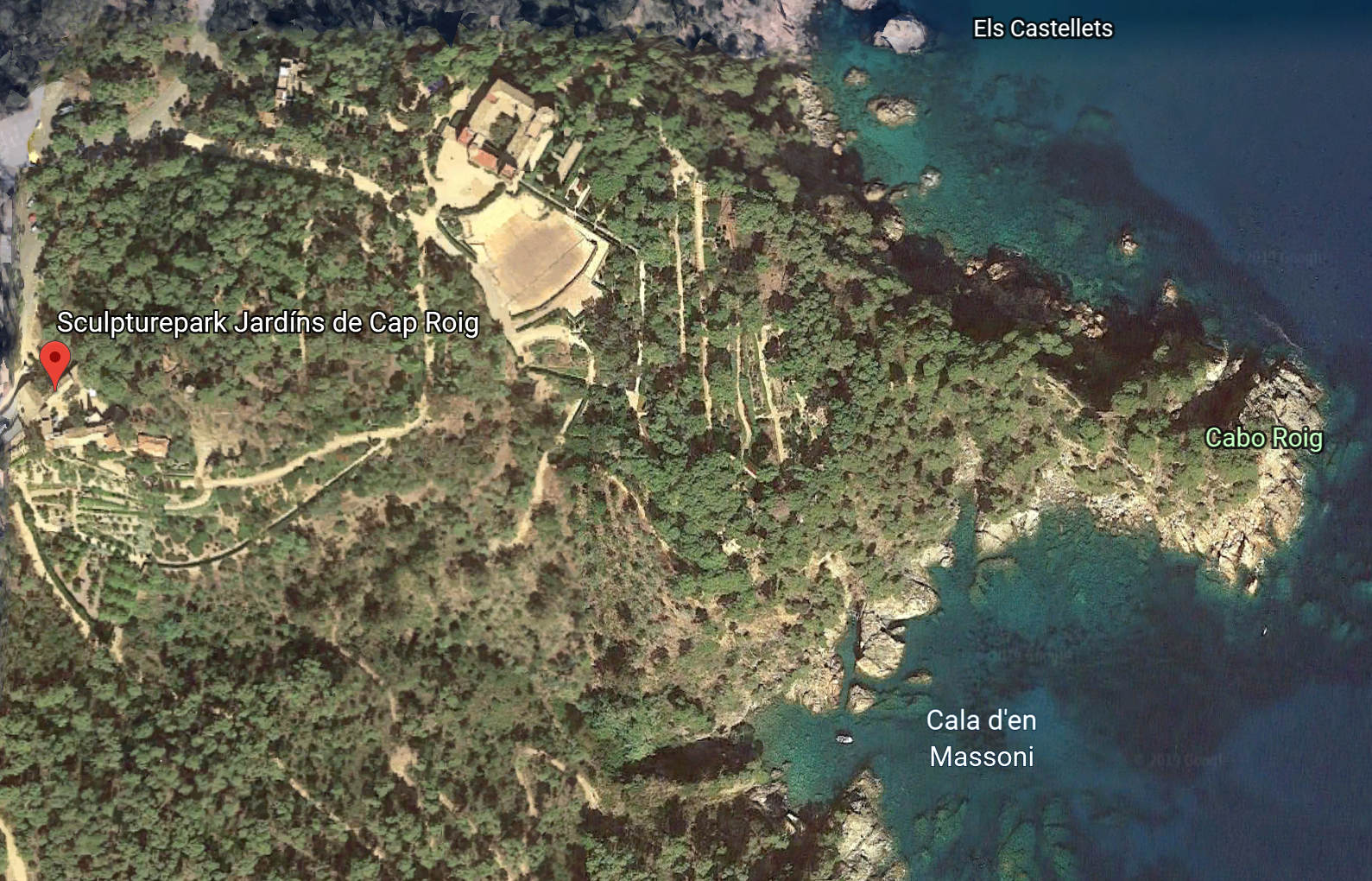 02.08.19 > Track Notes 61: The Walls Of The World
The Walls Of The World

Album:

Writer

Mike Batt

Length:

3:25

Trivia:

The penultimate single from Secret Symphony. By this point in time the UK Singles Chart had changed forever. "The Flood" had made the Top 40 in May 2010 but none of the 6 singles from Secret Symphony troubled the Top 100. She would scrape in at 99 for a week with "I Will Be There" in 2013, on the back of a performance for The Queen, but since then only the covers of "Wonderful Life" (73 in 2015) and "Fields Of Gold" (29 in 2017) have charted. Thankfully, and more importantly, all 7 of her studio albums to date have made the Top 10 cementing her position as one of the most successful female artists in the UK of all time. Given her passion for music and young age it is surely only a matter of time before she becomes the most successful.

Mike wrote this song for his 1977 album Schizophonia. With respect, he's a far better writer than singer and Katie's version is light years ahead even though Mike kept pretty much the same arrangement, which is another nod to Katie's stunning skill of interpretation.

YouTube:

One of Katie's loveliest videos, showing her performing and going all Julie Andrews in the stunning hills around Tromsø in northern Norway. I could watch this non-stop for the rest of my life so if you don't hear from me for a while it's the first thing to check.
The Walls Of The World

Lyrics:
01.08.19 > Lyric Card: The Cry Of The Lone Wolf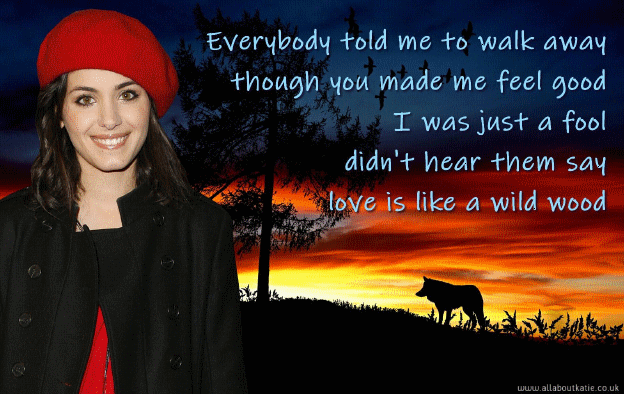 2019
2018
2017