( Click a heading to expand/collapse an entry. Click the banner above to toggle list of articles. Click here for the > ARCHIVES)
December 2019 Archive
31.12.19 > Personal Review of 2019
Another year, indeed another decade, is down to the dying embers and although AAK is primarily All About Katie I don't mind sneaking in the odd bit about myself, especially when no one is looking. New Year's Eve is the perfect time for that since you'll all be out partying like its 1999 and doing highly regrettable things with each other, mostly fuelled by inappropriate alcohol choices. I got that t-shirt so long ago it now lives under the sink as a duster. Anyway, good luck and Happy New Year!
2019 was something of a sabbatical year for me. There were a number of things I wanted to do and see and the timing felt right to make it happen. So I did.
I spent most of January and February wandering around the woodlands of Lincolnshire. Now you might think it is not the best time of year for doing that kind of thing, you know—wet, muddy, cold, no leaves on the trees, no flowers, etc. But it also means there are no people about. I could wander around all day and hardly see a soul. It's not that I'm antisocial or anything (though actually I probably am) but woodlands are my go-to place when I want to think and I had a lot of thinking to do, especially about woodlands. There's a series of novels I want to start working on next year and the woodland trips were a blend of research and inspiration. They proved useful, though Georgia would prove to be even more so later in the year…
March was a pretty significant month for me. My sci-fi comedy novel "The Planet Baggers" went live on Amazon to an overwhelming blaze of widespread indifference. Only a fool writes books for money. The fact that I actually am a fool is incidental and I write books because nobody else can be bothered to write the exact stories I want to read. Shame on all of you. Still, my new-found lack of fame allowed me to travel to the Lake District without being pestered for a single autograph and I was left in peace to watch the wonderful Moya Brennan in concert in Kendal. You may know Moya as the voice of Clannad (you know, "Harry's Game", "Robin……. The Hooded Man, dum, dum"). You may not know Moya as being Enya's older sister. But she is. Deal with it. Moya happens to have one of my top three all-time favourite voices (I know you're wondering, so Katie, obvs, and Karen Carpenter). Meeting her afterwards, she reminded me of Katie—utterly lovely and down to earth and appreciative of any knowledge of her music. I'll see her again in 2020 during Clannad's farewell tour but I'm so glad I got to see her perform a solo gig. It was the first of several bucket list ticks this year.
In May I attended the Cheltenham Festival of Jazz. The main reason for me was to see Katie's concert, which closed out the Festival. I was also curious to see how well her set went down with a crowd of mostly jazz-lovers, some of whom didn't even know who she was. Indeed, I met one guy who had her confused with Hayley Westanra. I'm still trying to work that one out. As expected, she duly blew everyone away and, when she sang "Stardust", provided me with another of those bucket list ticks. I stopped over in Reading after Cheltenham purely to visit the Georgian cafe, GeoCafe, in Caversham. Keti is a force of nature. Within ten minutes she'd dragged me into the kitchen and was teaching me how to make khachapuri. (I already knew but I was eager to see how it was done properly). She also introduced me to the wonder that is Georgian black tea. Later that evening Keti and her husband Zezva picked me up from my hotel and took me out in Reading—bear in mind I'd only met them that morning! This was my first taste of Georgian hospitality, and they were the first Georgians to hear my dismal attempts at speaking Georgian. Incredibly, they understood me. Keti and Zezva made my mind up to finally book a trip to Georgia. I look forward to seeing them again next year.
As a kid, I spent many happy holidays in the Lake District. I went again, alone, in June and visited many of my old haunts. It was partly nostalgia, partly closure, but exactly what I needed. I also managed to meet up with a friend from The Arthur Ransome Trust and we went sailing on Coniston Water from his mooring at Bank Ground Farm ("Holly Howe" from the book "Swallows and Amazons"). It was wonderful.
Without any apparent cause I developed a bad back injury in July that was so debilitating I was worried I'd have to cancel the Georgia trip. After three weeks it had improved enough for me to risk a trip to London to see another of my favourite ladies, Marina Sirtis, in a play called "Dark Sublime". Marina is best known for playing Deanna Troi in Star Trek: The Next Generation. It was great to see her in a different role, and in the flesh too. Stage 2 at the Trafalgar Studios is amazing—the seats are actually on the stage and it only fits around fifty people. If you're on the front row (and I was) you have to tuck your feet in or one of the actors might trip over you. I can imagine the actors must get a real buzz from performing in such an intimate setting. The crowd certainly do.
I spent most of August taking extreme care of myself to get my back fixed in time for Georgia. With days to go I was beginning to move more freely with just the occasional twinge. It was enough for me to take the risk and on the thirteenth anniversary of my mother's death I climbed aboard a plane heading for Kutaisi. (Luckily, I'm not really superstitious.)
I could write an entire book about my September in Georgia. (Not any time soon though, there are too many others in the queue). It's hard to sum it up other than to say it is without doubt the best thing I've ever done. Life-changing isn't an exaggeration. I'm even thinking of retiring there. My visit was split into three phases. I spent the first week in the resort of Batumi, which I fell in love with (n.b. it'll save a great deal of time here if you could mentally add the phrase "which I fell in love with" to any place I mention in Georgia.) A serendipitous meeting with Dr Rob Sheldon at the Bird Fair in Rutland in mid-August led me to Batumi in the first week of September, which coincided with the Batumi Bird Festival. I met Rob there but also made a few Georgian friends both at the Tourist Information Centre, that were coordinating events, and at the events themselves, such as watching the incredible raptor migration from a mountain top outside Batumi. Bird-watching isn't really a thing yet in Georgia but the coach-loads of nutty English twitchers turning up there is not going unnoticed and I met a few young Georgians that had got the bug. It was nice to be involved in the early years with something that is going to be big there in the future.
In week two my attention switched to the capital, Tbilisi. This is a simply gorgeous city, and an intoxicating mix of ancient and modern. About a quarter of Georgians live there, and it feels like it. I found a flat in the Old Town below the Mother of Georgia statue. It didn't take long for me to make friends with a Georgian, Irakli, and his Russian friend, Sascha. It also didn't take long for me to experience my first supra (basically, hours of eating, drinking and toasting) with them. Considering neither England nor Georgia is meant to be on the best of terms with Russia it was obvious the three of us hadn't got the memo and we had an epic night of chacha (Georgian spirit) and whisky. I was still drunk for most of the following day—too drunk to remember my "never again" note to self and obviously the three of us were at it again the day after that. I had about two hours sleep before crawling aboard the train to Kutaisi, a creaky old Russian thing that had seen better days—rather like Sascha when I last saw him (though I imagine I looked even worse).
My final week was different again. My host in Kutaisi, Andria, is a priest. In Georgia, priests are respected and revered, which makes him a jolly good bloke to hang around with. He became my tour guide and driver for the week—a bit more expensive than the common mode of transport called marshrutkas (aka minibuses from hell) but a price my still-recovering back was adamant I should pay. Andria also became my friend. He drove me half-way around Georgia, to places that blew my mind such as the spa town of Borjomi and the astonishing cave town at Vardzia. He patiently waited for me in endless car parks as I ran round doing my touristy thing and photographing everything I saw. And somehow, despite his poor English and my pitiful Georgian, we communicated just fine. Okay, he didn't get all of my jokes but neither do most English folk so that's not a problem. There were only a couple of occasions where he felt the need to phone his wife, Tea, to help bridge a language impasse that had us both stumped. Oh, and just as an aside to anyone thinking of going to Georgia, please note that Georgians see absolutely nothing wrong with using their phones whilst driving, be it talking, texting, playing Angry Birds or whatever. Just so you know.
Georgia left my mind well and truly blown. It is a beautiful country with amazing people. I can't wait to go back. Now all I have to do is write a few more books, and maybe actually sell some of them.
I spent October getting over the wonder of Georgia. In November, I ventured out to Grantham to witness a mesmerising performance by violinist Nicola Benedetti. It has been an exceptional year for meeting my female heroes. (Men haven't had a look-in since Nils Lofgren in 2018).
In December I was back in London to see Katie perform at a Christmas Carol concert in aid of the Hope and Homes for Children charity. It was another magical night and Katie was flawless again despite a comic mic fail moment that she handled with such unperturbed serenity that I think a lot of the audience were unaware that anything had happened or perhaps wondered if she'd forgotten a line.
So that's my year. Hope you had a great one too, and here's to an amazing 2020. Let's hope it's the roaring 20's all over again.
30.12.19 > Review Of The Decade, part 2
The middle years of the decade represented a transitional period for Katie. Whilst Mike Batt was filing for bankruptcy and dissolving Dramatico, Katie was faced with the daunting prospect of producing an album herself and getting hands on with the day to day chores of surviving in a dog eat dog industry.
2016 - In Winter, Katie's much anticipated seventh studio album, finally arrived, and just in time for winter. Whilst not a Christmas album there was some risk of it being perceived as such but it was warmly received. It peaked at 9 in the UK charts, keeping her run of top ten successes going and nudging it up to seven in a row. No pressure on number eight then. Sales may have been down on her previous albums but the widespread critical acclaim I'm sure would have been more pleasing to Katie.
2017 - A special edition of In Winter was released, featuring a CD of a live concert performance given in Berlin which featured all the songs from the studio album alongside bonuses such as "Bridge Over Troubled Water".
In October, AllAboutKatie finally went live after a long period of development. Shortly after, it was announced Katie would release a cover of "Fields Of Gold" as the official BBC Children In Need single. The two events were not related.
2018 - The success of In Winter allowed Katie to plan a full tour of Europe and the UK with the breathtaking Gori Women's Choir, who had backed her during the recording of the album in Gori, Georgia, in 2016. This incredible group of women, little known outside Georgia, left a trail of dropped jaws and blown away hearts in cities all over Europe. Their haunting style of Georgian polyphonic singing, using notes that don't actually exist, proved a match made in heaven for Katie's voice and guitar.
A new compilation was released, Ultimate Collection, to coincide with the tour. It included studio versions of "Bridge Over Troubled Water", "Fields Of Gold" and "Diamonds Are Forever".
2019 - Fans remained hopeful of getting their paws on Katie's difficult second album this year. Okay, technically that should be difficult eighth album but that isn't really a thing is it? We're on about the second album of her independence here. But Katie would rather get it right than rush it, and rightly so. Instead, we were treated to a sumptuous double-CD of a live performance from the 2018 Tour packaged with a booklet of photographs—a real treasure both for fans who attended one of the concerts and for those who couldn't make it.
As we reflect on a wonderful decade for Ketefans we can begin to lick our lips a little for what the 2020s have in store. The signs are good that we'll hit the ground running next year. Another major tour has already been announced which, one imagines, might be to promote something (🤞). In a decade that finally promises to see men (and hopefully women) walk on the moon once more, I can't wait to write the next review in 2029…
So, Katie's score for the decade? 10/10 — "Couldn't have done better."
29.12.19 > Review Of The Decade, part 1
A look back over the past ten years that began with Katie heading into Orbit and ends with us all loving being In Winter…
2010 - The House was released. It was Katie's fourth studio album and the first not to be produced by Mike Batt. Instead it was produced by William Orbit, more usually associated with electronica, trip hop and trance. Unsurprisingly, this led to an album with a much different feel to the previous three and suddenly Katie had songs that were ripe for remixes with even the likes of Sparks doing a remix of "A Happy Place". There's no doubt it was a brave album and it gave a vigorous shake to her fan tree, causing quite a few to fall out of it. Yet it also put her on the radar of a host of new fans. Her core fanbase was already strong enough to protect her from fluctuations around the periphery and although reviews were generally inexplicably average the album sales were good and led to gold or platinum status in the UK, Germany, Belgium, Poland and Switzerland, peaking at 4 in the UK charts. Opinion remains divided on whether it is one of Katie's best albums or worst. There's no point asking me—I'm like Bruce Forsyth with Strictly contestants, I tell each of her albums "you're my favourite". (Privately, one actually is, but I'm not saying. You don't single out a favourite child, though technically they're not my children so I'm on dodgy ground liking any of them. Even more technically, they're albums, not children, so actually I can like them all I want and there's nothing you can do about it.)
In September 2010, after seven years of fame, fortune and fan adulation, Katie suffered a breakdown and spent six weeks in hospital. Just like an overworked computer, a reboot sometimes fixes all kinds of problems and she later said it was one of the best things that ever happened to her. Anyone that meets her today will tell you that she is one of the loveliest and most approachable stars you could ever imagine.
2012 - A memorable year for Katie. The spring saw a new album, and autumn saw her get married. Secret Symphony was released in March. It was her fifth studio album, and fifth consecutive top ten chart hit. With Batt waving his baton once again and an orchestra in the mix as well it represented yet another musical course change that left some fans grumpy and others swooning. Some fans that had only jumped on board with The House promptly made a swim for it whilst others that had drifted away began to creep back. Those fans that had stuck with Katie from the beginning had already learned that she doesn't make poor song choices and her performances are always heartfelt and delightful. If you trust her decision making she doesn't let you down.
Also released in 2012 was the stunning digital download compilation, B-Sides, The Tracks That Got Away. To this day I do not know why this album was not released on CD in the UK (I think it was in Japan) because it is simply brilliant, and contains the sublime "Stardust", which really should have been on "Call Off The Search".
Forget the Olympics and Super Saturday—for Katie it was Super September. On September 1st she married World Superbike Champion James Toseland at the Royal Botanic Gardens in Kew. Just a couple of weeks before her 28th birthday, this was a far happier September than the one she had experienced a couple of years earlier. Even in the darkest days you never know what lies ahead.
2013 - Katie's sixth studio album, Ketevan, was released on her 29th birthday in September. With it she joined an elite group of female artists to have managed six consecutive top ten albums in the UK. Kate Bush and Madonna remain some way ahead but have a three-decade head start. Ketevan marked the end of Katie's journey with Mike Batt and Dramatico but there was no end-of-term feel to the album with all the songs attaining the high standards we have come to expect. Katie may have been longing to explore new horizons but her consummate professionalism never wavered and though the parting with Mike may not have been entirely amicable there's no doubting it was on a musical high.
to be continued...
28.12.19 > Curse of Creativity
Creativity can be both a blessing and a curse. Like when you wake up determined to crack on with your novel but out of nowhere you're suddenly consumed by the amorous angst of Arnie the Anteater...
Arnie, my lad
If you really want to treat her
Feed her red ants
After all, she's an anteater
And that would make her glad
But don't feed her red squirrel
For that would make her sad
And she'd be a hasty retreater
27.12.19 > The Meaning Of Songs
Do you like songs that tell it straight? "She loves you, yeah, yeah, yeah". Or do you prefer more of a Riddle? "Near a tree by a river there's a hole in the ground where an old man of Arran goes around and around…" I don't think anyone questions the meaning of the first example. The second is still argued over on message boards despite being released when Katie was just seven weeks old. Nik Kershaw himself claims that the lyrics are just nonsense but that hasn't deterred some people from attaching meaning to practically every word.
Another song that has been fiercely debated is Lucy In The Sky With Diamonds. There was widespread speculation suggesting the song was about LSD, a substance not unknown to The Beatles, due to the acronym of the title (though strictly that would be LITSWD). John Lennon said it was inspired by his son Julian drawing a picture at nursery school of his friend Lucy O'Donnell. If you ask me (and I note that you haven't) neither story is the whole story. What seems more likely is that both are true. I can imagine Lennon hearing young Julian describe his painting as "Lucy, in the sky, with diamonds" and having the emphasis of the L, S and D stand out in his brain. It would seem a natural progression for such a creative mind to then see a parallel between a child's imagination and a psychedelic drug trip. That they would deny the song is about drugs is not entirely surprising.
Bohemian Rhapsody is also a song that continues to provoke debate. Is it just flighty nonsense hinting at a Bohemian lifestyle? Bismillah, Scaramouche, fandango, Beelzebub—these are the kind of fancy words that Oscar Wilde might toss around with gay abandon. Or is it far darker and fatalistic with Freddie Mercury ruminating on his sexuality and perceived repercussions of his lifestyle choices? You decide.
I can't not mention Katie in this discussion (this is allaboutkatie after all). Mike Batt's lyrics tend to be clever but generally unambiguous. Katie's often demand a little more thought. Tiny Alien leaps out as an example, though it is not clear whether the lyrics are by Guy Chambers or if it was a joint effort. But you can interpret it as a song about struggling to relate to society, feeling alienated and small. Or if you are an X-Files fanatic you might be convinced Katie had encountered a pocket-sized E.T. in her back garden. If you want a tougher test try listening carefully to The House and see what your brain concludes (if you think it is about preferring one variety of apple to another you've probably led a very charmed life).
Song lyrics are a form of poetry. Whether they reflect the exact feelings of the lyricist or are apparently gibberish nonsense doesn't matter. It's about how you interpret them. What they mean to you. A song that makes someone else think about an ex-girlfriend may leave you thinking about a pet labradoodle. Great songs don't tell you how to think, they encourage you to think for yourself. That's why arguing over their meaning is pointless. Lyrics paint a picture in your mind but we all have unique minds so it stands to reason we should all see a different picture. And beauty is in the eye of the beholder. There is no right answer, what matters is what it means to you. As Morpheus told Neo "what was said was for you and for you only". If you have an opinion on what a song means then nobody can tell you that you're wrong, not even the artist that wrote the lyrics. At the end of the day that is all art is—a stimulant to your imagination. The artist can give you something to think about but what you actually think is down to you alone. So never let anyone tell you "oh, that's not what it's about". What it's about in your mind is all that matters.
26.12.19 > Katie Bite: The One I Love Is Gone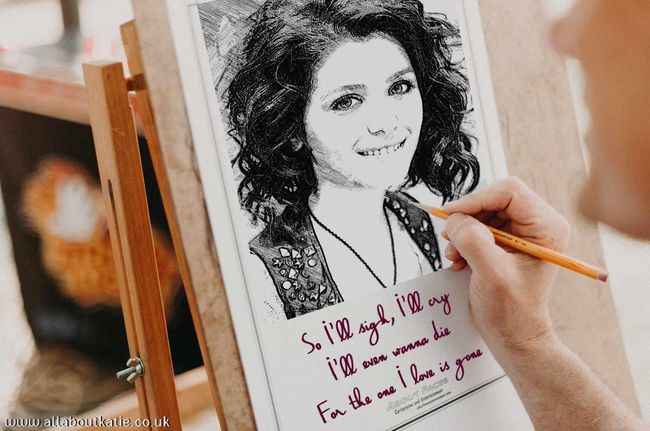 26.12.19 > Quick Poll
Hands up everyone that would like to hear Katie cover Dylan's Make You Feel My Love. Bear with, just do a quick count.... right, so that's just me then. Okay, as you were.
25.12.19 > Craggie's Christmas Message
The best thing that ever happened to me occurred this year—I went to Georgia. I was apprehensive. After all, I hadn't been on a plane in years, I was travelling alone to a country where English was not the first language and I only knew some basic Georgian. I didn't have any firm plans about where I would be going or staying, I was just winging it. What could possibly go wrong? Well, as it turns out, nothing. Everywhere I went in Georgia I was treated like a king—not because I'm special but because Georgians are special. I was blown away by the warmth and kindness of everyone I met, and I made friends everywhere I went. Tbilisi was terrific, Batumi was beautiful, Borjomi was breathtaking and Kutaisi was… drat, why did I have to start with the alliterations… er, kind. The hospitality of Georgians will blow your mind. I don't think it's much of an exaggeration to say you could knock on any door in the country and be invited inside and fed to bursting point (I didn't actually try that, you understand, it is just the impression you get). If Georgian hospitality puts the English to shame (and it does) then their crime rate positively humiliates us. I felt so much safer in Georgian cities than I ever have in English ones. I had a hard time convincing anyone that knife crime was even a thing—people were aghast to hear about the regular stabbings that happen in London. When you spend time in Georgia you realise it is a different world, and in most ways a far better one. Yes, it looks a bit rustic and run down in places. You don't see signs for 'best kept villages' and the like. Keeping up appearances is not a priority; enjoying life and each other are more important than having a cleaner car and neater lawn than your neighbours. Georgians have nothing against rust. Yet don't be fooled into thinking there is anything at all backwards about the country. It feels as modern and forward-thinking as anywhere in Europe. When I'm at home in Lincolnshire I rarely get more than a single bar signal on my phone. In Georgia I had four bars almost everywhere I went with good broadband speeds. Digital nomads will have no problem there.
Whilst staying in Tbilisi I got friendly with a Russian guy, thanks to our mutual Georgian friend who was also our translator, since I speak no Russian and the Russian guy spoke no English. We got on famously even though there is not supposed to be much love lost between our two countries (or indeed for that matter, between Georgians and Russians). It was a perfect example that wherever you go, people are people. We are all basically the same. Governments and politicians try to spread mistrust between us all for their own agendas but the bottom line is that people from anywhere can get on with each other without a problem. And that realisation has made me even more sad about the way the UK has been torn apart by the wretched B-word. Love it or loathe it, it seems that 2020 will at least put an end to the uncertainty that has hung over us for three years and caused so much hostility. The friends, neighbours and work colleagues you know are the same people you've known all along and once the dust settles everyone will get on with the lives and the country will be just fine. It has always been the same—politicians try their best to screw things up while the people shrug their shoulders and carry on living their lives regardless. Don't waste your faith on politicians and leaders, just have faith in the people that are in your lives and everything will sort itself out. That's my message this Christmas. Oh, and get yourself out to Georgia as soon as you can. Merry Christmas to you wherever you may be. შობას გილოცავთ
24.12.19 > Jack Savoretti's Seasonal Soundtrack
Katie was Jack's studio guest on his BBC Radio 2 Special show last night.
If ever you wonder why I try so hard to post something on this site every single day come what may then let me tell you why. Katie deserves it. Last night she performed two songs, "Have Yourself A Merry Little Christmas" and "O Holy Night", that were so spellbindingly sublime that they could be used as the ultimate challenge to defeat the Turing Test. You know, the test of artificial intelligence whereby you need to determine if you are talking to a human or a computer. Play Katie's performances then try the Turing Test. If it's a human they'll be a gibbering wreck of emotions. The computer will be unmoved. The chord change in OHN that coincides with the lyrics "fall on your knees" has an effect on the human brain that can never be replicated with A.I. I've blogged a few times about whether a computer could ever write a song and concluded that yes, maybe it could. But what it could never do is perform it. Music evokes emotional response—if you can't experience that then how can you hope to recreate it?
In addition to Katie's exquisite performances Jack played three tracks that Katie has performed in the past (and I'm not sure if he even realised that; I'd love to know if Katie mentioned it to him off mic); there was "Wonderful World", "Baby, It's Cold Outside" and "River". Now, nobody is disputing the greatness of Joni Mitchell but I would invite you to listen to her original version of "River" and then Katie's. Maybe then you'll understand why I consider Katie to be the best interpreter of a song I know (or songs I don't know, for that matter). When Katie sings "River" the sorrow and regret in her voice are so palpable you feel it in your own heart. And she puts that emotion into every song she sings. I have no idea how she gets through a concert without becoming an emotional wreck (i.e. like the audience). You could tell that Mr Savoretti was blown away by her performance of "O Holy Night", as were his listeners.
If you want to catch the show it'll be available for another 29 days at Jack Savoretti's Seasonal Soundtrack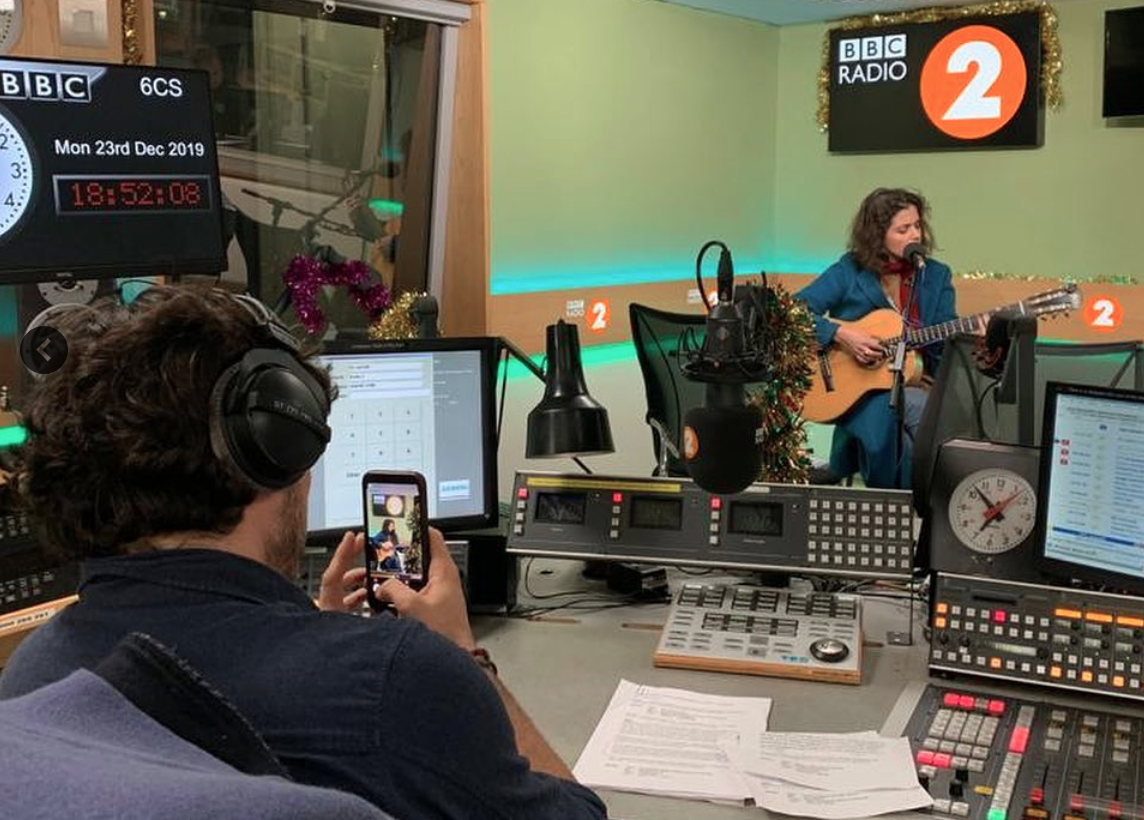 (Please note that it is a BBC site and so the link may not work outside the UK :-)
23.12.19 > Lyric Card: Perfect World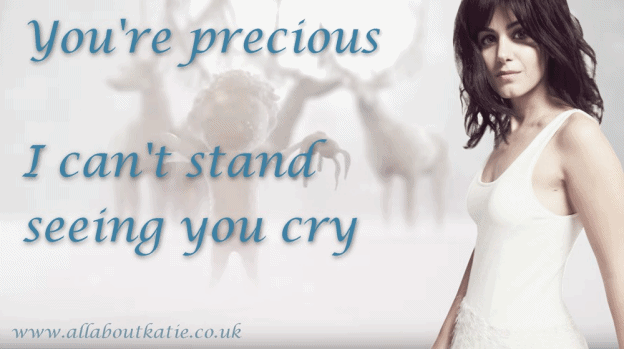 22.12.19 > Is Katie a Crooner?
Think of the term "crooner" and most people picture Frank Sinatra. Or Dean Martin. Or Tony Bennett. Even Bublé (though he may be more swooner than crooner). It isn't hard to spot some stereotyping here—the suave, middle-aged man reeking of the heady mixture of cologne and whisky, propping up a bar at 2am and serenading sweet nothings about some lost love he can't forget. Surely Katie is more likely to be one of the lost loves that legged it from these leches?
How about we start at the beginning and get a few definitions of the term. The Cambridge English Dictionary describes a crooner as "a singer, especially a man, who sings love songs". Vocabulary.com is similar but specifies "who sings jazz standards". Merriam-Webster suggests "a singer of popular songs", whilst Wikipedia elaborates "singers who sing in a soft, intimate style made possible by the introduction of microphones and amplification". Whilst most definitions say a crooner is often a man, none cite that as a requirement and thefreedictionary.com curtly points out that a female crooner is called a crooner.
So let's summarise those crooner definitions:
soft, intimate vocal style
sings popular songs
sings jazz standards
sings love songs
can be a woman
All of a sudden it is clear that Katie is doing some serious box-ticking with that list. So, Katie is a crooner then? Well… no. Don't look so puzzled, I shall explain all. Whilst Katie does indeed meet most of the criteria associated with the style, unlike the aforementioned legends (and Bublé), it is not her only style—nor even her primary style. Most of the time, Katie sings with a guitar whereas crooners are just vocalists. She sings many of her own songs whereas crooners mostly sing standards from the Great American Songbook. And she sings many different styles such as pop, blues, folk and anything that takes her fancy (thankfully not, as yet, rap or country, or their hybrid, crap). If you really must label Katie then call her a singer-songwriter. Just understand that, when she wants to, she can croon with the best of them—Ol' Blue Eyes himself would melt like a gooey marshmallow hearing her sing "Have Yourself A Merry Little Christmas".
21.12.19 > Playlist: Snuggle Up With Katie
On a cold, dark winter's night there are few better things than to snuggle up in front of a warm fire with your favourite tipple, close your eyes and let Katie take you to faraway places. You don't even need a passport. To maintain the illusion it is just you and Katie travelling, this list only contains her own songs—after all, you wouldn't want Mike Batt photobombing your carefully imagined holiday snaps, would you?
This should help the shortest day of the year fly by. (Except it isn't the shortest—I've been timing them and they are all exactly 24 hours long.)
Snuggle Up With Katie
A Time To Buy
Belfast
Faraway Voice
Forgetting All My Troubles
I Cried For You
I Do Believe In Love
No Fear Of Heights
Perfect World
Piece By Piece
Plane Song
Spellbound
Spider's Web
20.12.19 > Katie Bite: Have Yourself A Merry Little Christmas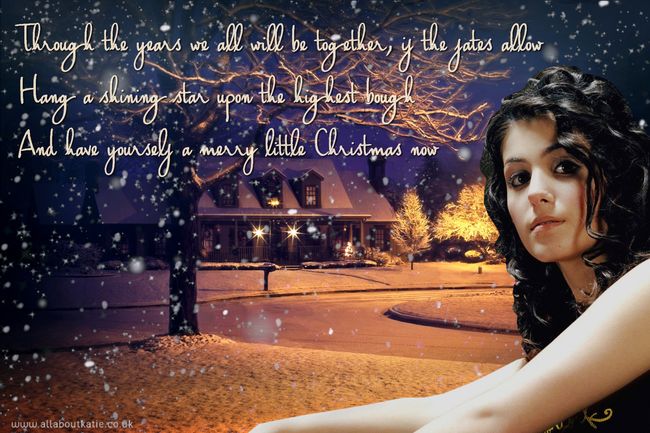 19.12.19 > Track Notes 76: Perfect World
Perfect World

Album:

Writer(s)

Katie Melua & Joel Harries

Length:

4:24

Notes:

Sublime song by Katie. It has to be said, the original songs on this album blend in so beautifully with the covers and traditional pieces, which is one of the reasons why In Winter is nothing less than a masterpiece.

Katie's voice always shines the brightest when it doesn't have to compete with a band behind her and this song is a glorious example of that. It begins with gentle acoustic guitar strumming, the regular rhythm of which soon gives you the feeling of gliding across snow in a horse-drawn sleigh. The Gori Women's Choir provide the subtlest of angelic backing vocals, and towards the end you begin to discern the slight tinkling of sleigh bells, reinforcing the sleigh-ride sensation. Add in the minimal crisp piano notes tinkling like falling icicles around you and the wintry imagery is complete. A songwriting masterclass.

YouTube:

No contest about what to show here. The official video by Karni & Saul is one of the most beautiful things you will ever see and fits the song like a glove. Although you'll be doing well if you can get through it without crying, there is still light relief to be found—look out for the toy rabbit drinking tea and then falling over at around 2:08.
Perfect World.

Lyrics:
18.12.19 > Dennis The Drummer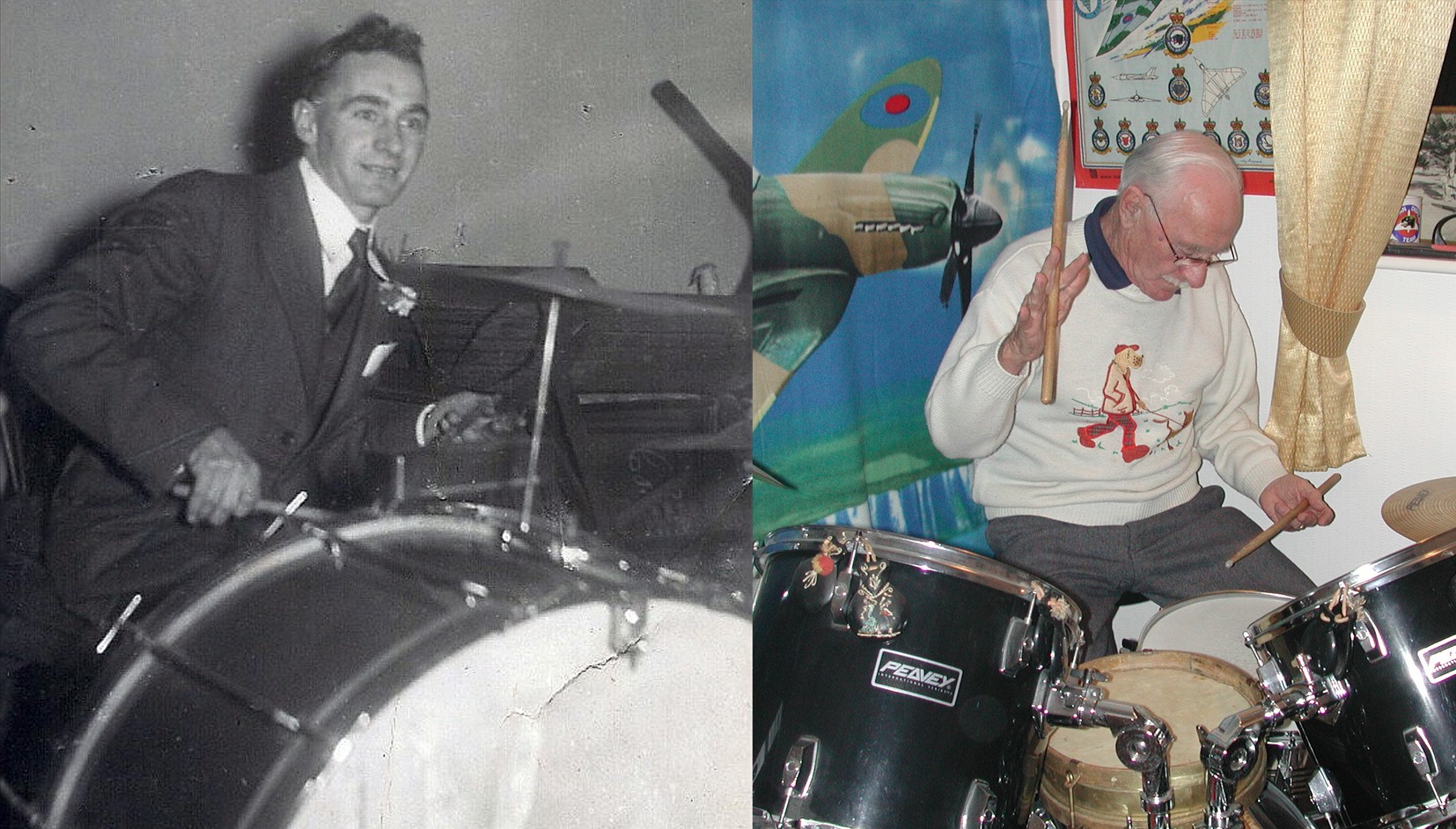 Christmas has a very different dynamic for those of us that spend it alone. Instead of noise, bustle and celebration it is more about quiet reflection. My Mum was the beating heart of Christmas until she passed 13 years ago. The final few Christmases I spent with Dad were understandably lacking in exuberance—he had been married to Mum for 57 years and her loss was not a hole you fill.

This Christmas I'll be thinking of them both as usual, but in particular I'll be reflecting on Dad's life as a jazz drummer, from his exuberant teenage start with swing bands around Manchester to playing purely for the love of it with failing eyesight in his bedroom when he was in his eighties. He was always about playing for love rather than money, and worked a string of jobs along the way. He grew up on a farm without electricity, and started out delivering milk from a horse-drawn cart before becoming an apprentice cobbler. He had jobs on the railways in the Australian outback, in a cigarette factory in Canada and as a postman back in the UK. He never really had any hobbies or interests—all he ever wanted to do was play the drums. Whilst in Canada, he met his hero, the legendary jazz drummer Gene Krupa, who gave him a pair of his brushes. Those brushes were a prized possession and when he died I made sure they went into the coffin with him—not so that he would have them in the next life but so no one else would have them in this one. He was a big fan of Katie (as was my Mum) but whenever I put her DVDs on he would always sit forward when the camera focussed on Henry Spinetti, straining to catch every glimpse of a fellow drummer living the life. It is a simple lesson. Find something you love doing and do it with a passion. You don't have to change the world to have a rewarding life. I still have his drum kit and hope some day to donate it to a youngster that has that passion in their eyes.
17.12.19 > Lyric Card: River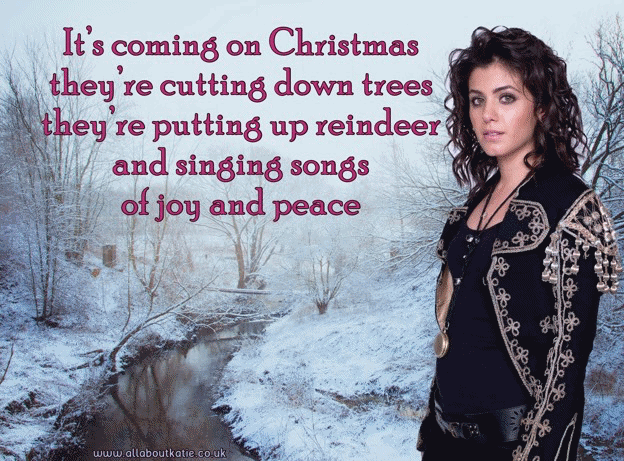 16.12.19 > Maybe I Dreamt It
Some people who bought the Special Edition of In Winter with the bonus Live in Berlin CD may be umming and ahhing about buying new offering Live In Concert. Well, it is worth it because the performances are different ones, because the photo booklet it is packaged with is sumptuous and a lovely reminder of a wonderful evening for anyone who attended one of those shows, and also because there is a new song nestled in there—"Maybe I Dreamt It". In the year since I'd heard that song performed it was never mentioned anywhere and I was indeed beginning to think that maybe I'd dreamt it. But now it is on a CD, on my hard drive as an mp3 and out there in the cloud, floating around waiting to be sucked down into my phone. It is real.

If "Maybe I Dreamt It" is the first glimpse of action from the next studio album then we are all in for a treat when the peloton catches up. 2020 could be a very good year for Ketefans. If Katie was hoping to dip a toe in the water and gauge audience reaction by performing the song live then she could hardly have been more encouraged. Every time I saw her perform it she got a standing ovation before the song even finished, almost comically having to wait patiently to deliver the final line. It is common for an artist to fret about whether their work is any good (I certainly consider everything I write to be utter rubbish and tend to view praise with bewilderment and suspicion) but it is hard to imagine more positive feedback than Katie received for this song. Of course, one swallow does not a summer make, but I don't have any doubts that we will all love the next album. I will be interested to see how a studio version of the song ends. Three options spring to mind—

1) The final line gets cut and the song ends on a crescendo.
2) The final line gets delivered after a short pause for effect.
3) The final line gets delivered after thirty seconds of silence, allowing the listener at home, or on the tube or wherever, to stand up and give their own raucous ovation before the song ends.

I suspect it won't be (3), though if I were producing the album it absolutely would be.
15.12.19 > Georgian Wine Society Offer
This may be a case of preaching to the converted since if you're reading this you're clearly a fan of Katie Melua and have probably bought her latest CD (unless you are Katie Melua, in which case you don't really need to buy her latest CD), but on the off chance that your bottom is still glued to the fence for some unfathomable reason, The Georgian Wine Society have made a particularly enticing offer—they are bundling Live In Concert with two bottles of Georgian wine (a Saperavi and a Tsinandali, both delish IMHO), along with a £5 discount. This package is a bargain but isn't particularly cheap—you are getting three high quality items (Georgian wine isn't like the £4 brake fluid you get in supermarkets). So if you happen to have an other half that loves Katie AND good wine then this would make a divine Christmas present and make them feel intensely guilty about the socks and chocs they bought you. Why not check out their site by clicking the link below? (You'll need to prove you are over 18 by the infallible act of typing in a date before 2001.)
14.12.19 > Live In Concert
Live In Concert has been added to the albums page. (I shouldn't bother waiting for it to appear on the albums page of katiemelua.com — Ultimate Collection isn't even showing there yet. The people running Katie's web site are a bucket load of inebriated hamsters.)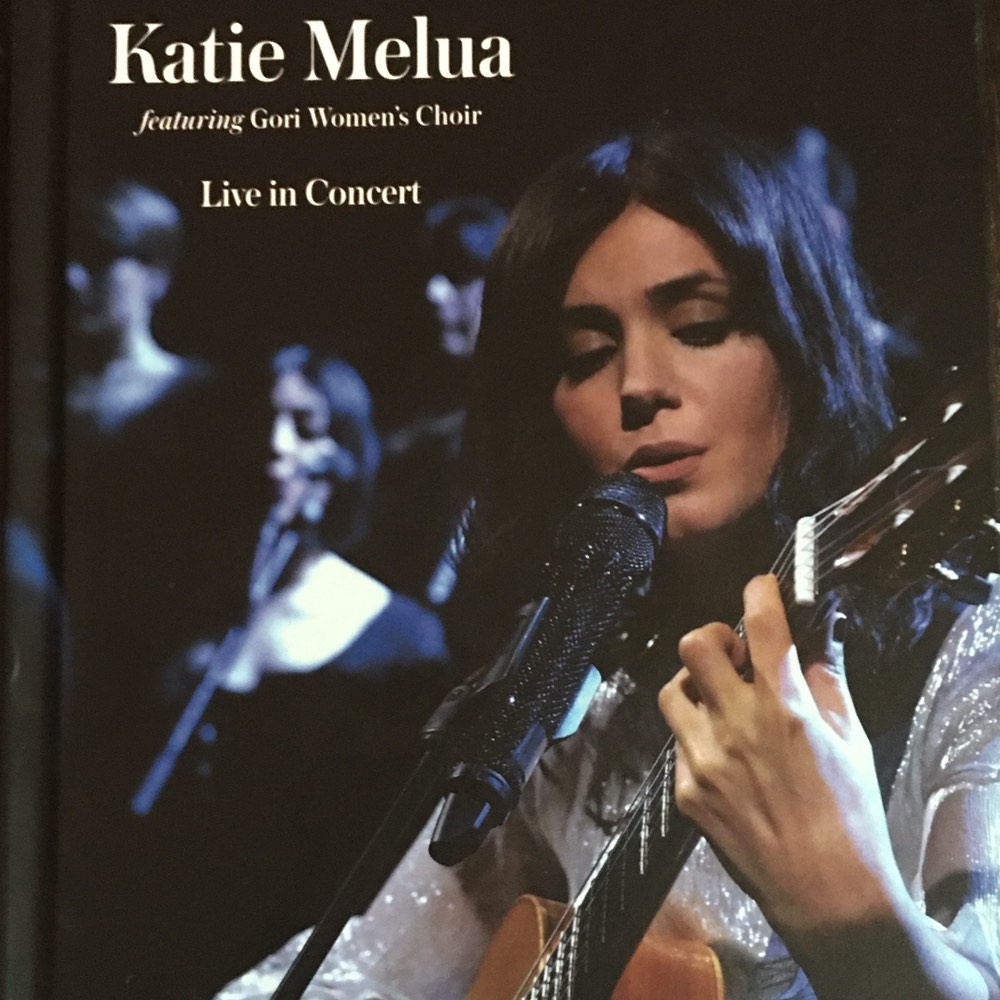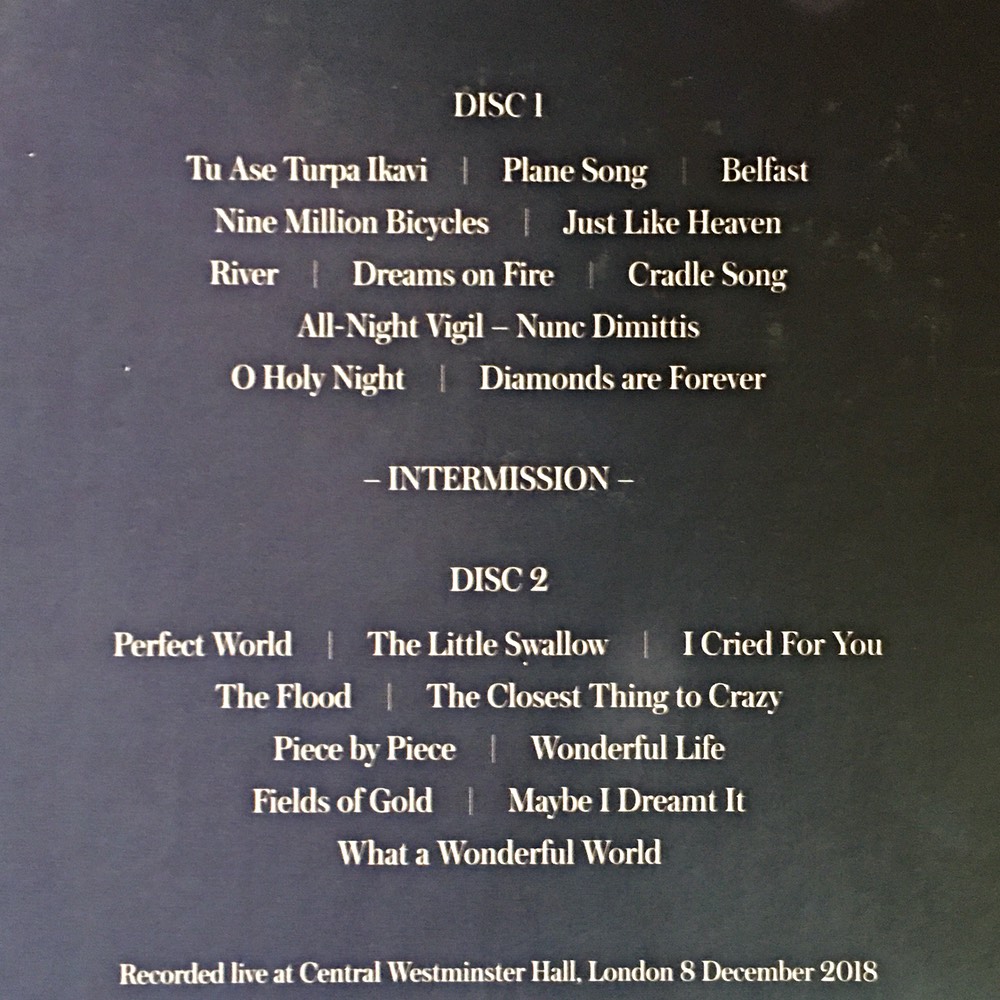 14.12.19 > Playlist: Single Word Songs
I was trying to think of the laziest playlist possible, one that required the least amount of typing. But it quickly became apparent it would take more effort than it was worth for what would be, frankly, a rather silly idea for a playlist. Instead, I decided to make a playlist of single-word songs. This is arguably just as silly, but there's something punchy and noble about a single-word song title. It is still pretty good for the lazy typist, weighing in at just 63 characters, though with 2-word songs this could be whittled down further by, for example, replacing "Spellbound" with "Shy Boy". If this list was an album it would be short and sweet and lovely and perhaps called simply "Words".
Single Word Songs
Belfast
Spellbound
Twisted
Stardust
Fancy
Moonshine
Heartstrings
River
13.12.19 > An Historic Day
After a long and anxious night of waiting we are waking up this morning to a truly seismic and momentous event in the UK. That's right—there's a new double-CD to add to your Katie Melua music collection. Forget Brexit and global warming and carbon footprints and general armageddon and instead just immerse yourself in beautiful music beautifully performed. If you find politics to be like scraping nails on a blackboard then you need to snuggle up inside the comfort blanket that is Katie's voice. Let the world do what it will while you lose yourself in what really matters—music.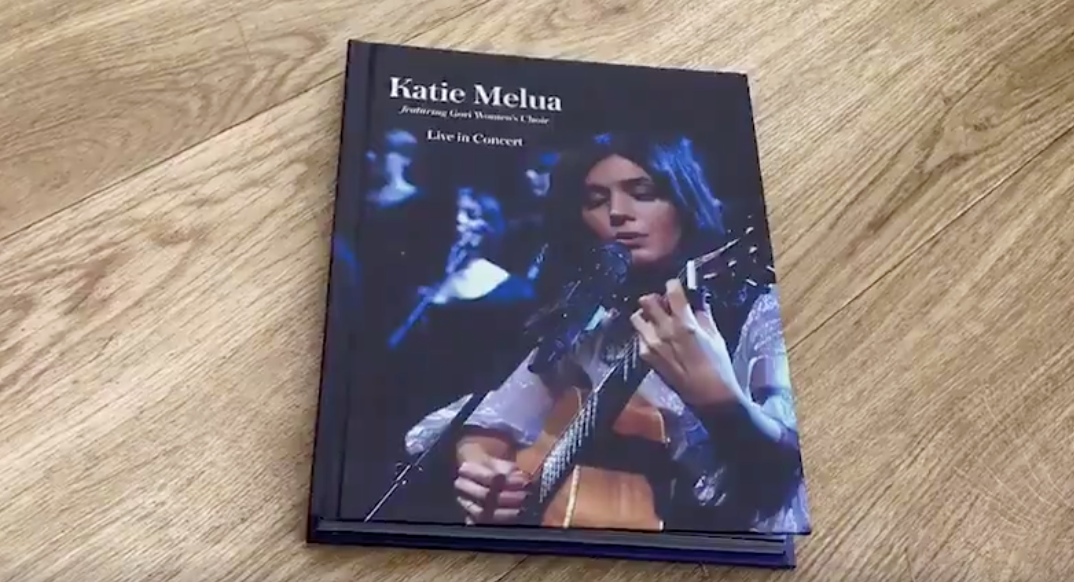 12.12.19 > Sketch Effect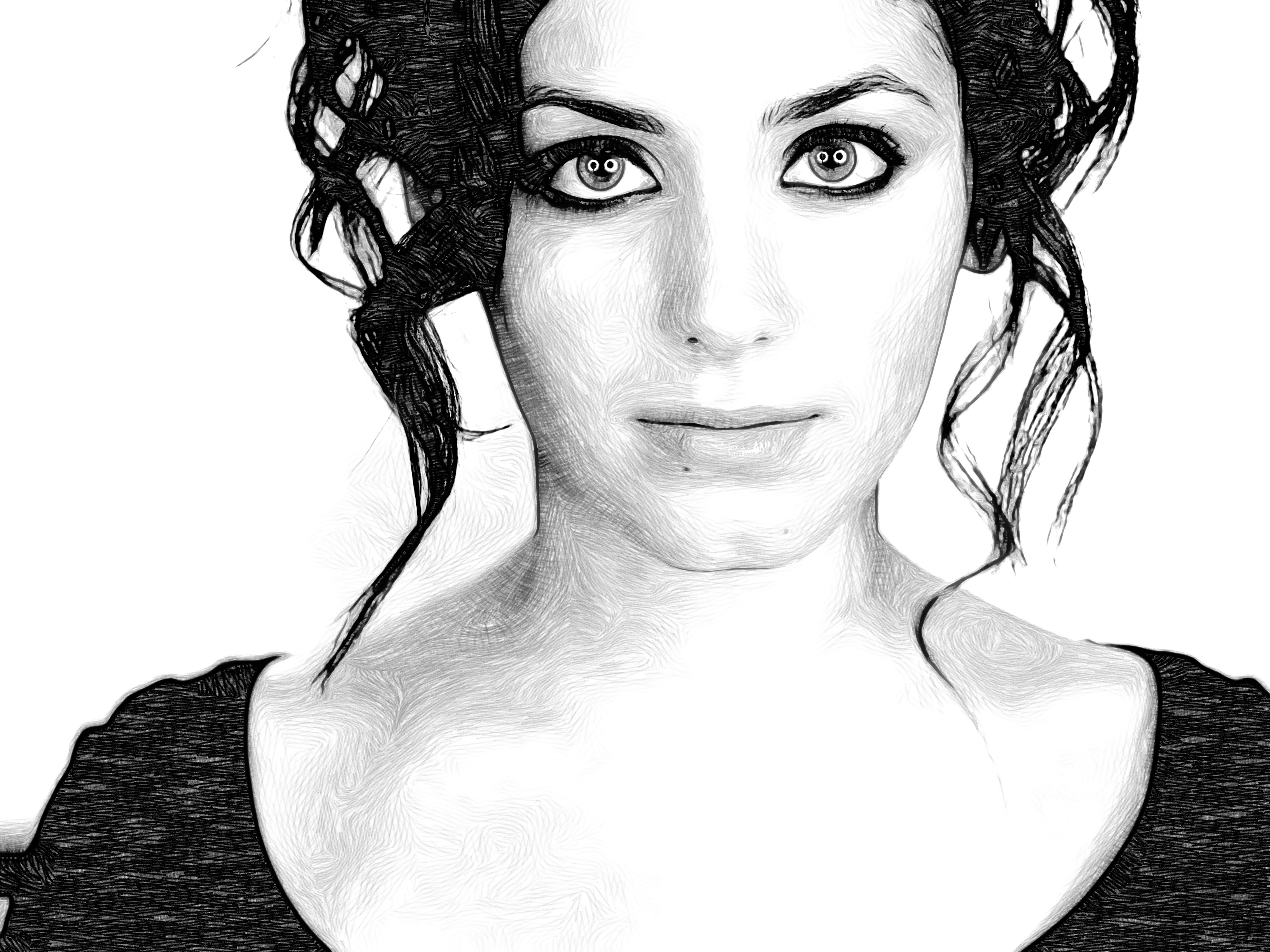 11.12.19 > Katie Bite: Forgetting All My Troubles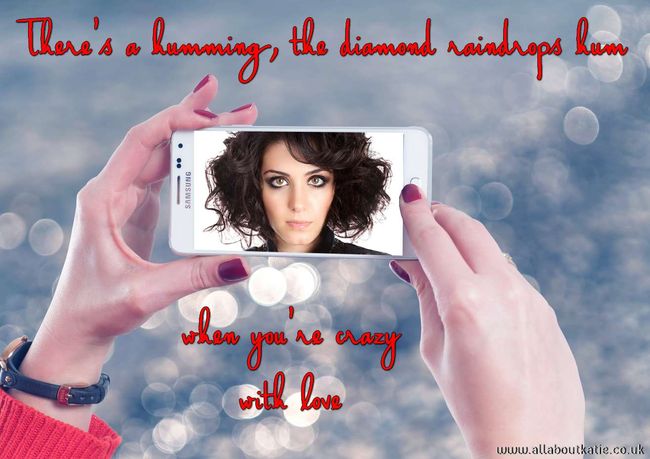 10.12.19 > Track Notes 75: River
River

Album:

Writer(s)

Joni Mitchell

Length:

3:25

Notes:

This little gem from Joni is from her 1971 album Blue. Despite never being released as a single, it touched a chord (actually, I think it uses more than one) with other artists and has been recorded a ridiculous 432 times, second only to "Both Sides Now". Don't quote that number because it is probably already out of date. My skin is thick enough for you to call me biased but I am adamant that Katie's version is the best (I wonder if Adam Ant has covered it). I'll be honest—I haven't heard 429 of the other versions including, thankfully, the Barry Manilow effort.

YouTube:

There's a stunning version on YouTube, filmed live in Berlin, but this video has had far fewer views than it deserves and is just so impossibly beautiful that you'll probably melt into a pool of sticky stuff on the carpet, so watch with caution... River, with The Gori Women's Choir.

Lyrics:
09.12.19 > Lyric Card: The Little Swallow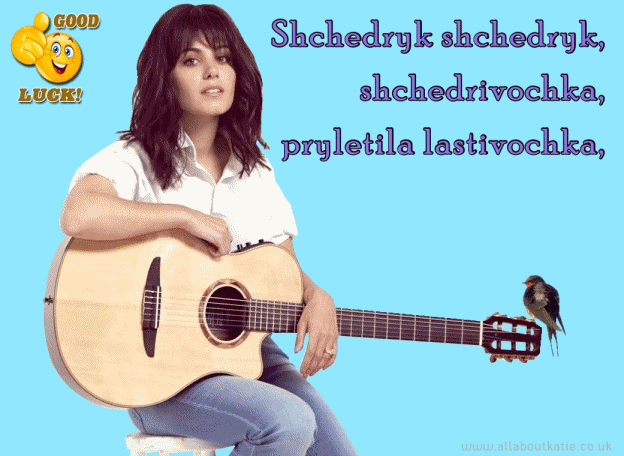 08.12.19 > Playlist: Christmas Classics
A bit of a departure from normal playlist rules here—for the first time, this list is not all about Katie. Please don't throw mangoes at the screen. Keep calm and carry on. The thing is, Katie hasn't recorded enough Christmas material yet. Of course we have the sublime In Winter but that is only partially about Christmas. Beyond that you have to look back to B-Sides: The Tracks That Got Away for "Have Yourself A Merry Little Christmas" (and that album isn't available on CD). But since the big day is looming towards us like a tinsel-laden juggernaut I thought I'd cobble together a playlist of some of my favourite Christmas songs by some of my favourite female singers. Katie kicks it off, then it is in no particular order but like all playlists is best listened to shuffled.
Albums:
Katie Melua — In Winter
Katie Melua — B-Sides: The Tracks That Got Away
Bailey Tzuke — Christmas with the Tzukettes (available here)
Enya — And Winter Came
Zooey Deschanel — A Very She & Him Christmas
Moya Brennan — An Irish Christmas
Kate Rusby — The Frost Is All Over
Kate Rusby — While Mortals Sleep


Katie - Have Yourself A Merry Little Christmas
Katie - O Holy Night
Bailey Tzuke - Let It Snow
Bailey Tzuke - Christmas With The Old Folks
Enya - Oíche Chiúin (Silent Night)
Enya - O Come, O Come Emmanuel
Zooey Deschanel - Blue Christmas
Zooey Deschanel - I'll Be Home For Christmas
Moya Brennan - Do You Hear What I Hear
Moya Brennan - We Three Kings
Kate Rusby - Winter Wonderland
Kate Rusby - Joy To The World
07.12.19 > Lincolnshire
After yesterday's rather downbeat look at London I thought I'd cheer up and have a quick peak closer to home. So here's Lincolnshire in a nutshell.

In London there are people everywhere. In Lincolnshire there are no people at all. Well, perhaps a few, but they all live underground in hobbit holes and listen to 70s prog rock on gramophones, only venturing out to do a weekly shop and put the bins out. Many of them communicate by pigeon. They like to eat haslet and chine and insist on referring to you as 'duck' regardless of your actual name and in spite of your apparent lack of bill, feathers and webbed feet. It is the second largest county in England yet has no motorways nor Premier League football teams, there are more tractors than coffee shops and jazz musicians combined and people are referred to as yellow bellies for no discernible reason. (I haven't seen many Lincolnshire bellies but of the ones I have none struck me as being in any way yellow.) Lincoln Cathedral was the tallest building in the world for over 200 years, yet has never had a lift fitted. The region I live in is known as Kesteven (which I pronounce 'Ketevan', obviously, if incorrectly). Famous Lincolnshire people include Sir Isaac Newton, Margaret Thatcher, Jim Broadbent, Sheridan Smith, Jennifer Saunders, astronaut Mike Foale and lyricist Bernie Taupin. There may be others. The county plant is the common dog-violet, though no one has ever seen one. The county song is "The Lincolnshire Poacher" which dates from around 1776. That's all you need to know, and you probably didn't need to know any of it.
06.12.19 > London
Many people say what a great city London is. But it isn't, and that makes my heart break because it could and should be. Those that live there seem to be desensitised to the harsh reality of the shocking juxtaposition of crime and poverty with opulence and indulgence. I have seen a woman pouting for a selfie whist another woman sat huddled beneath a blanket in the doorway behind her. The homeless woman stared into space with the blank expression of someone who has moved beyond suffering and and settled at hopeless resignation. The girl with the phone was oblivious to everything around her other than the angle of her own image looking back at her from a glowing screen.
Over the past 24 hours I saw London in a nutshell. I saw the warmth and kindness of people coming together to raise money for the Hope & Homes For Children Charity at a Christmas carol concert in Kensington. I saw the stunning buildings and architecture that abound on almost every street, yet I saw no one else looking up and admiring them as I did. I saw people sitting on pavements, homeless and hopeless, breathing but devoid of life, invisible to the crowds rushing past them, most of whom were shut off in their own little worlds fenced off by headphones and either lost in music or talking out loud in an apparently one-sided conversation that a few years ago might have seen them carted off to an institution. Everyone is in a hurry, oblivious to the beggars and the beautiful buildings, and only just aware enough of other people to barely manage to avoid bumping into them. There is no humanity, no compassion, no joy at just being alive and being surrounded by amazing people. Every single person you see has a story to tell. No one cares. No one wants to listen. And it breaks my heart. Our phones are our gods, to be worshipped and obeyed. A voice from the ether takes priority over the person standing in front of you. You like a picture of a strangers' cat yet fail to even notice the stunning craftsmanship of a stone mason whose legacy towers above you hundreds of years after his death. Also in that 24 hours I heard that the lovely singer Katherine Jenkins had tried to help an old lady she saw being mugged, and ended up being mugged herself. Fear and tension is palpable in London. In 2019 we are still a million miles away from being able to call ourselves a civilisation. No one should be homeless. No one should be starving. No one should be living in fear.
I always leave London with a heavy heart. Not for the leaving itself, but, like visiting a dying friend in hospital, with a sad reflection on how much of a decline you will find upon your return, and with the desperation of not knowing what you can do to help. I hope that on my next visit I will see signs of a remarkable recovery but I know that wishing for a miracle is a fool's errand. Stay strong, Londoners, be safe, be vigilant and look out for each other.
05.12.19 > Hope And Homes For Children Christmas Concert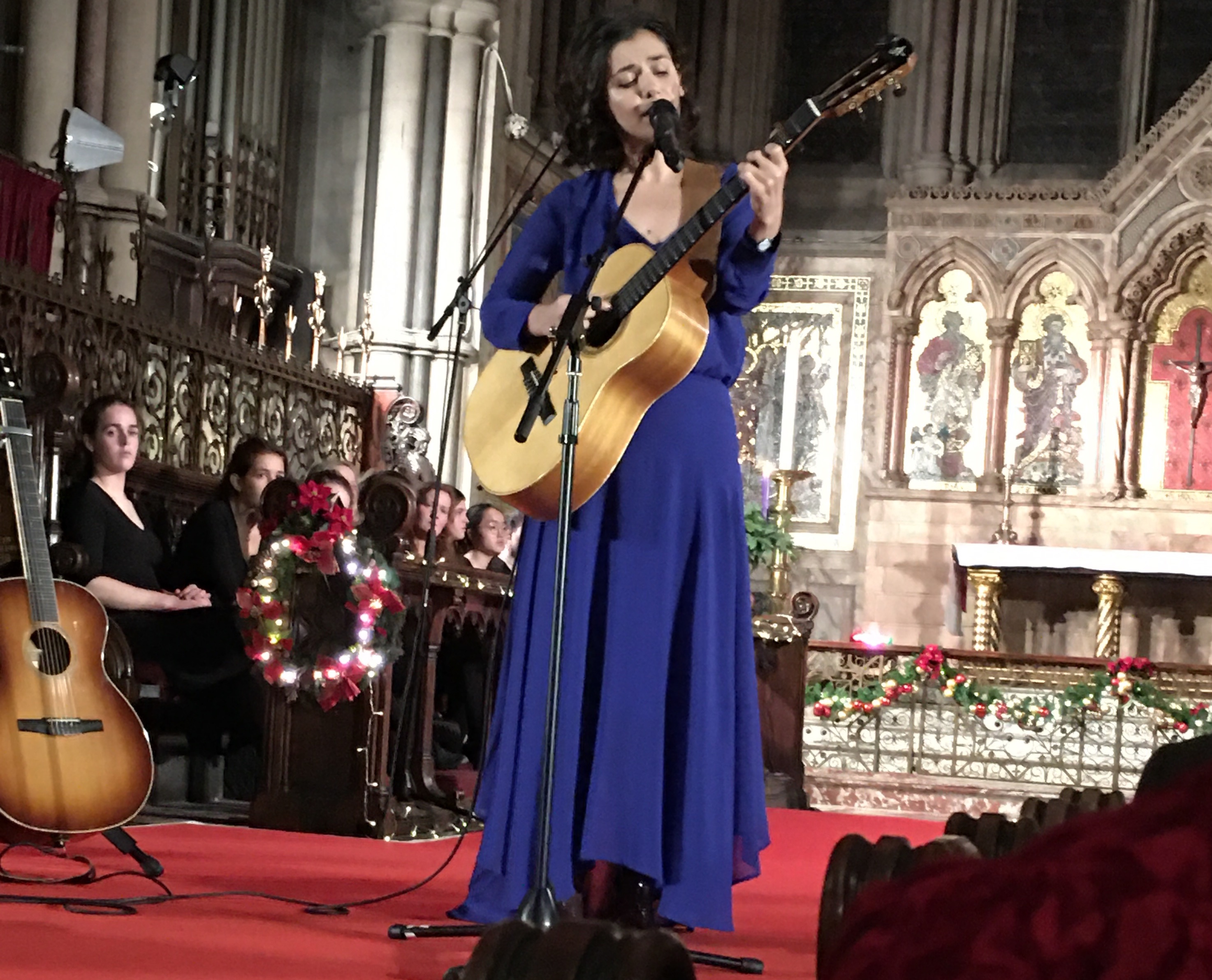 I'm so in the Christmas spirit now after a truly wonderful event in London last night. The Hope And Homes For Children 25th Anniversary Christmas Carol Concert was a beautiful event for an exceptional cause. There were some lovely performances including a charming young girls school choir, Prima Voce, rather like a budding Gori Women's Choir, and readings from Mel Giedroyc and Kate Adie. But Katie, as you might expect, took things to another level. Allowing Prima Voce to accompany her was delightful, and something those young girls will never forget. When Katie went solo on "Have Yourself A Merry Little Christmas" her microphone got possessed by naughty spirits and drooped downwards mid-song. But Katie is the coolest professional in the known universe (I've asked around some of my alien friends and they have verified this) and she calmly tightened it up before picking up the song so seamlessly that those who couldn't see what happened thought she'd just paused for effect. It is an absolute privilege to witness an artist at the top of their game perform live.

Below is the set list, given to me by Katie's brother Zurab who, like all Georgians, is impossibly adorable. I wish you all to have yourself, Christmas.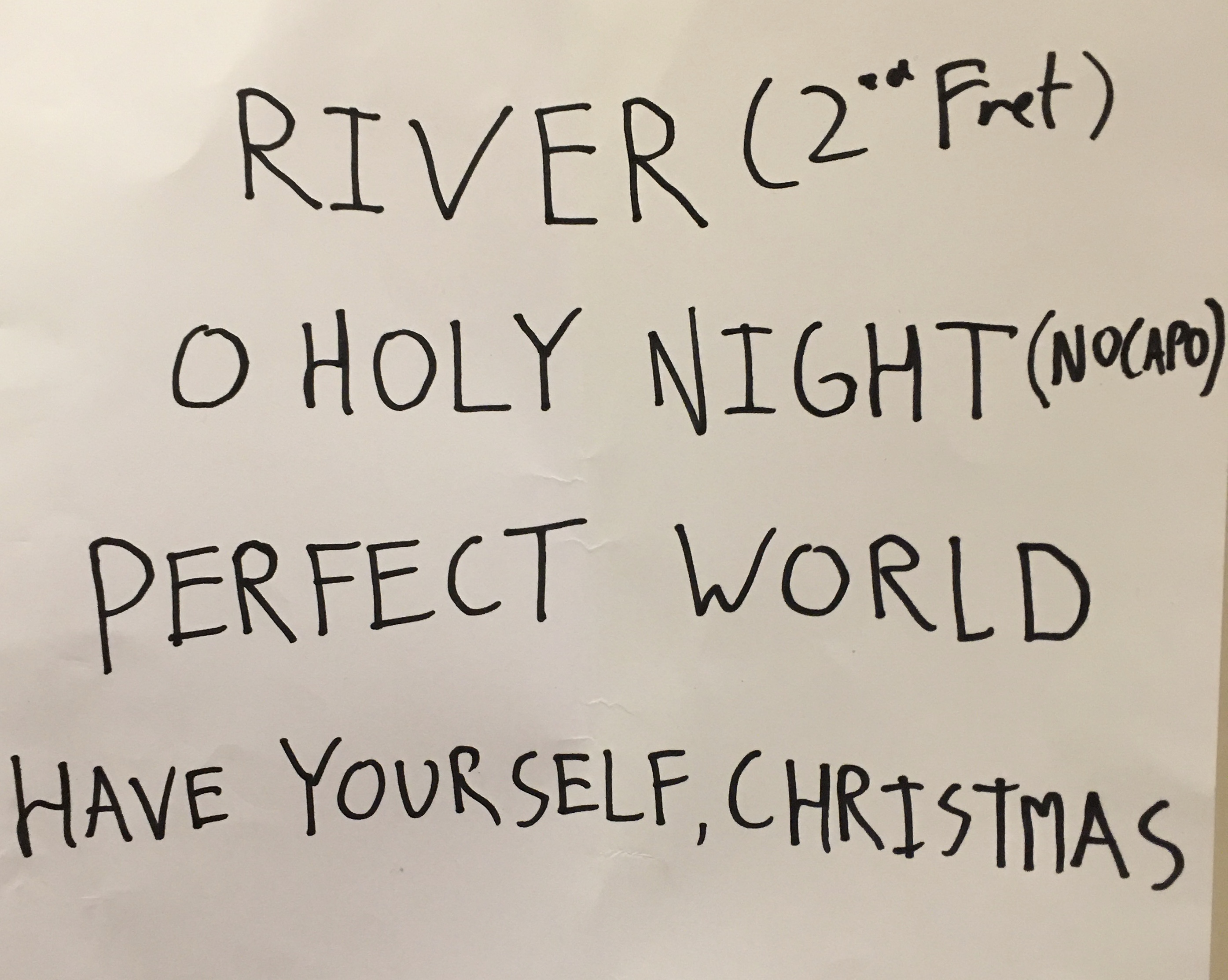 04.12.19 > Quick Fact
After Katie's bluesy chinwag with Cerys Matthews the other night and with Christmas jingling in my brain it reminded me that both Katie and Cerys have performed the (nowadays controversial) festive jolly that is "Baby, It's Cold Outside". Only, Cerys performed it with Sir Tom Jones. Mic drop. Then again, Katie has performed "Fairytale Of New York" with the actual Pogues. Mic drop back at ya.
04.12.19 > Katie Bite: A Time To Buy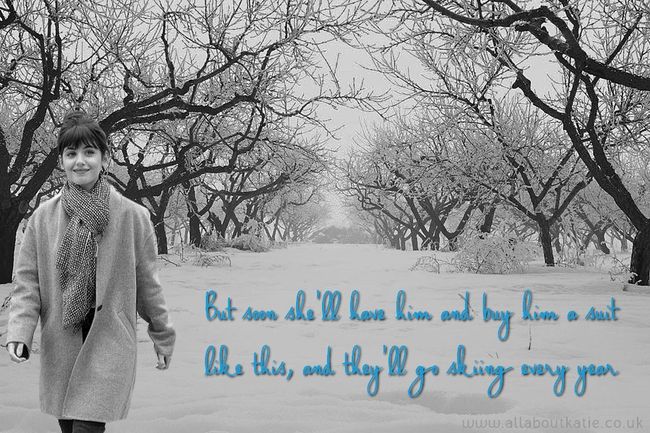 03.12.19 > The Blues Show with Cerys Matthews
Utterly stonking hour on Radio 2 last night with the wonderful Cerys Matthews (who has, to the best of my knowledge, never thrown her knickers at you, but does come from Wales) chewing the fat with our Katie about the blues. It was simply delicious and left you wishing Katie would record more blues. In fact, Cerys asked that very question and Katie hinted that she might, though she doesn't like saying 'no' and refusing to rule something out is a handy escape (but don't worry—she's still young and there's plenty of time for her to explore different avenues).
If you want to catch the show it'll be available for another 29 days (don't ask me, ask the BBC) at Katie Melua in conversation with Cerys Matthews.




(Please note that it is a BBC site and so the link may not work outside the UK :-)
02.12.19 > Track Notes 74: The Little Swallow
The Little Swallow

Album:

Writer(s)

Mykola Leontovych (trad. arr.)

Length:

1:46

Notes:

Somewhat serendipitously we find ourselves on to In Winter just at the beginning of meteorological winter. That wasn't planned—if only I was that organised!

"The Little Swallow" or "Shchedryk" (Ukrainian for 'bountiful evening') was originally arranged in 1916 by Ukrainian composer Mykola Leontovych and was traditionally sung on the evening of January 13th (New Year's Eve in the Julian Calendar). In 1936 the song was adapted by Peter Wilhousky, given new lyrics in English and entitled "Carol of the Bells". It is this version that is widely known in the west but the older, Ukrainian version is better. The lyrics tell of a swallow flying into a household to sing of the wealth that will arrive the following spring.

The musical device of a four-note pattern within the range of a minor third (no, I have no idea either) is thought to be of prehistoric origins, which is probably why the song has a goosebumpy mysticism about it.

YouTube:

One or two to versions to choose from but here is a particularly sweet performance with the Gori Women's Choir on the BBC's One Show. The Little Swallow on The One Show.

Lyrics:

(Not sure how much this will help you, but there is at least a rough translation underneath the lyrics.) The Little Swallow
01.12.19 > Christmas is coming!
It's December again. How did that happen? (That's purely rhetorical. I know the answer. It happens because November runs out of days.) Anyway, it is no longer a sin to use the C word. Oh, and you may have spotted a little addition to the panel on the left. That's right—the advent calendar is live!! If you don't believe me then click it! (Spoiler alert: doesn't contain chocolates.) It'll stay there throughout the month, with a new door becoming unlocked every day until Christmas.
Talking of Christmas, I hope you've all ordered Katie's new live album already but if you haven't then I suggest you do it now before I brand you a raging lunatic.

2019
2018
2017