( Click a heading to expand/collapse an entry. Click the banner above to toggle list of articles. Click here for the > ARCHIVES)
July 2021 Archive
30.07.21 > Katie's Accidental Bond Theme?
The very first thought in my head upon hearing 'A Love Like That' was "this sounds like a James Bond movie theme". (Actually, it was probably the second thought–the first really being how wonderful it was to be hearing Katie sing new material.) At first, I just shrugged it off as me being a bit bonkers but then a quick poke around on social media revealed that plenty of others were using the same word: Bond.
So, the question is why? I can't really imagine Katie waking up one morning and thinking "think I'll write a Bond theme". After all, I may think she's capable of anything but from what I know of her she's several magnitudes short of possessing the sheer arrogance required to believe you can just knock out an instantly recognizable movie theme. Katie's focus with Album No. 8 was primarily on the lyrics and I think her collaboration with Sam Dixon produced a dreamy little ballad called 'A Love Like That'. The Bond vibe must have come from somewhere else. But wait! Who's that sitting in the murky shadows? Why, it's none other than producer and arranger Leo Abrahams, and he appears to be holding a smoking gun!
I think we may be getting closer to an answer now. Abrahams is an accomplished musican and composer who has worked on several movie soundtracks. The plot is thickening fast. He has worked with acts like Brian Eno, David Byrne, Jon Hopkins and Imogen Heap and is known for complex arrangements so it can be no surprise that he would bring a new dimension to Katie's material. I doubt there was ever a deliberate plan to make one of the songs sound like a Bond theme, but I think there was always an intention to have orchestral arrangements involved, probably with the Georgian Philharmonic Orchestra after their collaboration with Katie on 'Bridge Over Troubled Water'. And as 'A Love Like That' evolved and staccato strings were added, somewhere along the line it must have just started to sound a bit, well, Bond-ey. It can't have gone unnoticed–if half the fans hearing it picked up on it then there's no way it escaped the musicians and producers involved with it. Until such time as we can get a confession out of one of them, I can prove nothing, but my suspicion is that at some point in the development of the track a Bond vibe was felt and then deliberately exploited to give an unexpectedly dramatic and cinematic feel to a Katie Melua track. This was eventually taken even further when Charlie Lightening came on board to create a video for the song that further amplifies the Bond feel with lead man Billy Howle looking like the brooding spy seeking to ease his world-weary troubles with Katie's dreamily sensual chanteuse.
Oh, yes, and I know I said I have no proof but I will just leave you with Exhibit A. A couple of very brief sound clips. The first one is from 'A Love Like That', the second one is from 'The Man With The Golden Gun'. Case rested.
This browser does not support this audio :-(

A Love Like That

This browser does not support this audio :-(

The Man With The Golden Gun
23.07.21 > Katie Bite: Remind Me To Forget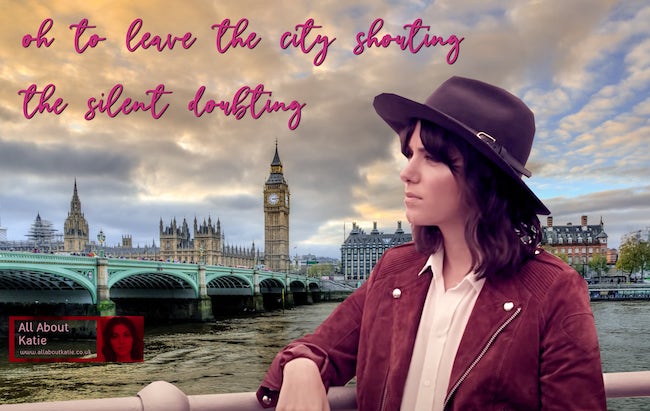 21.07.21 > Katie and Zurab at Robin Hill Woodland Sessions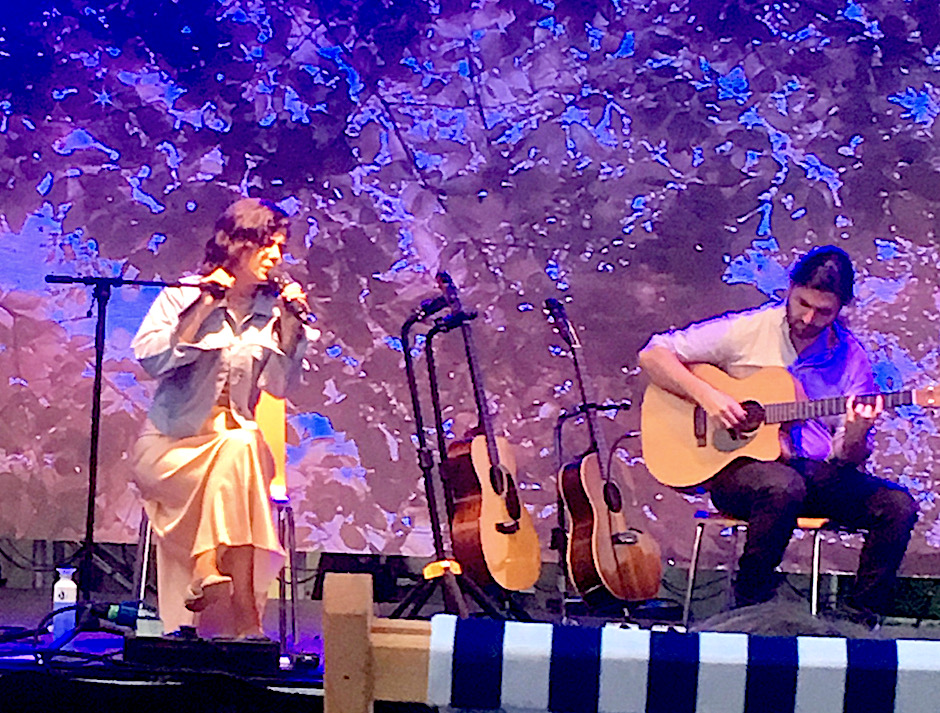 (Pic courtesy of Angela Tester)
Last Friday finally saw Katie performing live again in front of actual people (as opposed to virtual ones), as part of the Robin Hill Woodland Sessions event on the Isle of Wight. Obviously, this was an amazing and wonderful thing for her but it was even more amazing and wonderful for those lucky enough to attend. Imagine being treated to the sight and sound of Katie and Zurab performing a few feet in front of you after you've been cooped up in the house for eighteen months. Witnesses report a stunning performance with a standing ovation–in other words, a normal Katie gig (though without her regular band!). Below is the simply sumptuous set list so that we can all see what we missed and be grumpy for the rest of the day/month/year.

Set list:

Perfect World
English Manner
Leaving The Mountain
Joy
Nine Million Bicycles
No Better Magic
A Love Like That
Voices In The Night
Girl From The North Country
Althea
Heading Home
Here Comes The Sun
Blackbird
The Closest Thing To Crazy
Vale (with Simon Goff - from his album)
I Cried For You
Airtime
Remind Me To Forget
16.07.21 > Happy Birthday, Zurab!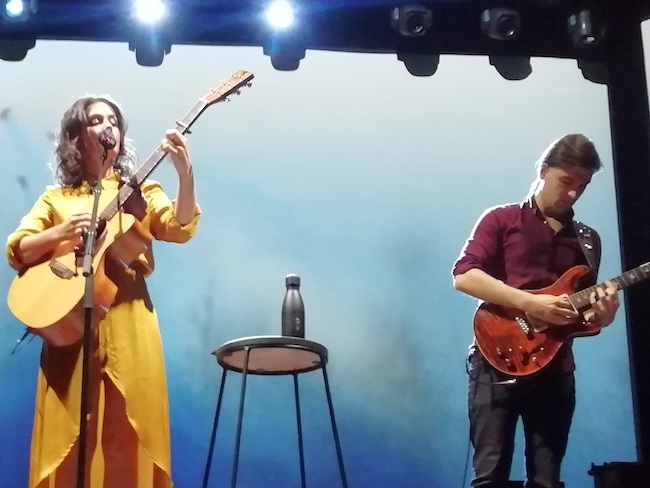 Wishing a wonderful birthday to Zurab Melua, a great guitar player with probably the best big sister in the entire world! And what a present! They get to play a gig together tonight on the Isle of Wight, in front of live actual people who can whoop, holler and clap with unadorned gusto. The pic shows them playing at Nottingham in 2018–innocent, carefree days before the world went a bit bonkers.
09.07.21 > Heading Home
If you like melting into a messy puddle of goo on the floor then there really is no better way of achieving such a state than to watch the following little video from Katie. A minute of pure magic from the Hermione of Music.
06.07.21 > Katie Bite: Maybe I Dreamt It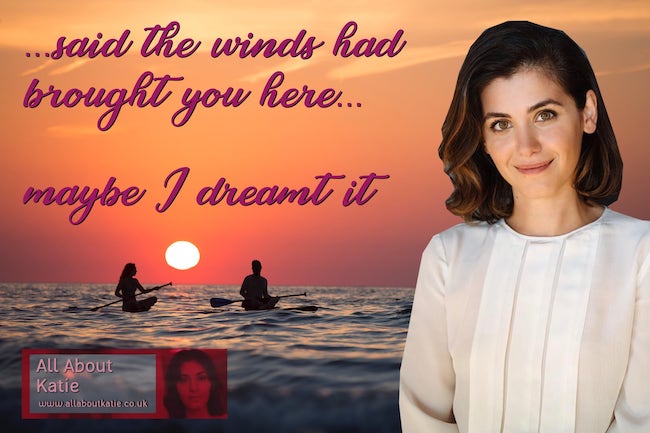 05.07.21 > AYMHM 16: Infidels
Another album you may have missed... (see them all HERE)
Infidels

Bob Dylan
Oh, I had to get to Bob at some point. The problem was, with more studio albums to his name than Katie has had years on the planet, which one to mention? Blood On The Tracks? Tempest? Or perhaps one from the early years. Well, there are two sides to this series. The main aim is to raise awareness of great albums that some of you may have missed. A secondary aim is to indulge myself in waxing lyrical about some of my favourite albums. So, when it comes to His Bobness, Infidels covered both bases nicely.
Infidels was released late 1983, a little over nine months before Katie was born (I'm desperate to make some kind of divine connection to this vague coincidence but that would, of course, be silly). The album was critically acclaimed yet slipped under the radar perhaps more than it should have. One explanation for this is that the album followed three evangelical records Bob had released following his conversion to Christianity–albums which divided fans somewhat and led to a general cooling off towards him after the heady days of Blood On The Tracks. But Infidels really does see Bob back to his imperious best, with wonderful poetic lyrics and sharp performances. His decision to hire the ridiculously talented Mark Knopfler to produce the record was an astute one–Knopfler's distinctive guitar would enhance any song but he also adds a satisfying rock edge to Dylan's folk roots and oversees a tight musicianship that Dylan doesn't always pay so much attention to as he focusses more on the lyrics and performance (which is fine, if you are good enough, which he is–on his album Tempest, the title track is basically 14 minutes of simple 3-chord strumming which just gives a rudimentary musical canvas for the 45 verses; he's pretty much just singing a poem.)
There are only 8 tracks on the album, though it does stretch out to 41 minutes thanks to "Jokerman" and "Man Of Peace" both weighing in above 6 minutes. "Jokerman" is one of my all time favourite Dylan songs, containing one of my favourite lyric snippets:
   ❝ Resting in the fields, far from the turbulent space
Half asleep near the stars with a small dog licking your face ❞
Those two lines alone justify his Nobel Prize for lyrics. They provide me with so much imagery that I'm sure I could write an entire novel based on nothing more than those words. (Please don't hold me to that–I have so much other stuff on my To Do list.) But don't take my word for it, go check out the album for yourself by clicking the Spotify link below (other streaming services are available.)
Listen to Infidels on Spotify via the link below:
Play on:


2021
2020
2019
2018
2017