( Click a heading to expand/collapse an entry. Click the banner above to toggle list of articles. Click here for the > Monthly Archives or here for the > Annual Lists )
👉🏻 All About AAK
Katie's Social Media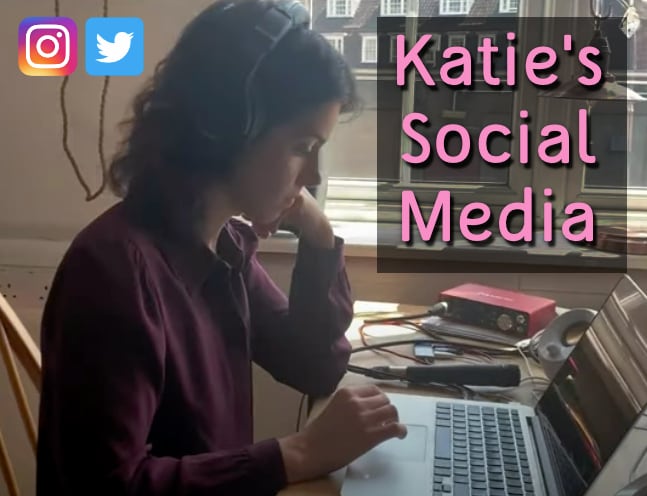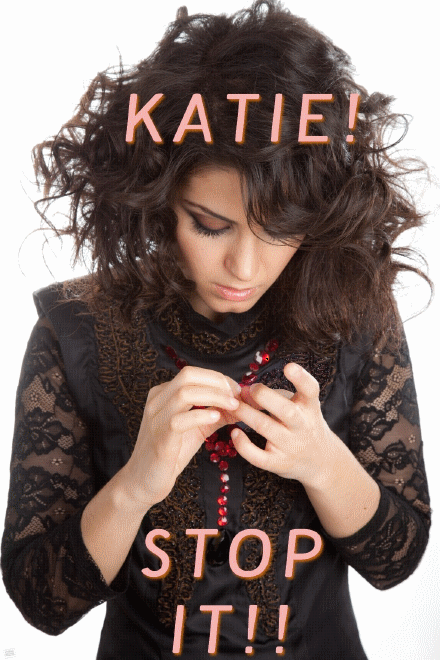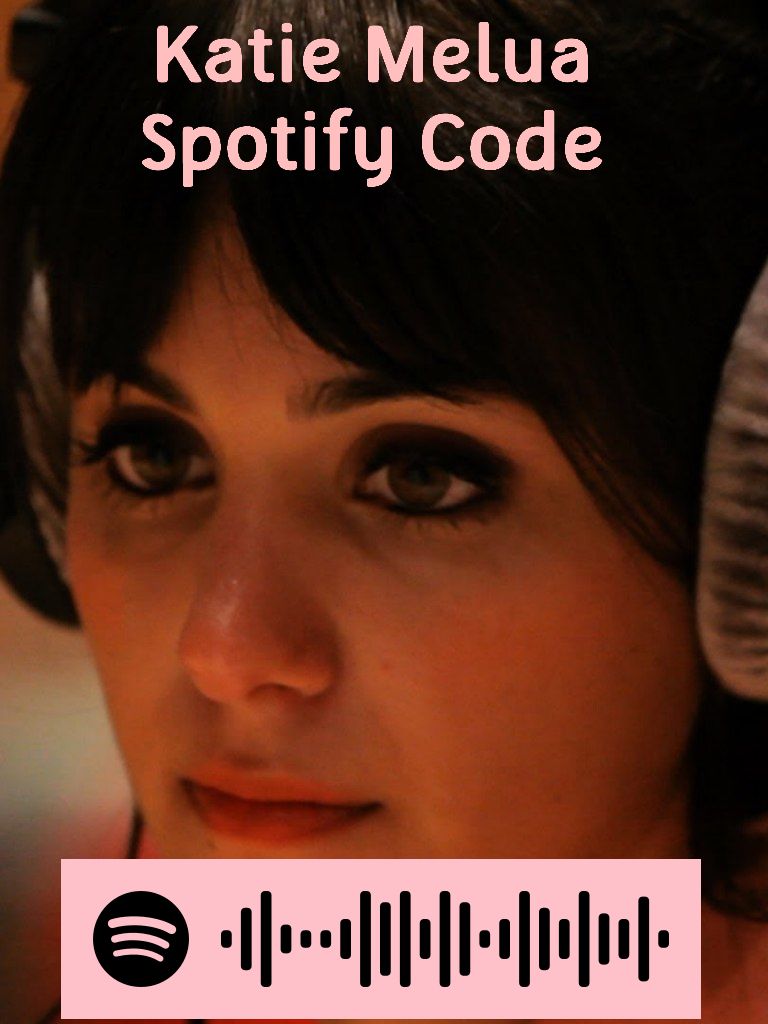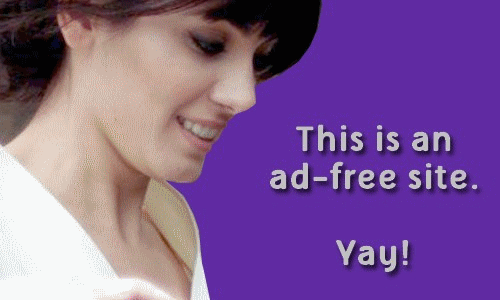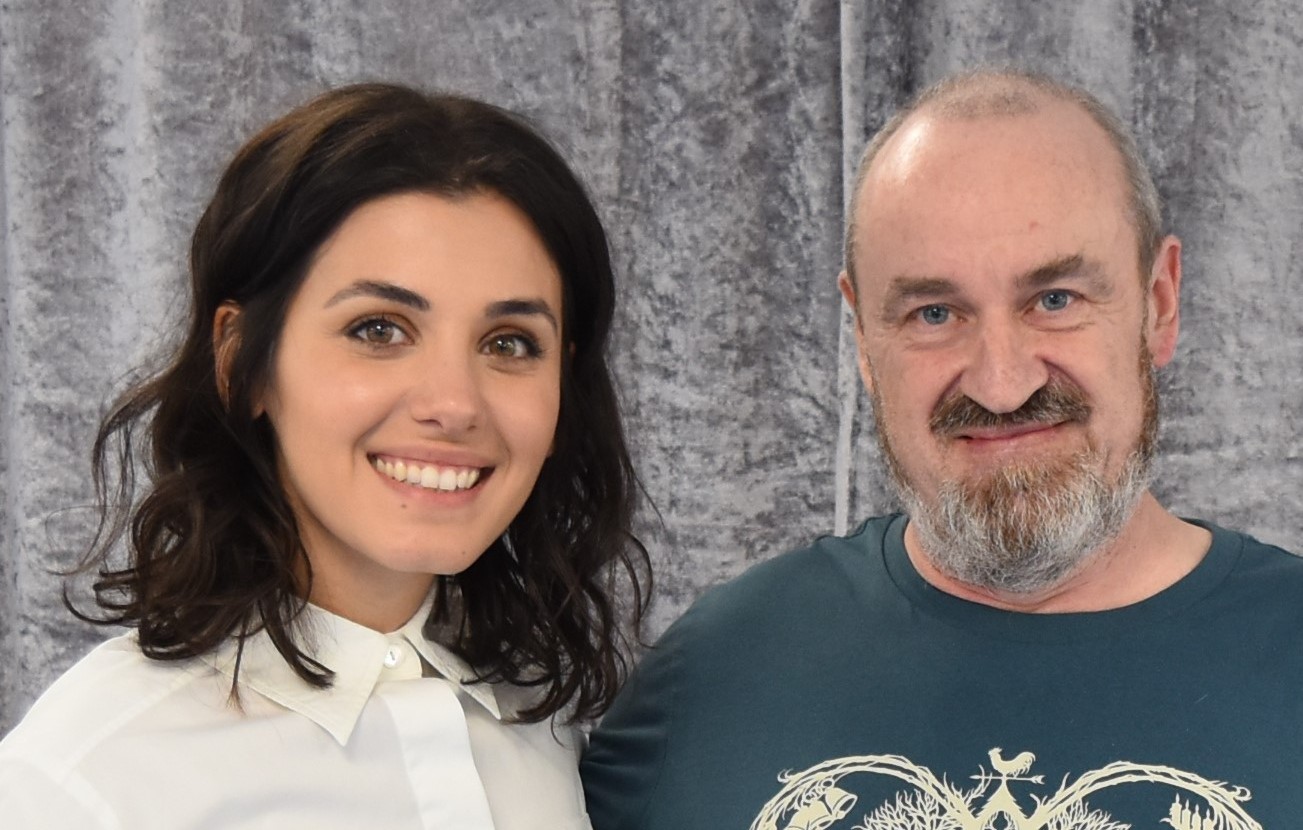 23.01.22 > Katie Bite: Maybe I Dreamt It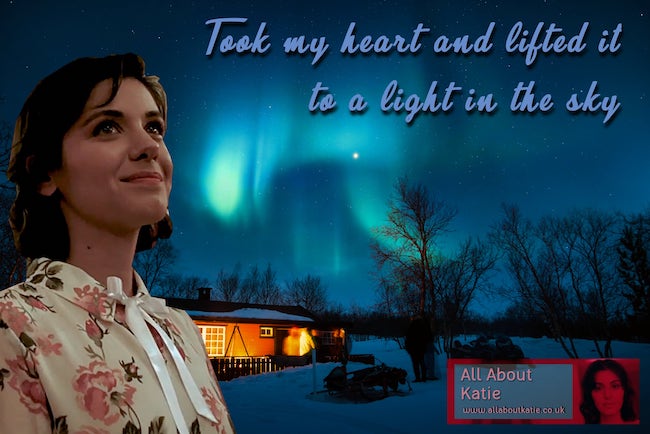 17.01.22 > The Detail - Episode 10
"For our final episode of Season 1 we speak with BBC radiophonic workshop composer Elizabeth Parker about working at the legendary music studios. Composing for radio and television. Witnessing the birth of electronic music. Working with some of the earliest synthesizers. Conversations with Delia Derbyshire. The realities of being a working mum and supporting women in the music industry. "
15.01.22 > Katie Returns To BBC Radio 2 Piano Room
This February, Katie will be returning to the renowned Piano Room at BBC Radio 2. Back in 2017, she performed "Fields Of Gold" and "Nine Million Bicycles" there and they were two of the best performances the room has seen–yes, I know I'm bound to say that but it is a view expressed by considerably less biased observers as well. What will she perform this time? You'll have to wait and see but if you want to be amongst the first to know then you'll need to tune in to the Ken Bruce show on Friday 4th February.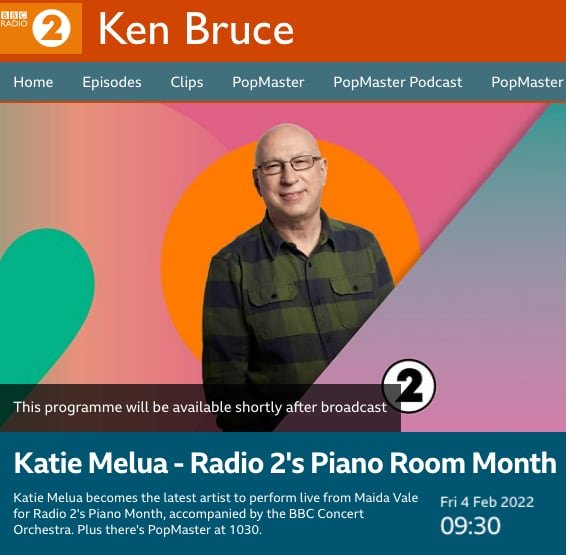 14.01.22 > Katie at Uni!
Katie is joining TORCH. No, sadly it isn't a new top secret Marvel agency like SHIELD. The Oxford Research Centre In The Humanities will be welcoming Katie as a Humanities Cultural Programme Visiting Fellow. For she's a jolly good fellow. Anyway, no point me trying to explain it all when you can read the statement for yourself: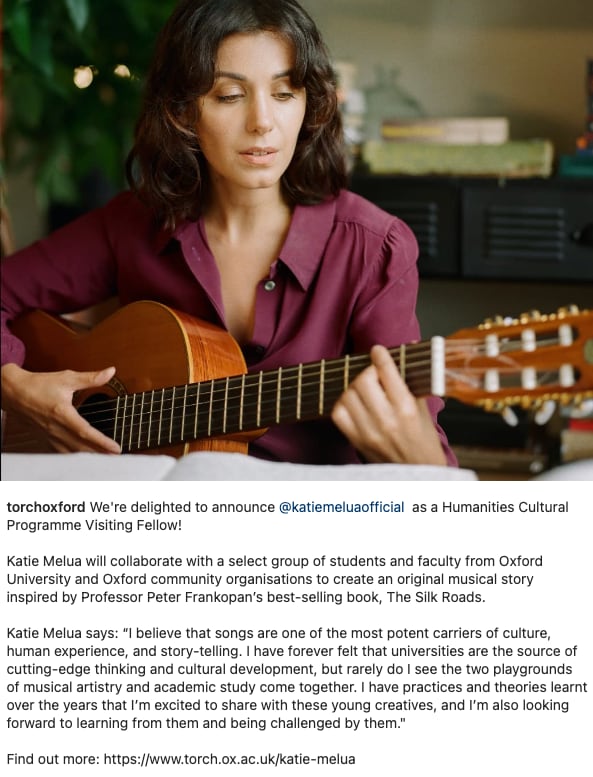 Click the pic to go to the TORCH website.
11.01.22 > The Detail - Episode 9
"Polly Scattergood and Katie Melua talk to Musician and Songwriter Nerina Pallot about the effects of the muse.
A very honest conversation about where inspiration comes from. The mechanics of commerce and how it makes you feel a writer. What the muse is to a woman and what it is to a man..?
Who are the muses in our own lives, Hiding behind the muse to deflect what songs are really about and of course working with Kylie Minogue."
07.01.22 > The Vinyl Revival
Only 14 million CDs were sold in the UK in 2021, the lowest figure in Katie's lifetime. Yet vinyl sales topped 5 million for thr first time since 1991. It now seems a very real possibility that at some point in the next few years, vinyl could actually outsell compact discs again. That is a miraculous turnaround for a format that at one point became virtually extinct. Now, the demand for vinyl outweighs the supply by two to one as production plants were simply not geared up for the scale of the revival. Without the production bottleneck sales might have been even closer to the ailing CD.
What is going on here? Why is this happening? How can a hundred-year-old format drag itself off the floor and start punching above its weight? After all, it is bulky, limited to 23 minutes per side and prone to all manner of pops, clicks and imperfections. Well, despite its shortcomings it does have a couple of major things in its favour. First of all, the sound, despite any imperfections, is true. As primitive as a needle in the groove sounds, it is analogue–a faithful reproduction of the original recording as compared to the digital solution of taking thousands of momentary snapshots, or samples, and gluing them all together. The theory was that if you had a high enough sample rate then digital should be virtually lossless. And yet many people who have listened to albums in both formats will tell you that vinyl simply sounds better. Something definitely does get lost, even if it is just the soul of the sound.
It isn't only vinyl that refuses to die. People continue to prefer books to eBooks against the odds. Modern displays on phones and tablets as well as the ability to store thousands of books on a single device should have sounded a death knell for the heavy and bulky paper format but it just isn't happening. Reading books and listening to vinyl records are both processes that resonate deeply within us–they are tactile, sensual experiences. The look, the feel, the smell and indeed the almost ritualistic experience of interacting with the physical object provides a kind of spiritual sensation that a digital book or music file can never replicate. The fact that many eBook reader apps have an animated simulation of page-turning (or skeuomorphic interface, if you want to show off) shows just how important that process is and yet in doing so they highlight how inferior the electronic experience is since a swipe of the finger on glass is far less tactile than the feel of paper between your fingertips. Books and vinyl are here to stay not because they are more convenient but rather because they are intensely more satisfying than their digital counterparts.
04.01.22 > The Detail - Episode 8
"Polly Scattergood and Katie Melua speak with inspiring Ivor Novello award winning composer musician/actor Simon Fisher Turner about Aesthetic style and judgement, Looking for authenticity, Not stepping on other people's feet politically and geographically, Creating something moving and fresh, Securing a record deal by becoming two fictional french girls, Meeting and working with film director Derek Jarman, Artist's observation of the world, Being married to a fellow creative and balancing family life."
02.01.22 > Review of 2021
How to sum up 2021 then? A frustrating year? Well it certainly wasn't great, but it did have its moments. In fact, like most years, there were ups and downs. Probably the biggest down was the fact it was another year gone by with Katie not touring. I'm notoriously rubbish at gazing into crystal balls but I'm not sure you even need one to see that 2022 will likely do no better as the year begins with covid still spreading like wildfire. The problem is that planning a European tour is such a massive logistical undertaking that it needs to be done well in advance so that all the desired venues can be accommodated, but until there is some degree of certainty over the status of covid restrictions across Europe then it is difficult to even begin that planning. Typically, tickets for a tour go on sale late autumn for a tour the following autumn/winter. So even if it is deemed safe to start planning a tour later this year, the tour itself would take place in the second half of 2023. So we could be looking at between 18 months and 2 years before seeing Katie touring again. But before you get too depressed, there will likely be a number of one-off gigs and festival appearances dotted around in 2022. And potentially a new album, just to end this introduction on a bit of a high.
In January 2021 I took a decision regarding AllAboutKatie. For over three years I had made daily posts apart form a couple of small blips due to illness. That was possible mainly because of covering Katie's extensive back catalogue. But by the end of 2020 we were pretty much up to date so new content was going to rely on either new music from Katie, news about her, or my own writing content. When I returned to full time work in early January, I decided to stop posting every day, just for the sake of it, and post only when there was something (arguably) worth posting. My aim was to make at least one post a week but I wasn't committing myself to that–I would just see how it went. As is always the case in the early weeks of the year, Katie was flying under the radar and there was little news to report. But I'm a writer and I have lots of ideas. Some are good, most are rubbish. One day early in January, I had a good one. I'd used Katie as a role model for a character in my writing before but this time I was going to turn her squeaky-clean image on its head! I'd been thinking about the frankly ludicrous theory in which there are an infinite number of parallel universes and anything you can think of will happen in one of them. Since the only side of Katie we get to see is the side she wants us to see, I imagined a parallel universe where behind that pretty face and gorgeous voice there was a right monkey of a girl. A mischievous, Minnie the Minx type of character constantly plotting, scheming and generally causing trouble. My instant thought was to call her Bad Katie. And the moment I did that, she appeared in my head as if she was a real person I'd met. That happens with all the best characters and I knew I was going to have a lot of fun with her. I started with a silly title, "The Fish Song", and just started writing. The episode poured out as though Bad Katie were writing it herself, channelling through my fingers on the keyboard. It was done in about an hour. On the 17th January, I posted it on AAK. I was a little concerned that calling her Bad Katie would seem to some fans as though I was having a dig at her in some way. Of course, nothing could be further from the truth–you don't invest nearly five years of your life (and a fair amount of money) into a web site about someone unless you have nothing but respect and admiration for them. But humour is in my DNA and I was careful to stress that Bad Katie isn't our Katie but a version of Katie in another universe. That holds true for all the characters in the stories–no fun is made of people in the real world, only in the alternate one.
Bad Katie has been well-received. People have enjoyed it who don't particularly know much about the real Katie but obviously it is so much more fun for those that do. Much of the humour lies in the fact that Bad Katie gets up to so many things, and says so many things, that seem so utterly at odds with the Katie we know and love that you can't help musing "what if she was like that". Episode 2 was posted just four days later and I quickly decided she was so much fun to write I wanted to post weekly episodes for as long as I could. It would turn out to be 4 months before I decided to give her, and myself, a break.
Three weeks into January, Katie posted a video on Instagram of her playing from home, a gorgeous rendition of Bob Dylan's "Don't Think Twice". After two more episodes of Bad Katie, the month ended with Katie treating us to another delightful home performance and another Dylan song, "Girl From The North Country".
February brought another 4 episodes of Bad Katie and another home performance from Katie, this time it was The Beatles' "Blackbird". If you missed any of these little video gems you can find them by delving into the archives of AllAboutKatie, which are always available at the bottom of the home page.
Katie got March off to a cracking start for us with a home video of her performing "Althea" by The Grateful Dead. Indeed. Later in the month she treated us to a performance of Donovan's "Deep Peace". Katie is like a box of chocolates–you never know what you're going to get. Meanwhile, Bad Katie had another 4 adventures during the month.
April was a quiet month in Katieland with nothing to report from the lady herself other than a gig alert on the last day of the month. There were 3 more tales from BadKatieland. She disappeared for a well-earned holiday after that but promised me she'd return later in the year…
May and June were a little frustrating, with some tour dates being announced in Germany and others having to be put back to 2022 due to the persistent covid issues. There was also news of an acoustic gig on the Isle of Wight in July. There was little else happening.
During July and August we were treated to a couple more of Katie's home performances and she actually got to perform in front of a crowd at last for the Robin Hill Woodland Sessions on the Isle of Wight in July. In August, a limited edition of Ultimate Collection was announced on silver vinyl.
In September, Katie managed to play a couple of gigs in Germany, which was amazing for all concerned, and she also teased us about an upcoming announcement with her friend Polly Scattergood. That would turn out to be "The Detail" podcast.
Early October saw Katie moving into a new studio, where, hopefully, amazing new things will happen. But the big news really was the announcement of a new album, or at least a re-imagined one, in the form of Acoustic Album No. 8. This was exciting news indeed for anyone that had heard her perform some of those tracks from home. It was also revealed that Katie was in the all time top 30 female artists album chart, with Call Off The Search hitting number 25, one place above Eva Cassidy's Songbird. At the end of the month we were treated to some live performances as part of the Other Voices live event from the Irish Embassy in London. Katie was accompanied by her brother Zurab and violinist Simon Goff. October also saw the return of Bad Katie, raring to go with some new adventures.
November was an eventful month. Katie and Polly launched their podcast "The Detail", with weekly instalments every Monday. Even better news was the release of Acoustic Album No. 8, which was even better than we'd dared hope and for some better than the studio version, which is saying something.
December saw more episodes of "The Detail" and one or two live performances from Katie as she promoted the new album in Germany. Finally, to close the year out, there was a Christmas Special adventure for Bad Katie.
All in all, a fairly eventful beginning and end to the year with some rather quiet summer months sandwiched in the middle. Right then, let's see what 2022 has to offer…
01.01.22 > Happy New Year!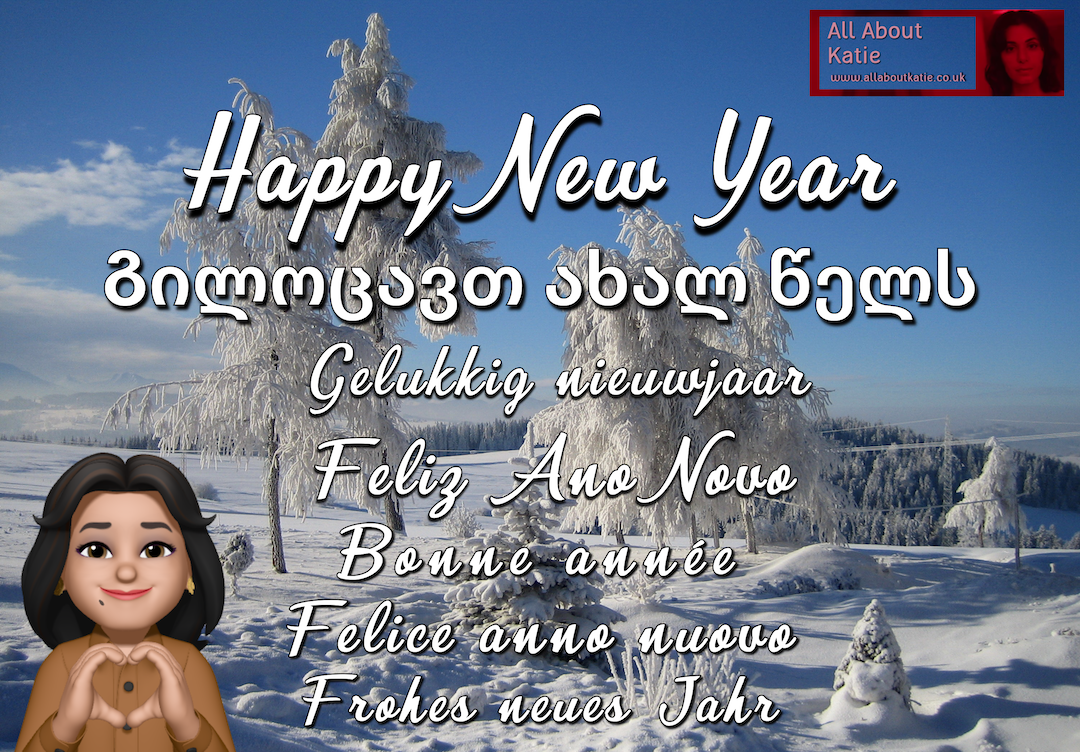 29.12.21 > The Adventures of Bad Katie - Episode 20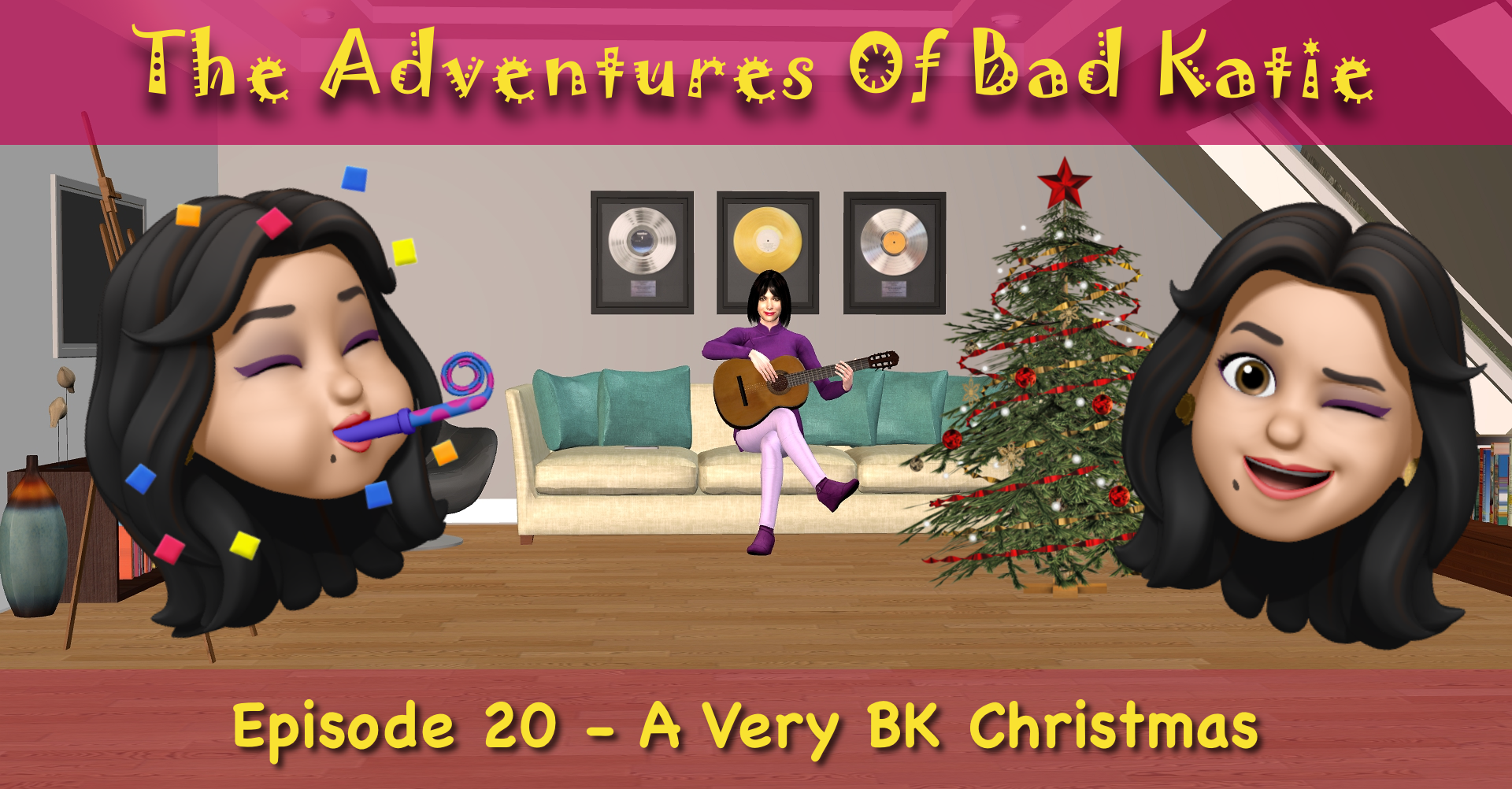 Bad Katie was sat in Sumit's office with her feet up on his desk. She was munching a mince pie and washing it down with sherry. Sumit was busy sifting through his emails. Bad Katie stared at his jumper which had written on it "All I Want For Christmas Is A Number One".
"Bathroom's down the hall," she said.
"Eh?"
She pointed at his jumper.
"Oh. Ha ha. Now look, I think I've got you a last-minute booking to turn on the Christmas lights."
Bad Katie's eyes widened. "Ooh, I love Christmas. How much are they paying?"
"Never mind the fee, it's an honour to do something like that."
"Yes, yes, it'll be fun. So long as I'm paid well. Where is it? Kensington?"
"Ah. No. Adele got that one."
There was a low rumbling sound.
"Katie, are you growling?"
"Where then? Knightsbridge?"
"Er… Dua Lipa's doing theirs."
Bad Katie growled again.
"What is it with you? You should be supportive of your sisters in music."
"Why? What have they ever done for me? Anyway, where am I turning the bloody lights on then?"
"Bognor Regis."
"Do what?"
"Bognor Regis."
"Sounds like a retirement home for civil servants."
"It's a lovely little seaside town. You'll like it."
"What makes you so sure of that?"
"It's near where you filmed the video for 'Wonderful Life'. You loved doing that didn't you?"
"No."
"Oh. Well, I'll buy you fish and chips and sticks of rock, and we can play crazy golf. It'll be a fun day out."
"How old do you think I am? Twelve?"
"Yes. So, you'll do it then?"
"Whatever."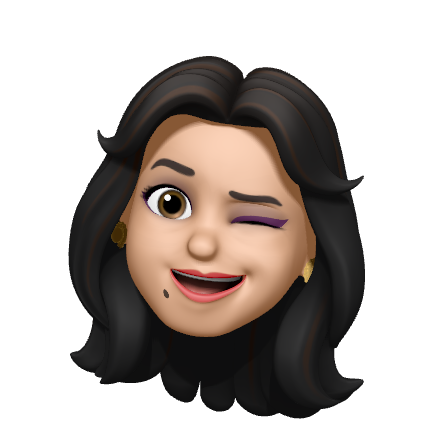 "Here's a heartwarming little Christmas song for you. Santa Baby. Feel free to sing along!"
Bad Katie channelled Eartha Kitt as she treated the residents of Bognor to her rendition of the Christmas classic. Many of the assembled crowd did indeed join in the singing, evidently either unaware of or unperturbed by their complete lack of singing ability. Bad Katie rewarded them with a classic showbiz smile–the one that seems to convey how great everyone is but actually means what a tedious bunch of useless fuckers they all are. At the end of the song she stood and silently milked the applause, infused with cheers, whoops and wolf-whistles.
"Thank you so much, Bogroll," she said at last.
"Bognor!" hissed Sumit from somewhere behind her.
"Whatever. And now…. it's time! Are you ready to see the lights?"
"YES!!!!" roared a handful of people.
"I didn't quite catch that," said Bad Katie. "I said, are you ready to see the lights?"
"YES!!!!" roared the same handful of people.
"Well, I hope you get the Christmas you deserve! Let's count down then. FIVE… FOUR… THREE… TWO… ONE…"
Bad Katie slammed the giant red button in front of her and threw her arms wide open dramatically.
Nothing happened.
The crowd groaned impatiently.
A council official behind her urgently spoke into a walkie-talkie. "Ron, Ron, what are you doing? Throw the switch for god's sake."
A sheepish voice crackled back at him. "Sorry mate, thought she was gonna do another number and I needed a slash. Should I do it now?"
"Yes, do it!" urged the official.
"Da Do Ron Ron," said Bad Katie.
The Christmas lights suddenly burst into life and filled the town with much needed glitz. The crowd roared. A squirrel shrieked and fell out of the Christmas tree. Bad Katie began to tell them that her new album was out now and that her brother Zurab would be handing out free vouchers for 10% off on her online store but she was quickly drowned out by cheesy Christmas music that had now been piped into the PA system.
"Thanks very much Miss Melua," said the official. "Nice job. Never heard of you myself, but they all seem happy."
"It's all right, I've never heard of you either. So this big button doesn't actually do anything then?"
"No, of course not. Our insurance won't cover a celeb electrocuting themselves. But you'd never have known if Ron had crossed his bloody legs and paid attention."
An assistant to the official appeared from out of the shadows and nervously handed Bad Katie a large bouquet of flowers. "A little token of our appreciation," said the official.
"I prefer the larger token you're putting into my bank account. Mind you, these will make a good Christmas present for someone. Thanks. Right then, are they having mulled wine and chestnuts and stuff down there?"
"I would think so," said the official.
"Good. Z! Whack these in the car, there's grub and booze on offer down with the commoners…."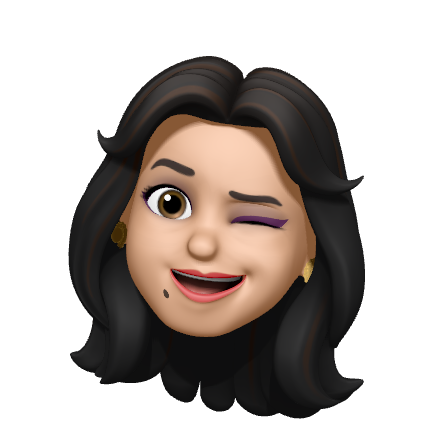 As Christmas drew closer, Bad Katie's mother was trying to keep her mischievous daughter as busy as possible to minimise the mayhem she would likely cause. She decided to let her children sort out the tree, source the turkey and send them off Christmas shopping at the local mall for a day…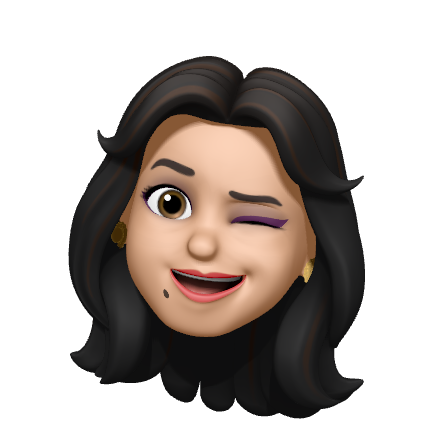 "Sis," said Zurab. "Where are we going to get a tree from? The nearest place I can find is miles away and we won't get a very big one in your car anyway."
"My car!" said Bad Katie indignantly. "Sod that, I'm not having some bug-infested giant plant in my lovely car."
"Then what are we to do?"
"Don't worry, I have a plan. Stick your coat on and go and grab that big saw from the garage, then meet me out front."
"What, now? Isn't it a bit late? Everywhere will be shut."
"Just do it, hurry up."
Zurab plodded downstairs. By the time he collected the saw and left the garage Bad Katie was waiting for him at the front gate, flashing a small torch at him.
"Come on," she said. "Let's do this."
Bad Katie set off walking down the street.
"Do what?" said Zurab, scurrying after her. "Are we walking then? Is it far?"
"Here we are," said Bad Katie, stopping so abruptly her brother almost bumped into her.
"But… we've only gone three doors down."
Bad Katie quickly flashed her torch into a front garden to reveal a pine tree in the centre of the lawn. "There! Isn't she a beauty? Must be at least ten foot tall. Quick, get sawing."
"What? We can't take that, what if someone sees us?"
"Don't be so wet. The couple that live here bugger off to Spain every winter and all the other neighbours will be slumped on sofas munching crisps and watching 'Home Alone'."
Zurab sighed. "What will they say when they get back?"
Bad Katie chuckled. "I know. Would be nice to be here for that. Oh well, get on with it, it won't cut itself down."
"What if a police car drives by?"
"More chance of seeing the RAC fixing Santa's sleigh."
Zurab exhaled slowly and approached the tree. As he began sawing, a couple of startled pigeons clattered all their pots and pans as they buggered off to find another roosting place. Zurab shrieked.
"Quiet, you flaming fajita!" hissed Bad Katie.
"Sorry, sis. They scared the hell out of me."
"Pigeons are idiots. They always insist on making a racket." She looked around to see if any curtains were twitching. "All clear, get on with it."
A few moments later, there was a creak and a crack and the tree fell to the ground, the top of it brushing past Bad Katie's hair with a whoosh.
"Oi, you malignant mollusc, you nearly took my eye out! You're supposed to shout 'timber' or something."
"I was trying to stay quiet," said Zurab.
"Well, it's down now. Come on, let's haul it back home. Oh, and if Mum asks just tell her you had a mate drop it off."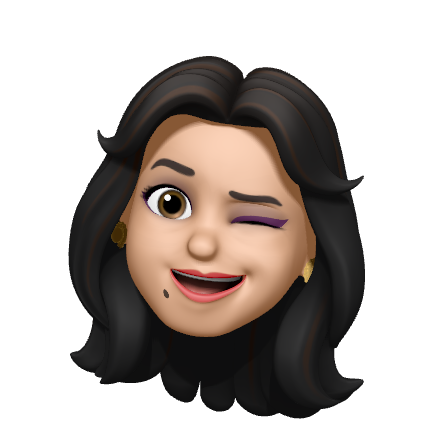 Bad Katie was tired. And very grumpy. She'd been traipsing around the local shops and butchers for hours trying to find a large turkey. All she'd been able to get so far was a corn-fed bantam and a pheasant. She'd just been making progress on a new song about enchanted wind chimes when her mother had rudely shoved her out of the house on this thankless mission to locate a big dead bird.
Now she'd had enough. It was beginning to get dark so she decided to take a short cut through a small patch of woodland. As she was stumbling along, humming to herself and trying out different lyrics about wind chimes she suddenly spotted something at the side of the path ahead. As she drew closer she could make out in the dim light that it was some kind of dead animal. She wasn't sure what it was but it didn't stink so it must still be fresh, and, most importantly, it looked about the size of a turkey.
"Well," she said to herself. "No idea what the hell it is but it's close enough. Mum's Georgian, she can cook anything."
She stuffed the carcass into her rucksack and hurried on her way.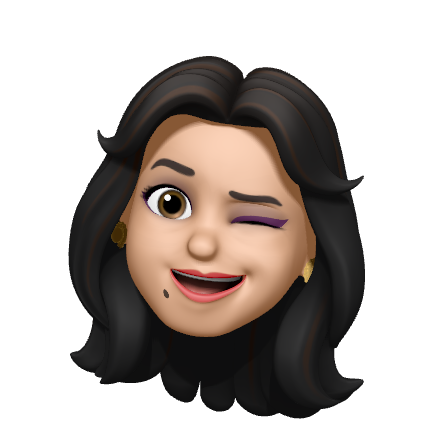 "Oh, there you are Katie!" said Bad Katie's mother as her bedraggled daughter mooched into the kitchen. "I was getting worried. Did you get the turkey?"
"Ah, yes, well, you see, no."
"Oh."
"Look, I've been round a million shops. No one has any of the stupid things left."
"Oh Katie…"
"Don't worry. I haven't come home empty-handed."
She opened her rucksack and fished out the pheasant and plonked it on the table.
"A pheasant," said her mother. "Well, it's something I suppose."
Bad Katie then took out the bantam and plonked that on the table.
"A tiny chicken. I suppose I could make soup with that."
"Wait!" said Bad Katie. "There's more…"
She turned the rucksack upside down and the dead badger thudded onto the table.
Her mother screamed.
"Ha!" said Bad Katie. "No one's going hungry in this house this Christmas!"
"Katie! What the hell have you brought a dead badger into the house for?"
"Is that what it is? The light was gloomy. Well, it's a fat bugger, must have a bit of meat on it."
"We can't eat a badger."
"Why not?"
"Because… because it's a bloody badger."
"Are they poisonous or something?"
"I don't know. It's just, well, nobody eats badgers."
"Well, we used to eat rabbit back in Georgia."
"That's different. People eat rabbits. Who ever heard of eating badger?"
Bad Katie shrugged. "Oh well, not to worry. You and Dad can have the pheasant and chicken, me and Z will just have nuggets. There's always a bag in the freezer."
"Oh Katie. You're a famous person, surely you must know some top chef that could maybe help us out?"
"I know quite a few chefs, yes. Been on several cooking shows."
"There you go then."
"Just, I can't think of one I haven't offended. They do tend to faff about with food."
Her mother sighed. "Nuggets it is then."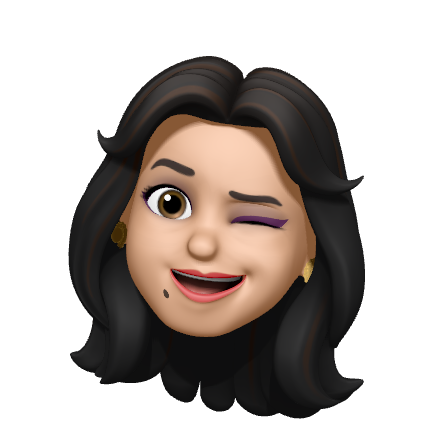 The next day, Bad Katie and Zurab went to the mall to do some Christmas shopping. After a few hours, Zurab was getting fed up traipsing around laden down with bags so Bad Katie took him for a milkshake and donuts. As they sat by the window, slurping and munching, Bad Katie spotted a queue of children across the mall outside what appeared to be a festively decorated shed.
"Ooh, Z, you stay here and have some more donuts, I won't be long."
"Where are you going?"
"There's a Santa's grotto over there."
"But sis, you're way too…."
Bad Katie was already out of the door and heading for the queue. She looked at the kids in front of her and tapped her foot impatiently. "Hey kids!" she shouted. "They're giving away free donuts over there. Hurry up. I'll keep your places for you."
Zurab looked on in puzzlement as a horde of children charged towards him.
"Heh, heh," chuckled Bad Katie.
A small child stomped sulkily out of the grotto.
"Hey, what's the matter with you, kid?" said Bad Katie.
"I wanted a Playstation not a bloody yo-yo. And Santa smells like a cat's bum."
"Fair enough."
"Next!" boomed a voice from inside the shed, or rather grotto.
Bad Katie shot inside and sat on Santa's knee.
"Ho, ho, hang on young lady, aren't you a bit big for this? You're supposed to wait outside while your daughter comes in."
"I don't have a daughter, moose-flaps. Anyway, I've been a really good girl this year."
"Is that so?" said Santa dubiously.
"I'm sure you can find something nice in your big sack for me."
"Look, lady, this is supposed to be for the kiddies. Now if you don't mind, you're giving me a dead leg."
"You'll get more than that, goat-breath. I'm not leaving here until…."
Bad Katie stopped mid-sentence and peered more closely at Santa. She sniffed a couple of times. "Hang on a minute. I know you. I'd recognise that smell anywhere. You're Mr. Tompkins, the butcher."
"Shhhh!" said Mr. Tompkins. "The kids mustn't find out."
She yanked his false beard off. "Ha!"
Bad Katie whipped her phone out and took a quick selfie of her sitting on Mr. Tompkins' lap.
"What are you doing?"
"Making a deal."
"What kind of deal?"
She fished a notebook and pen out of her jacket pocket and scribbled something down, then tore out the page and gave it to Mr. Tompkins.
"What's this?"
"That's the address you are going to deliver one of your finest turkeys to this evening. If you don't, I'll post that selfie on my Instagram and name tag you. I'm sure Mrs. Tompkins would be very understanding if she saw it…"
"But…"
Bad Katie leapt off Santa's knee, patted his cheeks and lifted his false beard back into place.
"You know what to do!" she said, and left the grotto.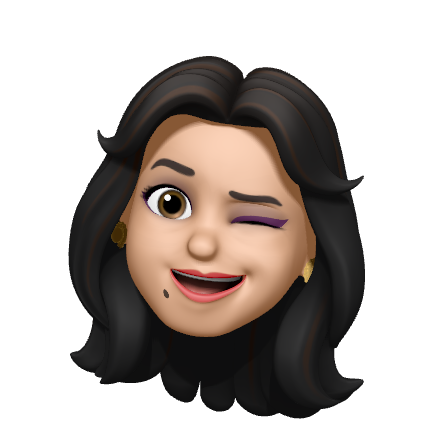 "I still can't believe it, Katie," said Bad Katie's mother, staring at the massive turkey on the kitchen table. "How did you manage to get it?"
"Oh, just called in a favour."
"Well, you've saved Christmas, thank you."
"Ah, it was nothing. Are you coming carolling with us?"
"No dear. Off you go."
"Z!" shouted Bad Katie. "Come on, let's go. Don't forget your guitar case."
"Why does he need a guitar case, Katie?" said Bad Katie's mother.
"To stash the dosh in of course."
"Oh Katie, you shouldn't be taking money off people. It's Christmas. You should do it for the joy of it."
Bad Katie looked at her mother in consternation. "Would a plumber come out and fix the toilet at Christmas for the joy of it? We're professional musicians."
"Yes, dear. Well, go and do your thing then."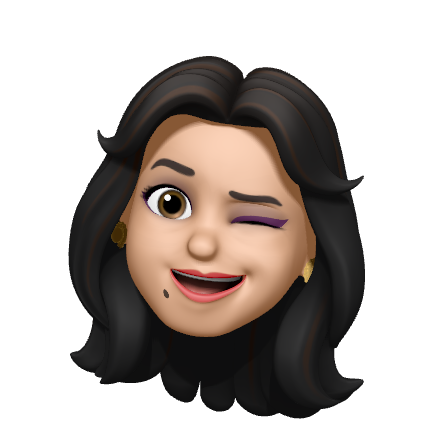 Bad Katie was pleased with herself after a couple of hours of knocking on doors and singing carols. Having had some rude encounters the previous year, she'd made meticulous notes and this time only visited houses where the tips had been generous. As a result, Zurab's guitar case had filled quite nicely.
"We've done all right tonight, sis," said Zurab.
"Yes, not bad at all. And it was an inspired idea to put the ten per cent off vouchers through the letterboxes before knocking. Giving them something first no doubt made them feel obliged to return the favour. I'll treat you to mini-fillets for that."
"Nice. Can we go home now?"
"One last stop to make. Sumit's house is round the corner…"
As they reached the doorstep of Sumit's house, Zurab was about to shove a voucher through his letterbox.
Bad Katie stopped him. "Don't waste them. He won't buy the album, even with ten per cent off."
"Oh."
"Right then. Just play the chords of Jingle Bells. Leave the singing to me on this one."
She pressed the doorbell. The hall light turned on and there was the sound of the door being unlocked. As it opened, Bad Katie nodded at Zurab, who began strumming. Sumit stood grinning at them. Bad Katie began singing.
"Jingle bells, Sumit smells, like a bag of poo. It sounds just like, a motorbike, when he farts inside the loo, Hoo!"
Sumit folded his arms. "Lovely. Very Christmassy."
Bad Katie fished a small wrapped box from her pocket and handed it to him. "Merry Christmas, Sumit."
"Aw, thank you. You shouldn't have."
"I know."
There was an awkward silence.
"So," said Bad Katie. "Where are ours then?"
"Oh, yes, of course. Just a sec…"
Sumit disappeared for a moment before returning with a carrier bag of presents. "There you go. Have a lovely Christmas both of you and give my best to your parents."
"Yeah, whatever," said Bad Katie, peering into the carrier bag. "I guess you've gone for quality over quantity. Right then, see you next week."
"Not if I see you first!" said Sumit.
"You won't."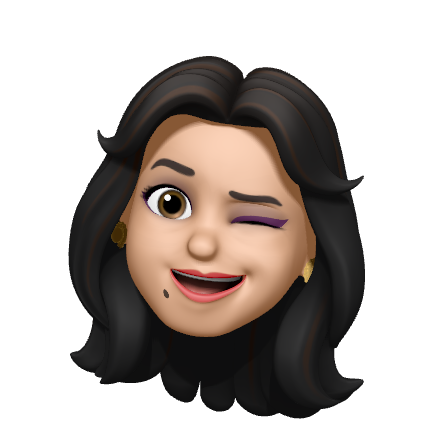 'Twas the night before Christmas. All was still in the Melua household… Apart from a shadowy figure creeping down the stairs…
Bad Katie tip-toed up to the Christmas tree and carefully fished out the presents for her and Zurab. She carefully unwrapped a couple of them. Then she re-wrapped an iPad that was meant for Zurab and a weekend health-spa voucher meant for herself and swapped the labels on them. She chuckled quietly and crept back upstairs to bed.
On Christmas morning, Zurab yawned, stretched and got out of bed to find the pillow case he'd left out filled with presents.
When Bad Katie got up she found the empty duvet cover she's left out was still empty. Vexed, she fished around inside it and found a scrap of paper on which was scrawled "greedy girls get nothing". She looked up at the ceiling and shouted "Santa, you f…"
"Fooled you!" said Bad Katie's mother, popping her head round the door. "Now come downstairs and get your presents."
"Oh. Right."
Bad Katie traipsed downstairs and began tearing into her presents. Zurab was sitting with a huge grin on his face clutching his health-spa vouchers. "Look what I got! How awesome!"
Mother and father looked at Zurab holding the vouchers and smiling, then they looked at Bad Katie eagerly tapping at her iPad, then they looked at each other in puzzlement.
"Something doesn't seem quite right here, Katie," said her father.
"Hey, you got happy children," said Bad Katie. "Quit while you're ahead."
Her father shrugged. "I guess you're right. Oh, and thanks for the bouquet of flowers. They're lovely."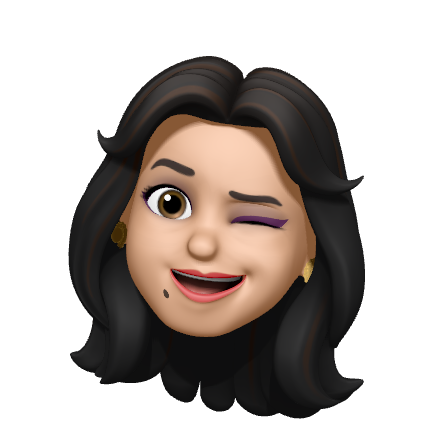 A few days after Christmas, Bad Katie was sat in Sumit's office again.
"Did you like your present?" said Bad Katie.
"I didn't dare open it," said Sumit.
"Why not?" said Bad Katie.
"Thought it might be a bomb or something, knowing you. I remember last year when you got me those Calvin Klein briefs."
"They were expensive!"
"I'm sure, but did you have to sprinkle itching powder in them?"
Bad Katie cackled. "Must have been an issue at the manufacturing plant."
"Hmmm."
"Go on Sumit, open it."
"Oh, very well." He opened his desk drawer and took out the small wrapped package. He carefully opened it. Inside was a small box. He opened the box to find several VIP Meet and Greet tickets to one of Bad Katie's concerts.
He looked at her in puzzlement. "What's this? I'm your manager, I meet you every week. And I can go to any of your shows."
"Ah yes, but I thought you could flog these on the fan forums for hiked up prices."
"Katie!"
"Well, I dunno, just a suggestion. You could give them away to homeless people if it makes you feel better. Though just arrange for them to have a bath on the night if you're going to do that."
Sumit sighed. "I need coffee. Back in a sec."
As soon as he'd left the room, Bad Katie whipped a present out from her rucksack and placed it on his desk, scribbled a quick note, then slipped away out of the office.
"Ah, that's better," said Sumit, sipping his coffee as he returned to his desk. "Katie?"
He put her coffee on the desk and took another sip of his own as he looked around the room. "Katie?"
He shrugged and sat down. Then he saw the present in front of him and picked up the note. It said "To make up for all the pranks! Love Katie x". With understandable suspicion and hesitation, he picked up the present and gingerly unwrapped it. It was a special vintage edition bottle of his favourite whisky. He smiled. "Merry Christmas, Katie."
27.12.21 > The Detail - Episode 7
"In This Episode, we speak with Award-Winning composer Errollyn Wallen about being an explorer when creating, Errollyn recently bought a lighthouse to write from so we discuss how space and environments can really affect the creative process, we discuss her brave reworking on "Jerusalem" for the BBC's last night of the proms, as well as what it's like collaborating with an astronaut and having your work played in space. "
25.12.21 > Craggie's Christmas Thoughts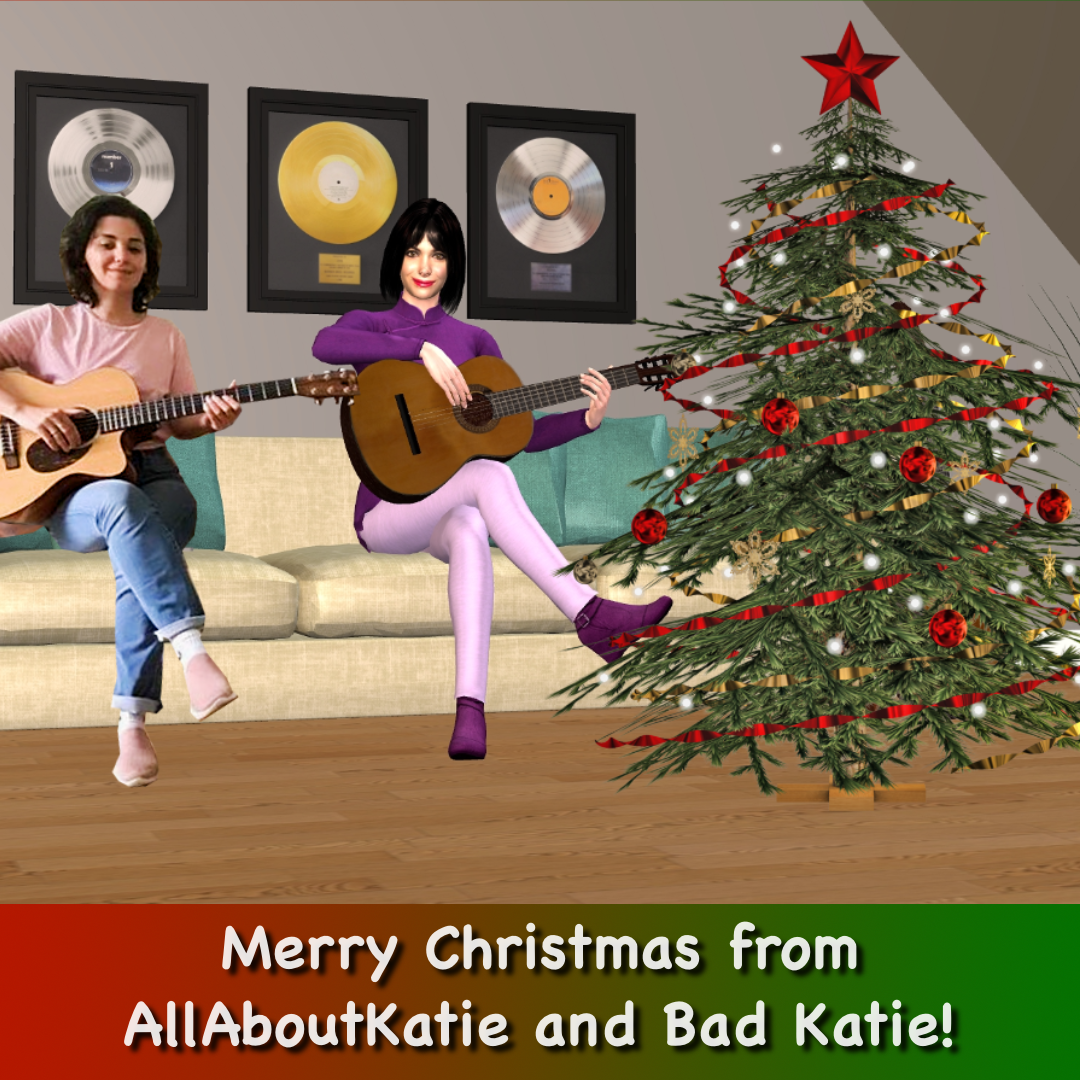 Last Christmas we were all venturing into the unknown with covid and lockdowns and all the fear and uncertainty surrounding the pandemic. This year feels rather different. Many people seem to be pushing ahead with Christmas as though everything were back to normal despite the number of covid cases hitting new daily highs. The ultra-cautious mindset seems to have been replaced with a world-weary defiance. To hell with the virus. We want our lives back. It is understandable–the early stages of the pandemic were something new to all of us but now the novelty has long since worn off and we are tired of restrictions that stifle the freedoms we once took for granted. I want to be in a room with 1500 spellbound people as Katie weaves her magic on stage in front of us. It seems so long since that has happened. Yet below that surface of anger and denial there lies the hardening resignation that covid is here to stay. What has changed since last year is that most of us have now had jabs and boosters and for many of us catching covid would likely be pretty much like catching a cold. It is no longer a new form of the Black Death but an inconvenient week or so of feeling grotty. It is worth thinking for a moment about how it has all played out–if the world had been faced with a truly deadly virus, as could easily happen, then the global pandemic could have meant millions, perhaps billions, of deaths. The reality is we've actually gotten off fairly lightly. This has been a wake-up call, a gentle reminder from Mother Nature than whilst we've been busy plundering and destroying the planet we've been blind to the dangers that could wipe us out. There is reason for hope–we are growing in our awareness of climate change, pandemics and other potential disasters like asteroid hits–but as our understanding of our fragility as a species grows it is beginning to dawn on us what a monumental challenge we face to overcome these problems. But human beings tend to work best together when their backs are against the wall fighting a common enemy. Covid has proved that we can come together as a planet to push boundaries and overcome enormous obstacles. I hope that in the year ahead we take heart from our fight against covid and begin to work together to tackle climate change. On an individual level, I hope you all take care of yourselves, your family and friends, and be kind to everyone and all living things. Kindness is a superpower we all possess but not enough of us take advantage of.
20.12.21 > The Detail - Episode 6
"In this Polly Scattergood and Katie Melua speak with revered musician Tim Harries, who is an absolute master of his craft, a man whose every gesture on the instrument is meaningful. We discuss Artistry with him and asked what shaped him as a musician, as well as asking questions like why does anyone do anything creative? The lure of stardom, playing in Brian Eno's band, as well as imposter syndrome dealing with the inner critique and how to turn criticism into something positive."
14.12.21 > The Detail - Episode 5
"In This episode, we speak with pioneering musician and producer Imogen Heap about the various tools and technology being developed to make the life of an artist easier. We delve into a day in the life of both a working musician and mother, as well as discuss how and why Imogen invented the incredible MiMu gloves, as well as our hopes for the next generation of artists and the future of music."
07.12.21 > Katie talks to the BBC about Homelessness
Katie investigated the issue of homelessness for BBC Sounds: England Unwrapped. Listen to this excellent mini-documentary by clicking the pic below to go to the BBC Sounds web site.

06.12.21 > The Detail - Episode 4
"An honest three-way conversation between Polly Scattergood Katie Melua and Bruce Woolley. How to remain interested and inspired as a writer, how the music business can affect your writing process on a practical and also spiritual level, being adaptable in a changing industry, running your own label, having a hit song, and what happens after that."
05.12.21 > Dance to Katie?
How would you feel if Katie were to release a dance album? If you're anything like me you might want to go into hibernation but some of you younger souls might still fancy throwing the odd shape (my shapes are extremely odd). But this is not mere idle speculation–would I do that to you? (okay, I admit, I do have form in that area, but not on this occasion)–no, in a recent interview Katie herself suggested she would like to do a dance album. I'm hoping she was high on weird mushrooms but you never know. Anyway, how about a proof of concept? Ha, ha, happy to oblige. There is a dance remix of "Wonderful Life" by Romanian DJ Mentol on YouTube and Spotify. And guess what? That's right, you can hear a snippet of it right here right now as soon as you get to the end of this sentence!
04.12.21 > Katie Performs "Joy" for ZDF in Germany
Katie performed "Joy" on television a couple of mornings ago for ZDF in Germany. She began with an interview and then joined Simon Goff and Zurab for an exquisite performance promoting the wonderful Acoustic Album No. 8. Click the image below to go to the ZDF site and watch for yourself.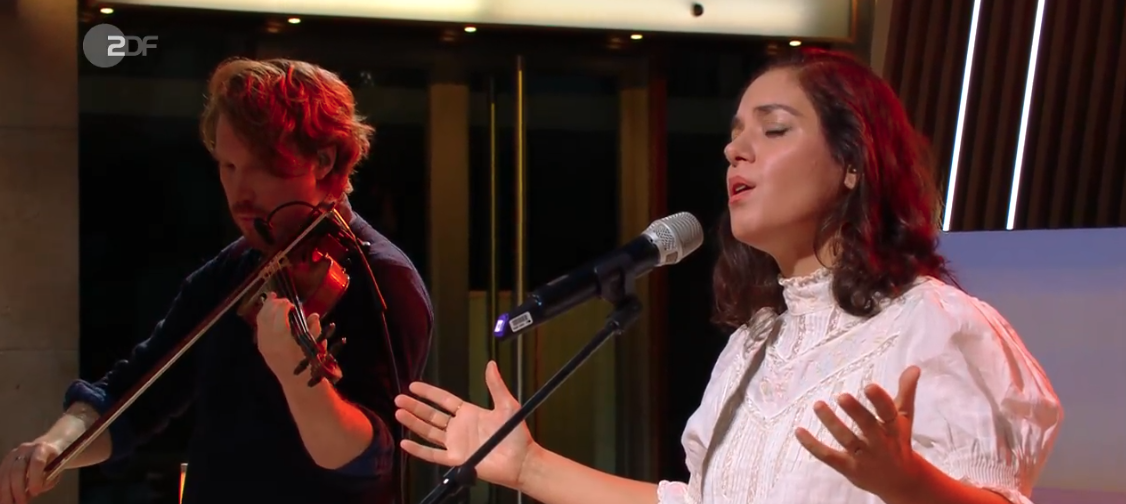 29.11.21 > The Detail - Episode 3
"In this episode, we discuss how to begin writing, dealing with sudden success, Writing with Mel C from the Spice Girls How to look after your own mental health in a competitive industry, the pressure of being signed to a major label."
27.11.21 > Acoustic Album No. 8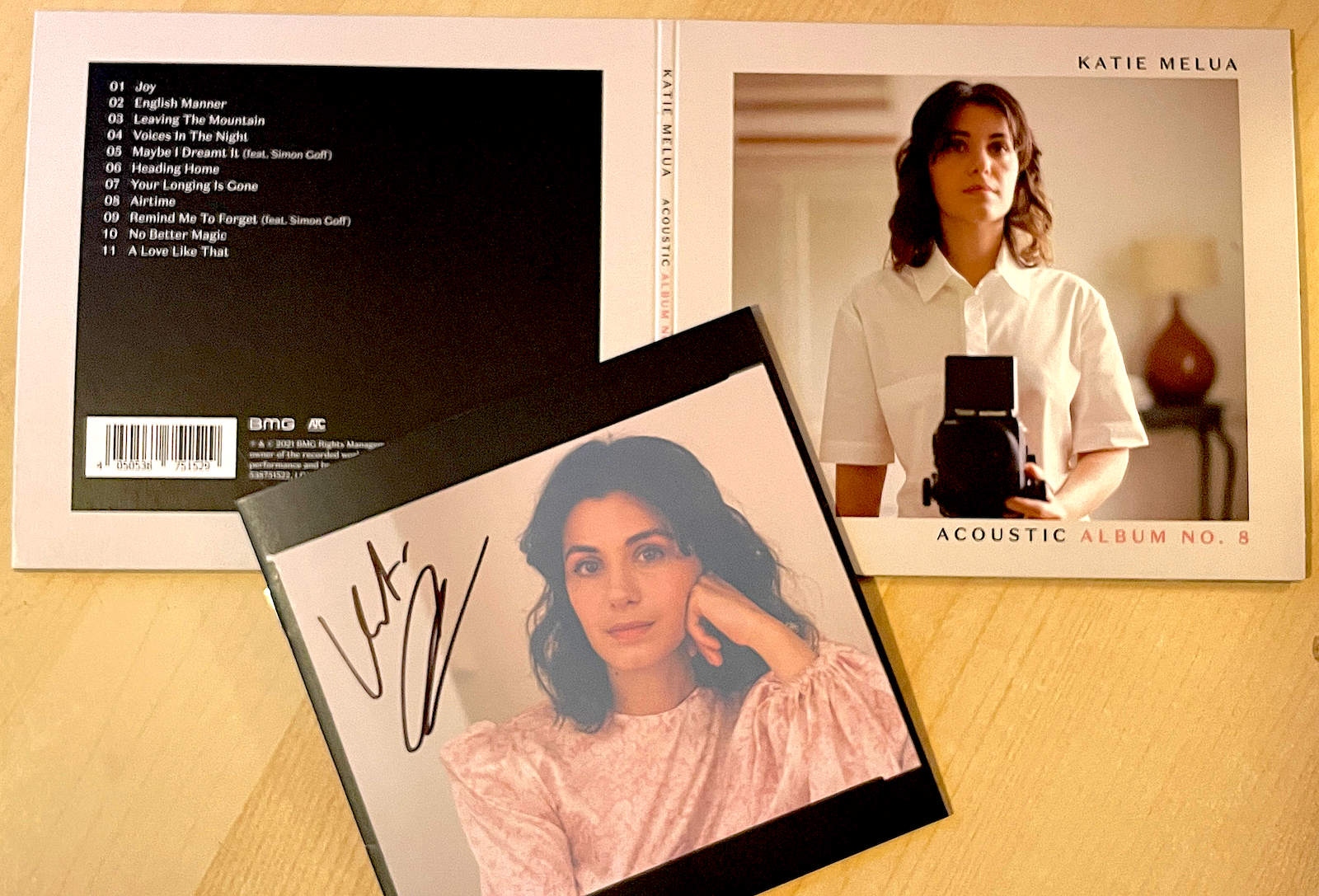 Less is more.
Okay, three-word reviews probably don't cut it in this day and age. First though, I want to say a massive thank-you to Zurab Melua for a monumentally stunning effort in the production of this album, both on the recording side and for his divine guitar playing–delicate, intricate and perfectly weighted to complement Katie's vocals rather than compete with them. I simply want to thank Katie for releasing this album at all. For years, I have been saying that I prefer her voice with just acoustic accompaniment rather than a full band or even orchestra, and this album finally gives me the opportunity to directly compare the songs in both stripped back and full-blown recording studio versions.
Every listener may have their own opinion on which version is best, but for me, as I suspected, the acoustic version wins hands down. That's not to take anything away from the original album at all, which I gave five stars to when I first heard it and I will always stand by that. I will continue to listen to those studio recordings, not least for things like the Gori Women's Choir and the church bells on Heading Home, but this acoustic re-imagining really brings the magic of the songs to life. Somehow, I think a little soul gets lost in the recording studio. All of the tweaking and polishing to attain perfection in a way sanitises the heart of the performance. Yes, the studio versions of songs like A Love Like That, English Manner and Voices In The Night sound amazing and I wasn't sure if they would stand up to having that complex soundscape ripped away from them, but they all survived perfectly well, thank you very much. It is interesting to wonder how that can be. Perhaps it has something to do with these performances feeling real and in the moment. The ambience of the recording puts me in mind of somewhere like the Rivoli ballroom when empty, as though Katie and Zurab are performing on the stage and you are sitting alone at a table near the back, in the shadows, just melting away into the sonic world they are creating. Close your eyes and it feels like Katie is singing live, just for you, and it is that personal connection between the performer, the listener and the song itself that really makes the music and lyrics so potent in stirring feelings in your mind. But it is better than a live recording because you don't have the annoying distractions of all the whoops, whistles and clapping of an actual audience.
Interestingly, the running order of the tracks on the new album has been modified. I wonder if this has anything to do with the needs of the artist being put before the needs of the marketing people for once. At any rate, the new path through the album works beautifully. There is also the welcome addition of No Better Magic, which slots seamlessly in with the other songs and blends in perfectly with the overall theme of love. The end result is an expertly written story in eleven chapters, beautifully told by the deftest of storytellers.
In short, Acoustic Album No. 8 is a treasure. The pinnacle of Katie's work to date. I'm sure there will be some people who bought the original CD and will look at this and wonder why they should pay for it again with a load of stuff taken off. My answer would be "because it has been improved". Less is more.
25.11.21 > AN8a. 26.11.21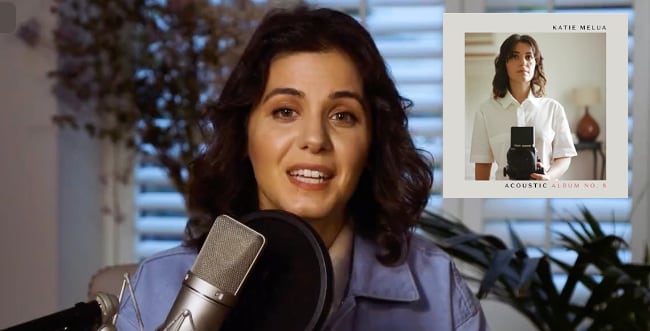 It's almost here! So close you can almost, but not quite, touch it. Tomorrow is the day we can finally get our paws on the much -anticipated acoustic version of Album No. 8. Same great songs, with fresh, new, stripped-back performances. An absolute essential for any Ketefan. If you haven't ordered it yet then I'm not speaking to you. But you can click on the pic and be automagically transported to Katie's online store where she's willing to trade a pristine copy of the CD for just a few numbers on a bit of plastic. What are you waiting for? Go....
23.11.21 > The Detail - Episode 2
Here's the blurb on Episode 2:
"A Conversation between Katie Melua Polly Scattergood & Jim Sclavunos, in this episode we have an insightful conversation about feverish New York in the late '70s , the No Wave movement, The start of cult magazine "No Magazine" Creating music scene, Lydia lunch's strong concepts of identity and purpose, Being a key member of Nick Cave and the bad seeds, Sonic Youth Working on the iconic Boatman's call album."
22.11.21 > The Adventures of Bad Katie - Episode 19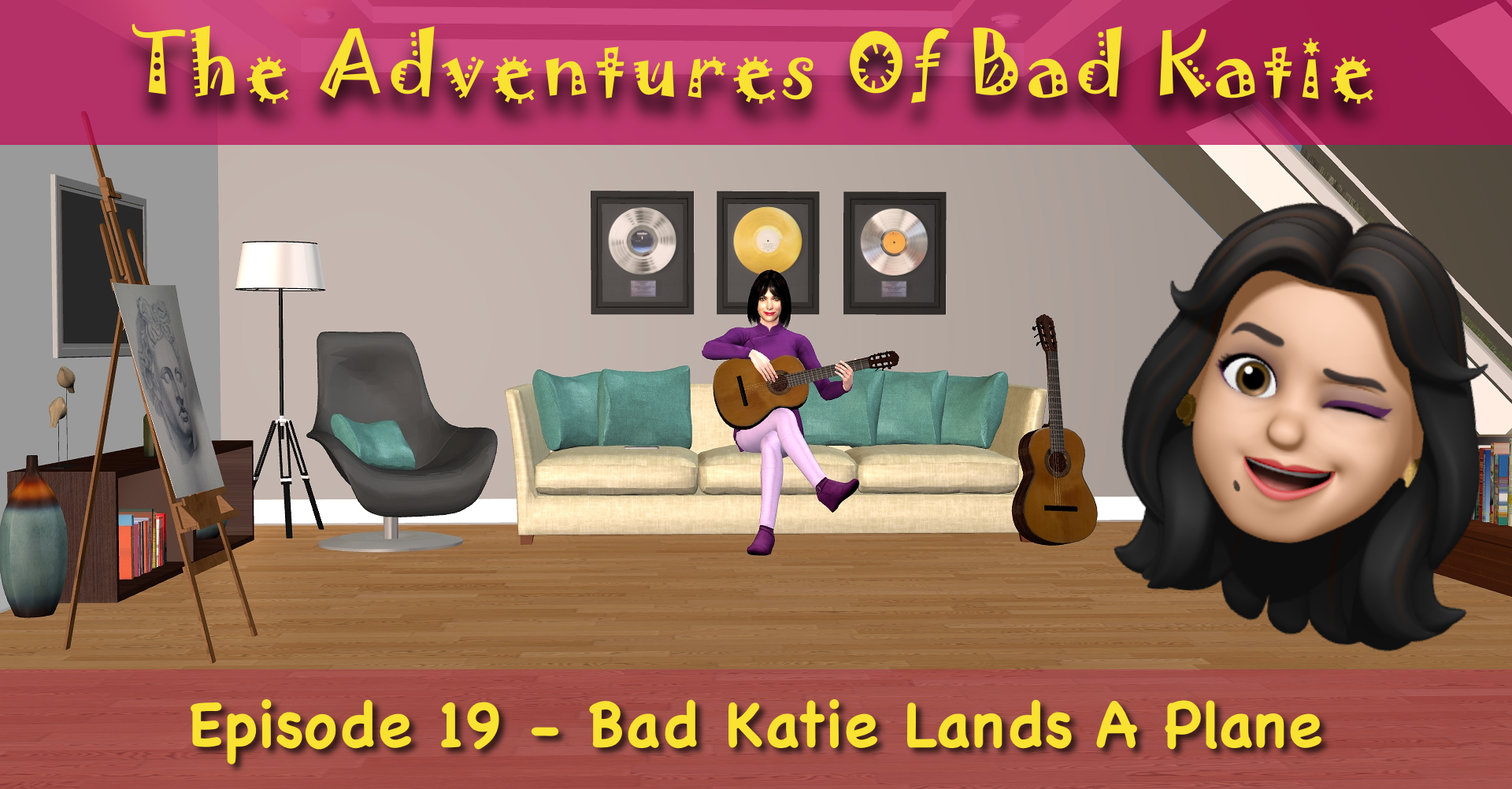 Bad Katie sat in her manager's office, with her feet up on his desk, nonchalantly fiddling with her phone.
Sumit eyed her warily and looked at his coffee suspiciously as he cautiously took a sip.
"Something wrong?" asked Bad Katie, glancing up at him momentarily.
"No, no," said Sumit. "Apart from not trusting you as far as I can throw you."
"Why do you have such a low opinion of me?"
"How long have you got?"
"My feelings are bruised," said Bad Katie, sulkily.
"Yes, well, there's no part of me that hasn't been bruised by your antics."
"Anyway, have you packed for the Georgia trip yet?"
"Oh, yes," said Sumit. "Though I'm still not sure why you want me to come with you this time."
"You normally only come with me on official music business. I just thought it'd be good for you to join me purely for fun. You know, take in the sights, experience the real Georgia, have a few laughs."
"Then why do I have such a bad feeling about it?"
"Because you're a naturally grumpy sod?"
At that moment there was a polite knock at the door. Sumit's secretary entered and placed a parcel on his desk in front of him.
"This just came for you," she said, and quietly retreated.
"Oh," said Sumit. "I wasn't expecting anything."
He unwrapped the parcel to reveal a wooden box. He lifted the lid and there was a little bang followed by a sudden cloud of white dust. Sumit's face was covered in flour.
"Oops," said Bad Katie. "That was unfortunate."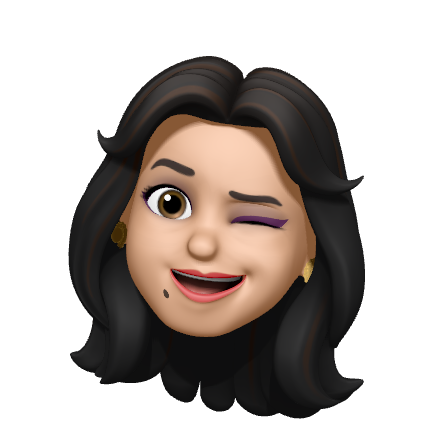 As the seat-belt sign dimmed, Sumit unbuckled and called for the air stewardess.
"Thank god that's over," he said, as the plane levelled out. "Now I need a drink. How about you?"
Bad Katie was staring out of the window.
"Katie?"
"What? Oh, sorry, I had my head in the clouds. Literally."
The stewardess floated up to them and gave them a smile that could accelerate glacial melting. "Hi, I'm Nino, what may I do for you?"
"Could I get a double whisky on the rocks, please," said Sumit. He looked at Bad Katie.
"Lemongrass, passion flower and ginger herb tea, thanks," said Bad Katie. "With a drizzle of acacia honey."
Nino's smile flatlined. "This isn't Fortnum and Mason madam. I can probably rustle up a Lady Grey."
Bad Katie screwed her face up, then scowled at Nino. "Yuk. Just bring me a Coke Zero then." (Other calorie-free cola sodas are available.)
Nino reinstated the smile, nodded slightly, then floated away again.
Sumit got up from his seat.
"Where you going?" said Bad Katie.
"I need to point Percy at the porcelain."
"Already? We just took off. Couldn't you have gone before? Anyway, they don't use porcelain on planes. It's probably metal."
"Well, I need to show Steven the steel."
"Come to think of it, in this day and age it could even be carbon fibre."
"Then I need…." said Sumit, then he paused and frowned at Bad Katie. "No, I got nothing."
He shuffled off, leaving Bad Katie to study his seat and wonder if there was any way she could booby trap it.
The stewardess returned. "Scotch on the rocks for the gentleman, and a Happy Cola Lite for his charming daughter," said Nino, with her smile ramped up to eleven.
Bad Katie gave her the level stare that anyone who has been the victim of could have warned Nino to be very afraid of.
Sumit came back just in time to save Nino's bacon. He was grinning like a schoolboy as he sat down. "Thanks, Nino," he said, and took a sip of whisky. Nino nodded and floated off again.
Sumit looked at Bad Katie. "We have a VIP on board!" he said, excitedly.
Bad Katie shrugged coyly. "Oh, don't make a fuss about me. I can't be arsed signing autographs."
Sumit frowned. "Not you, you heifer. The Bublé is on board!"
"The what?"
"Michael Bublé. On this very plane. Jesus."
"He's not Jesus. Just some American Sinatra wannabe."
"He's Canadian, not American," said Sumit.
"Oh well, then I take it all back. Jesus," said Bad Katie sarcastically. "Anyway, why the hell is he going to Batumi?"
"He says he's been told it's the Vegas of the Black Sea. But much cheaper. He's thinking of filming his next Christmas Special there."
Bad Katie rolled her eyes. "God help us all."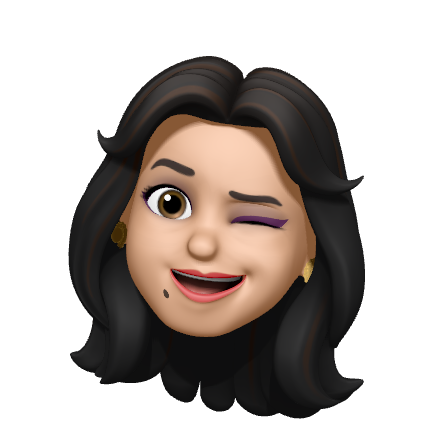 Some time later, Sumit had had enough of Bad Katie's incessant snoring. "Wake up, Katie," he hissed.
Bad Katie opened her eyes. "Fried chicken. Eh? What? What's happening?"
"Nothing. Just a little turbulence. No doubt caused by your snoring."
"I do not snore," said Bad Katie indignantly.
"Try telling that to the rest of the passengers," said Sumit.
"Then why didn't you put on headphones and watch the in-flight movie?"
"Snakes On A Plane? I don't think so."
At that moment, a little chime prepared them for an announcement. "Hello ladies and gentlemen. This is your stewardess, Nino, speaking. Just to let you know, we are making really good time, and there is absolutely nothing at all for you to be concerned about. Thank you."
Bad Katie and Sumit looked at each other in puzzlement.
Then Nino continued. "Oh, and if anyone happens to know how to fly a plane could you please make your way to the front and see me. Have a nice day!"
Mayhem, panic, bedlam, and general screaming ensued.
Bad Katie stood up and clambered over a startled Sumit.
"Where the hell are you going?" he said.
"To fly the plane!" she said, rubbing her hands purposefully.
"What! Do you even know which end the cockpit is?"
"Oh, grow a pair. I've had a few lessons."
Bad Katie set off down the aisle.
"Other way," shouted Sumit.
Bad Katie turned and strode back past him. "I knew that."
Sumit looked to the heavens. "We are all doomed!"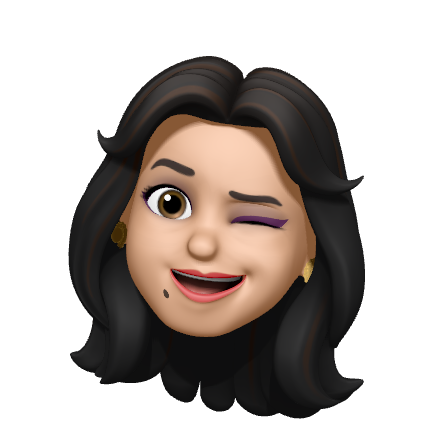 By the time Bad Katie made it to the nervous-looking Nino, they could hardly hear themselves speak because of the chaos around them. She put two fingers in either side of her mouth and let out a piercing whistle. Everyone fell silent and looked at her.
"Right you lot, sit down and shut up. We got this."
There were a few mutters and mumbles but things were generally calmer.
"Can you teach me that?" said Nino.
"Oh, well you just…" began Bad Katie.
"Hey guys, you dudes need a hand?" said Michael Bublé, swaying up to them.
"Bugger off, Bubble," said Bad Katie.
"Hey, aren't you that K.D. Mellower?"
"No. Now sod off, cheese dick."
Bad Katie turned to Nino. "What's the problem anyway?"
"It's the pilot. He's fallen unconscious. We suspect it might be linked to the prawn cocktail he had for lunch."
"Oh dear."
"Why? You didn't have it too, did you?"
"Yuk, I wouldn't eat that fish vomit."
"Oh."
"Hang on, isn't there a co-pilot?"
"Oh yes. But, well, he had the prawn cocktail too."
"Serves them right."
"Aw, don't worry ladies. I think I can land this little bird," said Bublé.
"Why are you still here?" said Bad Katie. "And it's not a little bird, it's a passenger plane."
"I've had a couple of lessons. Jeez, how hard can it be?"
Bad Katie scoffed. "Leave it to the pros, honey."
"Look," said Nino, "I think you will both be needed."
Bublé's eyes lit up. He looked eagerly at Bad Katie. "Hey babe, we could do a duet together!"
"I really must go," said Bad Katie.
"Baby, it's cold outside," sang Bublé.
"It's starting to snow."
"Baby, it's cold outside."
"I wish I knew how…"
"Your eyes are like starlight now."
"To land this plane."
"I think you're driving me insane."
"The passengers will start to worry."
"Beautiful, please don't hurry."
"Flight control will be pacing the floor."
"Listen to those engines roar."
"I'm opening the cockpit door."
"You'd better make this airplane soar."
"Right, I'm taking control."
"Oh but it's cold outside!"
Nino glanced awkwardly between the two of them. "Ahem. Perhaps you could get a room later but…"
"Anyway, who's flying this baby now? We seem to be going along nicely," said Bublé.
"Autopilot. Duh," said Bad Katie.
"Come on, I'll let you into the cockpit. Put on the headsets and Batumi Flight Control will talk you through it," said Nino. She opened the cockpit door and ushered them inside.
"Where are the bodies?" said Bublé.
"They're not dead," said Nino. "But you couldn't really sit in their laps. We've moved them to a private place to rest."
"Which is the Captain's seat?" said Bad Katie.
Nino pointed. Bad Katie leapt into it and buckled up.
"Hey, I should be Captain," protested Bublé. "I'm the man here."
"You're the idiot here," said Bad Katie. "I'm Batman. You're Robin."
Bublé slunk into the co-pilot's seat. "Well, just shout if you need me to take over.
Bad Katie punched him in the face and put on the headset.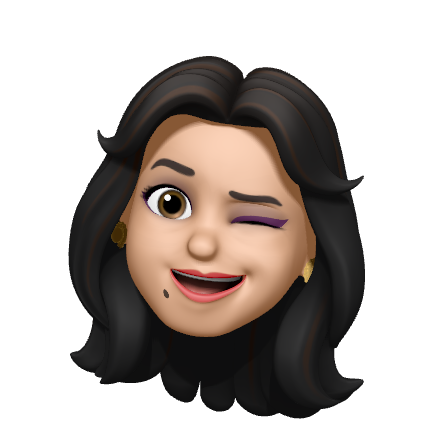 "Now then," said Bad Katie. "If I remember correctly, you just push this button and shove this stick thing forward."
She did both. The plane fell into a serious nosedive. In the cabin, there was mass hysteria once again.
"Oh god, we're going to die. Oh god, we're going to die. Oh god, we're going to die," chanted Sumit.
"Oops," said Bad Katie. She reversed her actions and the plane gradually returned to smooth flight."
"That went well," said Bublé.
"Shut it, willow warbler, I'm just familiarising myself with the controls."
"Say, why don't we just let the autopilot land this thing. It seems to know what it's doing."
"Because it can't actually fly the plane, numb nuts. It's basically the plane equivalent of a brick on the accelerator."
"How come you know so much?"
"Because I've spent my life learning instead of swaying."
"Hey, don't knock the sway."
At that moment, another voice joined in the conversation.
"Flight BAT666, this is Batumi Air Traffic Control, do you copy?"
"I never copy anyone," said Bad Katie indignantly. "My work is always my own."
"He means can you read him," whispered Bublé.
"I can't see his face, how should I know what he's thinking?"
Bublé shook his head. "We copy you good buddy. Loud and clear."
"Good, my name is Amiran, and I will be talking you back down. Just remain calm and follow my instructions carefully and everything will be fine. Who am I talking to?"
"I am Katie Melua, გამარჯობა, you've probably heard of me," said Bad Katie, patting her hair.
"No," said Amiran.
"Oh," said Bad Katie.
"But the rest of the guys are freaking out right now."
Bad Katie looked at Bublé and winked.
"Keti, it might be better if we talk in Georgian," said Amiran.
"Negative. Bubble wouldn't understand us."
"Who is Bubble?"
"I just haven't met you yet…" sang Bublé, annoyingly.
Bad Katie glared at him.
"Ah. სულელი," said Amiran.
"Exactly," said Bad Katie. "His name is Michael Bublé."
"What!" gasped Amiran. "Not THE Michael Bublé!"
Bublé looked at Bad Katie and winked.
"Stay with me, sway with me…" sang Amiran.
Bad Katie face-palmed. "Okay Amiran, can we just focus on the job here."
"Yes, Keti, of course, of course. So, you should see a bright orange button flashing on your left."
Bad Katie reached towards the button.
"Under no circumstances should you ever push that button," said Amiran.
"Oh. Er, maybe we should just concentrate on the things I should do…"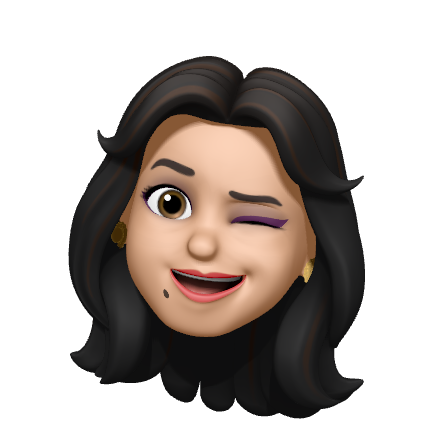 Half an hour later there was a loud squeal of tyres on tarmac and an even louder squeal from Sumit in the cabin.
A sweat-drenched Bublé uncovered his eyes. "Oh my lord, I can't believe we're actually on dry land."
"Piece of piss," said Bad Katie nonchalantly.
"We're not quite done yet, Keti," said Amiran. "You're going a bit too fast. Cut the throttle back and go harder on the brakes, but gently."
Bad Katie ignored the last bit and everyone in the cabin head-butted the seat in front of them, apart from those in the front seats, who head-butted their own knees instead.
"Watch you don't swerve, Keti," said Amiran.
Bublé screamed. "Jesus Christ, look, there's a cow on the runway ahead."
Bad Katie grinned. "Welcome to Georgia!"
She swerved the plane to avoid hitting the cow.
"He said not to swerve," yelled Bublé. "You should have just hit the stupid animal."
She glared at him. "This is Georgia. We do not hit our cows."
The plane was now heading directly for the terminal, which was growing larger in their view by the second.
Bublé covered his eyes again. "Oh god, we're still going to die."
"Reverse throttle, Keti," said Amiran calmly.
The plane gradually slowed down and was only doing a couple of miles per hour when it gently smashed through the glass wall of the terminal and finally came to a halt with the nose just touching the counter of Burger King on the first floor.
Bad Katie fist-pumped. "Yessss! Result."
"Good job, Keti," said Amiran. "Nobody died. You are a hero!"
Bublé exhaled slowly, then whistled. "Jeez, that's a real shame."
"What do you mean?" said Bad Katie.
"If you hadn't swerved for that cow you'd have made a perfect landing."
"It was perfect, goat-breath. I was aiming for Burger King."
"Oh."
"I'm ruddy starving. And that was the greatest queue jump ever!"
She quickly grabbed a clipboard and scribbled "bacon double cheeseburger and fries" on it, then held it up to the window to the slightly startled girl behind the Burger King counter.
"Oh sorry, Bubble, did you want something too?"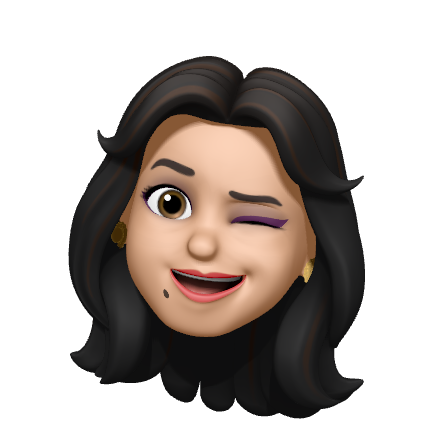 A couple of days later, Bad Katie was chilling out in her downtown apartment, reading all about her heroism in the local papers. Sumit knocked on the door.
"It's open," she shouted. "Unless you're selling something, in which case there's a ravenous Rottweiler standing right behind it."
"Only me," said Sumit, letting himself in. "It's been non-stop this morning. We were meant to be here for a quiet vacation but now everyone wants to interview you, both here and back home. You haven't had this many bookings in years."
"Bugger them. They can all wait till I've had my holiday."
"They're offering silly money to get you."
"Right, that was a lovely holiday. I'm free this afternoon."
"Oh, and I hear the Mayor of Batumi is going to give you the keys to the city!"
"Really? I didn't even know they locked it. Where's the keyhole?"
"Yeah, I think it's more of a symbolic thing."
"Oh."
"It gives you certain rights. You know, like being able to lead your cattle and goats through the streets."
"Everyone does that anyway."
"And I think there's a restaurant that is offering you free khachapuri for life."
Bad Katie's eyes lit up. "Now you're talking!"
Sumit shook his head. "Good job with the plane, by the way."
"No worries. Though I still have a bit of tinnitus from your screaming."
"Sorry."
"Oh but hey, you should check out the view from the balcony there."
Sumit wandered over to the open doors and stepped out onto the balcony. There was a brief shriek as he fell through the rotten wooden slats of the floor and landed in the pool below.
"… but mind yourself, some of these Georgian balconies are quite decrepit. Oops."
A vexed voice rang out from below. "KATIEEEEE!!"
16.11.21 > The Detail - Episode 1
And here it is! Episode 1 of The Detail with Katie and Polly features Travis front man Fran Healy. It is a fascinating listen for anyone interested in songwriting. You can listen to the whole thing right here, without leaving the site, just by clicking the big white PLAY triangle above. Or click SUBSCRIBE to find a link to the podcast in your favoured player. If you are into QR codes then here is one for The Detail: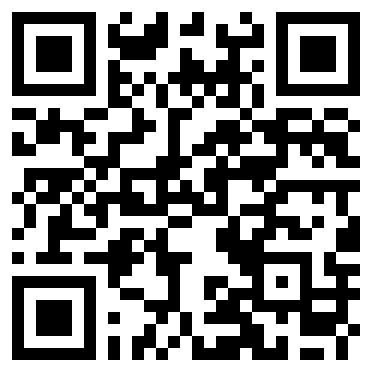 13.11.21 > The Detail
Katie has announced she has teamed up with her friend Polly Scattergood to create a new podcast called The Detail. You can find it on Spotify and iTunes, or other podcasty places you may poke around in. In the first edition, next Monday, they'll be chatting to Fran Healy of Travis. Hope they've got their umbrellas ready....



09.11.21 > The Adventures of Bad Katie - Episode 18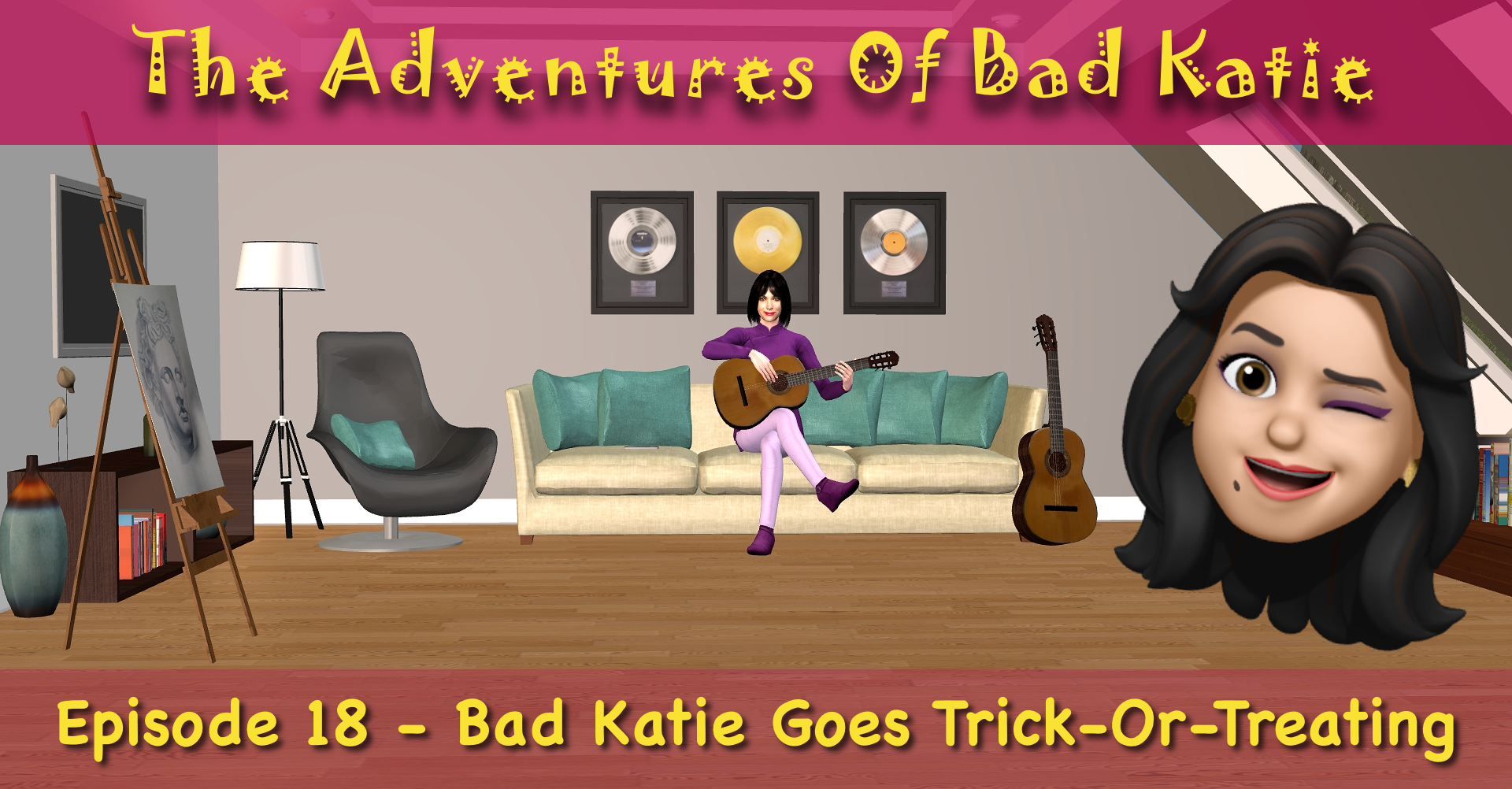 "You don't look well, sis," said Zurab.
"What do you mean?" said Bad Katie.
"Your face. It's bright green."
Bad Katie rolled her eyes. "It's makeup, you tepid turnip. It's Halloween, and we're going trick or treating. I'm transforming into a wicked witch."
"Not much of a transformation," muttered Zurab.
"I heard that."
"But… aren't we a bit old for that kind of thing? It's for little kids."
"What? Free sweets on offer from every house—you think I'm going to pass on that and let a load of snotty sprogs scoff them all?"
"You could actually afford to buy your own sweet shop, sis. Doesn't seem fair."
"Sod fair. I've worked hard to get where I am, why should I fork out my own dosh when people will be dishing out delights for free? Enter into the spirit of it, bruv."
Zurab sighed.
"Stop moping and get ready. Your costume is in that box. Whack it on. I'll paint the stitches on your face when I'm done adding these hairy warts to my cheeks."
"Stitches? What am I going to be?"
"Frankenstein's monster. Seemed like the least work. Oh, and go clean out the recycling bin too."
"Whatever for?"
"We'll need it to stash our haul in."
"Oh. But most people have little bags."
"Bugger that. If we're going to do this it needs to be worth our while. Now hurry up, Poll will be here soon."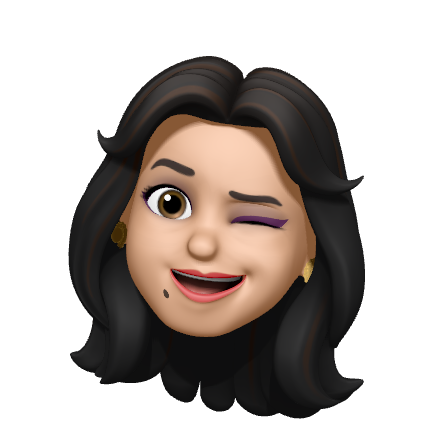 Bad Katie and Zurab were in the kitchen when the doorbell rang. They continued carving their pumpkins whilst their mother answered the door. A few moments later, Perfect Polly joined them.
"Hi guys," said Perfect Polly. "Ooh, carving pumpkins! Can I do one?"
"Of course," said Bad Katie. "That one's for you. Knock yourself out."
"Aw, thanks," said Polly.
Bad Katie stared at her in puzzlement. "Poll, why are you dressed as a unicorn? This is Halloween. We're meant to be scary."
"Oh, yes, I know. I've left the scythe outside by the door."
"Scythe?"
"Yes. You see, I'm the Unicorn of Death!"
Bad Katie continued to stare at her, though her expression had changed to a blank one. "And that is a thing, is it?"
"Well, no. But unicorns are supposed to be all goodness and light, so one with a scythe, that's like well scary."
"But unicorns have hooves. How the hell are they supposed to wield a scythe?"
"Oh for heaven's sake, Katie, don't read so much into it. It's just a metaphor."
"For what, stupidity?"
"Don't be like that. It's a representation of the latent hatred within the purest heart, the sinister dark side that we all have within us that can lie hidden and dormant for decades and then erupt like a supernova when the right trigger conditions are met."
Bad Katie sighed. "Why couldn't you just be a witch too?"
"Why couldn't I be a witch?" moaned Zurab. "My neck hurts."
"Katie, why has Z got a G-clamp on his neck anyway?" said Perfect Polly.
"He's Frankenstein's monster, obviously."
"But didn't he have a bolt through his neck?"
"I couldn't very well use a real bolt, could I? Duh! I thought it was a clever solution. Looks just as frightening."
"Except I can hardly breathe," muttered Zurab.
"Then don't waste air grumbling," said Bad Katie. "Finish carving your pumpkin. What's that meant to be anyway?"
"A demonic ghoul arguing with Satan's sister," said Zurab.
"Interesting," said Bad Katie. "What about you Poll, what are you carving?"
"Mine's a possessed fairy with spiders for eyes."
"Of course it is."
"What's yours? That looks like writing. What does it say?"
"BUGGER OFF, WE HAVE COVID"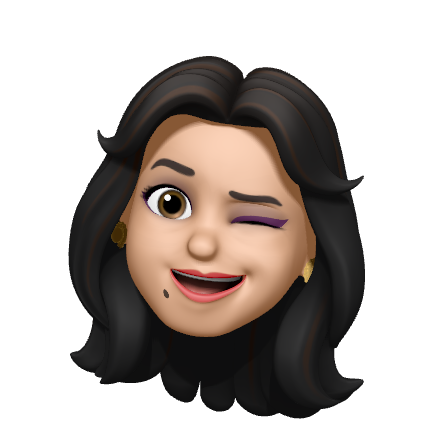 Bad Witch pushed the doorbell button and turned to Perfect Unicorn Of Death and Frankenstein's Zurab. "Remember, leave the talking to me. Just act scary."
The door opened and a little old lady was grinning at them. "Ooh, my first scary zombies. How exciting!"
"Yeah, we're not zombies, gran. I'm a wicked witch and this is the Unicorn Of Death," said Bad Katie.
"How lovely! And who's the big chap behind you?"
"Oh never mind him, he's just here for training purposes."
"Oh."
"So, anyway, you got sugary treats for us or are you prepared to suffer the consequences?"
The old lady smiled. "Of course I have… but..."
"But what?" said Bad Katie impatiently.
"You're rather big children aren't you? How old are you?"
"Thirty-" began Zurab.
"Thirteen," said Bad Katie. "We eat all our greens."
"Very well," said the old lady. She picked up a bowl of sweets from her hall table and offered them to her visitors. "You can each pick your favourite."
"Z, open the cauldron!"
"The what?" said Zurab.
"The bin," hissed Bad Katie.
"Oh."
Zurab stepped aside to reveal the wheelie bin behind him. Bad Katie had painted flames around the bottom of it. He opened the lid.
Bad Katie grabbed the bowl off the old lady and tipped the entire contents into her "cauldron".
"Hey," said the old lady. "What about all the other kids?"
"The early bird gets the worm. Be a good life lesson for them. Thanks, dear."
Bad Katie shoved the empty bowl back at the bewildered old lady and strode purposefully back down the garden path. "Come on guys, we've twelve streets to get through…"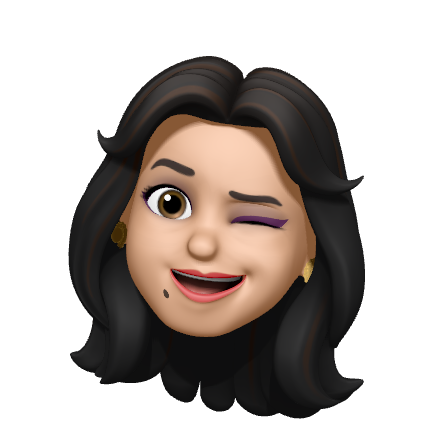 An hour later, Perfect Polly and Zurab were flagging.
"Are we nearly home yet?" asked Zurab.
"If I whinny demonically one more time I think I'll rip a vocal cord," said Perfect Polly.
"Quit whinging you two," said Bad Katie. "We've half filled the bin with goodies already. We're on a right roll here and we haven't even got to the dental belt yet."
"What's the dental belt?" said Zurab and Perfect Polly in unison.
"It's a posh road not far away where half the residents are private dentists. Word is they give away sweets by the sack load at Halloween. They bank on cashing in later by repairing the teeth of the sprogs they give them to."
"You do realise that means you, don't you?" said Perfect Polly.
"What rot," said Bad Katie.
"Exactly."
"I mean I have perfect teeth. Probably because I pay fortunes to one of the plier-wielding leeches from the dental belt. Time for some payback."
"Sis, what are we going to do with all this haul anyway?" said Zurab. "We can't possibly eat all of it."
"Ah yes, well, I'll cherry-pick the good stuff, obviously, but you know that youth centre near us?"
"Oh, you're going to donate it to the kids there?" said Zurab.
"Don't be a muddled meerkat, of course not. I've ordered an old vending machine off eBay. We're going to install it there and fill it with this stuff and milk the little buggers of their pocket money."
"That's genius, Katie," said Perfect Polly.
"Innit though?"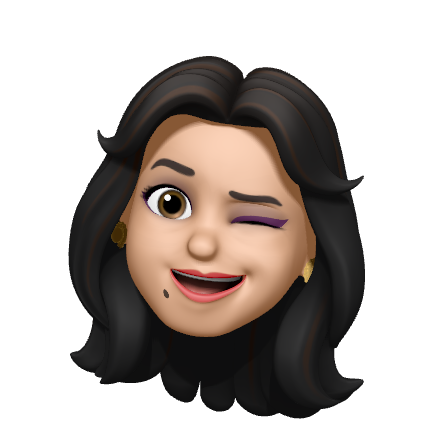 "Right then," said Bad Katie, some time later. "The bin is nearly full of loot. What's the trick count, Poll?"
"Well, we've got through two dozen eggs, dropped seventeen wiper blades down drains and let down thirty-one tyres."
"Plus what we did to Mr Winklebottom," added Zurab. "I'm pretty sure he'll get the police onto us for that."
Bad Katie chuckled. "I doubt he's even got free yet."
"That was a classic, I must admit," said Perfect Polly.
Zurab shook his head. "Remind me never to cross you two."
"What, you only just figured that?" said Bad Katie. "Anyway, there's just one more house I want to call at and then we'll call it a night."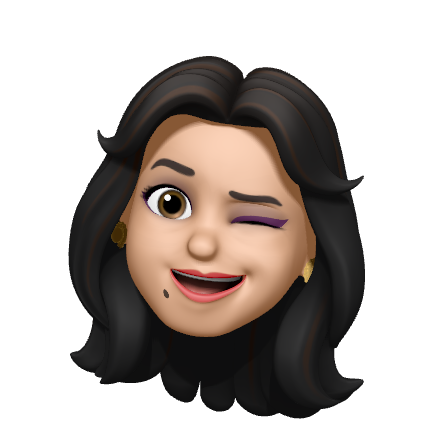 Bad Katie folded her arms and tapped her foot impatiently as they waited outside their final door.
"Perhaps there's no one home," said Zurab.
"The place looks dark," said Perfect Polly.
"He always does this, he told me," said Bad Katie. She stabbed the doorbell several more times.
At last, a light appeared in the hallway and the door opened. "What do you lot want?" asked Sumit.
"Duh? Halloween? We've come for our sweets mister," said Bad Katie, forgetting to disguise her voice until half way through the sentence.
"Katie, is that you?" said Sumit.
Bad Katie cackled. "Ha, ha, ha. Who is this Katie you speak of? I am the wicked witch of the west end and I demand to be showered with sugary surprises or you will suffer my most sinister spells!"
"Bugger off. Get a job and buy your own sweets," said Sumit.
Bad Katie looked at the car on the driveway. "Ooh, nice wheels, mister. You must be nervous of anything happening to them."
"You threatening me, you little witch?"
"Noooo!" said Bad Katie, waving her arms around wildly. "But karma works in mysterious ways…"
Sumit definitely was nervous. "Look, I haven't got any sweets."
Bad Katie squinted inscrutably at him. "I'm sure you have something stashed away. A witch knows these things."
"No sweets, I swear. All I've got is a box of luxury chocolates from Harrods. They are for my wife, for her birthday."
"I'll take them," said Bad Katie.
"But…"
She glanced at his car again. "Such a beautiful paint job."
Sumit sighed. He shuffled off and returned a moment later with the chocolates.
"Thank you kindly, mister," said Bad Katie, snatching the chocolates from him.
"Be gone, thieving rascals," muttered Sumit as he closed the door.
Bad Katie grinned. "Z, it's time to deploy the spud."
"What spud?" said Zurab.
"The one I stuffed in your pocket."
Zurab fished the potato out of his jacket pocket. "What's this for?"
"I need you to shove it up Sumit's exhaust pipe," said Bad Katie.
"That's not a euphemism," added Perfect Polly.
"But he gave us a treat," said Zurab.
"Not willingly," said Bad Katie. "Now spud his car and let's go home."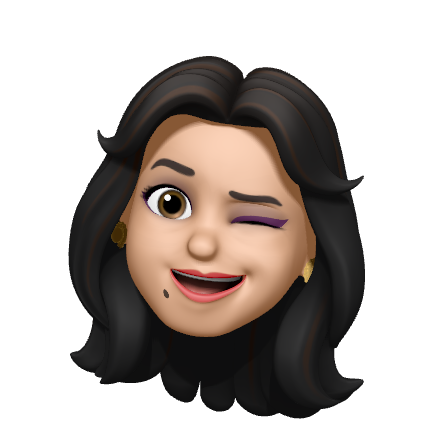 "Sorry I'm late Katie. My car wouldn't start this morning. Had to get the AA out."
"Really? I thought you were cutting down. Didn't know they did house calls."
"Not that AA, cheeky sod, the car one. Turns out some evil sprog stuffed a spud up my exhaust pipe."
Bad Katie sniggered. "Ooh, matron!"
"It isn't funny!" fumed Sumit. "If I knew who it was I'd have them arrested. I bet it was that trio of big kids."
"Oh?"
"Yes, the witch, the unicorn and Frankenstein."
"Is that a sequel to the one with the lion and the wardrobe?"
"I actually thought the witch was you at first."
"Me? Don't be ridiculous. I'm a multi-million selling recording artist. And it was Frankenstein's monster, by the way."
"What?"
"Frankenstein wasn't the monster, he was the mad scientist that created him."
"Oh. Well, there was something fishy about the three of them anyway. You know, the more I think about it, that witch really did look like you."
"How very dare you, Sumit! Besides, I was in my home studio last night practising my acoustic take on 'Anarchy In The UK'."
"Yes, well, anyway. We need to wrap up our meeting quickly this morning. I have to get out to buy a birthday present."
"For your wife?"
"Yes, how'd you know that?"
"Oh, I remember from last year. I'm good with dates. It's not like you to leave it so late."
"I didn't. I had some lovely Harrod's chocolates for her but I had to give them to those pesky trick-or-treaters last night."
"They were so good," said Bad Katie.
"What?"
"I've heard they are so good."
"Hmmm. Well, I'm going to get the coffees. Please, no tricks this time, okay?"
"Whatever do you mean?" said Bad Katie. "Tricks? Halloween is over."
"Like you need an excuse for mischief!"
Sumit left to fetch the coffees. Bad Katie whipped out her phone and dialled. "Z, are you in the car park yet?"
"Yes, sis," was the reply.
"Good. If you check your coat pocket you'll find another spud…"
07.11.21 > Katie Bite: Remind Me To Forget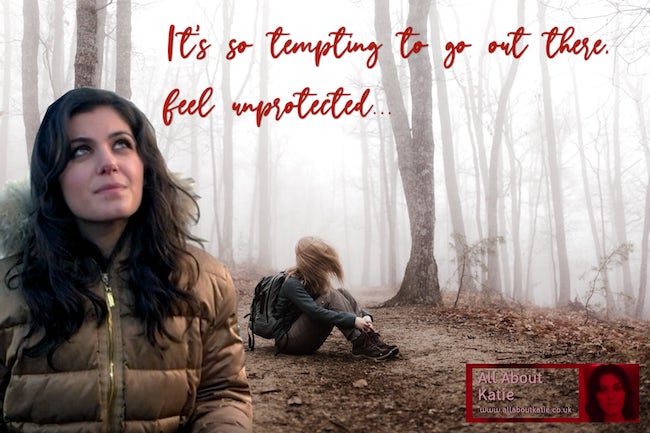 30.10.21 > Other Voices Live Event
Katie was flawless as ever last night performing four songs live with Zurab and Simon Goff, as well as joining Saint Sister as a guest member. If you are not a fan or Irish or folk music then you'll have to trawl through the two hour show to seek out Katie's bits. However, I would advise against that since all the acts are amazing and it is a wonderful way to while away a couple of hours. Katie performed Joy, Heading Home, Remind Me To Forget and Leaving The Mountain.

You can click the pic to watch on YouTube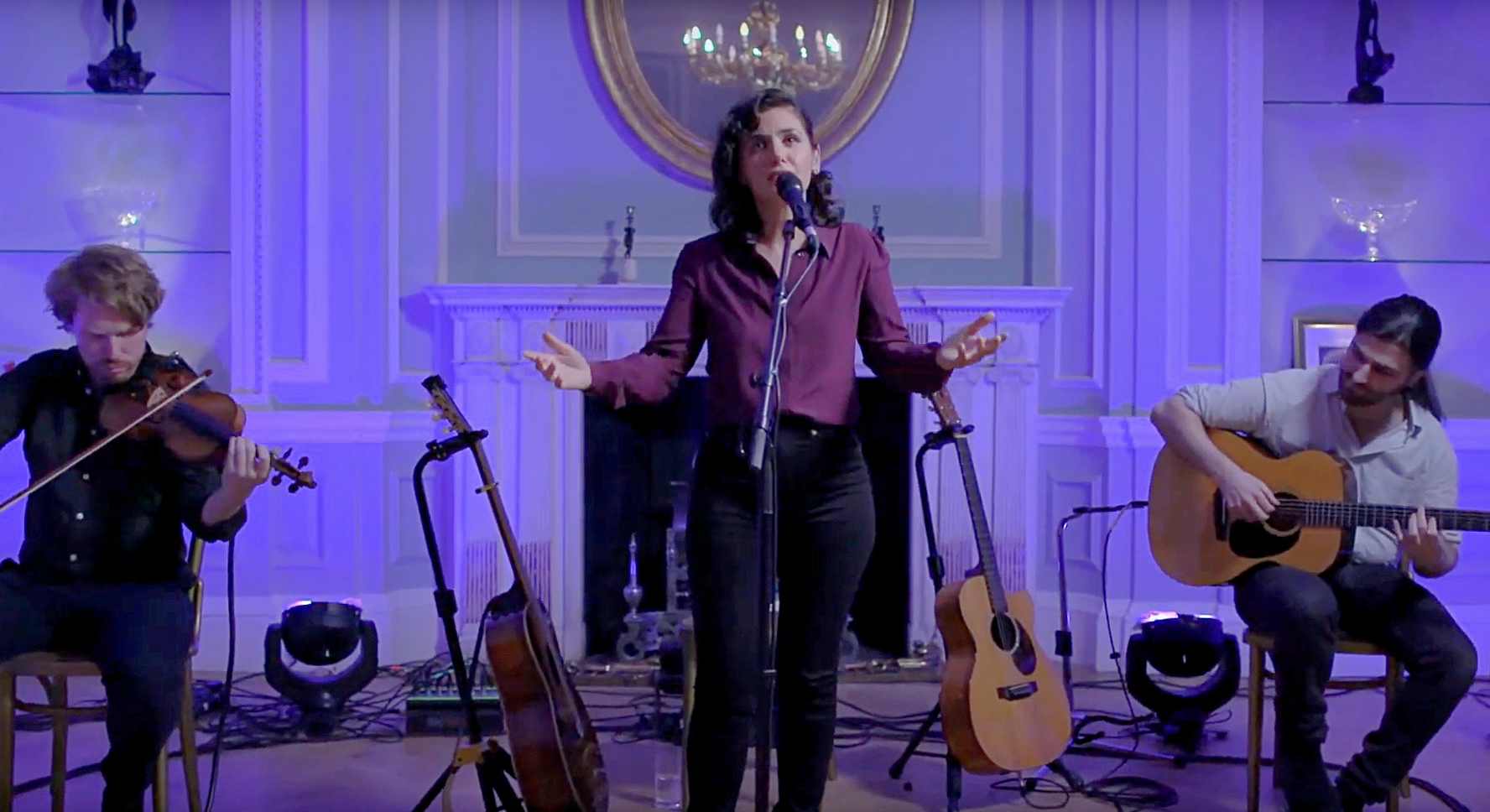 28.10.21 > Playlist: Halloween
Yes, it's that time of year again when I drag out the old Halloween playlist. I make no apologies for it–I love the whole autumnal spookiness vibe and frankly, this playlist is one of my favourite ever so even if I'm merely indulging myself and no one else then I'm happy enough. But just look at that track listing–how can you not get all witchy-tingly with such ghoulish gems?
Play on: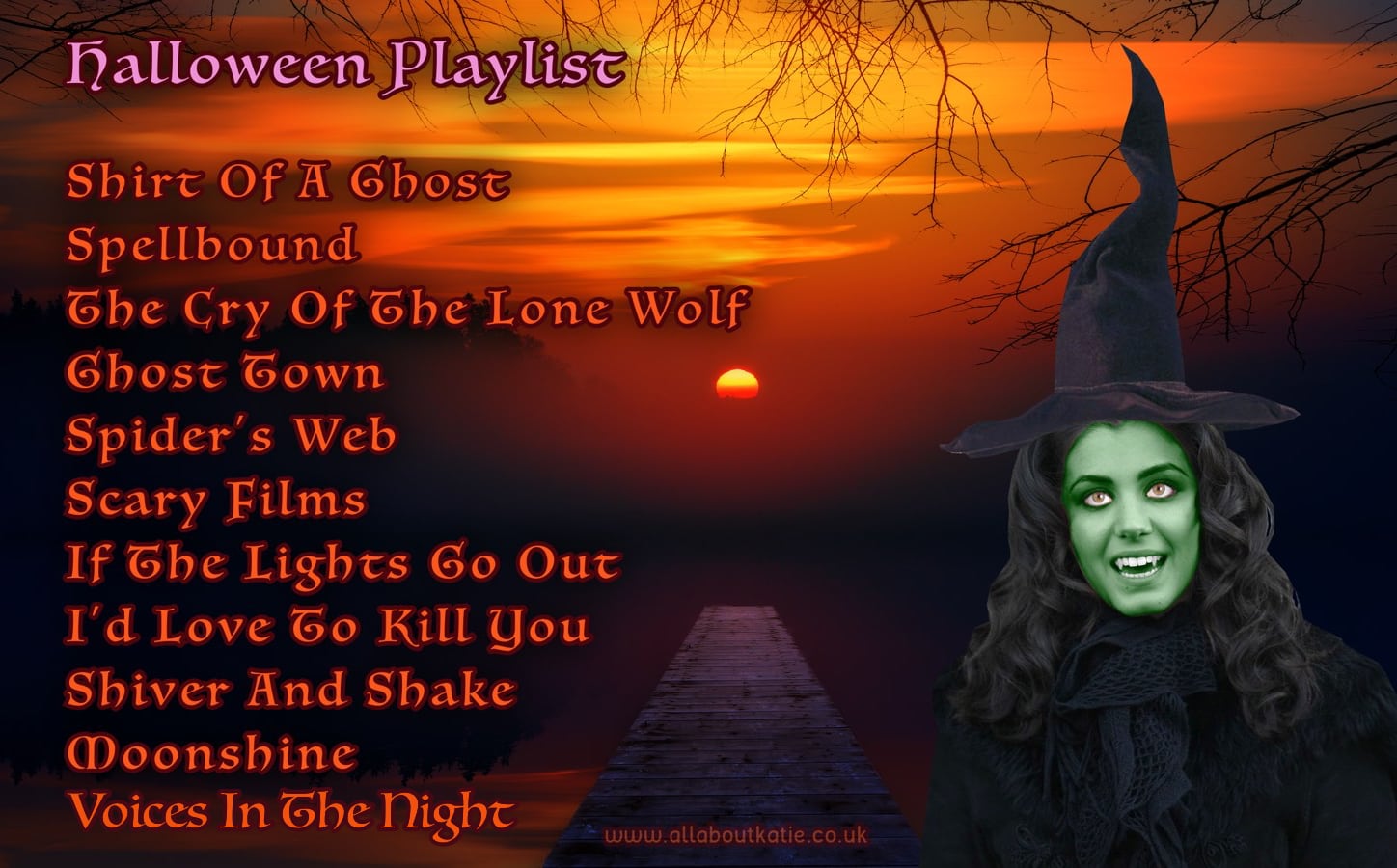 24.10.21 > The Adventures of Bad Katie - Episode 17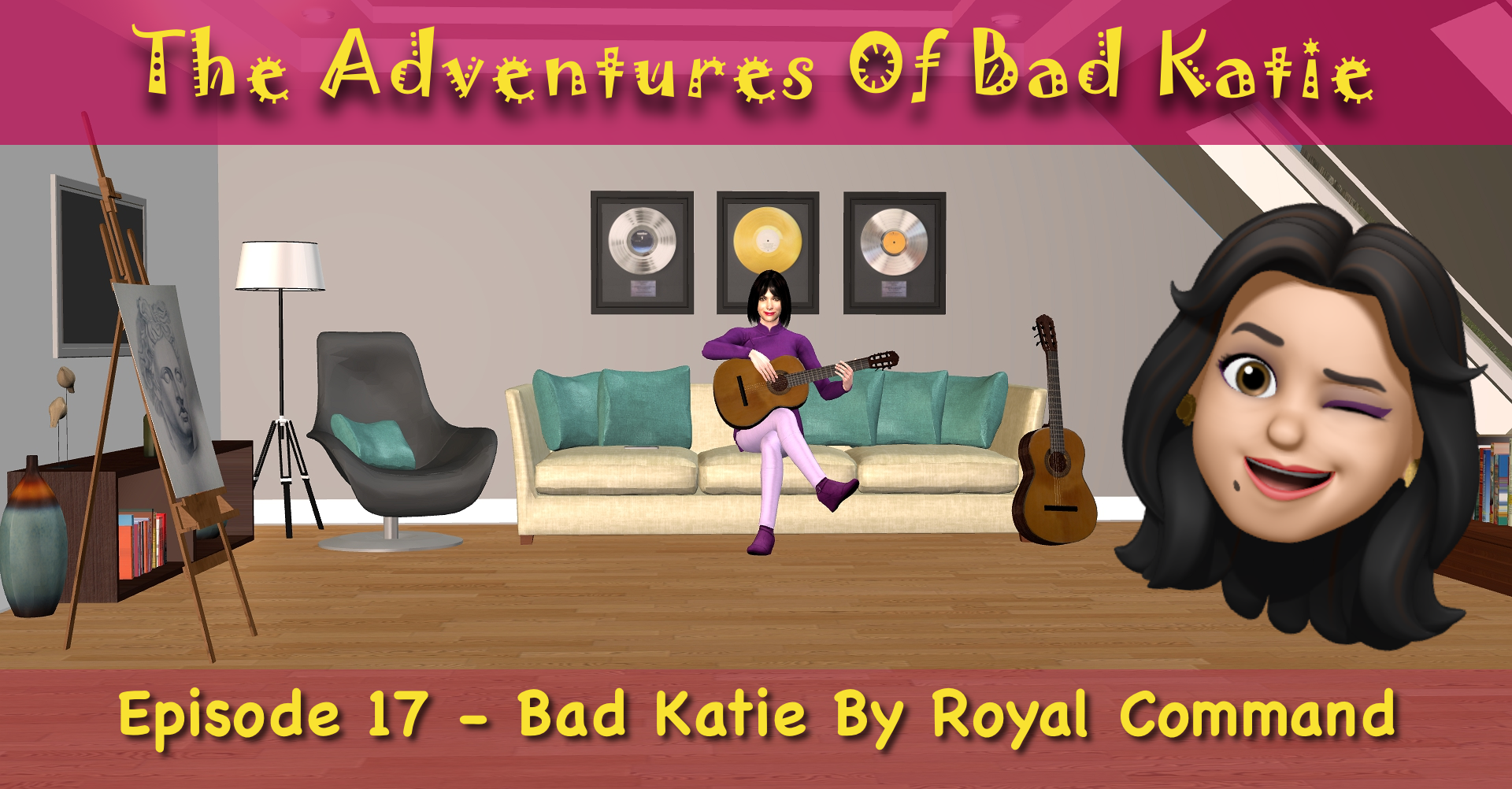 "Guess what!" said Sumit eagerly.
"I dunno. Er… you're having the snip?"
"No. What? Why would you…. never mind. No, you've been asked to attend the Royal Variety Performance."
"Oh."
"What do you mean, 'oh'? It's a pretty big deal you know."
"Yeah, yeah. Thing is, I can't imagine any of them have talent. I'd rather watch a bunch of monkeys performing tricks."
"The Royals aren't performing you dullard! You'll be performing for them. It's a great honour."
"Is it a great fee though?"
"Ooh, you mercenary little minx. Never mind the money. The Queen is a big fan of your music and you'll get to speak to her afterwards."
"I'd rather meet Queen, to be honest. Still miss Freddie. They'll never be the same. Don't know what they're thinking trying to replace him with some random bloke from an American talent show."
"Lambert?"
"Yes, he is a lamb's butt. Anyway, where's our coffee?"
"Should be here any minute."
"You did order it from that stall across the street, didn't you? The one I recommended."
"Yes. At least I'll know you haven't tampered with it."
There was a knock at the door.
"Come," shouted Sumit.
A curly-haired old man shuffled in. "Here's the coffees you ordered."
"Nice one, Bob," said Bad Katie.
"Here's your usual, miss Katie," said Bob, handing Bad Katie a large takeaway cup. He placed the other one on Sumit's desk. "And a special for the boss man."
"Thanks mate," said Sumit.
Bob winked at Bad Katie and shuffled back out of the room, closing the door behind him. Bad Katie took a sip of her coffee. "Ooh, just how I like it!"
Sumit picked his up and removed the lid. "Well, I hope this is as special as you say it is."
Bad Katie suppressed a snigger. "I'm sure you'll be surprised…"
As Bob left the building he screwed up the empty sachet of Acme laxative and dropped it into the nearest bin.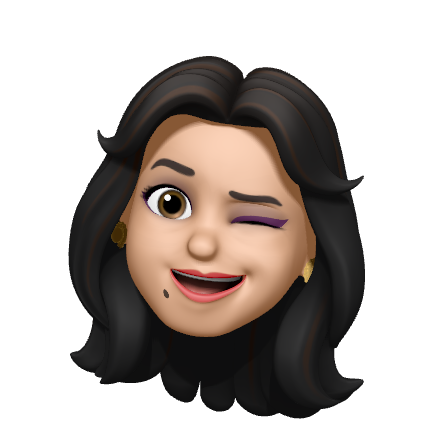 Jason Manford milked the applause to within an inch of its life.
"Right then you lovely lot!"
He glanced at the Royal Box and added "… and your Majesty."
"Have we got a treat for you now! It's a wonderful life, isn't it? Unless you're a Man Utd fan, heh, heh."
There were a few half-hearted chuckles from the audience accompanied by a few whistles and jeers. Her Majesty remained unamused.
"Well, here to sing all about it is the delightful angel—or should I say Angel Delight?—miss Kay-tea Mell-you-are!".
The audience applauded politely. The Queen whooped and hollered. Bad Katie ambled nonchalantly onto the stage. When she reached Manford she gave him a sweet smile and whispered in his ear.
"It's Meh-loo-uh, Gay-son Man-food. And I'm singing 'What A Wonderful World' not 'Wonderful Life', you clueless bag of broken biscuits."
Manford, somewhat taken aback, stepped back. He addressed the audience once more.
"Well, this is the closest thing to crazy I have ever been, that's for sure. She's all yours!" he garbled, then bolted off the stage.
Bad Katie stepped up to the mic and soaked in the rapturous applause for a moment. There was a massive wolf-whistle which appeared to originate from the Royal Box, though Buckingham Palace later denied it categorically.
"I see trees of green…."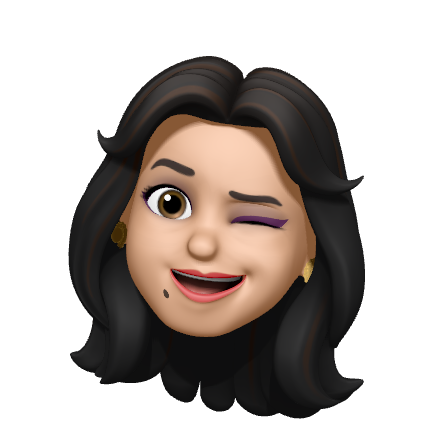 After the show, the performers were lined up backstage. Sumit stood proudly beside Bad Katie and nervously adjusted his bow tie. "Now then Katie, best behaviour."
"What are we standing in this stupid queue for? Couldn't you have ordered drinks beforehand? And who is that old biddy sidling towards us and pawing people with her silk gloves? Better not be scrounging for money."
"Katie! Keep your voice down. You are about to meet the Queen. Remember to curtsy."
"Fuc…"
"For Caucasian women everywhere it is an honour for Katie to meet you, Your Majesty," said Sumit, as the Queen suddenly stood in front of them.
The Queen ignored him and held her hand out for Bad Katie to shake, just as she was attempting to curtsy, with the result that Bad Katie head-butted the Queen's hand.
"Oops," said Bad Katie. "Sorry, Your Royal Queenness. We don't have all this pomp in Georgia."
Sumit closed his eyes and wondered if people were still thrown in the Tower.
The Queen cackled like a witch on helium. "Don't worry, my dear. One is a big fan of yours."
"Oh. I didn't think you'd have heard of me."
"Of course one has, my dear. All of you performers are here by one's choice. One follows your career closely thanks to a web site that is all about you."
"Ah…. yes, about that…."
"One even sings your songs in the bath."
"Bit too much information…."
Her Majesty unexpectedly burst into song. "This is the closest thing to crazy one has ever known, one was never crazy on one's own…"
"Yeah, I wouldn't quit the day job yet," muttered Bad Katie.
The Queen winked at her and changed tune. "Who-are-you-one's-ti-ny-a-li-en…"
Bad Katie's mouth fell open, but for once no sound escaped from it.
Her Majesty looked at Sumit. "And who is this handsome chappie then?"
"I'm her mana…" began Sumit.
"Man-servant," interrupted Bad Katie. "I took him in off the streets, gave him a job you know. His English isn't great but he's loyal and obedient."
The Queen eyed Sumit again. "Well, look after your mistress and she'll look after you," she said, in a slow and raised voice. Sumit nodded solemnly. Her Majesty sidled on to her next victim.
"I'll look after you later, young lady," Sumit growled into Bad Katie's ear.
"Oh don't be so sore, Sumit," said Bad Katie. "She's of a certain era you know, colonial and all that. When you mix in different circles you need to know how to blend in. Oh bollocks, I forgot to ask to have a selfie with her."
Sumit buried his eyes in his palm and shook his head.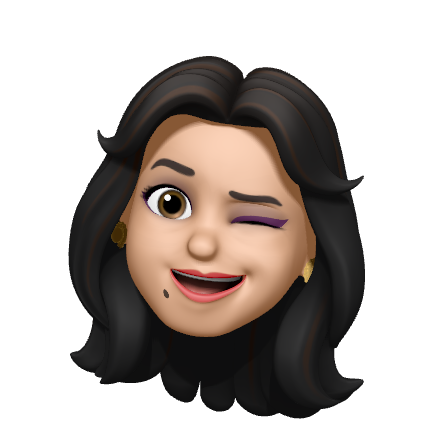 "I can't quite believe this is happening," said Sumit, a few weeks later. He flicked a speck of something off his tuxedo jacket. "Do you know how big a deal this is, Katie? A private performance at Buckingham Palace?"
"No, I don't," said Bad Katie. "But she'd better be paying top dollar for it. I'm missing the premiere of the latest Star Wars movie for this gig."
"Paying?" said Sumit, incredulously. "Not many artists get an opportunity like this. It's a real privilege."
"For her, maybe. And she'd better leave the singing to me—she's got a voice like a possessed cat."
"And it'll be lovely for you to work with Mike again. Be like old times."
"Wait. What? What you on about? Batt's here too? Oh for fox sake."
"Yes, I mentioned it in the email I sent you with all the details about tonight."
"Ah, yes, well I never read your emails."
"Oh. I see. Well, he's here to conduct the orchestra."
"What orchestra? Thought it was just going to be me and Z with acoustic guitars."
"The Georgian Philharmonic. They've flown in from Tbilisi especially for tonight. Mike's been rehearsing with them all day. In particular, that new arrangement of one of the Queen's favourites, 'September Song'. I mentioned that in the email too—I take it you haven't learned it then?"
Bad Katie shrugged. "How hard can it be? You go and get the sheet music off Mike while I look for the song on Spotify."
"Why is nothing ever straightforward with you?" said Sumit. He shook his head and strode off.
"Oh, and be a dear," shouted Bad Katie after him, "grab us a flat white on the way back."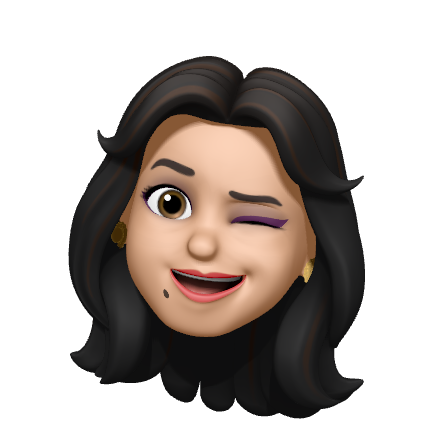 As Bad Katie stood and soaked in the polite applause, loud wolf whistles rang out. The Queen's Lady-in-waiting leaned over and whispered in her ear, "Your Majesty, that is not a seemly thing to do."
The Queen removed her fingers from her mouth. "Sorry, one gets rather carried away when one hears this young lady warble."
Mike Batt sidled up to Bad Katie, shaking his head. "What the hell key was that supposed to be?"
"Freedom," said Bad Katie. "Nice to see you too."
"You hadn't read my notes, had you?"
"Nope. Never could read your handwriting anyway."
"Well it's lucky for you that I'm a musical genius and the Georgian Orchestra are familiar with notes that don't exist outside Georgia. I think we got away with it."
"Got away with it? They loved it. Her Madge was throwing shapes!"
"Yes, well, she's probably been on the gin since breakfast time."
"You could be beheaded you know."
"Don't be silly, they don't do that any more."
"I mean your impending knighthood. She's not as steady with that sword these days."
"Ha bloody ha. Oh, by the way, I thought your last album was mostly fairly acceptable."
"Go fu…"
"For crying out loud, Katie," said a breathless Sumit, "this is no time for a catch-up, the Queen is waiting to present you with something. Didn't you hear me yelling you?"
"Er, no. I've learned to filter out your voice."
Sumit rolled his eyes. "Come on, they are expecting us. Oh, hi Mike. Bye Mike."
"What is she giving me?" said Bad Katie. "A stately home in Suffolk? A Rolls Royce? Is she making me a Dame?"
"I don't know," said Sumit. "But just remember to accept it graciously, whatever it is."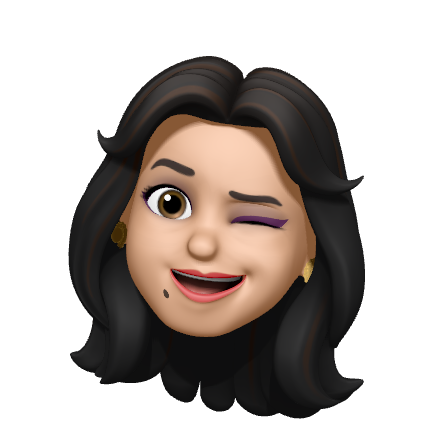 "A vase," fumed Bad Katie, as she paced around Sumit's office. "A bloody vase. What the hell do I want with a stupid vase?"
"Calm down, Katie," said Sumit. "It's the thought that counts."
"Not much thought gone into that. It was probably the first thing she saw when she opened the Argos catalogue."
"Hardly. It's encrusted with Swarovski crystals, you know."
"Is that meant to mean something to me?"
"It means it was expensive."
Bad Katie stopped pacing. "Expensive?"
"Very expensive."
"Do you think she'd find out if I put it on eBay?"
"I don't know, but the engraving might be a problem."
"What engraving?"
Sumit pointed to the bottom of the vase. "Presented to Katie Melua by HRH Queen Elizabeth II."
"Oh. Can't we scratch that off?"
"Katie! Just put it on display in your studio. It is something to be proud of, something to show off. Adele hasn't got one you know."
Bad Katie grinned. "Well, she can stick her flowers somewhere else."
"Look, it's a great honour to get a gift from the Queen. You should treasure it."
"Suppose. Glad I nabbed the other stuff though."
"What other stuff?" said Sumit suspiciously.
"Shampoo, shower gel, soap, towel…"
"Katie!"
"Oh come on, they know everyone does it. They probably get the stuff in bulk from Poundland."
"You are incorrigible."
"Aw, thanks."
Sumit shook his head. "Never mind. Anyway, you made the Queen happy. We should have a drink to celebrate! I've got some Prosecco on the cabinet there…"
Bad Katie scoffed. "I can do better than that," she said, and pulled a bottle of champagne out of her rucksack.
Sumit's jaw dropped. "That's Dom Perignon P3. Where the hell did you get that? It must have cost thousands!"
"Well…"
Sumit buried his face in his hands. "Actually, I don't want to know. Let's just drink it before we're carted off to the Tower."
22.10.21 > Look Into My Eyes...
Just a little something to spook you in the run up to Halloween 👻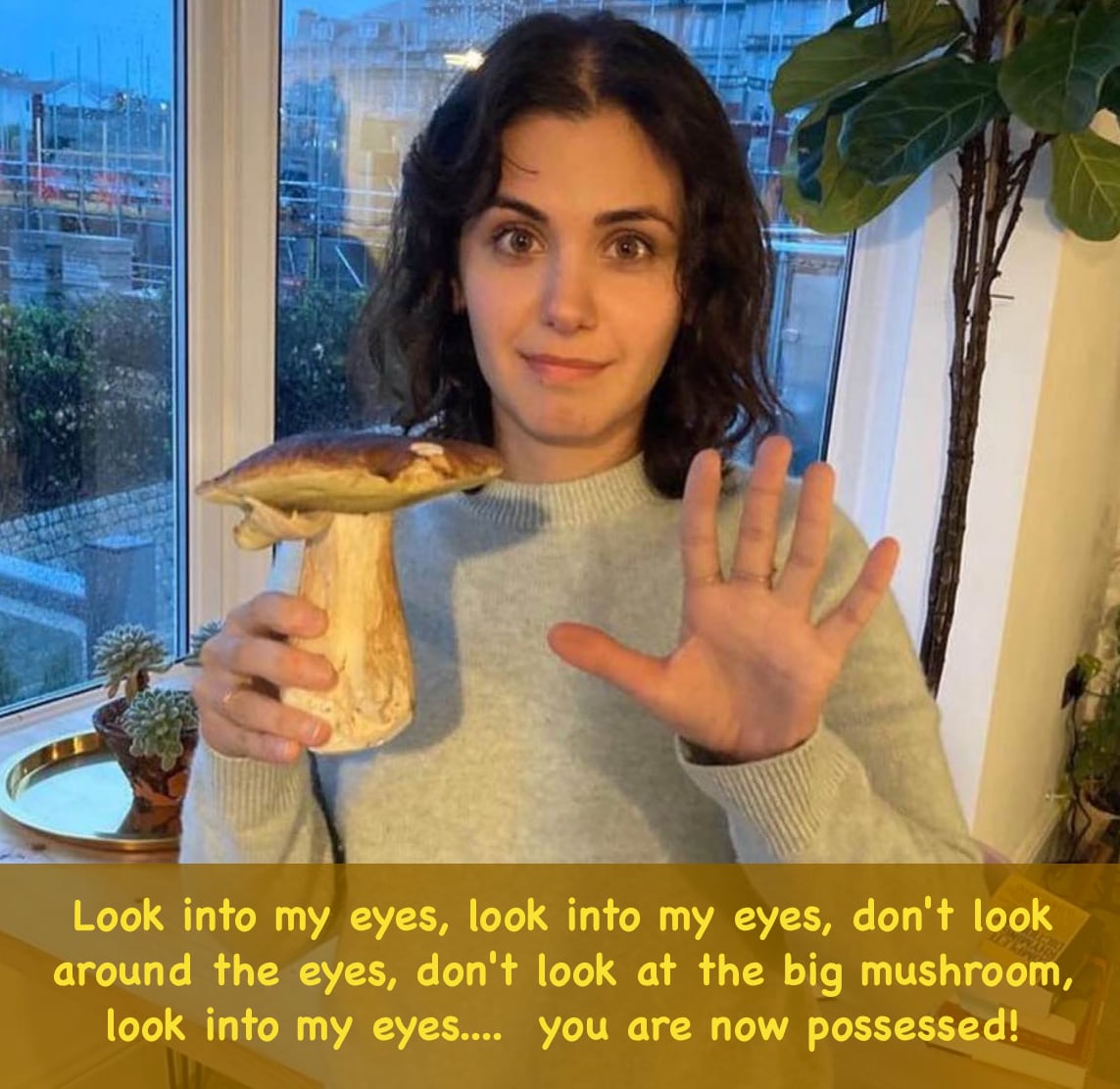 19.10.21 > Remind Me To Forget (Acoustic) - Video Released!
There's nothing better to beat the blues of a drab October Tuesday than a new release from Katie. The first track from the new acoustic version of Album No. 8 (Album No. 8a?) is "Remind Me To Forget" and you can toddle off and listen to it by clicking the pic below and then choosing your fave platform. For me, it is even better than the original album version. I suspect that may be the case with several, though maybe not all, tracks. Some will be very difficult to choose between. My suggestion is this: don't try, just embrace both versions for the classy, quality music they are. Katie has really spoiled us with this, or rather, these albums.
Acoustic Album No. 8 is released on 26th November and is available to pre-order now. I urge you to order through her own store rather than one of the big guys because, well, because. And check out the lyric video on YouTube for Remind Me To Forget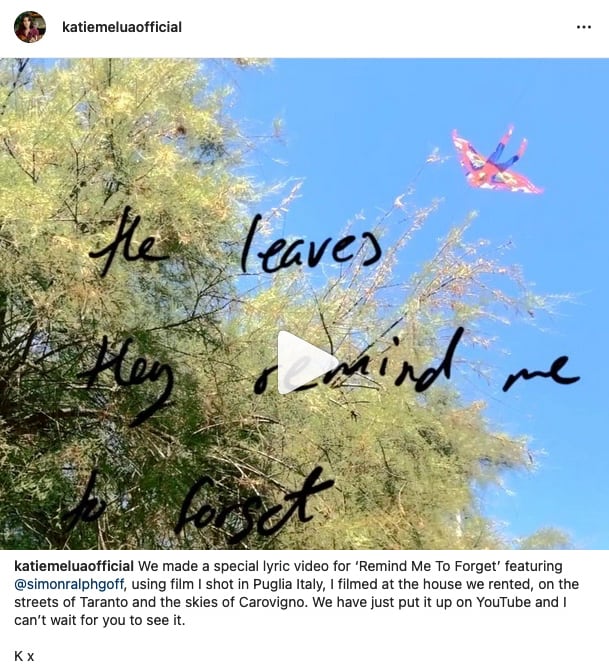 18.10.21 > Katie in the All Time Top 30!
The all time top 30 female artist albums chart has been released. Naturally, it is a delight to see Katie in there at 25 with Call Off The Search. That may raise the odd eyebrow amongst the younger generation who are thinking 'who she?', but it shouldn't be a surprise to those of us who discovered Katie through her debut album. Let us not forget what a *huge* star she became at the time, and there can't be many households in the UK that don't have a copy of COTS nestling on a shelf somewhere.
What is spectacularly mind-blowing though is that right behind Katie at 26 is Eva Cassidy with Songbird. Eva, as many of you will know, was one of Katie's idols and the inspiration for her song "Faraway Voice", which appeared on the aforementioned Call Off The Search. The two of them also share their only number 1 single, "What A Wonderful World", the duet Katie recorded with a posthumous contribution from Eva, so for Eva to make the list right below Katie is just goosebump-inducing and compelling evidence of a greater force at work in the Universe.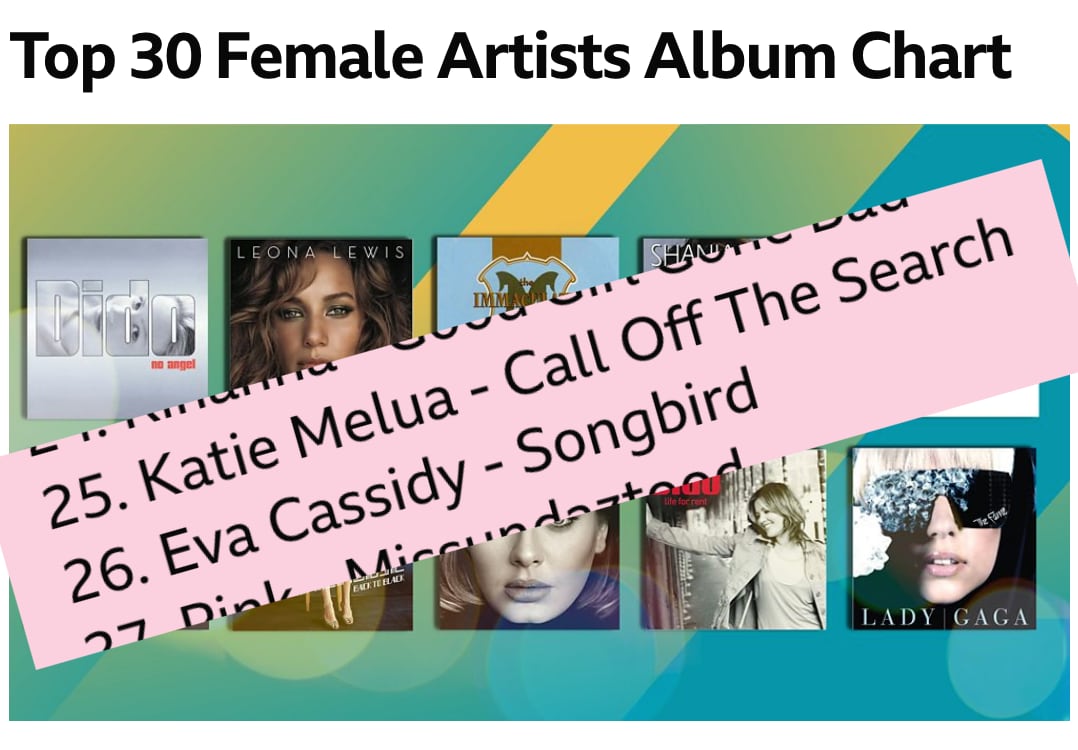 17.10.21 > Acoustic Album No. 8
Here's some news to warm the cockles of your heart, whatever they are. Katie has announced an acoustic version of Album No. 8. During lockdown we've heard her perform some of the songs acoustically so we know already that she does a fabulous job and this album will be as amazing as the original studio version so if you only buy one of them, don't be an idiot, buy both.
We don't know when it will be available yet but check back here because you can bet your Dunkin' Donuts I'll let you know ASAP.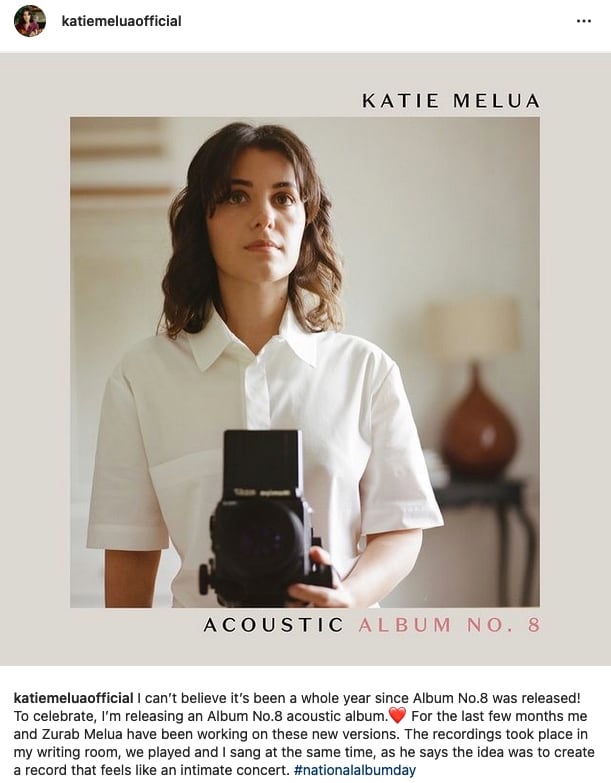 16.10.21 > Other Voices: London Calling
Right then, this one is a little bit out of left field but hey, any chance to see Katie perform live is a chance that should be grabbed with snatching hands. There will be an evening of live music from the Embassy of Ireland in London on Friday, October 29th, from 9pm (GMT). Now, Irish music is wonderful and this whole gig should be a hoot but quite why Katie is involved is anyone's guess—the one tenuous link being that Katie lived in Belfast for a couple of years when she was a kid, but Belfast is in Northern Ireland, which is an entirely different country...
Anyway, stock up on the Guinness and enjoy the craic on the night. You can watch it live on YouTube. For more info, pop along to the Other Voices web site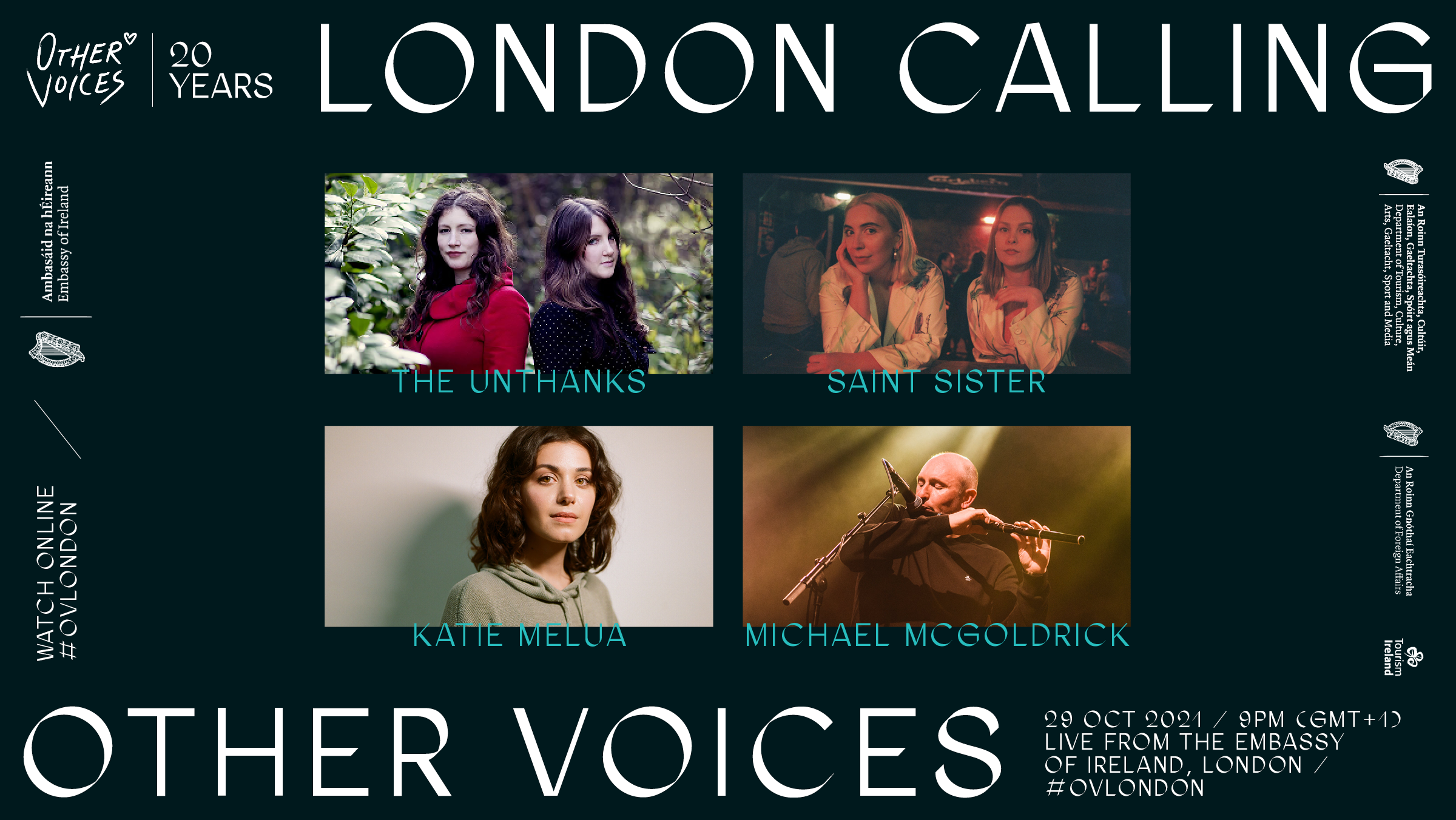 14.10.21 > More teasing...
She's at it again, teasing us with hints and whispers. Just tell us already. We need good news not vague promises... 🤨

Still, good things come and you put on weight. Or something like that.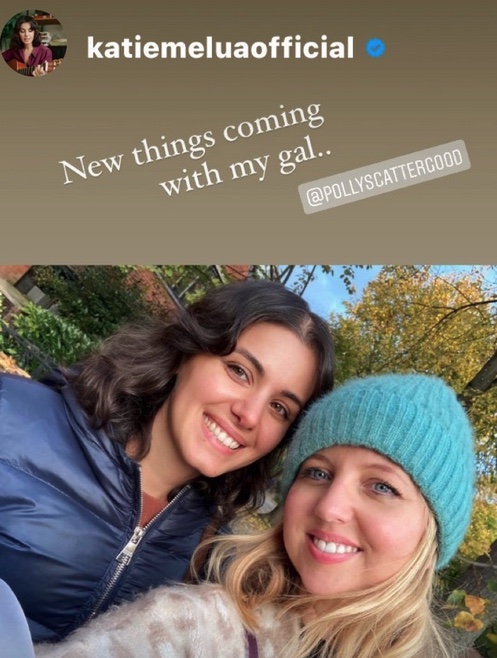 10.10.21 > The Adventures of Bad Katie - Episode 16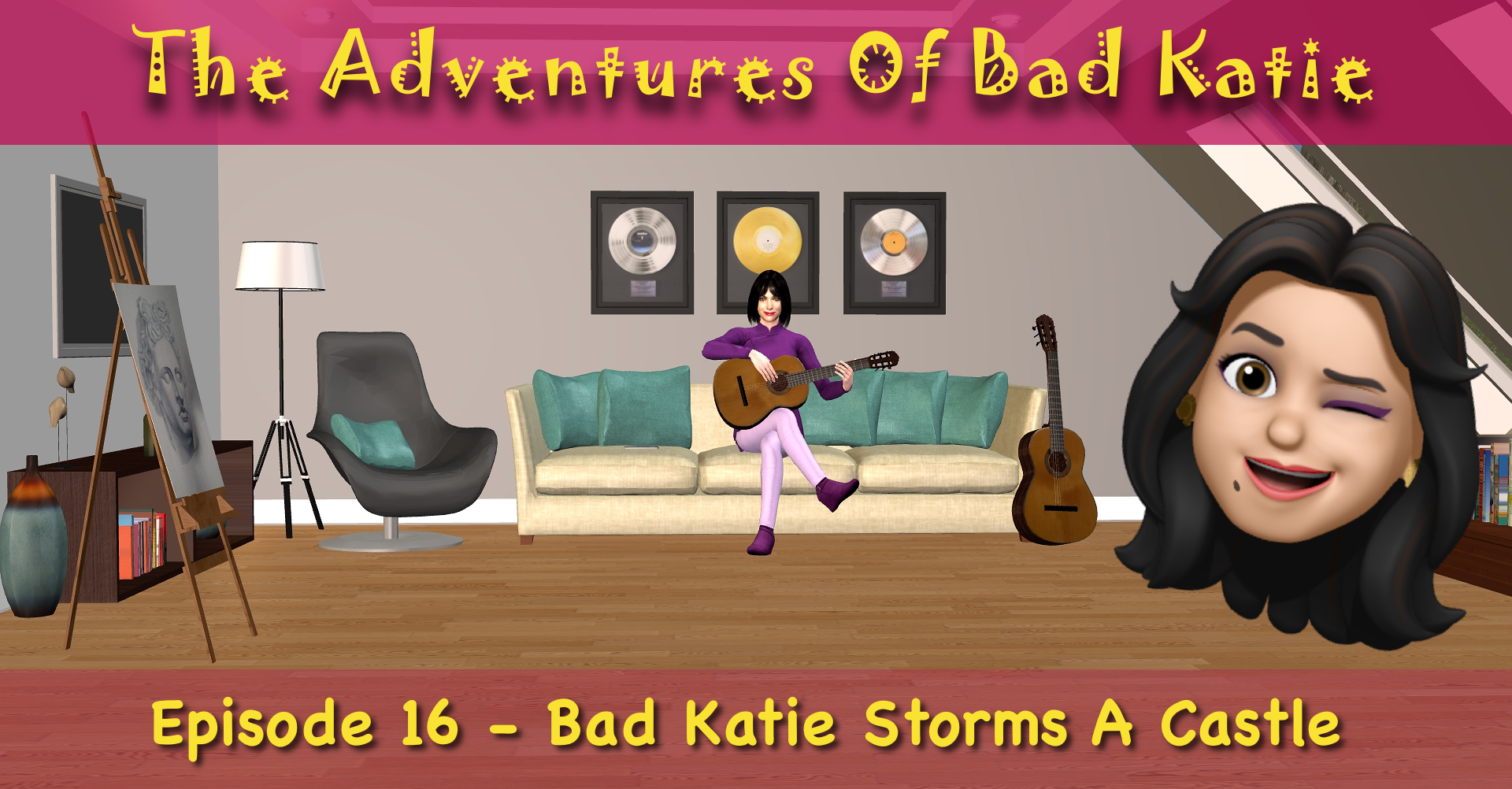 "Not sure about this makeover to your office," said Bad Katie. "Bit bland, no paintings, no ornaments, no soul."
"That's the price I have to pay," sighed Sumit.
"For what?"
"For making it you-proof."
"Sumit, I'm wounded. You know I have the greatest love and respect for all art!"
"Like the fake Banksy you sprayed onto the bonnet of my new Porsche?"
"Thought it would make it ten times more valuable. Just trying to help."
"Hmmm. Anyway, down to business. I have a potential booking for a gig at Arundel Castle."
"Ooh, I love castles! I'm thinking of buying one."
"Yes, well, what? Really? Never mind. You've done a lot of castle gigs around Europe, it would be nice to do one here."
"I know. But they tend to be a bit stuffy about them here, like they are sacred or something and not to be despoiled by grubby musicians."
"True. But the folks at Arundel seem to be quite progressive in their thinking and are looking to dip a toe into new ventures."
"They need the money, you mean."
"Yeah, probably. Anyway, they've been fooled by your perceived image of sweetness and innocence and see you as the perfect kind of artist to test the waters. They've invited us down for a day to look around, work out the best place for acoustics and to thrash out any other details. They are new to all this and know there are probably lots of things they haven't considered. What do you think?"
"You had me at castle."
"Great! This could be a big deal for us, you know. Let's have a drink to celebrate!"
Bad Katie glanced over at a cabinet with some bottles of spirits on it. Her eyes twinkled momentarily. "Oh, bit early for me. But you go ahead. Be a dear and fetch me a coffee first."
"Okay, be right back," said Sumit.
The moment Sumit left the room, Bad Katie took out a bottle of whisky from her rucksack. She knew Sumit's favourite brand, and her bottle looked exactly like the one on his cabinet. Except hers was filled with cold tea and vinegar. She quickly swapped them and put his bottle in her rucksack.
"Here you go," said Sumit, as he returned and handed her a coffee. He then went to his cabinet and poured himself a large whisky.
Bad Katie raised her cup. "Here's to castles! Gaumarjos!"
"Cheers!" said Sumit. He knocked back the contents of his glass, then promptly sprayed it out all over his desk. Bad Katie giggled.
"Katieeeee!!!"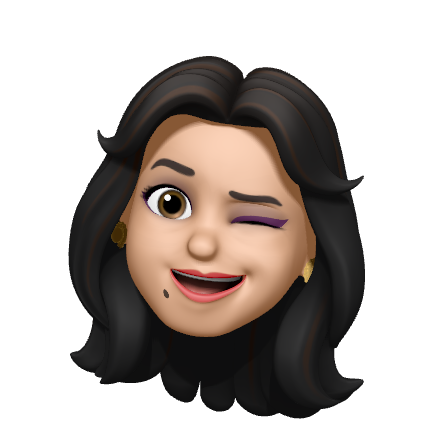 "Sis, why do we have to traipse around these boring gardens? We couldn't do a gig here," said Zurab.
"Oh quit griping, you know I love gardens. Look at the colours, smell those fragrances. It's heavenly. Besides, I need to experience every aspect of the castle, grounds and gardens in order to align my chi with the place, otherwise I won't be able to perform to the best of my ability."
"Balls," said Zurab.
Bad Katie scowled at him, then noticed some pear trees against the wall behind him. "Look! Espaliered pears!"
"Do what?" said Zurab.
"They look ripe. Grab us one, Z," she said, looking around to see if anyone else was about.
"You want me to steal fruit? Why can't you do it?"
"I can't reach the good ones. And they'll only leave them to rot anyway."
Zurab sighed, stepped over the low privet hedge and plucked a pear from the tree. He handed it to Bad Katie, shaking his head.
"Wasn't so hard was it?" said Bad Katie, as she prepared to bite into the pear.
"Oi! You two!" shouted a gardener, who had just stood up after weeding a bed a few metres away.
"Quick, leg it!" said Bad Katie, and took off down the path.
Zurab ran after her. "Sis," he panted. "One of these days you'll get me shot…"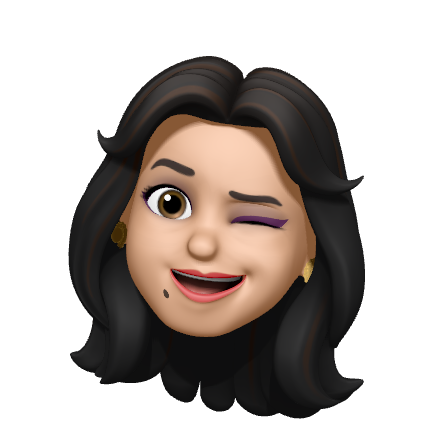 Bad Katie and Zurab were sauntering towards the castle entrance to meet Sumit who, like Zurab, had zero interest in gardens but, unlike Zurab, had had a choice in visiting them. Bad Katie took another big bite from her pear.
"Ooh, you've got a nice juicy pear!" said a passer-by.
Bad Katie slapped his face hard. "Perv!"
"I think he meant the fruit, sis," said Zurab, and dragged her onwards.
Sumit was waiting for them at the main entrance. He was pacing up and down, talking on his phone. He wasn't actually on a call but just wanted to look important, like the half dozen or so other people milling about doing exactly the same thing.
"Hey Sumit!" called Bad Katie.
"I have to go," said Sumit, to himself, and slipped his phone into his pocket. "So, I take it I haven't missed much."
"Only theft and assault," said Zurab.
Sumit rolled his eyes. "Oh Z, I wish you'd try to keep a tighter rein on her."
Bad Katie scoffed. "Good luck with that."
Zurab looked forlornly at Sumit.
Sumit put a sympathetic hand on his shoulder. "I know, lad. I know."
"Never mind the bromance," said Bad Katie. "What's the plan now?"
"Well, the Events Manager is on the way to meet me and discuss the fine print and legal stuff," said Sumit. "You know, the grown up stuff. I thought it would be better if you two kids go explore the castle and get a feel for the place. There are a few options as to where the actual gig could take place so just see what grabs your imagination. We'll catch up later in the café."
"It had better be decent grub in there," said Bad Katie.
"Oh, I've already been in. It's very nice. They have a Death By Chocolate cake to die for."
"And it'll be Death By Katie if you haven't reserved me a couple of slices when I get there."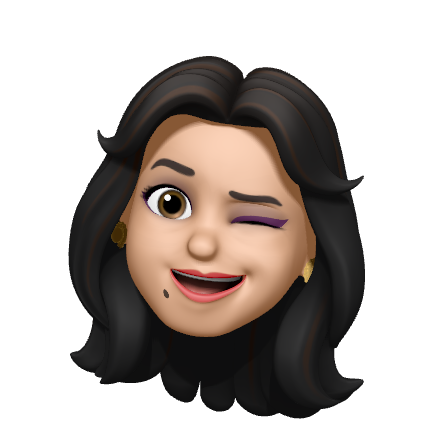 Zurab was in heaven staring at all the swords and suits of armour and gazed in wonder down the dimly-lit passages and slits in the walls for firing arrows through. Bad Katie was less impressed.
"So many paintings," said Zurab. "And some of them are bigger than my bed."
"Yes," said Bad Katie. "But why was everyone so ugly in those days?"
"Bit harsh, sis. Painting wasn't as advanced back then. It was all done by hand."
Bad Katie shook her head. "I despair of you at times."
"What?"
A castle guide suddenly emerged from the shadows. "Good morning."
"Jesus!" said Bad Katie.
"Where?" said Zurab.
"May I be of assistance?" said the guide.
"Yes," said Bad Katie. "Who owns this gaff?"
"The 18th Duke of Norfolk," replied the guide.
"Oh. Doesn't he know this is Sussex?"
"The Duke is aware, madam."
"Could have fooled me. What does he do for entertainment around here? Gawp at those creepy paintings all evening? He should get a hundred inch telly and a Sky dish."
"The family live in a private wing of the castle."
"What, so all of this part is empty at night?"
"That's correct, madam."
"Oooh, how spooky is that? Best hurry up and get out before they close up. Wouldn't want to be stuck in here all night."
"No, you certainly wouldn't," said the guide. "Legend has it that the ghost of Lady…"
"Cork it, Wikipedia, I don't believe in all that malarkey. Come on Z, let's see what tat they've got in the gift shop."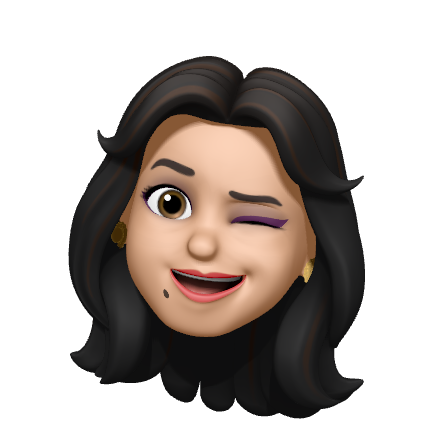 On their way to the gift shop they passed through the castle library. Bad Katie's eyes lit up. "Wowzers, Z. Look at this place!"
"Looks cozy," said Z. "Red velvet chairs, big fireplace…"
"Never mind that, look at all the books. Thousands of the buggers!"
"Yes, and all old. Bet they haven't got a single Harry Potter."
Bad Katie ignored him. She was busy scanning the shelves like a thing possessed. "Ooh, The Life Of John Lennon," she muttered. "This looks like a must read, think I'll borrow it."
"It's not a public library, sis," said Z. "And anyway, not sure that is about *the* John Lennon. I mean, it looks pretty ancient, and there must have been tons of John Lennons…"
Bad Katie wasn't listening. She shot a furtive glance at the guide who was keeping a beady eye on them from across the room. "I need a distraction, Z. Go and ask him if they have any books on Georgia or guitars or something. Just keep him talking and looking at the shelves on that side."
"Why do I always get the dirty jobs?" groaned Z.
"Because I'm your big sister," said Bad Katie. "Now go."
Z went over to the guide. "Excuse me sir, I don't suppose you happen to know if this collection contains…."
Bad Katie quickly grabbed the Lennon book, as well as a book about medieval flatbreads that caught her imagination on a whim, and stuffed them both into her rucksack. She strode purposefully towards the exit. "Come on, Z," she called.
"But he thinks there is a book on the history of Georgia here somewhere…"
"Then tell him to read it," said Bad Katie. "Hurry up, we haven't got all day."
"Oh," said Z. "But I thought we had."
Bad Katie glared at him.
"Right. Yes. Coming."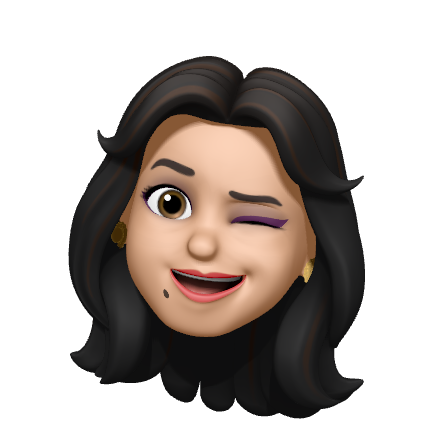 Zurab was beginning to get tired and was thinking about the café. "Are we nearly there yet?"
Bad Katie was loving the labyrinthine narrow passageways and secret doors and her sense of mischief was tingling wildly. She spotted a sign and gasped. "An oubliette! I've always wanted to see one of those."
"What's one of them?" said Zurab.
"A deep pit they throw people into and leave them to die."
"Sod that," said Zurab. "I'm not going anywhere near that with you around."
"Look, you head back to the café and find Sumit. I have to see this."
Zurab shrugged and set off for the café. "Don't fall in, sis," he called back.
Bad Katie took her little detour to see the oubliette then began to make her way back to find the others. As she walked past a bedroom she happened to notice a guy taking a picture of a four-poster bed.
"Hang on a minute," she said. "Don't I know you from somewhere?"
The guy turned and looked at her. His eyes became saucers. "Katie!!!"
"Oh god," said Bad Katie. "You're the All About Katie guy, aren't you?"
"Wow, I can't believe you remember me."
"I never forget a face. Especially an idiotic one."
"What on earth are you doing here?"
Bad Katie sighed. "I'm doing a recce for a gig, if you must know."
"That's amazing. Can I have an exclusive for the site?"
"No," said Bad Katie, firmly.
"Oh," said AAK, crestfallen.
"Anyway, what are you doing here? Are you stalking me?"
"What? No! I'm on holiday. Just taking pictures of the beds here."
"Oh, well, that isn't at all creepy."
"I love this place," said AAK. "Wish I could stay here forever."
Bad Katie's eyes widened. "Have you seen the oubliette yet?"
"No, I didn't even know they had one."
"Let me show you, it's just round the corner from here."
AAK wasn't about to pass up an invitation from her and duly followed her to the oubliette.
"Impressive, isn't it?" said Bad Katie.
"Well, to be honest, I was probably expecting a bit more. It's just an empty room with a dark hole in the floor."
"It's not so much a dark hole as a black hole," said Bad Katie. "Whatever goes into it never gets out again. Aren't you curious to see what's down there?"
"You can't get close enough. It's roped off."
"Nonsense," said Bad Katie. She unhooked one end of the safety rope. "Go on, stand over it, see if you can get a good picture of what's down there."
AAK looked uncertain. "It's a bit scary."
"Don't be a big baby! I'll give you that exclusive if you get me a good picture!"
AAK took a deep breath and shuffled up to the edge of the hole. He pointed his camera down and gingerly leaned forwards. The last thing he felt was a heel on his backside…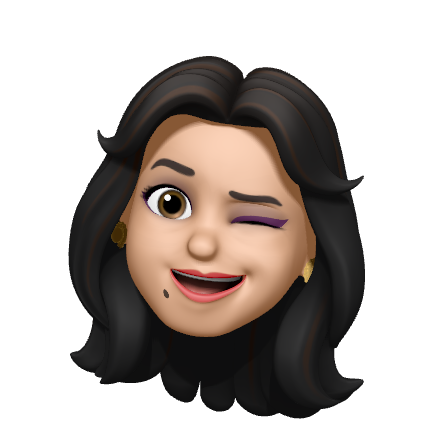 "What are you looking so happy about?" said Sumit, as Bad Katie sauntered into the café.
"I love this place," said Bad Katie.
"What have you done, sis?" said Zurab.
"Nothing. What do you mean?"
"You only look this happy when you've done something bad," said Sumit.
"Well…."
"Yes?" said Zurab and Sumit in unison.
Bad Katie reached into her pocket. "I just bought this fridge magnet in the gift shop. It's a memento of a wonderful day."
Sumit shook his head and pushed a plate of Death By Chocolate cake towards her.
"And now it just got even better!"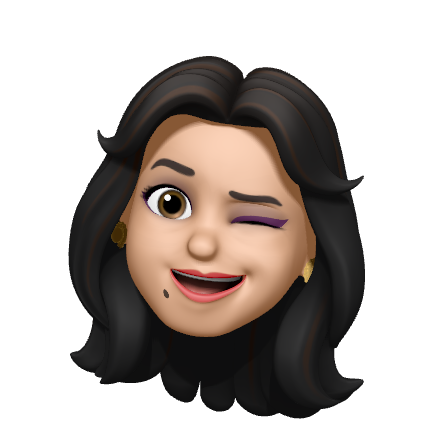 Sumit was grinning from ear to ear as they prepared to leave the castle after a successful day. "I'm well chuffed to get that contract signed and sealed. It's a real feather in your cap, Katie."
"Suppose. But it's not all about me, is it? Not any more, anyway." She grinned.
"What on earth are you on about?" said Sumit.
"Never mind. Hey look, there's a moat! Why don't I get a picture of you in front of it with the castle in the background? It'll look great hanging in your office."
"Oh, yes, good idea," said Sumit.
Bad Katie took his phone and and retreated a few paces. "Ah, no, you're too close. Move back a bit."
Sumit stepped back a couple of paces.
"No. Bit more," said Bad Katie.
Sumit complied.
"Bit more."
There was a yelp followed by a splash. Bad Katie clicked the shutter. "Got it!"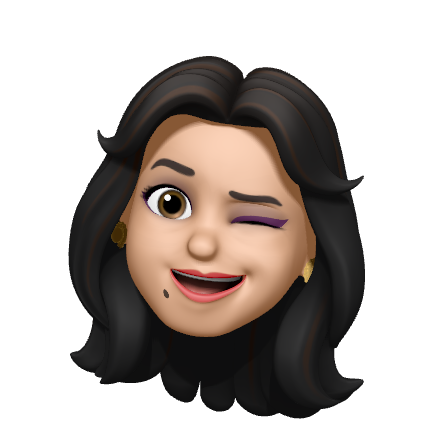 A few weeks later, the historic first ever concert at Arundel Castle was proving to be a huge success. Bad Katie was lapping up the rapturous applause as she settled herself down for a final encore.
"Here's one more song, a new song. It's called 'Remind Me To Forget'. It's about an oubliette…"
09.10.21 > Katie's On The Move!
She may be hard at work beavering away on a new album, possibly for release as early as next year (be still, my beating heart), but Katie has still found time to move her studio. Well, not the actual building, obvs, but the contents. "Where to?" you might be asking. "None of our damn business," I might reply. Now, I know we'd grown fond of seeing pics of her in the old place and there's a hint of sadness about it, but as the saying says, a change is as good as rest. Nothing stays the same for ever, and if Katie felt she needed a new creative space to work in then I for one can identify with that and wish her oodles of luck and happiness in her new studio. For creatives to deliver they need to feel comfortable in their surroundings. Variables like view, lighting, external noise and so on all contribute to the ambience and vibe of the room you are in. Sometimes it is something you can't put your finger on, just a feeling you get in your mind about a place–it is mysterious and intangible. Is it to do with subtle magnetic variations? Ley lines? Do the walls retain some kind of memory from sound waves they have absorbed in the past? Or is it all in the mind, and a room is just a bunch of bricks and mortar that we project our own psyche on to? Well, whatever it is, we look forward to seeing pics of Katie in her new workplace and I don't doubt that much magic will be produced there.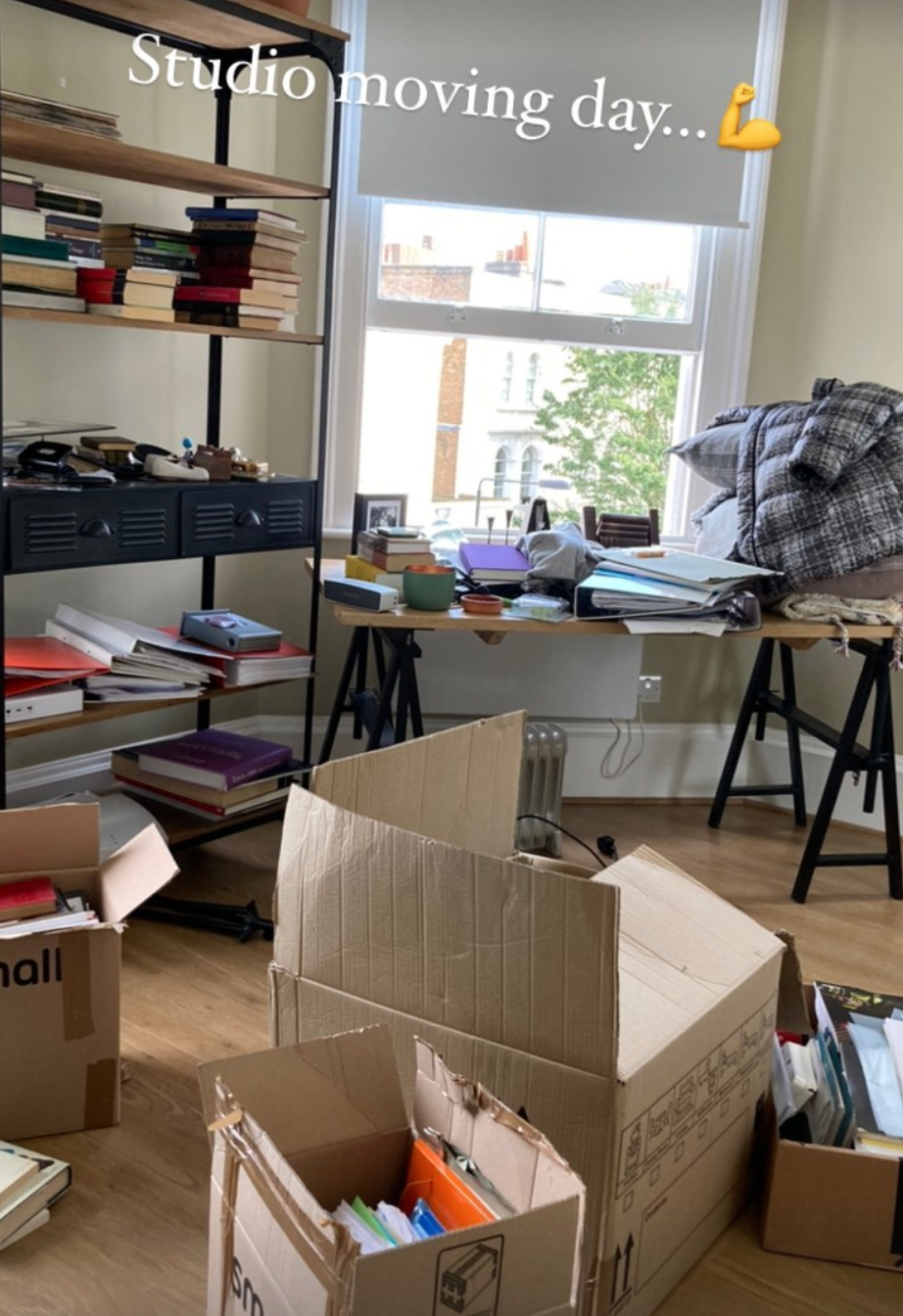 01.10.21 > SongWriter Podcast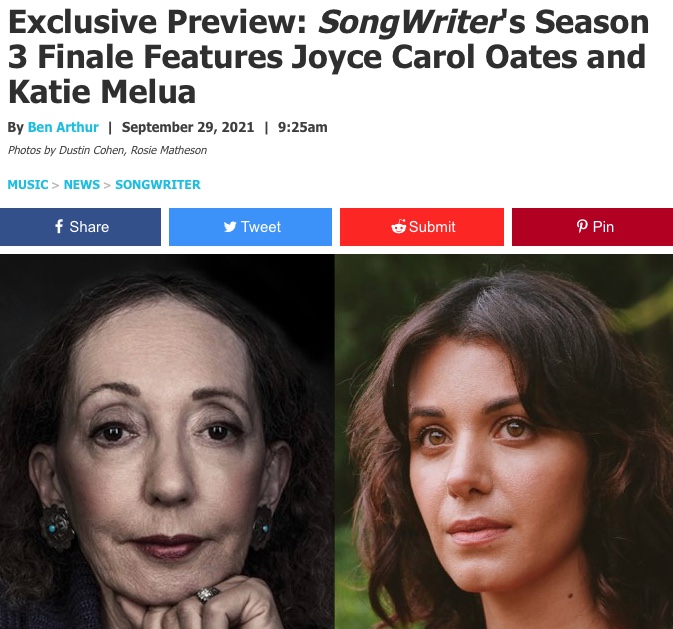 The SongWriter Podcast is a series of stories and answer songs, where writers or poets create something and a songwriter comes up with a song in response. In the latest episode, Katie has written a song called "Forever Sunlit" in response to a poem by author Joyce Carol Oates called "Too Young to Marry, But Not Too Young to Die". It is fascinating stuff, and well worth a listen. As always, Katie more than delivers. You can listen to the podcast here or just click the pic.
Katie has become so good at her craft that songs like "Forever Sunlit" seem effortlessly beautiful. But that is the paradox of a real artist–to make something seem effortless takes considerable effort. When the public sees and admires the finished article they have no idea of how much work went into it, and many probably never even think about that. After all, if you are handed a box of artisan chocolates you are too busy enjoying the taste sensation to pay any mind to the craftsmanship that created them. Sometimes, a piece of work can be produced quite quickly and painlessly, almost as if it had been pre-formed in the subconscious and bursting to get out, but even then it is a product of the years of effort you have put in honing your craft. "Forever Sunlit" is the perfect example of an artisan songwriter at work. It may or may not find its way on to a future album, but it deserves to be heard and though it is a lovely song in its own right if you listen to the podcast you will hear the full story and context behind it.
25.09.21 > Making Mischief?
What are these minxes plotting now? They're like a couple of naughty schoolgirls planning to rob a bank. Wait... you're not fooled by those beautiful smiles are you? Seriously though, or not, my bet is they are going to make "Cagney & Lacey: The Musical". Or maybe a duet of The Proclaimers' "500 Miles".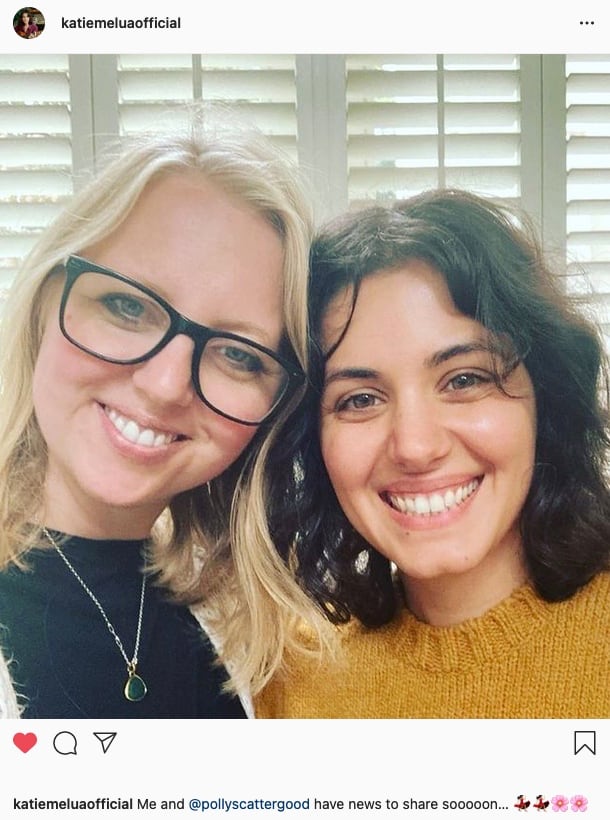 24.09.21 > Playlist: Most Sung Live

I know what you're thinking. You're just sat there twiddling your thumbs and wondering which songs Katie has performed live most often. What do you mean you weren't thinking that at all? Why not? Well, I find it hard to believe you could have been thinking about anything other than that to be honest, but anyway, you need to focus and get your mind back onto things that really matter. Right, so, very little goes unnoticed in this world and somewhere, hidden away in a dark room deep underground, there is a little grumpy goblin that has been keeping track of which songs Katie has sung live at gigs (and no, that grumpy goblin is NOT me thank you very much!). Here, then, is a playlist of the top 20 most performed songs at a major live event in order of number of performances. Oh, I bet you can guess the top two but if you're anywhere near to predicting the other eighteen you are either spookily psychic or a pathological liar.
That's right, those pesky Beijing Bikes come out on top. Poor Katie has felt compelled to deliver that to demanding fans over 150 times. But it is a close thing, with Closest Thing being the closest thing behind it, at just under 150. The only other song to trouble treble figures is "I Cried For You" on 105. You may wonder why nothing from the last three albums makes the cut. Well, for one thing, Katie toured heavily in the early years and also, to this day, some of the old songs still get an airing at gigs. Don't expect those top two to be knocked off their perch any time ever. Poor Album No. 8 barely gets on the list at all, never mind the top 20, thanks to that pesky covid blitzing the tour schedule for it. But in the years ahead I'd hope to see a few of its tracks muscling in to this playlist. They deserve to be on it.
As for the playlist itself, most are live performances apart from the three tracks from "The House" which haven't made it on to any of Katie's live CDs.
Most Sung Live
Nine Million Bicycles
The Closest Thing To Crazy
I Cried For You
Call Off The Search
The Flood
Spider's Web
Crawling Up A Hill
My Aphrodisiac Is You
If You Were A Sailboat
Kozmic Blues
God On The Drums, Devil On The Bass
A Moment Of Madness
Piece By Piece
Thank You, Stars
Belfast
On The Road Again
Perfect Circle
Red Balloons
Two Bare Feet
No Fear Of Heights
Listen to Most Sung Live on Spotify via the link below:
Play on:

18.09.21 > Katie at Jazz Open 2021
Isn't this just the best sight? Katie in stunning regal velvet playing live to a packed audience again, doing what she does best and loving every second. That's one lucky crowd to finally witness her perform the songs from Album No. 8 with her brilliant band.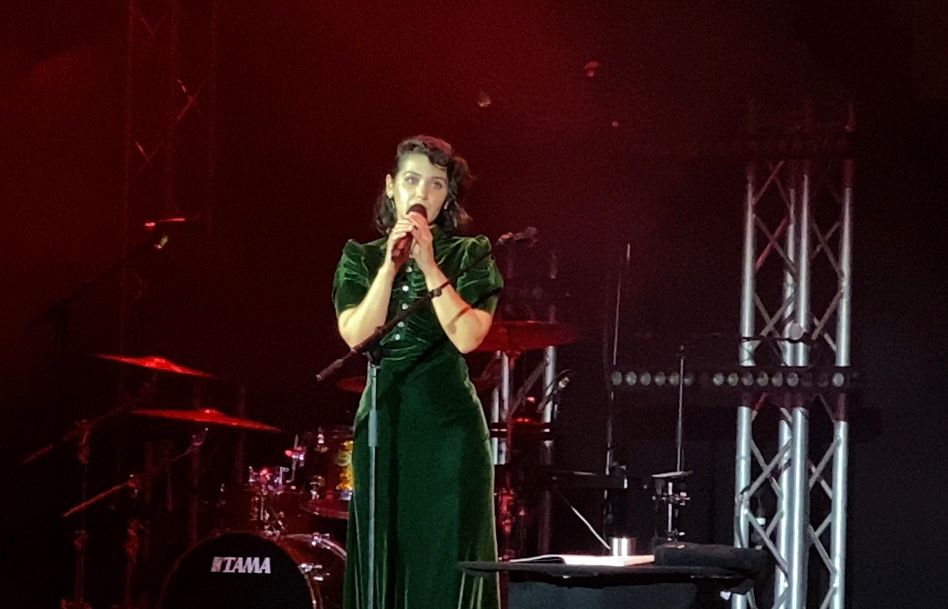 Pic courtesy of Liliana Lopes
16.09.21 > Happy Birthday Katie!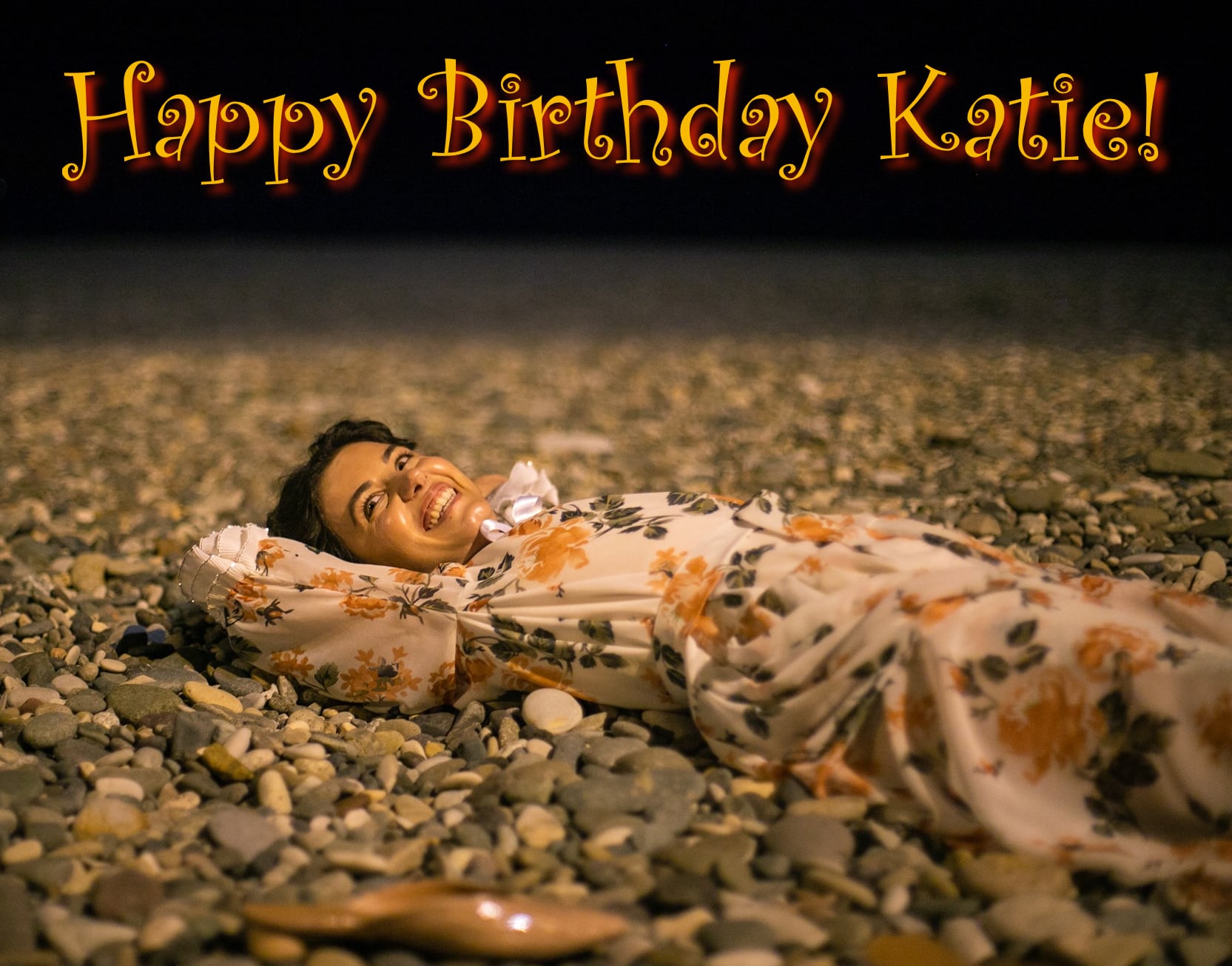 11.09.21 > Katiewatch: Stuttgart

Katie is in Germany again this weekend, this time with the band! Yay!!! They'll be performing at the Altes Schloss, a 10th century castle in Stuttgart, as part of the Jazz Open 2021 Festival. Any of you attending are in for a special night, with the band playing Album No.8 to a live audience at long last. In an ideal world it would be recorded for a DVD (but don't get your hopes up).
Don't be fooled by the seemingly busy city centre location, it is still a beautiful place. Katie only goes to beautiful places. Though if you study the map you'll see she'll be just round the corner from a place called Rathaus. Not sure I want to go there tbh.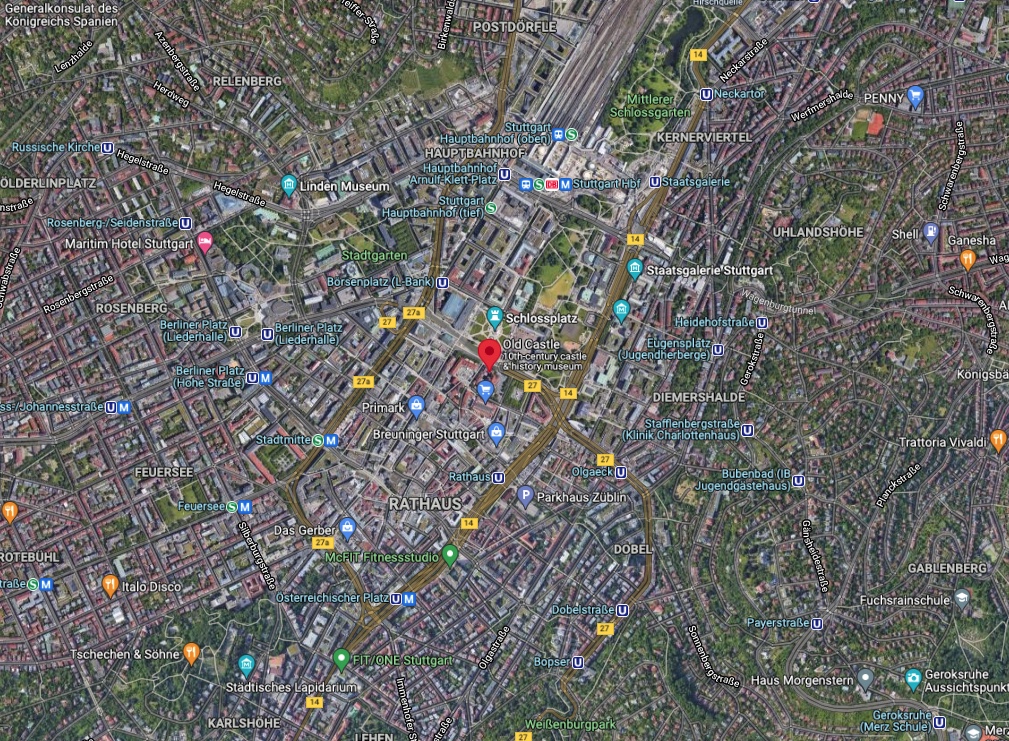 03.09.21 > ABBA Voyage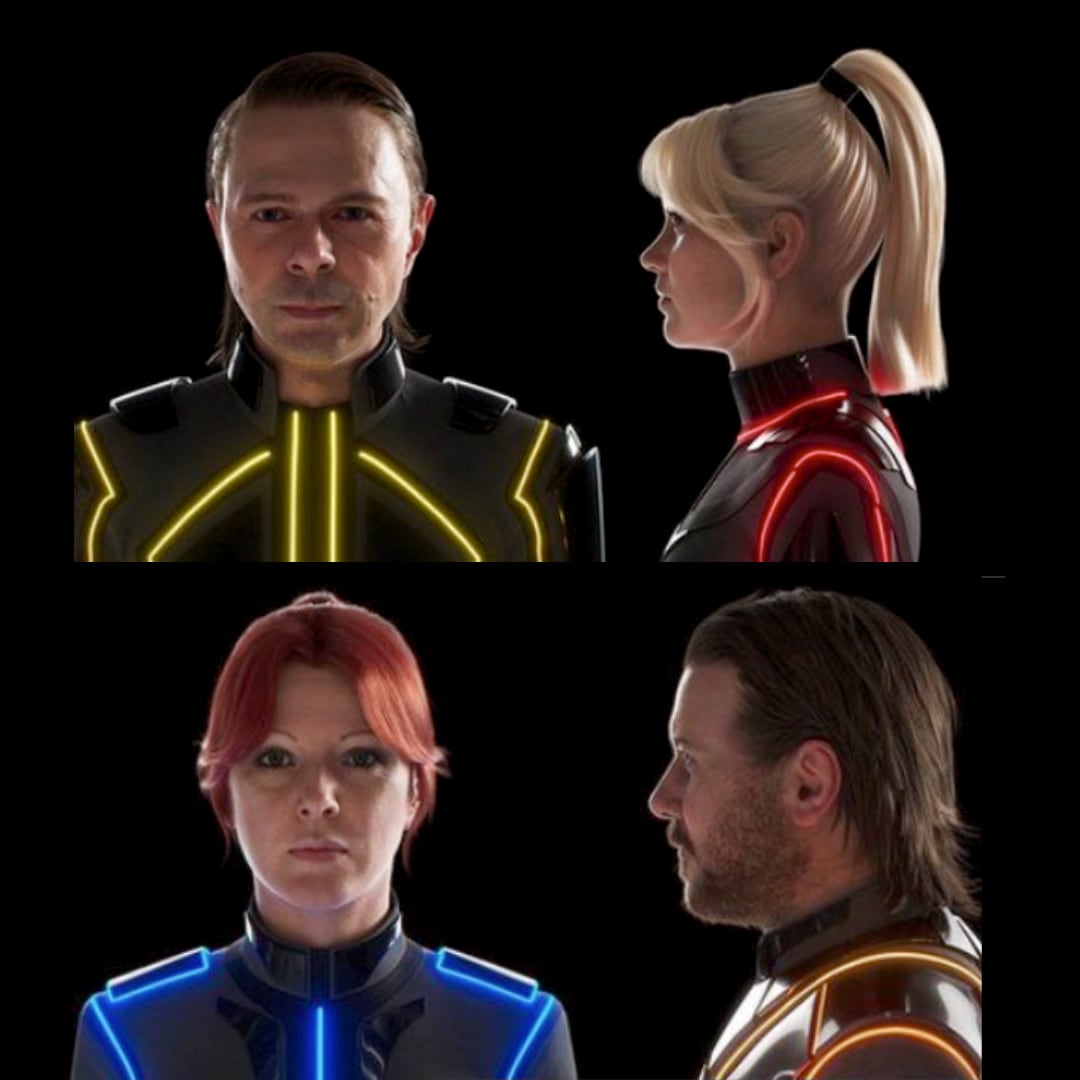 Look, I know this site is supposed to be all about Katie, but I'm pretty sure she won't mind me going off piste now and then, especially when there's a good reason. And as good reasons go, this is a big boy. ABBA are releasing a new album in November, ABBA Voyage. If you are not currently dusting yourself down after having fallen off your chair then you need to go back and read that last sentence again. After 40 years, we are weeks away from ten new ABBA songs. Imagine if Katie decided to quit music today and declared Album No. 8 to be her last, then, in 2061, she suddenly popped up with a new album. *Mind blown*
And it gets better–they are going on tour without themselves. That's right! While their music is on tour, Agnetha, Frida, Benny and Björn will be tucked up at home with a blanket and mug of cocoa watching Homes Under The Hammer. It's genius really. They all, not unreasonably, decided that, being in their 70s, a world tour was probably a tad arduous so they decided to let fresh young digital copies of themselves do it for them. They all donned those silly motion capture leotards with the coloured balls stuck all over them and busted some shapes for an afternoon. Then they let the Star Wars wizards, Industrial Light and Magic, turn them into realistic avatars of themselves, albeit knocking 40 years off their faces in the process. You can't blame them for that–the music industry is in the business of selling records and though the girls still look great it is mostly young people that buy music and they are less inclined to do so if the artist looks like their Nan.
The burning question though is will Voyage be any good? I can confidently predict 'YES'. Benny and Björn are two of the greatest songwriters of all time, up there with Lennon and McCartney, and musicians only get better with age. I've heard one of the new songs and it is proper ABBA–catchy, tuneful and memorable. Since we aren't getting a Katie album in 2021 I have no qualms in declaring ABBA Voyage to be the must-have album of 2021.
02.09.21 > Katie Bite: Heading Home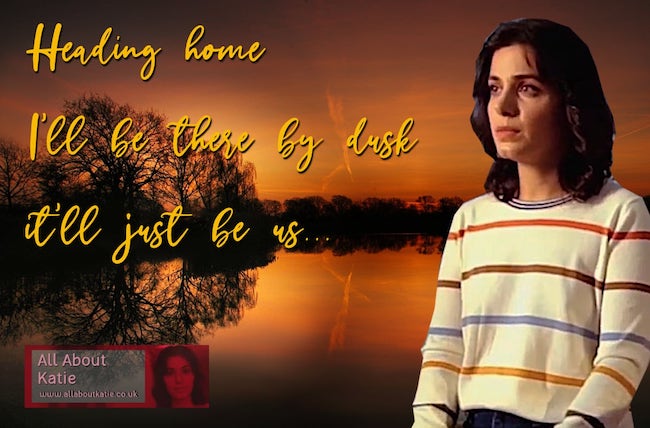 28.08.21 > European Culture award for Katie!
Katie attended the Europäischer Kulturpreis Gala at Bonn Opera in Germany yesterday.
She was awarded the European Culture award for Charitable Commitment. It is so lovely to see Katie's charitable work recognised. She gives a lot of time and support to several charities and this work often goes under the radar. Of course, this isn't something Katie is shouting about herself but that doesn't mean the rest of us can't shout about it! So... YAY!!!
Naturally, it would have been a sin to drag Katie along to such a venue without getting her to sing for her supper, and she gave a stunning performance of What A Wonderful World.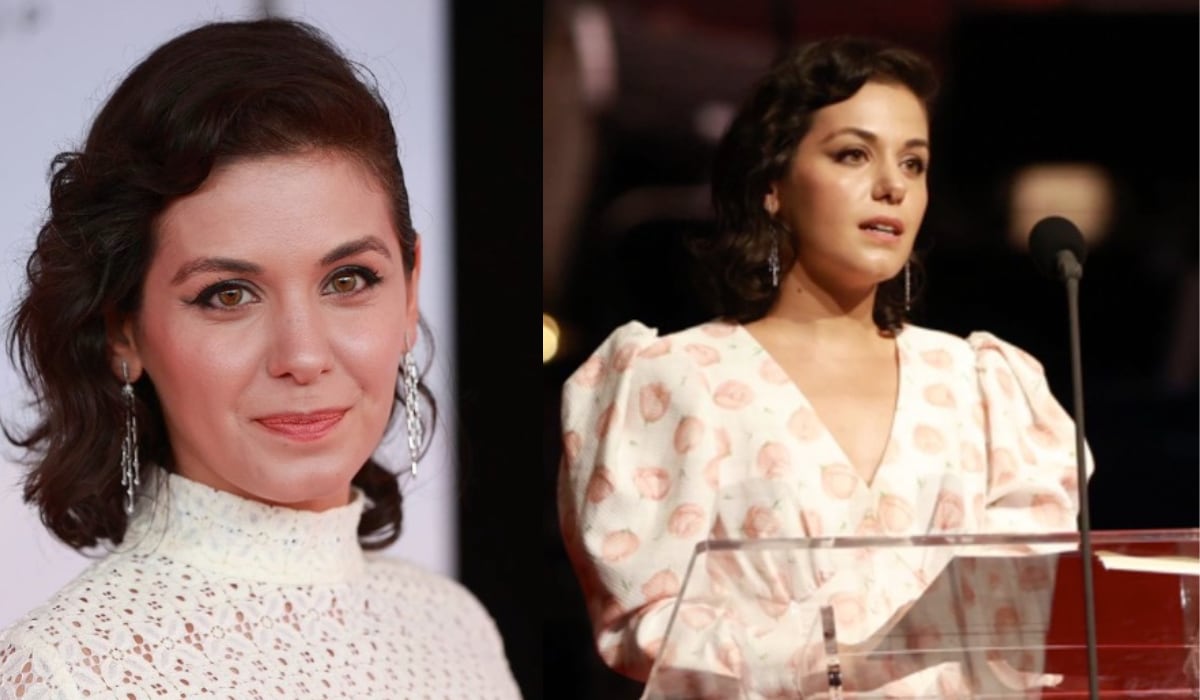 27.08.21 > Katiewatch: Frankfurt
Katie is in Germany for an acoustic gig with her brother, Zurab, on Friday 3rd September. They'll be performing at the Alte Oper in Frankfurt. As venues go it ain't too shabby, as befits a performer of Katie's quality.
Here's the aerial shot of where she'll be performing, just in case you feel like gazing at it intently in the hope of transferring some positive energy to her. (She'll be amazing whether or not you do that but you never know, your psycho energy transfer may help her sustain a note for an extra hundredth of a second. It all adds up.)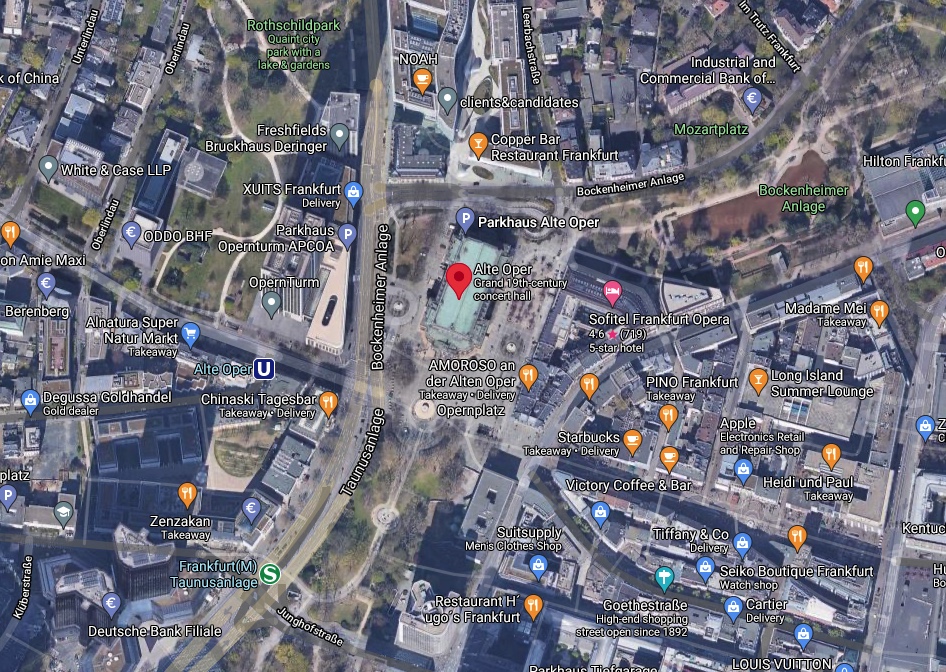 19.08.21 > Ultimate Collection Special Limited Edition Vinyl
Okay, you should already have this album but if you don't then here's a wonderful opportunity–A special edition is being released on silver vinyl. Get out! No, come back, please. You heard right, silver vinyl! (Not solid silver, I hasten to add.) The release is in celebration of women in music for National Album Day. What a thing to celebrate. And just imagine how cool these discs will look on your turntable. Click the pic to pre-order.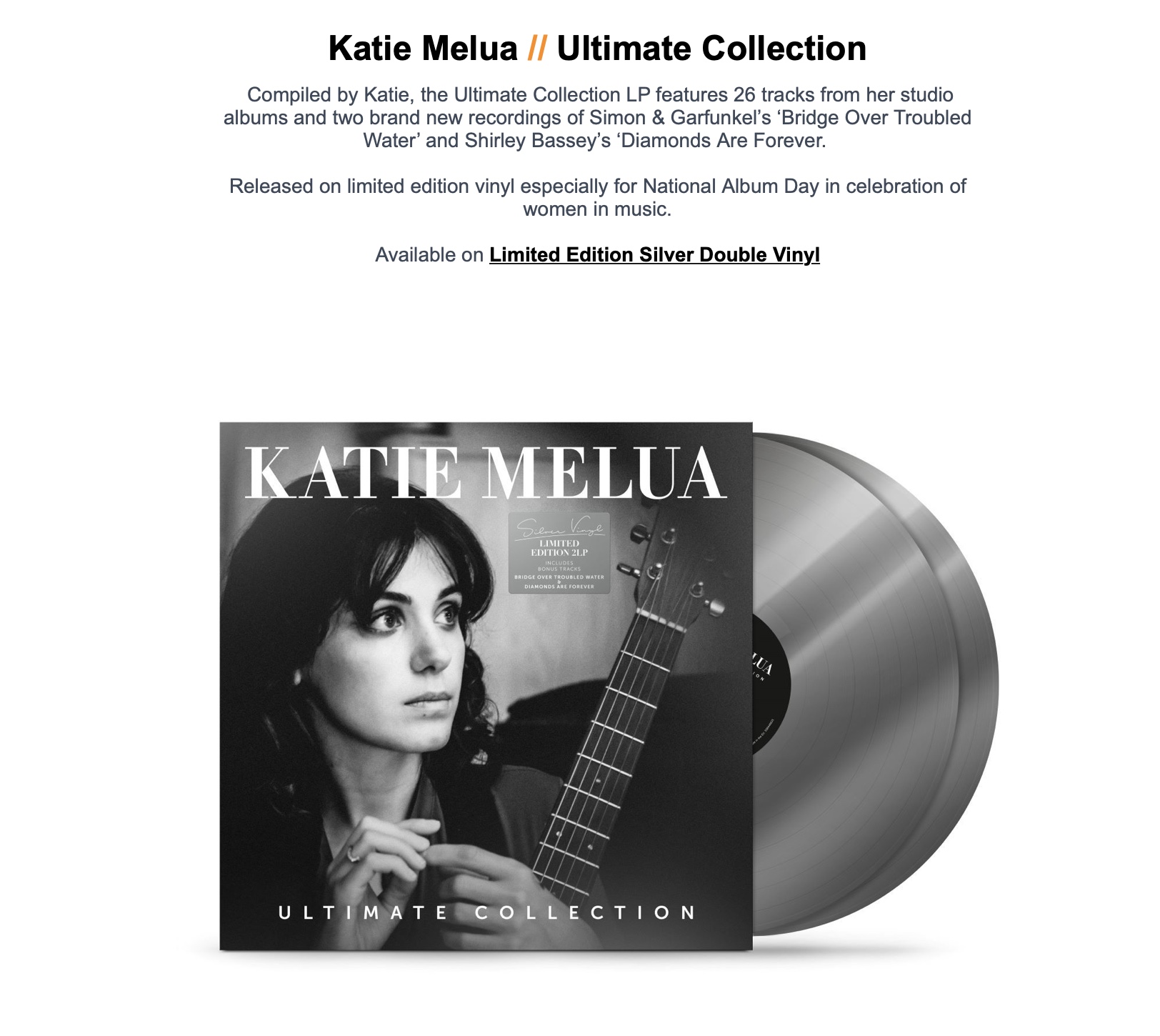 16.08.21 > Album No.8 Maturing Like Fine Georgian Wine
It's hard to believe we're approaching the first birthday of Album No. 8, but it is just a few weeks away, and we've already had more than half of the songs in our heads for more than a year. Never before have I been so blown away by an entire album on first listening so I thought it might muse about my feelings for it now that the honeymoon period has long passed. Has the love gone stale?
Katie doesn't do weak tracks. Her love of and dedication to music means that every album she makes is carefully crafted down to the last note. Padding them out with sub-standard filler tracks is never an option. Of course, you can't please all of the people all of the time and every album has its hits and misses–and these will be different for every listener. Her core fans simply love her voice and trust her music whatever direction it takes but more casual followers are often divided, with some hooked on the Batty pop tunes, others cherishing the blues and Great American Songbook standards, and some into her more recent collaborations with the Gori Women's Choir and Georgian Philharmonic Orchestra. For me, what makes Album No. 8 her best to date is that it combines every facet of her musical experience to present ten songs of such quality it is difficult to pick either a favourite or a least favourite. Furthermore, whatever flavour of Katie you prefer, there is something on Album No. 8 that will appeal to you. It covers every base, ticks every box and spoils you with choice like an assortment of luxury chocolates. Quite simply, it is a masterpiece.
This isn't a review–I did that last year. I'm not even going to mention individual songs. As I see it, this is a concept album, and the concept is love. It might sound like a simple concept, and maybe one that has been done to death, but it isn't and it hasn't. Love is often confused with the far more specific state of being 'in love', but there are so many more aspects to it, which makes it such a good subject for songwriters. In Album No.8, Katie gives us ten love stories, each with a different perspective or interpretation of the meaning of love. What makes them so special is that they are not Hollywood tales but rather realistic experiences, both happy and sad, that any one of us can relate to. Love can intoxicate, love can hurt, and love can be invisible, almost taken for granted–it can fade into the background of everyday life to the point where it no longer gets thought about or appreciated, it is just there. And that is often the source of trouble in relationships. Some people are comfortable when love takes a back seat, knowing it has become an underlying rock on which their life is built, but others struggle, believing that love has faded or even abandoned them. That is when doubts, fears and insecurities begin to open cracks in a relationship and drive wedges into them. Love is complex, and it is this complexity that Album No. 8 explores from all angles. Katie has done a masterful job of revealing some of the shades of it and drawing us in to her collection of tales. Album No. 8 is only getting better with time, like a good wine, as each and every song takes you on its own special journey. I cannot imagine life without these songs now and I know they will be my friends forever. I honestly don't know how she could ever top this work and I just hope she doesn't feel like she has to. I'm confident that whatever music she gives us in future will be wonderful but as far as I'm concerned it won't need to compete with this album. Album No. 8 is done and dusted, it is out there forever, and it is a triumph, but Katie now has a clean slate to do whatever she wants with her music. She no longer has anything to prove to anyone.
13.08.21 > Past Peek: Katie at Cheltenham Jazz Festival, 2019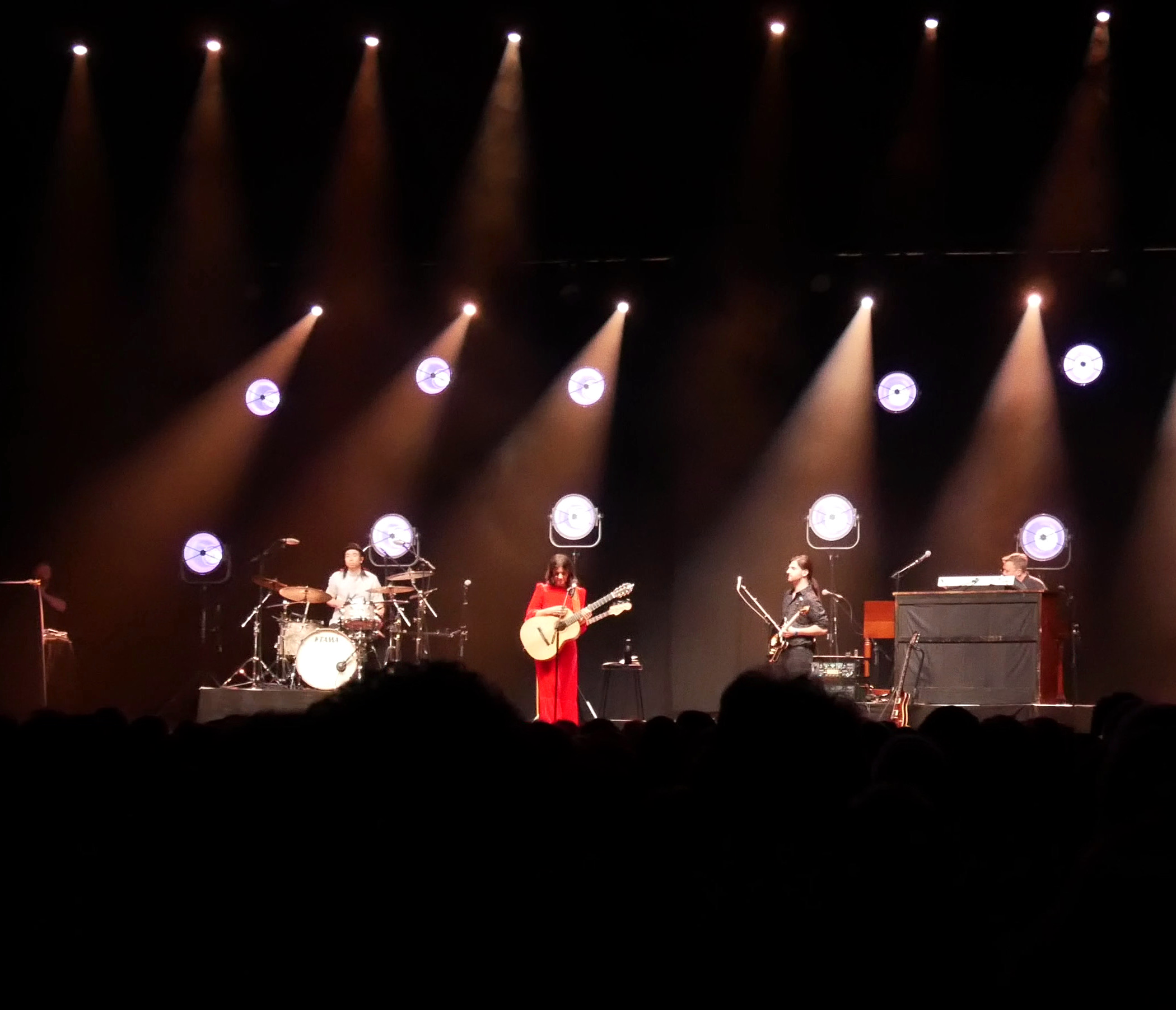 03.08.21 > This Made Me Smile!
Here she goes melting us all again. This is too beautiful. Admittedly, Katie does frown a bit whilst telling us all to smile but that's because she's concentrating on the music, and she makes up for it at the end with a classic trademark beam. The song itself was composed by Charlie Chaplin. Yes, you read that right. The lyrics were added a couple of decades later though and Nat King Cole recorded the first vocal version of it. Other notable versions are by Sammy Davis Jr. and Judy Garland. This is as good as any of them. We all love Katie's own songs but let's never forget how blindingly awesome she is at interpreting covers.
01.08.21 > Katie Bite: English Manner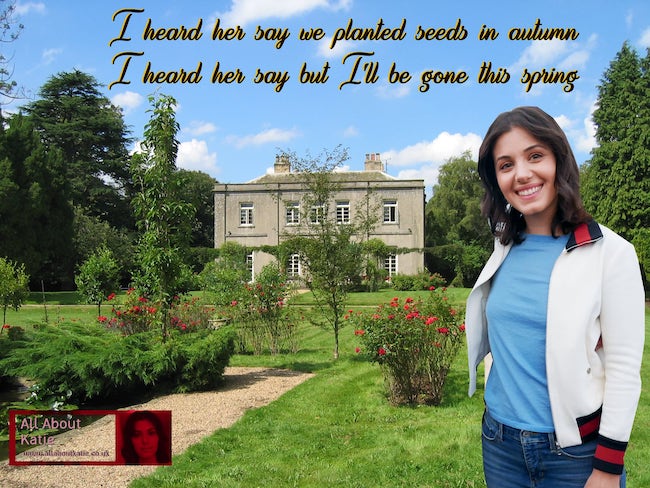 2021
2020
2019
2018
2017