Quizzes
Crossword No. 1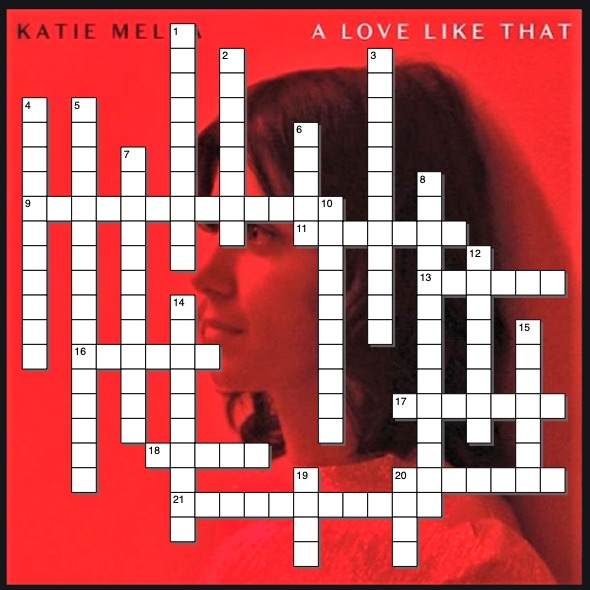 Across
9. How do you make it last?
11. Penguins and cats?
13. There's no better magic than this city
16. Critter found living in Katie's ear!
17. Katie's proper name
18. All over the walls of the…
20. Beautiful country that gave the world wine and Katie Melua
21. Bicycles in Beijing?

Down
1. Singer that inspired Faraway Voice
2. Painted by a third album
3. Children needed this song
4. Katie and Polly let them go
5. Now that I've found you I'll buy the first album
6. Kid brother plays a mean guitar
7. How I'll let go of you
8. Katie singing is just like a Cure
10. DJ that got Katie under way!
12. Album No. 7
14. I have become…
15. City where Katie was born
19. Alien size?
20. Women's Choir

Crossword No. 2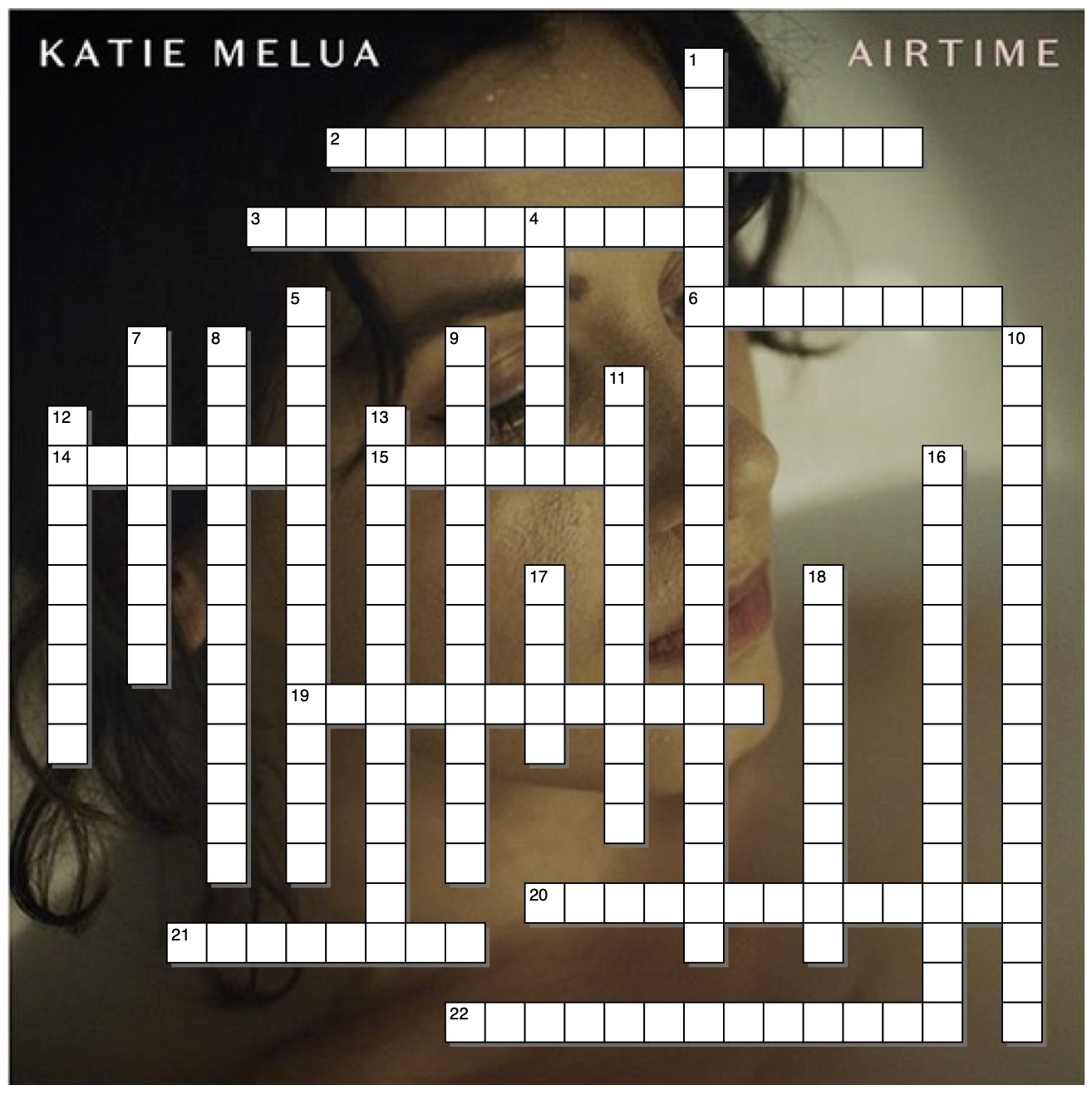 Across
2. Me, when trying to compile a crossword!
3. A song fit for a Queen
6. Left hood?
14. Katie speaks English, Georgian and ...
15. A song that deserves plenty of itself
19. She used to eat roses
20. Lend wife flour
21. An album that reveals Katie's inner wit
22. Halt, Katie love!

Down
1. Mostly unforgettable girl
4. City where Katie was awarded the Georgian Medal of Honour
5. Like you find on a washing machine
7. A little reggae living amongst the spirits
8. God on the drums...
9. An album with hidden orchestration?
10. A permanent type of carbon
11. Which one would you save?
12. Katie's first record label
13. Perhaps I had a vision while I was sleeping
16. Inner thigh, get it?
17. Bobbie Gentry cover as sweet as French fondant
18. I ate UK male!

Crossword No. 3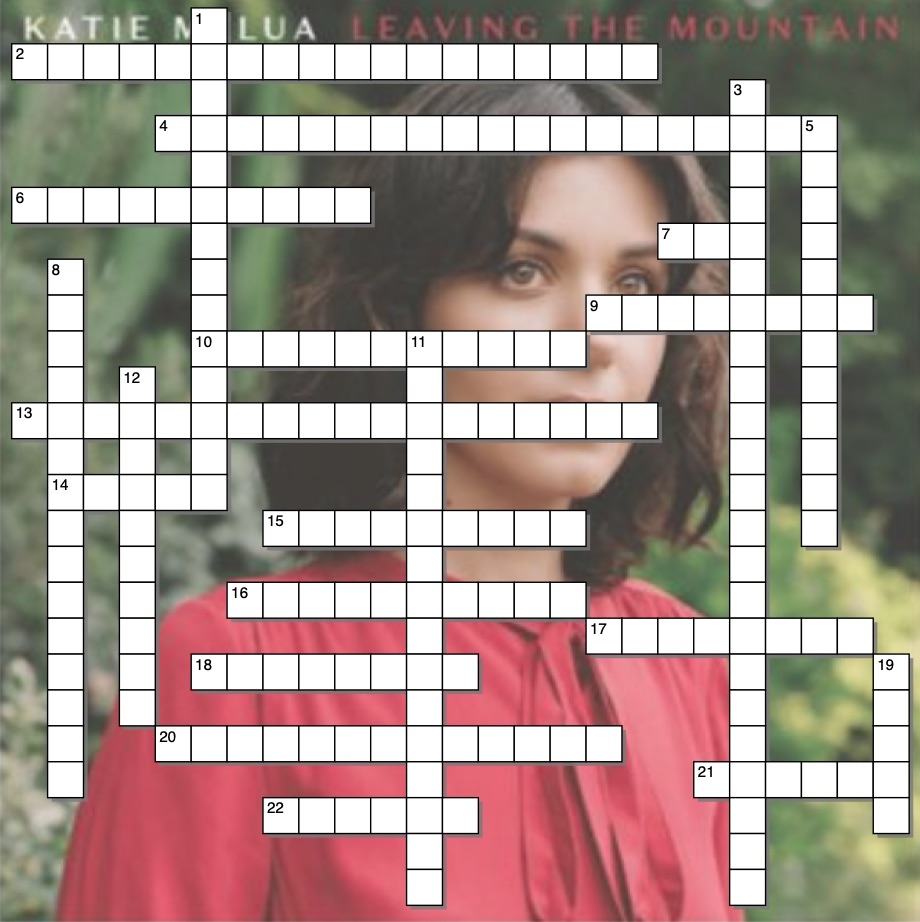 Across
2. innate volume hating
4. Katie's No. 1 (with Eva Cassidy)
6. the width of a thread
7. Katie's current record label
9. an album you could live in
10. Sparks flew when this song got remixed
13. Utmost compilation?
14. This stuff makes Katie's strings (and stockings?)
15. Like Elvis had, but not suede
16. cheesy Georgian flatbread
17. Legendary lyricist who worked with Katie on "In Winter"
18. Womble inventor
20. Perhaps Hermione wrote this song for Lisa Batiashvili?
21. Black Sea resort where Katie grew up
22. Bashful Lad

Down
1. Apt song for the Tour Bus
3. Katie covered this Simon &Garfunkel classic
5. informed ears?
8. Life is just a slow train...
11. Katie's mate and "Red Balloons" collaborator
12. "A Love Like That" video co-star
19. flower named after Katie

Crossword No. 4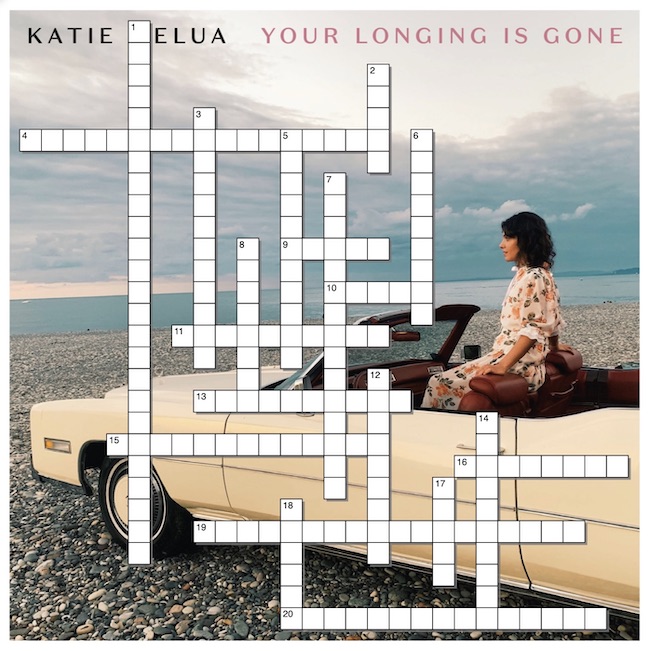 Across
4. Ugly Senior Ongoing?
9. Artist who originally recorded Wonderful Life
10. What's Katie's tribute to Cilla Black all about?
11. Katie's bass player of many years
13. Famous place where Katie studied music
15. A song Katie won't sell you
16. Katie's first album not to have a 'Special Edition'
19. Katie got a World Record for this gig
20. Song used in movies "The Tourist" and "5 Days Of War"

Down
1. Though We Ate Document Anyhow?
2. Katie has performed for this person as well as with the band!
3. Katie's producer on The House
5. Thumb Ratios of Katie's manager?
6. Katie sang "Fairytale Of New York" with this band
7. Georgian violinist for whom Katie wrote "No Better Magic"
8. Georgian composer, "Yellow Leaves"
12. Homes In On?
14. 2007 Tarantino film in which Katie makes an appearance
17. Katie's star sign
18. City where In Winter Special Edition live concert was recorded

Crossword No. 5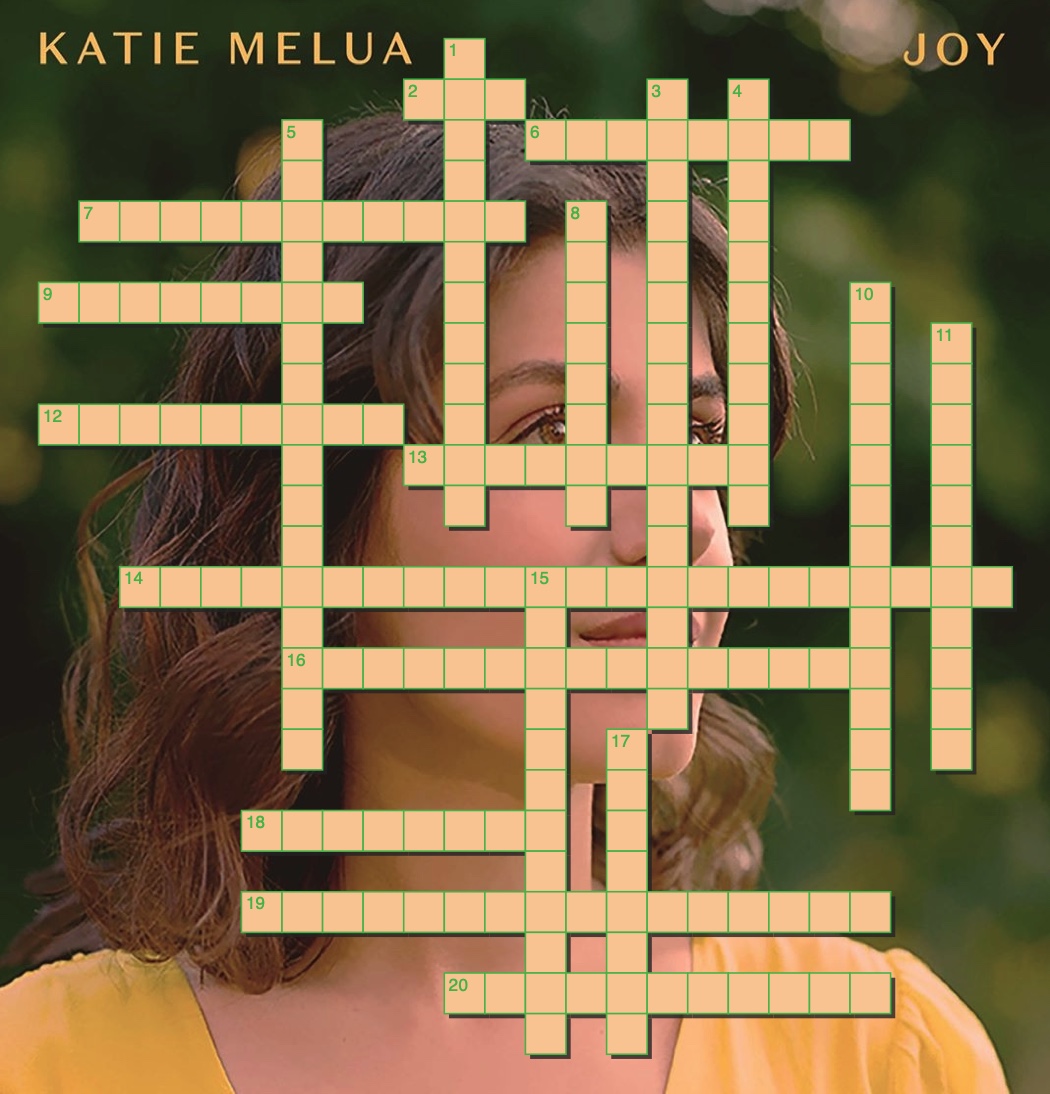 Across
2. Not just kindness and laughter...
6. Only UK female with more consecutive top 10 albums than Katie
7. Producer of Album No. 8
9. Car driven by Katie in "Your Longing Is Gone" video
12. These need a good clean before rolling
13. Katie's new global publisher
14. English vampire fashions
16. A truly global song?
18. TV show Katie appeared on at 15
19. 'cos it's not my fault!
20. Stranglers classic the colour of Katie's eyes

Down
1. Elvis classic covered by Katie
3. More gifted mentor
4. Robbie Williams collaborator who co-wrote with Katie
5. Georgian director of "Your Longing Is Gone" video
8. Tree fit for a King?
10. Former South African President Katie met in 2005
11. For tea be wet
15. Red wolf crept
17. Katie's age at release of "Call Off The Search"

Call Off The Word Search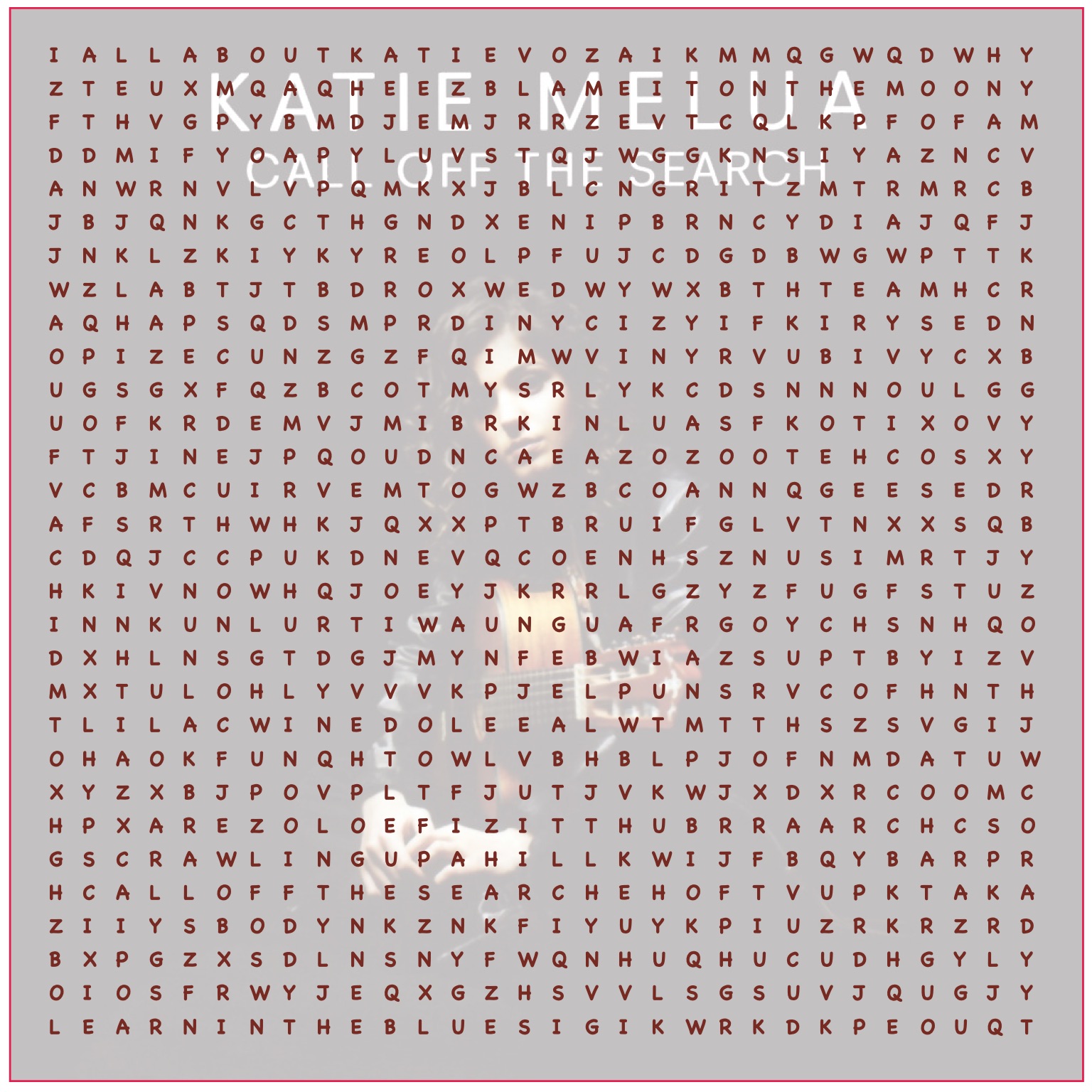 Album No 8 Word Search